MORE GOOD NEWS from days gone by…
Friday, May 31, 2019
Many college graduates across the country know what it feels like under the weight of student loan debt. But the Morehouse College class of 2019 has had that weight lifted, thanks to billionaire Robert F. Smith.
He gave the commencement address at the historically black men's college in Atlanta, and surprised the graduates by saying, "On behalf of the eight generations of my family that have been in this country, we're gonna put a little fuel in your bus. This is my class, 2019. And my family is making a grant to eliminate their student loans."
Can you imagine graduating DEBT-FREE?! The roughly 400 students reacted in every imaginable way, from tears of joy to applause, cheers, and leaping to their feet in celebration of the unreal new. The "MVP!" chants quickly followed. Most valuable, indeed.
Smith says he is "thrilled to invest in these young people and their future," and encouraged them to "watch and learn from positive role models." (Off to a great start already with that one.)
Thursday, May 30, 2019
"Keep in touch!" "Have a great summer!" Students at Marjory Stoneman Douglas High School in Parkland, Florida may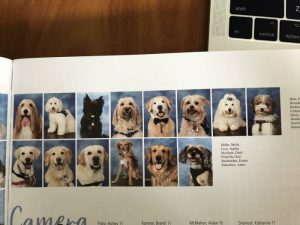 have to add "What a good boy!" to those traditional end of year sentiments scribbled across the pages of their yearbooks.
Flip past the last glossy page of underclassman yearbook photos and you'll see 14 smiling, tongue-flashing dogs, their names listed like the rest of the students and staff.
They're the therapy dogs that have been an unwavering, comforting and integral part of the school since last year's tragic mass shooting. The dogs go to class, give handshakes in the hallways, and wag tails in the courtyard outside the cafeteria as teens come in and out for lunch.
Students say including the pups is "a really good representation of what we have gone through. This year, we wanted to give proper representation of our school and who we are now without giving so much focus to what happened to us in the past. The therapy dogs are the one thing from last year that is permanent and positive. Seeing them is something we look forward to every day."
"All these moments and experiences define us, and it's a matter of getting through it. Eventually, things will be better, so it's a matter of finding the small joys and happiness in the everyday."
One great example of that joy is getting to see students pick up their yearbooks and gush over the photos of their grinning therapy dogs as a new season begins.
Wednesday, May 29, 2019
A piece of of street art appeared last month at River Shack Tavern in Gretna. It's the work of artist Keith Eccles, who besides being a painter and tattoo artist – is a high school art teacher.
Keith grew up not too far away from where his latest Mural is located, so for him, it is special to be able to be giving back to the community. Keith teaches at West Jefferson High School, so the kids he teaches live in the area and can see his mural as well.
The colorful spot is already trending on Instagram—with good cause. For every photo posted of the mural with the tag #Popeyes, the chicken franchise will donate $1 to the Gretna Food Bank, up to $5,000.
The painting was commissioned by Popeyes and will appear in a national commercial for the fried chicken brand this Summer. We already love that chicken from Popeyes, but now the community's falling in love with this beautiful mural.
Tuesday, May 28, 2019
Anita Singleton is a cashier at Walmart in Slidell. She is a bright light in many lives. And yesterday her light went viral. Anita was making her daily 6 mile walk to work when Slidell Police Officer Bradley Peck offered her a ride to work. Officer Peck was so moved by her story, after he dropped her off at work, he contacted WWL-TV to see if they knew anyone who could help.
That's when Matt Bowers of the Slidell Bowers car dealerships stepped in and gave Anita a car – even covering taxes, title and car insurance! Mrs. Anita has shared how blessed she is – saying she can't wait to spend the extra time she will now have with all of her grandchildren.
Monday, May 27, 2019
23-year-old Cheslyn Simpson has a genetic disease called Friedreich's ataxia. So when she wanted to enjoy the beach with her family in a capable wheelchair, her speech therapists suggested she write an essay asking for help through LSU's senior capstone design program. That's a two-course program in which teams of students work on an assigned project.
Last year the LSU engineering student's were unable to provide the wheelchair but did keep the door open for the possibility this year, and they certainly came through. This year's first change was much fatter wheels. Some of their additions were just for fun, including a cup holder, cooler and Bluetooth music player.
Daniel Lucas, a mechanical engineering major and the team's project leader, said it did more than make Simpson happy.
"We involved the community, we raised awareness to the fact that a purely recreational wheelchair is not available to a lot of people. We also got the community involved and hopefully inspire future engineers," he said.
---
Friday, May 24, 2019
18 year old Michael Watson will walk across the stage this week to collect his diploma – and he'll do it over 115 pounds lighter than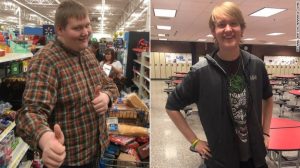 when he was a Junior.
The 6-foot-4 teen was over 330 lbs at age 16 and decided it was time for a change. He committed to walk to school and back home each day – about a 20 minute walk one way. Rain, snow – it didn't matter. He never accepted an offered ride. Michael was determined and it paid off!
With a change in diet and increased exercise, the graduating senior lost 115 pounds – which was a challenge because his after school job is at a fast food restaurant. Michael has gone from being teased, to being an inspiration. And he says he gets more dates now.
Not only has Michael inspired the student body with his student body – the entire school district is heralding his determination and using it to promote healthy eating and exercise all throughout his home town of Canton, OH.
Thursday, May 23, 2019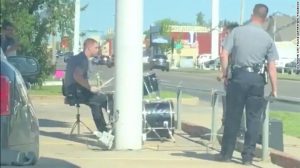 Police Officer Nate Ross responded to a noise complaint and turned it into a jam sesh. The police officer found a man playing a drum kit on a public sidewalk and calmly explained to the man that a resident had complained about the noise.
Then the cop/former drummer scooped up the sticks and showed the young man how its done – kicking off a drum tutorial right there on the side of the street.
Officer Ross said that he saw this as a chance to "interact with the people I serve." But also, have you ever known a drummer who can resist the chance to play a beat?
The pair of drummers drew a small crowd and eventually the man took down his drum kit so as not to upset whoever called in the complaint.
Wednesday, May 22, 2019
As warmer weather finally descends upon most of America, the smell of fresh cut grass and gasoline fill the air like a Yankee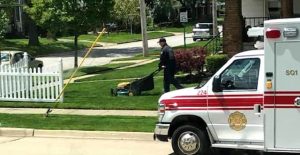 Candle created specifically for dads.
It's a chance to tend to your property and most importantly – an opportunity to show other dads in the neighborhood that you are lord of the lawn.
So when an Ohio man recently injured himself 3/4 of the way through mowing his yard, the pain of unfinished lawn is felt by any man who sees it.
Firefighter and Paramedic Dan Grimm of the Cuyahoga Falls Fire Department responded to the 911 call, treating the older gentleman who had sustained minor injuries. but it's what Grimm did next that will truly bring a smile and sense of relief ,He completed mowing the lawn and even picked up the clippings!!
Dan Figured "I thought I might as well help these nice people out and finish up their lawn so the owner doesn't have to strain or anything like that for the rest of the day, and more importantly, worry about three or four strips unmowed and the neighbors looking at him funny." Which we all know the lawn police are out there judging !!!
It's small acts like this that tend to spread quickest, likely because we can all relate to them while still somehow being mystified that they actually happen at all.
Tuesday, May 21, 2019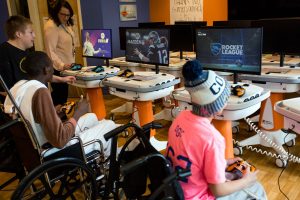 CNN Heroes has begun to announce its Heroes of the Year, and first up is Zach Wigal, the founder of Gamers Outreach, a non-profit that designs and builds video game stations for children stuck in the hospital due to long-term medical treatment.
Wigal saw that video games in hospitals weren't always accessible to bedridden patients, so his foundation's portable carts aim to bring the fun to everyone. According to one staff member at a children's hospital, giving kids access to fun activities like this helps keep their anxiety and pain levels down. Plus, every young warrior deserves a break from battling difficult diseases to kick a little butt in Halo 2.
Monday, May 20, 2019
LSU graduate Shaquille O'Neal heard about a 13 year old basketball player in Georgia named Zach Keith. This kid is a rising star, but at 13 already wears size 18 shoes. His mom couldn't keep up with the cost of buying him shoes to play ball in. When Shaq heard the need, he stepped in to help. Afterall, guys with big feet have to stick together, right? (Shaq wears size 22 sneakers)
Shaq and the CBS affiliate in Atlanta surprised Keith and his mom at Friedman's, a local shoe store that specializes is big sizes for athletes. The NBA legend talked ball with the young player and bought him 10 pairs of shoes – for basketball and life. Zach's mom said it has been five years since he's had a pair of dress shoes that fit.
Shaq says that when he was coming up, Bruce Friedman, the owner of the shoe store hooked him up when he couldn't afford sneakers – and it is his great honor to pay it forward to Zach Keith and his mom.
Friday, May 17, 2019
If you end up being swept out to sea, it's got to be some kind of sign when you're rescued by a boat named "Amen."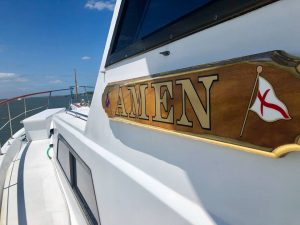 They say truth is stranger than fiction. Sometimes, it's more poetic, too. Eric Wagner was sailing his boat from Florida to New Jersey when he heard screams in the distance. Despite the loud engines, wind, and rough water, Wagner followed the sound and found two teens flailing in the surf. They had been swept out to sea while swimming, and they later told Wagner that, as they struggled to stay above water, they started praying for help.
Imagine their shock — and relief — when they looked up and saw the name of Wagner's boat: the Amen.
Thursday, May 16, 2019
Jerry Hills said he lost his left leg three years ago due to a bacterial infection, and with no ramp outside, he had to hop down the steps or crawl up them.
A few months ago, he called Nikki Williams at Rebuilding Together New Orleans, and on Wednesday, Saints players and employees from Dudley DeBosier Injury Lawyers volunteered to renovate the house.
"Having this ramp is a great feeling," Hills said. "To see so many people that care about you, it's great. It's really great."
As about 30 people worked on the ramp and other renovations, Hills' wife Doreen said she still couldn't believe it was happening.
Saints players Michael Thomas, Cameron Jordan, Marcus Davenport, David Onyemata, Zach Line, Taylor Stallworth, Keith Kirkwood, Darnell Sankey and Zach Wood all helped work on the project, which was in conjunction with DeBosier's annual #DoRight4LA Day.
Jordan, who frequently participates in charity events, said this was another opportunity for the Saints to show how much they care about the community.
Jordan, who frequently participates in charity events, said this was another opportunity for the Saints to show how much they care about the community.
Wednesday, May 15, 2019
Christian Coyle has had a calling on his life since he was 12 years old. In August of 2005, he was riding with his father in a car, going across the Causeway span. Their car got a flat tire around the 19-mile marker and an impaired driver slammed into them from behind. Christian was pulled from the crash, but his father, Wayne did not make it. Christian Coyle said that from that day on, all he wanted was to save lives.
Yesterday, less than a half a mile from where his father was killed, Causeway police officer Christian Coyle raced to rescue a man, woman and their dog after a pickup flew into the water after slamming through the guard rail.
Officer Coyle said he was headed to the south shore when he got the call. He was about two miles away and en route, took off his vest, his gun holster and boots – ready to jump in. Once on the scene, another officer had already retrieved a rope ladder and Coyle angled his car at a spot to lower it into the water.
The man, woman and dog had been in the water for about 10 minutes when he got down to them. Officer Coyle tried to calm the woman by asking her about her dog's name to take her mind off the situation. He was in the water with them for a few minutes before a basket was lowered and the woman and her dog were lifted to safety. The man climbed up the ladder on his own.
Christian Coyle said his career choice, years of training and Tuesday's rescue was like his life had gone full circle. A real hero and a true miracle.
Tuesday, May 14, 2019
World War II veteran Fred Lawrence has been hitting the gym three days a week for years, so his 98th birthday was no exception.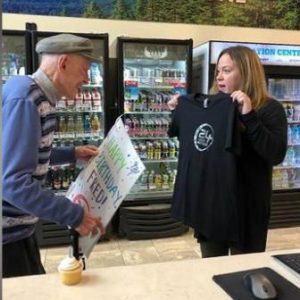 He didn't even take a rest day for his 98th birthday — he celebrated at the gym!
Fred Lawrence received a special birthday surprise at the 24-Hour Fitness near Portland, Oregon. The club was decorated with signs and balloons when he arrived on his birthday and the staff had made vanilla bean cupcakes (his favorite). Employees presented him with an oversized birthday card signed by everyone at the gym. They also gave him a new club T-shirt that he put on right away.
Fred, has become kind of like an adopted grandpa. Every time people see him, he often gives big hugs. One thing that Fred's friends say they have learned from Him is his gratitude for Life!
Fred says his secret to a long life is a combination of good health, good faith and a good attitude.
Monday, May 13, 2019
Look up in the sky! It's a bird! It's a plane! No, it's superheroes cleaning the windows at Children's Hospital in Pittsburg!
When they aren't fighting crime, there are some superheroes that wash windows for their dayjob! Batman, Captain America, Spider-Man and Superman joined forces to bring smiles to the hospital's young patients who were able to catch a glimpse of them.
The moonlighting superheroes rappelled down the building to clean the exterior windows.
The excitement, the smiles — the reactions were absolutely priceless.
It was a magical day for many patients at Children's Hospital. They watched closely as four superheroes washed the windows. Sean Baker, a 7-year-old born with only half of a heart is awaiting a heart transplant but he was all smiles watching the Superheroes in action – as he was clutching his batman action figure.
Seeing the superheroes was a treat for people of all ages. Outside the hospital, spectators packed the sidewalks and snapped pictures of the window washers. A reminder that sometimes the smallest actions (like dressing up in a costume to make a sick child smile) can make the biggest difference.
Friday, May 10, 2019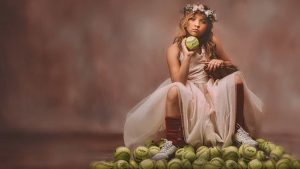 Heather Mitchell was chatting with other moms at her daughter, Paislee's, first season of softball. Heather wanted her little girl to have fun, and not be overwhelmed by her own athletic ability. Another mom jumped in to say, "She's not athletic. She's a girly girl."
Heather is the first to admit her daughter loves makeup and getting dolled up and other traditionally "girly" things, but was struck by the dismissive distinction between the two. "She's got a variety of interests – I kept thinking, 'Why does she have to choose between the two? Why can't she be both?'"
The nagging thought drove Heather, a photographer, to express her frustration through her work. She brought Paislee to her studio, along with her fanciest dress and her softball gear.
Paislee posed in her cleats atop a mountain of softballs in a flowing dress and flower crown. Another photo showed Paislee with one cleat on and one high heel on. It was all in a personal effort to show Paislee she could have a girly and sporty side.
That message resonated with many, MANY more than Heather could've imagined. When she posted the photos on her Facebook page, requests started pouring in for similar photo shoots.
A chord had been struck. Heather says, "It doesn't matter what you've been told or what people expect out of you. If you can dream it, you can achieve it."
She's had a staggering amount of requests for similar photos. Heather hopes to showcase all kinds of mixed passions and sides to her clients. "I hope at the end of this we can empower a whole lot of different dreams," said Heather. "Because you can do it all."
Thursday, May 9, 2019
Michigan mom Sharonda Wilson made a tough choice when she skipped her own graduation ceremony at Ferris State University. But she did it for good reason: to watch her son, Stephan, graduate from Central Michigan University. When the two college presidents heard about her sacrifice, they arranged a special surprise.
Mom and son were able to share a major milestone together when, at Stephan's ceremony, the President of the Central Michigan University announced her name, called her up, gave her a graduation cap, and gave her her Ferris State University diploma from the stage.
Both mom & son cried tears of joy as they hugged and she moved her cap's tassel from her right to her left, celebrating years of hard work and dedication to furthering their education.
Wednesday, May 8, 2019
David Green is a history teacher and a father to a 16-month-old girl who was diagnosed with cancer. The High School teacher didn't have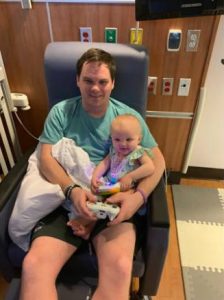 any more sick days that he could take to stay with his little girl, Kinsley. His daughter is getting treatment 100 miles from home and she needs him to be there when he can.
So, fellow educators in Huntsville, Alabama, chipped in with their sick days — adding up to 100 days.
One first grade teacher said, "You want to send words of encouragement, you want to do something to help, but this was a real physical way that we could help him and his family."
And an assistant principal at an elementary school in the same district as David's summed up the generosity like this: "I could not imagine having a child and being away from them. I just thought it was the right thing to do. My mom always said, 'You don't have to be rich to bless someone.'"
Tuesday, May 7, 2019
Rodney Robinson's mother grew up in rural Virginia and wasn't able to graduate high school. Despite her circumstances, she taught Rodney to value learning, and even went back to get her GED while Rodney was in high school. That's a lesson he took to heart, becoming a teacher to honor her.
Rodney is an incredibly special teacher. He's been teaching for nearly 20 years now, and he currently teaches at a school inside the Richmond Detention Center in Virginia. The goal? To help these students fall back in love with school.
School principal Ta'Neisha Ford says Mr. Robinson allows students to really shine and gives them the tools to succeed.
Rodney says he hopes to instill hope and confidence in his students. "(I want them to know that) you're important and you have a place in this world and you can achieve your goals. This is only a temporary setback."
He creates a positive school culture and empowers his students to make changes for the better. Clearly, he is having an impact – Rodney was just named National Teacher of the Year.
Thank you to Mr. Robinson, and to all of our amazing teachers who are making a difference!
Monday, May 6, 2019
When this veteran's electric wheelchair became stuck in soft ground by a nearby pond he was fishing at, the local fire department was called. The responding three firefighters assisted the man by lifting him and his chair out to solid ground.
But in his endeavor to escape, the man's wheelchair ran out of battery. So, those firefighters went the extra mile, literally, to assist this veteran in need, by pushing him about 7 blocks back to his house.
Raytown Fire Protection Deputy Chief Mike Hunley said, "We encourage our guys to find the best way to make a difference when they are out in the field."
The kind act was caught on camera by a firetruck that was following to ensure safety. The video was posted on Facebook, naturally, and received what the fire station calls a "surprising" amount of positive feedback.
"These are moments when my faith in humanity is restored," one comment said. "Thank you for being exceptional people."
The team appreciate the kind words, but say that that's what they're there for – to help people.
"That's what we do for a living."
True heroes, all around!
Friday, May 3, 2019
In 1981, Jim Porterfield was on his way to work when a drunk driver hit his vehicle head-on. He was in a coma for six weeks and underwent more than a dozen surgeries. Now, more than 30 years later, Jim still deals with brain damage causing short-term memory loss and seizures.
He has limited use of his arms and legs and is unable to work. But Jim is determined to find ways to care for his 17-year-old daughter Morgan, despite his disabilities. His latest thoughtful gesture went viral when Morgan found a pill bottle in her bedroom filled with change. Attached was a note that read, "$11.19- Coffee Money, Love Dad."
Morgan says, "I read the note and I couldn't help but cry – It was so sweet that he had thought about that and did that for me even though he doesn't have much money himself."
The 17 year old's Twitter post has been retweeted more than 250,000 times!  A reminder that no matter what situation you are in – you can be a generous loving person and make a difference in this world.
Thursday, May 2, 2019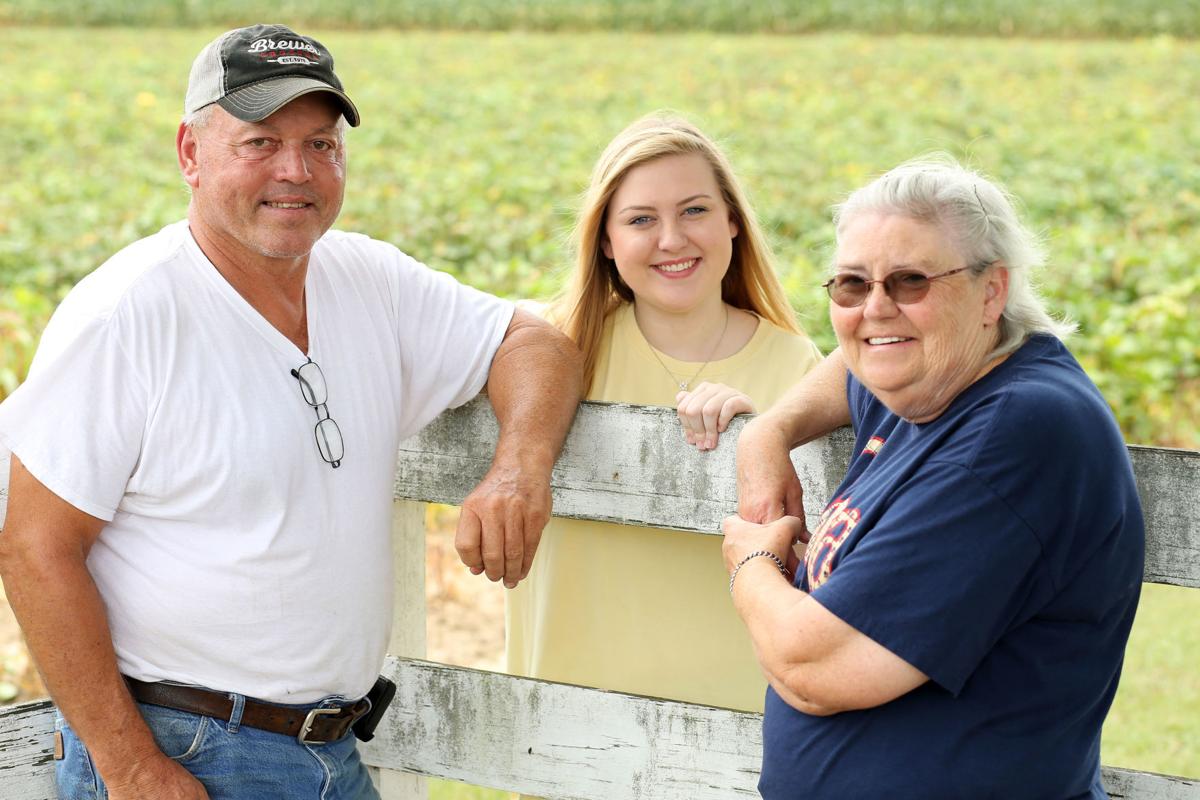 Mitch and Ann Smith have been allowing people to pick their own peas for the past 10 years. The couple began their pea picking service for older people in the community. If you prefer, for a small charge, the Smiths will pick them for you. Or you can donate half of what you pick to the couple to package and sell.
This is lovingly thought out way to help anyone on a fixed income have access to healthy foods and let Mitch and Ann do what they love, together, with soil under their fingernails. The Smiths also plant a couple acres of corn, turnip and mustard greens.
The most rewarding part of this microfarm for Mitch and Ann is when people bring their grandchildren to the fields with them. They'll be laughing and singing. They build relationships with people. Which – isn't that what life is all about?
Wednesday, May 1, 2019
A New Orleans high school senior has some hard decisions to make. Not IF she goes to college – she has to decide which one! Antoinette Love has been accepted to 115 colleges and universities. To top that off, so far she's banked nearly $4 million in scholarship offers. Antoinette is about to graduate from International High School of New Orleans and plans to go to school to become a teacher, according to her mom. Right now she is just enjoying the courtship of colleges – taking a road trip to visit some of the potential schools.
Love had a lot of support around her. Her counselor Denise James helped her identify college application fee waivers. Love also used the College Common App to apply to multiple colleges through one application.
Tuesday, April 30, 2019
Brenda Lomax-Brown is the 73 year old president of the Hollygrove-Dixon Neighborhood Association. She's organized book giveaways, school supply drives and prayer walks. Plus she started a community garden, including a special kids section where local boys and girls can learn how to plant and cultivate produce.
Her neighbors refer to Miss Brenda as "a jewel" and "someone who goes the extra mile." Inspired by her green thumb, the neighborhood is actively trying to get rid of abandoned houses and converting the lots to parks, playgrounds and more gardening spots.
Miss Brenda says she wants to create a future where kids don't hear gunshots and hit the deck, but can play outside safely and love their neighborhood.
Monday, April 29, 2019
Thirty-four years ago, Tammy Lewis was born at 24 weeks gestation, and doctors didn't know whether she would live or die. Now, Lewis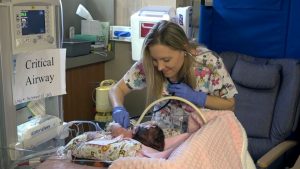 cares for ailing babies in the neonatal intensive care unit of the hospital where she beat the odds over three decades ago.
She was the smallest surviving baby in the state of Texas at the time born at 24 weeks
Lewis weighed only 1 lb., 4 oz. and had just a five to 10 percent chance of survival when she was born at, what is now, McLane Children's Medical Center Baylor Scott & White in Temple, Texas. She spent the first three-and-a-half months of her life in the hospital as a micro-preemie, the smallest of all premature babies.
Years later, she learned that she wanted to help babies too, and ended up working with some of the same doctors and nurses who helped save her life.
Not many people can say that you can go work where you were born and care for the same type of patients that you were and be able to give back in that way. You see parents get rough news and need some brightness and hope in the day. Tammy gets to share with the parents in the NICU Unit about the success stories and that she is am one of them. I imagine thats some good encouragement!
Friday, April 26, 2019
The Kepler Neighborhood School volleyball team out of Fresno, CA had just met up for practice when the kids went from sports stars to local heros.  One of the players spotted a woman dangling by her arms off a nearby bridge and the team immediately sprang into action!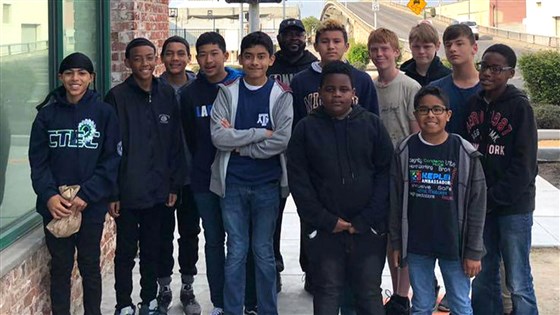 The 47-year-old woman had considered jumping from the bridge, slipped and screamed for help.  The team coach, Murray Elliott, called 911 and told the team to head back to the bridge and speak encouragement to the woman in peril.  Coach Elliott said, "Tell her her life matters!'"
Unable to reach the woman to help, the boys spent ten minutes yelling to this woman that she mattered – that her life had value – that she had the strength to pull herself back up. Eventually, the woman hoisted herself back on to the bridge, where she was met by police.
Local authorities called the boys "true heroes" for their actions. The Police Chief told news teams "[These boys'] words of encouragement caused this woman to realize her life had value.  Thank God they were in the right place at the right time."
Thursday, April 25, 2019
The clinking of glasses, the well-wishes from his guests, his new wife saying "I do" — David Alianiello was able to hear all of this during his wedding last weekend. Alianiello, a 34-year-old teacher from Baltimore, was born with congenital hearing loss. A week before his wedding, he received a cochlear implant, an electronic device that partially restores hearing. On the big day, Alianiello could "hear the clapping," saying, "It was the first time I had ever heard clapping. It was fun to be able to experience the different sounds."
Right after getting the implant, Alianiello heard his daughter, Skyli, singing Twinkle, Twinkle, Little Star. Now, Alianiello and his new wife are expecting their second child, and he's looking forward to hearing "the first words my new baby speaks."
Wednesday, April 24, 2019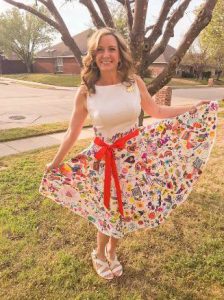 Rebecca Bonner, an art teacher at McAuliffe Elementary School in Highland Village, Texas, wanted to showcase her students' artwork. So, she bought a plain white dress online and asked some of her 580 students, ages 3 to 11, to go to town on it with Sharpies. Somehow, it came out fabulously, and she's worn the dress to two school art shows.
The kids are proud and excited to see their work, and when photos of the dress were posted online, fellow teachers and students alike said they loved seeing such a creative, inspiring display of art education.
Tuesday, April 23, 2019
New Orleans Archbishop Gregory Aymond continued his Holy Thursday tradition of washing the feet of inmates at Orleans Parish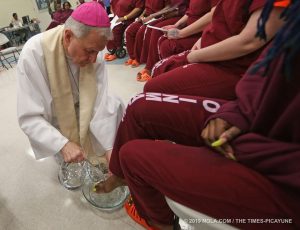 Prison, telling them "You may be out of sight, but you are not out of mind." The ritual of foot-washing is associated with the Last Supper when Jesus washed the feet of his disciples in an act of servitude and humility.
Monday, April 22, 2019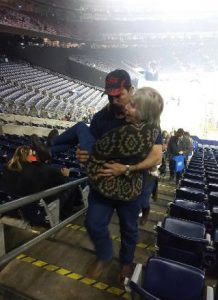 When firefighter Thomas Harwell and his family were at the Houston Livestock Show and Rodeo last weekend, Harwell saw an elderly woman struggling to get down the stadium stairs. His wife encouraged him to help the woman out, and after the show, Harwell said he wasn't leaving until he helped her back up, too. So, he did what firefighters do best: Picked her all the way up and carried her, fairytale-style, to the top of the stairs. Harwell's proud wife posted this pic of the sweet moment, and thousands of people on Facebook loved it.
---
Thursday, April 18, 2019
Mark Raymond Jr. never envisioned himself as an inspirational figure, at least not until he was forced to redefine what "never" meant to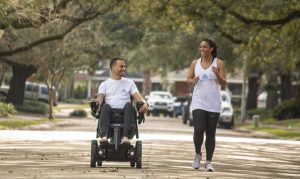 him. Following an accident on Lake Pontchartrain in 2016, he was told he would never be able to walk again. Implicit in the word "never" is the absence of hope. That was not good enough.
Now, Mark's eyes are full of a fire that can't be extinguished. He may not be able to walk now, and he may not ever fully regain that ability, but he's never going to stop trying — and along the way, he's trying to let everyone else have a little of that hope to hold onto, too.
You can catch him at the Crescent City Classic this Saturday (April 20). You can run with anyone, he says, or you can roll with him as he raises funds for what he hopes will be the first facility of its kind in Louisiana, catered specifically to people with ambulatory disabilities.
He will participate in the race to raise money and awareness for his Split Second Foundation. He hopes to have enough funding to open the Split Second Fitness Center, which will provide specialized physical and mental therapy specifically for those left physically limited by paralysis, stroke or amputation, by the end of the year.
Mark wants to offer hope. It is not just the hope, though. As Split Second's motto goes, it is about transforming hope into action.
Wednesday, April 17, 2019
Jason Hardesty loves his job and he gets to explore the streets of New Orleans meeting all kinds of kooky characters. And all kinds of pets!
Jason is flipping the script on the old adage of how dogs and mail delivery workers are natural born enemies. Jason began Insta-documenting the pups on his route by taking selfies with the friendliest pets and people. Of course his account has gone viral!
Just search #pupsofjay to start smiling at the puppy love.
Tuesday, April 16, 2019
Emma Mertens is a very brave seven year old girl from Wisconsin. While most seven year olds are busy playing with friends and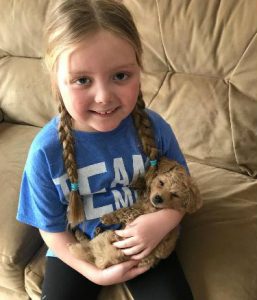 completing the 1st grade, Emma is busy fighting a rare form of cancer called Diffuse Intrinsic Pontine Glioma (DIPG).
But the battle against this inoperable brain tumor hasn't dimmed Emma's love for life – especially when it comes to dogs! She's puppy-crazy. Emma has folks praying for her world-wide, after her story was shared on social media. To date, more than 80,000 pictures of dogs have been sent to her online, but nothing beats a good puppy kiss.
Local police put the call out to all K-9 units throughout the region to do a surprise stop for Emma to meet the puppy-police-officers. Almost 40 police departments sent police in a parade of puppies leading up to Emma's front door.
Emma's dad said there were dozens of police cruisers parked up and down the streets of their neighborhood. Some of the K-9 units travelled hours for just a few minutes with this little girl, who pet and got to know each K-9 officer by name.
Monday, April 15, 2019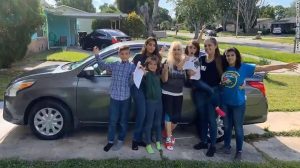 If you have survived a tragedy, you might have also experienced the beautiful moments of God providing as the storm dies down. The Rodriguez children have known tragedy. Both their mom and dad lost battles with cancer over the past five years.
For the past few years the eldest daughter, 20 year old Samantha, has cared for her five younger siblings – doing her best to be the parent they need. They moved to Orlando to be closer to their grandmother. But it was Samantha that stepped up and took care of her siblings. She clothed them – fed them and got them to school every day, all without a car.
Local police were inspired by The Rodriguez family and provided an epic Christmas for the six siblings – toys, food, the works! But they had more planned.
I imagine Samantha was confused and worried when she was invited to come to the Orlando Sheriff's office this Spring. When she got there, the police surprised the young woman with a brand new Nissan Versa. The community had rallied and raised the funds to help the family out!
Friday, April 12, 2019
Belinda George, the principal at Homer Drive Elementary School, started a bedtime story tradition to get her students interested in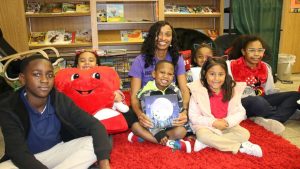 reading. Every Tuesday night, George reads a children's book aloud to her students from her home via Facebook Live. The students that tune in can earn advanced reader points as rewards for listening. This all began because 94% of George's students come from disadvantaged homes and the school has struggled to keep literacy scores up in years past, so she decided to do something about it. Since she became principal last year, the school has already seen scores improve.
Thursday, April 11, 2019
Has your child or teenager ever saved up every single birthday check, lawn or babysitting dollar all to get one glorious thing? Tanner Wilson saved for two years – as a high school senior you might think he was going to get a car, but actually he bought a motorized wheelchair for his friend Brandon. Both teens go to Caddo Hills High and Brandon has made due with a standard wheelchair for years. But senior year he is rolling in style thanks to his great friend Tanner.
Wednesday, April 10, 2019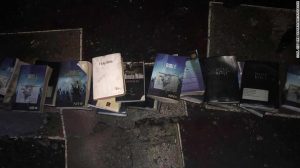 Firefighters responded to the blaze at Freedom Ministries Church in Grandview, West Virginia – but the flames were so high and hot they could not even approach the building. The building was left in ash and water damage. Except, according to the Coal City Fire Department – not a single Bible or wooden cross in the building was touched by the flames. Not a singe. The firefighters collected over a dozen of the Bibles and took a picture of them in the middle of the rubble. That picture has since gone viral.
Tuesday, April 9, 2019
One Idaho teenager who made $35,000 in one week, decided to tithe $7,000 to his church "for the sole purpose of advancing the kingdom." According to CBN News, 18-year-old David Holston was visiting his mother in Seattle, Washington when the state was hit by a historic snowstorm of up to 10 inches. CBN News reports that the teen put an add up on Craigslist and was flooded with calls from locals and businesses who were not equipped for the snow – a rare sighting in Seattle. In an interview with Fox News, Holston shared that he wanted to tithe 20 percent of his earnings to his church, buy lawn mowing equipment for a potential new business venture and save the rest for buying his first house.
Monday, April 8, 2019
Tatiana Green lost her sight at age 17. But when she went in for an ultrasound, she got a special treat. Using 3D Printing, the hospital

was able to render a touchable life-sized bust of her unborn child for her to touch.
Technicians created a lifelike bust of Murilo, Tatiana's baby boy, while the ultra sound was being performed.
"That's an image of your son. See if he feels the way you think he does," said the doctor. After unwrapping the cloth, Tatiana ran her fingers across the words "I am your son," which were written in braille at the top. She then carefully touched her son's face, smiling as she was able to "see" her son just like other mothers. Overcome with emotion, Tatiana stated, "I'm very happy to meet Murilo before he's born."
Friday, April 5, 2019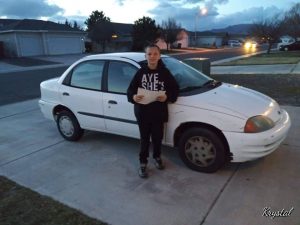 Krystal Preston thought her 13-year-old son was playing a joke when he said he bought her a car. It was actually true!
Her hard-working son, William, traded his Xbox and did LOTS of yard work to buy his struggling mom (of 3 kids) a 1999 Chevrolet Metro.
(He even offered to vacuum as soon as they drove it home).
Krystal is newly single and was struggling to find work. She's "stressed out trying to find a job, trying to find a vehicle and make ends meet."
Williams saw his mom's struggle and wanted to help out.
This is NOT William's first time making an impact.
In 2017, he was recognized for his community cleanup work, including helping mow a senior citizen's lawn.
It doesn't stop just in his community, because of social media, William is being honored for his selfless act all over the world. "There are people writing him from Germany, London, everywhere."
Thursday, April 4, 2019
Two sons in Florida wanted to plan something big for their dad's birthday – so they put his phone number on a billboard with a callout for messages. Within days, Dad was getting calls from around the world.
Wednesday, April 3, 2019
God formed man out of dirt, these Northshore High School students are forming hands, to help children live more fulfilling lives, out of
a plastic-like fiber!
Taylor Authement and Ethan Groom were amazed as they saw shapes slowly coming to life before their eyes. Taylor, Ethan, and other students have spent the past few weeks preparing and constructing hands using a 3-D printer.
The students closely monitor the hands and then do additional assembly work once they leave the printer.
Addie's Angels, a local nonprofit that helps provide assistance to kids who have lost the use of a limb, helped the school purchase these 3-D printers and cover the cost of the prosthetic hands curriculum, which comes from a New Orleans company called PatentDrive. 
After the Northshore students are finished working on the prosthetic hands, they are returned to PatentDive, which then sends them to a nonprofit to be distributed to children in need in other countries.
Tuesday, April 2, 2019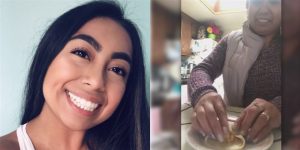 You can count on your mom to teach you many things…like how to wash clothes, how to put on makeup, how to correctly fold a fitted sheet, but this mom has upped the ante! She has taught her daughter (by video!) how to fold a burrito!
April, a college student from Southern California, sent a desperate text to her mother, asking for cooking advice. She'd forgotten how to roll a burrito!! (It happens!) Instead of just responding with a text, April's mother, Silvia, responded with a very informative, yet perfectly simple 42 second video. Now thousands of people know how to properly fold a burrito, and April's mom has LOTS of fans. The video has over 180,000 retweets and nearly 1 million likes on Twitter. So it's pretty safe to say that in addition to puppies and babies, Twitter really loves burritos and moms.
Monday, April 1, 2019
It's no secret that exercise can be good for your mental and emotional health (tell yourself that next time you're on the treadmill and you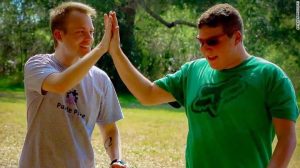 feel your soul start to leave your body). Such wellness is the mission of Mark Fleming, a personal trainer who recently opened a gym especially for people with autism. Fleming is on the spectrum too, and noticed that fitness centers can be challenging environments for people like him. His gym, Puzzle Piece Fitness, caters to the specific needs of clients with autism. "I think it is important to help others on the spectrum to achieve the life that they desire. And exercise is a great way to do that," he said.
Friday, March 15, 2019
During Lent in New Orleans on a Friday, one thing is for certain: There WILL be seafood. Which is good news for The First 72.
For some inmates getting out of prison, The First 72 is a life-saver. The non-profit organization operates a transitional house in New Orleans that helps get the ex-convicts back on their feet.
About 10 men live full-time at the First 72 transitional house at any one time. In addition to finding jobs and getting acclimated to the free world, the men volunteer time to keep the house operating and raise money for future residents.
This time of year, one surefire way to raise money is through seafood. In one of the First 72's biggest annual fundraisers, the residents and other volunteers fry catfish, cook several side dishes and serve the full platters for $10 on every Friday of the season.
On top of the money raised, the sense of accomplishment and teamwork provides a visible boost to the ex-convicts who spend the day cooking, packaging and delivering the meals.
Troy Snavely, who was released from Angola last month, says they also helped him get basic necessities like clothes and a driver's license. He now regularly volunteers with The First 72, saying, "It's great to come home and be able to be a part of something. With these people helping you out, you want to be willing to help and do whatever needs to be done."
Thursday, March 14, 2019
Fast food is just that. FAST. It may only take a minute or two to prep an order, but Kelly Stewart, who works at Taco Bell, takes those moments to also deliver messages of hope.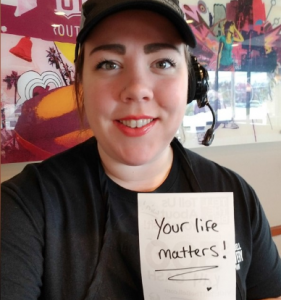 Between inputting the order, helping prepare, and adding utensils, Kelly also writes a brief note of encouragement and slips it into each customer's bag.
She says, "I've grown from hardships in my life. It's so nice to see someone smile, because you never know what's going on in someone's life."
From simple connotations to quotes by Mark Twain, Albert Einstein and Vincent Van Gogh, the 27-year-old has written hundreds of notes with which to surprise her customers. The working mother knows from experience that a gesture as small as a note can make all the difference.
Whether it's tear-inducing or just a simple smile, Kelly takes pride in bringing others happiness through her job.
"I may just work at a fast food place, but you have to take pride in what you do," Kelly said. "Especially with how hard today's times are, it's nice to put a smile on someone's face."
Wednesday, March 13 , 2019
New Orleans is a city known for and filled with music. Instruments can be expensive and while plenty of musicians borrow the equipment, five band students at Sophie B. Wright school in New Orleans now have their own, thanks to local mom (and musician herself!), Leslie Cooper.
Leslie has been giving away instruments to children for about eight years now but for her, this movement started even earlier with her son, Doyle. He was 10-years-old when he wanted to learn to play music. She says, "I couldn't afford a horn, and somebody gave us a trumpet." Leslie remembers the joy in his eyes, and felt that joy again when, 5 years later, Doyle was able to pay it forward by passing that trumpet on to another child who wanted to play music.
Leslie calls this program "Pass It On" because she's doing just that and encouraging other musicians to do the same. "If somebody would do just a little something, just a little something then we put all those little somethings together and the next thing we know we got a brass band," she said.
The students call Leslie a hero. She humbly says she's not. "I'm just doing what we're supposed to do, what any person SHOULD do."
Tuesday, March 12, 2019
It's not the first time it's happened. Nor will it be the last. But it's a viral moment that speaks to so many things: lack of childcare. The drive to seek an education. And compassion from others.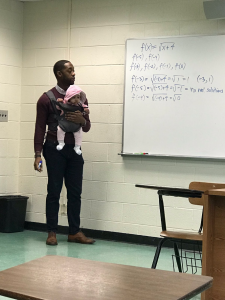 With midterms looming, Wayne Hayer didn't want to miss his algebra class Friday at Morehouse College in Atlanta and couldn't find childcare for his five-month-old daughter. It was an important class, since they were reviewing content for the upcoming midterms. So he brought her along.
After Wayne explained his situation, his professor offered to hold little Assata and taught the rest of the class with the baby strapped to his chest, saying "that way, you can take good notes."
Morehouse College President David Thomas commented, "This is about love and commitment. Loving our students and being committed to removing any barrier to their pursuit of excellence."
Professor Alexander says, though he is the one who held the baby, this moment really was about Wayne's hard work. "He works two jobs, is a full time student, is involved in leadership programs at school and is a parent," the professor said. "This photo serves as a reminder of what parents have to do every day and how important it is to have affordable childcare."
On top of it all, baby Assata was the perfect student and didn't distract from the day's lesson.
Monday, March 11, 2019
Rodney Smith Jr. is the founder of the organization Raising Men Lawn Care, which provides FREE yard maintenance to those in the community who need it (single moms, veterans, the elderly, those who are disabled, and others who don't have the resources to keep up with it) through the services of youth in the community. It's an amazing program that helps inspire young people to keep on a positive path as they learn and understand their value in society by helping others.
150 children have joined his 50-Yard Challenge to mow 2,000 lawns across the country so far.
Rodney recently offered his free lawn care service around Louisiana. He spent his time helping people, surprising a single mom in New Orleans, and getting a surprise of his own. While here, Rodney was gifted with a new mower from Bridge City Power Equipment, which he then gave to an 8 year old Louisiana boy named Aiden who wanted to tackle the 50-Yard-Challenge but didn't have a way to do it.
Rodney is continuing his travels across the country, making a difference, one lawn at a time.
Friday, March 8, 2019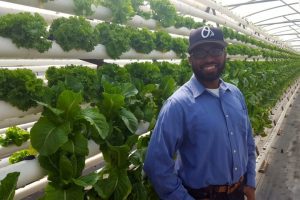 After seeing how many of his parishioners were sick because of their diets, and who did not have access to fresh, healthy food, Rev. Heber Brown III of Pleasant Hope Baptist Church in Baltimore decided to do something about it. On a lot in front of the church, Brown planted a garden filled with everything from summer squash to kale that now produces 1,100 pounds of produce every year. He also teamed up with black farmers in the area, who now sell their fruits and vegetables at the church on Sundays. Due to the enthusiastic response, Brown decided to bring the program to more congregations, launching the Black Church Food Security Network in 2015. Now, more than 10 churches in Baltimore, North Carolina, Virginia, and Washington, D.C., have established sustainable food systems at their churches, and Brown gets emails and calls all the time from people interested in joining the network.
Thursday, March 7, 2019
Professional cuddling is gaining popularity among experts in therapy who say that human touch is a comfort that cannot be replaced by traditional therapy methods.  Cuddlist employs hundreds of professional cuddlers across the country who are booked by clients looking for a therapeutic cuddle session.
Clients book sessions for all kinds of reasons. Some are lonely, maybe just getting out of a divorce or haven't been in the dating pool for a while. Other clients have disabilities or conditions that seem to become more manageable with her sessions.  Some people come from trauma, from PTSD from combat overseas or PTSD from childhood trauma or are battling degenerative diseases such as Parkinson's and ALS.
Wednesday, March 6, 2019
I Can Only Imagine banked over $80 million for Lionsgate. Movie makers don't really care what the movie is about as long it is making them millions of dollars. And since Christian music fans have spoken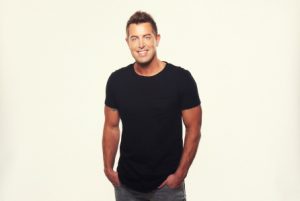 with their wallets – we are getting more of what you want! The team behind telling Bart Millard's story is working on a new film called I Still Believe – which will chronicle the life of Jeremy Camp. Jeremy's first wife died of cancer not long after they were married – so expect another tear jerker with a triumphant ending!
Tuesday, March 5, 2019
Beads that are caught and donated to ARC of New Orleans provide two wonderful causes. ARC provides jobs to the developmentally disabled, who sort, clean and repackage the beads for resale. Jefferson Parish this Mardi Gras season is allowing a truck to follow at the end of a Metairie parade and beads can literally be thrown back onto the truck– where they are taken to ARC for processing. Not only is this wonderful initiative providing, it's also keeping our streets clean!
Monday, March 4 , 2019
Like everyone else accustomed to potential computer scams, Marianite Sister Marjorie Hebert, the president and CEO of Catholic Charities Archdiocese of New Orleans, is aware of the danger of responding to an email congratulating the recipient for winning a multimillion-dollar lottery and requesting only a banking account and a Social Security number to complete the transaction. But then it WAS REAL .The reality of Dauber's phone call and follow-up email is this: Over the next four years, the Day 1 Families Fund will earmark $5 million for Catholic Charities to fund a multifaceted program to attack homelessness in New Orleans. The $5 million grant is the largest Catholic Charities has ever received from a private, family fund, Hebert said The organization was one of 24 nonprofits to receive the first Day 1 Families Fund grants, totaling $97.5 million, and the only one in Louisiana.
Friday, March 1, 2019
Teachers are incredible. They work tirelessly, many going above and beyond the call of duty. Shannon Grimm is the kind of teacher who goes the extra mile for her students.
The Texas kindergarten teacher recently cut her hair short after one of her students was getting teased by classmates for her own cropped hairstyle.
Priscilla Perez, 5, had endured the situation for some time so, during winter break, Ms. Grimm decided to take a stand. The decision to chop her own hair wasn't an easy one, and she wrestled with whether she was ready to say goodbye to her long locks. But, ultimately, she felt this was an opportunity to make a statement.
Ms. Grimm, who is in her second year at the school, hopes her gesture can be used as an example in the future. She says, "In life you're always going to have somebody who's not nice to you. But it's all about what you do and how you react."
Those words seem to already resonate with Priscilla, who told her teacher, "When I get big like you, I will have friends who will be mean to me, but I will be nice to them just like you."
Thursday, February 28, 2019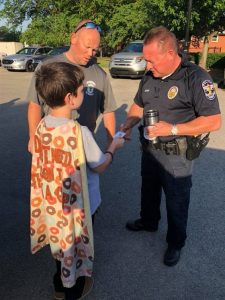 11-year-old Tyler Carach, aka the Donut Boy, started out using his own allowance to buy doughnuts as thank-yous for police officers. Now, he's delivered more than 75,000 treats to cops in 41 states. 
The idea came to Tyler when he saw four officers in a local store and asked if he could use his allowance to buy them doughnuts as a snack. The officers were so incredibly grateful, it gave Tyler the idea to set out for a mission: thank every police officer in America.
As of this past January, tyler had served over 75,000 dougnuts in 41 states. You can view Tyler's doughnut counter by state here.
Wednesday, February 27, 2019
A Massachusetts neighborhood is coming together to make sure one of its youngest residents has a voice. Two years ago, Glenda and Raphi Savitz moved to the Newton neighborhood and soon welcomed their daughter Samantha, who was born deaf. The neighbors decided they wanted to learn how to communicate with her themselves. So they signed up for weekly night courses to learn American Sign Language. More than 20 eager students come together each week to learn how to better communicate with Sam.
Tuesday, February 26, 2019
She arrived at the Grand Canyon as a regular visitor, and left as a junior ranger. Rose Torphy, 103, went to the national park while vacationing in Arizona last month. Inside the gift shop, she started talking with an employee about the junior ranger program, which educates kids about the Grand Canyon and nature.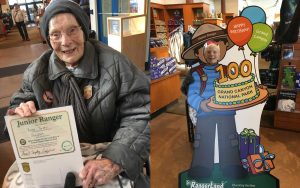 Before long, she was taking the junior ranger oath to take care of the park and signing her certificate. "I'm happy to protect it for my great-grandchildren to visit one day," she said. The Grand Canyon will celebrate its 100th anniversary of being a national park on Feb. 26, making Torphy three years older. "She's a spokesperson for the park now," her daughter, Cheri Stoneburner, told Good Morning America. "Everywhere we go, people ask her about her junior ranger pin and she says, 'You're never too old to see the Grand Canyon.'"
Monday, February 25, 2019
The days leading up to giving birth can intense, especially for first-time parents. Sometimes, a little kindness can make all the difference for a busy mother-to-be.
Courtney English works as a waitress at Lamp Post Diner in Clementon, New Jersey. She's been at the establishment on and off for two years, and is used to being on her feet.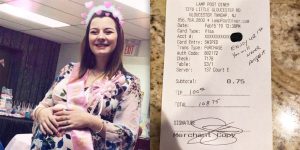 But with a baby due April 1, waiting tables all day can get pretty tiring.
"It is tough waitressing at this point, but I have a lot of help, my co-workers won't let me lift heavy trays, and they give me sections close to the kitchen," English told TODAY Food. "I have the greatest support from my co-workers and bosses."
On Friday, English served a new face among her tables of regulars: a local Voorhees County police officer. He had his meal, went to the counter to pay and left the restaurant.
Later that day, when English went to collect her tips, she noticed a note he'd written on the officer's check: "Enjoy your first. You will never forget it."
Besides the thoughtful sentiment, the officer left a $100 tip … on meal that was less than $9. "It was wonderful feeling, completely unexpected and genuine," English told TODAY. "Cops are portrayed as horrible people a lot of the time, and they aren't and this just goes to show that a young officer [saw] a struggling mother to be, and wanted to extend a little help!"
English's father, Brian Cadigan, was also moved by the officer's gesture and posted what happened on Facebook — making a point to share how often police officers go above and beyond their daily responsibilities. A statement from the Voorhees County Police Department confirmed it was indeed one of their officers who left English her tip, however he now wishes to remain anonymous.
Friday, February 22, 2019
An organization that ships care packages to troops serving overseas has hit a milestone. Volunteers with Operation Support Our Troops America, based in a suburb of Chicago (Lisle, Illinois) have packed their 2 millionth pound of care-package items. Deb Rickert started the organization 16 years ago when her two sons were deployed. Rickert said the motto is "as long as they are there, we will be here" and that hitting the 2 million mark was bittersweet and said she hopes for the day when what the organization is doing is no longer necessary.    
Thursday, February 21, 2019
What seemed like a normal call for two firefighter paramedics in St. Louis, Missouri, quickly turned into an unsteady situation. Icy roads turned into a dangerous situation, causing more than just a few traffic issues and accidents. Jon and Shaylor were called upon to help, and went to extreme lengths to ensure a patient safely got to the hospital.
This involved navigating a sliding ambulance on icy roads to the hospital, sliding into a guardrail, and nearly missing a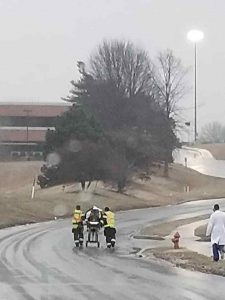 15-foot drop on the side of the road. Sensing all of this was distressing the injured patient, the pair put on their boots and proceeded to  push the patient about a mile — complete with two large hills.
The patient didn't have any life-threatening injuries and made it to the hospital for an evaluation, thanks to the courage and extra mile (literally!) gone by these two heroes.
They simply said, "We would never have been able to do that without the support of our community. We are never afraid to do anything extra for them."
Wednesday, February 20, 2019
One woman in the Chicago area knew just what that cold could do to those who had no place to stay warm, so Candace Payne impulsively charged 20 hotel rooms on her credit card so that the homeless would have a safe place to stay during the dangerous deep freeze. Others took note, and that's when other volunteers also dug deep into their pockets and picked up the tab for a total of 60 hotel rooms for homeless men and women during the cold snap. In all, Payne's efforts led to the volunteer group being able to cover three nights at the hotel for at least 80 people.
The recipients of this kind gesture are calling Candace an angel, saying they've never seen the likes of this type of kindness ever before. Candace says she knows more want to help, but sometimes people just don't know where to start. She and the other volunteers are hoping to continue working together to help provide a more long-term solution for these people in need.
Tuesday, February 19, 2019
Ruby Kate spends a lot of her summer at nursing homes in Arkansas. Her mom's a nurse practitioner and Ruby Kate likes hanging out with the residents. But the 11-year-old admits it can get boring. Which is why the 5th grader approached a woman in a wheelchair to ask her why she was staring so intently out the glass doors. Her answer broker her heart.
The woman was watching her dog of 12 years walk away. She said a friend had just brought him for a visit, and the woman didn't know when she might see him again. That encounter last summer led the little girl to think: how many other residents couldn't afford simple things that brought them joy. She decided to do something about it.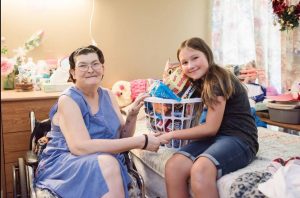 Ruby Kate started a project and Facebook page called "Three Wishes for Ruby's Residents." Her mother helped her set up a GoFundMe account to help pay for those wishes. Ruby Kate began asking residents what three things in the world they wish they had right now.
The answers surprised Ruby Kate and her mom. One man said he wanted some pants that fit. Another asked for fresh fruit. The resident said she hadn't had a fresh strawberry in eight years. Others asked for good books. Others said they wanted a phone because there aren't any in their rooms and they get lonely.
GoFundMe took note and named Ruby Kate a "Kid Hero" of the month. So far, the account has raised more than $70,000 for residents in five nursing homes in Arkansas. Ruby Kate manages to visit residents two or three times a week to jot down their wishes and deliver the goodies.
Her mom says, "I had known some of these patients 20 years. They told her things they would've never told me because she was a child. I think Ruby's starting a movement — recognizing a need and just doing something about it. This is about their quality of life — bringing them joy."
Monday, February 18, 2019
Did you end up doing the back and forth to the hospital at the end of the third trimester – absolutely sure you were having a baby – only to be sent home by the hospital by chuckling nurses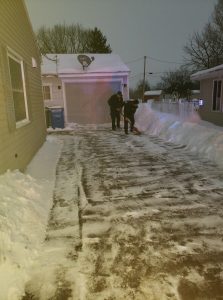 saying "not yet, honey!" That's happened with Cassy Abram and her husband Scotty in Cedar Rapids, Iowa. But moments after getting back from the Braxton Hix false labor, Scotty found himself on the phone with 911, delivering his son Scotty Jr. on the floor of the living room!
The first response was from Firefighters who helped deliver the baby and even let the new dad snip the umbilical cord. Both mom and baby were safe when the EMTs arrived to take them to the hospital. As they wheeled Cassy and the Jr out to the ambulance, the Abrams saw something they will never forget – the rest of the firefighters who had arrived to help deliver the baby had been outside shovelling their driveway – which had been covered in Iowa snow.
Friday, February 15, 2019
It looks like the Federal Government is going to avoid another shutdown, with a bipartisan budget agreement. That's good news because the last shutdown impacted over 800,000 folks – along with a single branch of the military: the Coast Guard. They worked without pay, and in some cases, without the aid of contract employees who have been furloughed.  
Jennifer Norris-Martinez wasn't going to let that stand, so she did a fundraiser and collected $2400 worth of gift cards to give to US Coast Guard employees in the GNO area. Jennifer's son is in the coast guard, so this hits very close to home.  Mrs. Norris-Martinez coordinated with the New Orleans chapter of Chief Petty Officers Association to get the aid to those who need it most.
Thursday, February 14, 2019
Hundreds of volunteers and rescue personnel were on the hunt for a 3 year old boy who went missing in the woods of North Carolina. Casey Hathaway was missing for 2 days in the wild – surviving freezing temperatures and all that nature could throw at the preschooler. It was about 9:30 at night when searchers heard a tiny voice calling for help. Miraculously Casey was unharmed. Hungry and cold, but safe. Casey had gotten tangled up in a briar patch about a quarter mile away from his grandmother's house. The community turned the celebration into a worship service thanking God for safely returning Casey.
Wednesday, February 13, 2019
Is it ideal? No. But broken and blended families is reality. Another surprising reality – divorce rates are exactly the same inside the church as out in America. But just because one family fell apart, doesn't mean God can't build something beautiful in its place.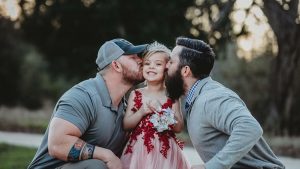 For example, 5 year old Willow Mengon has a wonderful mom (Sarah) and two loving dads. Her biological dad, David and her mom's fiancee, Dylan. While Sara and David divorced a few years back, they parted ways amicably. Now David and Dylan have formed a strong friendship – a brotherhood – all to help raise their daughter Willow.
Recently Sarah snapped pictures of her daughter with her two dads headed out to a Daddy/Daughter Dance. The pictures are adorable and went viral, shared well over 100,000 times on Facebook.
Bio-dad, David is well aware that his and Dylan's friendship will help set up Willow's future relationships, saying "She's going to gauge the men that she dates off of our behavior. So, if we treat her with respect and treat her mom with respect in the process, you know it's one thing to tell your kids something but to show them every day is something different. We want a strong young woman who knows how to be treated and that's going to be based off the example we set."
Tuesday, February 12, 2019
Everybody has their favorite King Cake. Some like the classic Haydell or Randazzo's. My wife loves Gambinos and I'm partial to the Vietnam inspired Dong Phuong. But we have choices. We're spoiled. 
Meanwhile thousands of American troops serve overseas living off of the cantina and MREs. Well Randazzo's Camellia City Bakery isn't going to stand for that. Since 2003 Randazzo's has been shipping king cakes to the troops through Operation We Care. Troops in Afghanistan, Iraq and other deployments around the globe will soon be asking their cajun compatriots why they found a plastic baby in their giant cinnamon roll thanks to some incredible local generosity. 400 red white and blue king cakes are in the mail right now to the active duty servicemen and women.
Monday, February 11, 2019
Katie became a foster parent in 2016. She cared for four foster children before meeting Grayson, a baby who was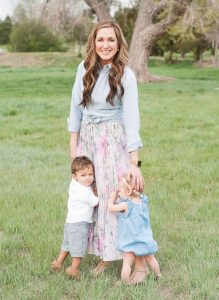 abandoned at the hospital. On May 25, 2017, Katie officially adopted Grayson, who is now two years old. Just months after adopting Grayson, Katie received a call about a newborn girl, named Hannah, who needed a home. As soon as she met Hannah, she knew it was meant to be. Katie adopted Hannah on December 28, 2018 and a DNA test confirmed that the children are actually biological siblings!  Plus, Katie is already in the process of adopting another 5 month old – this one is probably not related to the other two kids though.
Friday, February 8, 2019
Now that his beloved dog is by his side, Perryn Miller can heal. Perryn, an 8 year old little boy, lives in Wilmington, North Carolina. While in Utah for the holidays, he started to have bad headaches, and during a trip to the emergency room, doctors discovered he had a brain tumor.
Perryn underwent surgery, and remained in Utah — far away from his family dog, 8-month-old German shepherd Frank. A former truck driver named Bob Reynolds read about Miller's story on social media and volunteered to drive Frank the 2,300 miles to Utah.
The trucker made the 52 hour haul and said, "I never questioned why I was doing it or anything like that – I just knew something had to be done and that I could do it." All kinds of medical reports have testified to the healing power of dogs and other pets – especially for kids. While Bob Reynolds drove a dog across the country in a little over 2 days – he likely shaved weeks off of Perryn's recovery!
Both Frank and Perryn agree on one other important fact – Frank, the German Shepherd is a GOOD BOY!
Thursday, February 7, 2019
During a 2005 trip to southern Africa with his mother, 10-year-old Winston Duncan was inspired to start a nonprofit that, 14 years later, is still going strong. Winston met kids with holes in their shoes who walked miles to school and wanted to make it easier for them to get around.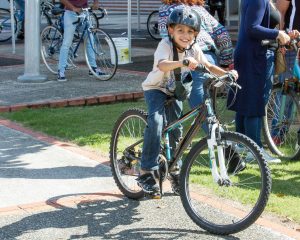 Along with his mother, Dixie, he launched Wheels for Africa. People from the Duncans' hometown of Arlington, Virginia donate bicycles, and after they are fixed up, the bikes are sent to people in need, mostly in Africa. Over the last 14 years, more than 8,000 bikes have been donated. Recently Winston, his mom and a group of volunteers went to Puerto Rico for the first time, where 400 bikes and helmets were given to people still reeling from the devastation caused by Hurricane Maria in 2017.
Now 24, Winston Duncan is a graduate of Bard College and working at a political consulting firm – while continuing his work with Wheels for Africa. So if you are 10 years old and you have a vision for changing the world in big or small ways – be like Winston Duncan. Don't give up – you can make a difference!
Wednesday, February 6, 2019
One woman tweeted that her 4-year-old daughter said she wished she was a boy, because she wants to be a firefighter. Female firefighters responded, proving that a woman is more than fit for the job.
Tuesday, February 5, 2019
For three months during the Korean War, 1,000 sailors aboard the USS Point Cruz doted on a tiny passenger: a baby rescued from a trash can in Seoul. While on a walk in 1953, Navy medic Norm Van Sloun of Minnesota and a few other sailors heard a cry, and found the baby, left for dead. He was brought on board, and a crib was made and a sick bay was transformed into a nursery. They named him George, and sailors lined up to see him during his visiting hours. Van Sloun, 88, always wondered what happened to George, and his daughter finally found him online. Now named Dan Keenen, he was adopted by a Navy surgeon in Spokane, and is married with two sons. They recently reconnected via video chat, with Keenen telling Van Sloun, if it hadn't been for the sailors, "I literally wouldn't be here today."
Monday, February 4, 2019
Every baby that Dr. Erik Bostrom delivers at Riverwood Healthcare Center in Aitkin, Minnesota, goes home with a parting gift: a blanket made by the doctor himself. Bostrom is a family medicine doctor, not an obstetrician, but because he works in a rural area, delivering babies is part of the job. When the 33-year-old arrived at the hospital two years ago, he told a colleague he wanted to do something to connect with patients, and they told him he should make each baby a blanket. He learned how to use a sewing machine, and about a year later, taught himself to embroider, adding each baby's name, date of birth, height, and weight to their blanket. "I never thought sewing could be so much fun," Bostrom told the Star Tribune.
Friday, February 1, 2019
Shelters can be a stressful place for dogs and cats. Nancy, a 10-year-old volunteer at an animal shelter, helps the animals relax by singing.
Not only are the animals calmer, but their peaceful demeanors make them more adoptable. Little Nancy brings her ukulele along with her and helps bring the shy animals out of their shells. Some can even be heard howling along with her.
The singalongs get these animals closer to finding their forever homes, and that's music to our ears!
Just goes to show the impact music can have on each of us. Thank YOU for helping to bring uplifting encouragement through music by supporting the ministry of LifeSongs!
Thursday, January 31, 2019
Katie Blomquist left her job in PR to become a teacher, because she wanted to make a difference in the world. Years later, with a master's degree, a new city and a refreshed outlook, she found herself teaching students in South Carolina not only academics, but also life and social skills, providing a listening ear during recess and being one of the only consistent adults in their lives.
She became especially close with a first grader named Jawan, who was "pretty unmotivated in school because he was never given a reason to be motivated," said Katie. "I thought, 'I've got to bond with him outside of here and show him there's all these awesome things in the world you can do… but you have to go through school first.'"
Katie knew Jawan's home life was much different than the household she grew up in. Yet, she was still shocked by his birthday wish. When she had told him to pick out a present as they shopped at Walmart, he chose a bike.
"I took my memory of riding a bike for granted. I still thought everyone had a bike," she recalled.
With a teacher's salary, Katie couldn't buy Jawan a bike. But she was determined to fulfill his birthday wish. She set up a GoFundMe and realized if Jawan didn't have a bike, most students probably didn't either.
"That's when it snowballed into 'I can't leave anybody out at this school,'" said Katie.
The fundraising campaign went viral. GoFundMe, Twitter and TJ Maxx jumped on board to help promote the effort. Katie was featured on local and major media outlets.
With the help of thousands of donations and a local bike store, Katie was able to buy the 650 bikes with the $80,200 raised – more than $15,000 above her initial goal.
This gave her a sense of purpose and some extra money from the fundraiser. So she decided to invest the money in starting the non-profit, Going Places. The organization continues to give children bikes and more. But it's not about the bikes, it is about what the bikes represent. Katie says the non-profit is different than any other because it provides joy.
"It's about making sure all children aren't missing out because a person may have all the basic needs in life but what kind of life is a life without joy? Providing joy, especially in children, can shape who they are as an adult. It can shift their whole life."
Wednesday, January 30, 2019
Traveling with kids can be challenging. Kelsey Zwick knows this. Her daughter, Lucy, receives treatment for a chronic lung disease, which means carrying an oxygen machine when they travel to hospitals for her medical care.
After boarding, an American Airlines flight attendant told Kelsey a man in first class asked to switch seats. Kelsey was so moved in the moment, but didn't feel she properly shared her gratitude with the traveler, so she then turned to Facebook to say thanks even more:
"To the man in 2D. Today you were traveling from Orlando to Philly. I don't know you, but I imagine you saw us somewhere. I was pushing a stroller, had a diaper bag on my arm and also lugging an oxygen machine for my daughter. We had smiles on our faces as we were headed to see her "friends" at CHOP (Children's Hospital of Philadelphia). We pre-boarded the plane, got cozy in our window seat and made jokes to those around us about having to sit by my yelling-but-happy baby. The flight attendant came over and told me you were waiting to switch seats. You were giving up your comfortable, first class seat to us. Not able to hold back tears, I cried my way up the aisle while my daughter Lucy laughed! She felt it in her bones too… real, pure, goodness. I smiled and thanked you as we switched but didn't get to thank you properly. Sooo… thank you. Not just for the seat itself but for noticing. For seeing us and realizing that maybe things are not always easy. For deciding you wanted to show a random act of kindness to US. It reminded me how much good there is in this world. I can't wait to tell Lucy someday. In the meantime… we will pay it forward. AA 588 passenger in seat 2D, we truly feel inspired by your generosity."
Tuesday, January 29, 2019
We're told any small good deed makes a difference. By that measure, a man named Albert Lexie made a world of it.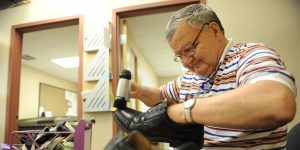 Albert shined shoes at the University of Pittsburgh Medical Center's Children's Hospital for over 30 years. Twice a week, he would take three buses from his home to reach the hospital, where he diligently shined shoes for just $3 a pop, using a shoeshine box he built in high school shop class as a 15-year-old.
Recently, 76-year old Albert passed away, and left an incredible gift behind: he donated ALL of his tip money to the sick children! That's right. Every cent of tips he ever received while shining shoes amounted to over $202,000, which he left to the hospital's Free Care Fund, which provides medical care to uninsured and under-insured children in his city.
The hospital's president said, "He is the perfect example of how small incremental acts of kindness can impact millions of people."
But he didn't care about the fame or accolades that came along with his impressive donations. Mr. Lexie had just one goal in mind: "I wanted to see the kids get well."
Monday, January 28, 2019
Eric McKay, 15, really, really likes peanut butter. His mother, Tracy, said he goes through a jar every three days. But his supply was running low. Eric, who has autism, tweeted to grocery store chain Lidl (pronounced "lee-dle" like "needle") to ask when peanut butter would go on sale again. His mother had bought 72 jars last February at their local store's grand opening. The company responded with a challenge: Get 72,000 retweets, and in exchange they would give him a lifetime supply of store-brand peanut butter.
He succeeded.
Eric's father was his inspiration on what to do with all that peanut butter (besides eat it). He's a federal employee who has been unable to work because of the partial government shutdown. He provides the family's main source of income.
With his father — a furloughed federal worker — at his side at the grocery store, Eric and his family gave away several peanut butter jars Jan. 23 to other workers furloughed during the longest government shutdown in U.S. history with another planned peanut butter giveaway to come.
"We don't have any income, but we do have peanut butter, so we should share it." Tracy McKay said, "To him, it was the obvious thing to do."
Friday, January 25, 2019
Remember when Marshon Lattimore bumbled coverage of Stefon Diggs in the last second of the playoff game against the Vikings, ending the Saints season and sending the Vikings on to the NFC Championship game? It was only one year ago. I'm sure Marshon's friends don't let him forget it. This year Lattimore made the interception, sending the Saints to the NFC Championship game – but that came after a dead-on pass sailed straight through the hands of Eagles Wide Receiver Alshon Jeffery.
Jeffery just laid down on the field in shame. This is an all pro player who had been making catches all throughout the game. But in the final moments of the game – when the pressure was on – the ball went "shwoop" right into Lattimore's hands.
The Eagles' quarterback, Nick Foles immediately went up to his buddy and told him it was ok – that they had an amazing season and so much of their success was because of Jeffery's hard work. But still. It had to stink to drop that pass.
When Jeffery got back to Philly – not a city known for forgiving fans – he was greeted with a letter from a local elementary student. Abigail wrote her favorite player and told him it was going to be ok. The second graders at West Chester Elementary got a surprise visit from Alshon last week, so he could meet Abigail in person and talk to them about perseverance and hard work – and owning up to your mistakes. Alshon might have dropped a single pass, but he's picked up a lot of respect.
Only #ActionNews is there as #Eagles WR Alshon Jeffery pays surprise visit to second grade class in West Chester that wrote him touching letters after Sundays playoff loss. Tonight at 6 on @6ABC! @TheWorldof_AJ @JamieApody Here's a preview: pic.twitter.com/KS3ZuCz6OF

— mark meany (@markmeany) January 17, 2019

Thursday, January 24, 2019
What comes to mind when you hear "Angola"? You think of a maximum security prison filled with the worst of the worst, right? Except that in Angola, the Holy Spirit is moving.
For over 20 years the New Orleans Baptist Seminary has partnered with the prison ministry within Angola to offer seminary degrees for the residents – most of whom are in prison for violent crimes and many for life. Each year dozens graduate with certificates in ministry and some with Bachelor's and even Masters degrees in Christian ministry.
Prison administrators have seen such a dramatic change in the lives of these prisoners that many who you would have written off as unredeemable are now serving in a ministry capacity while serving their prison terms. Several graduates of the program have opted to be transferred to other state prisons to help chaplains meet the spiritual needs of the prison.
Wednesday, January 23, 2019
Chris Ellis, a businessman from Wichita, frequents the McDonald's where Vicki Anderson works. Ellis is a little quirky – you know, one of those oddball morning people that have a sense of humor before the sun comes up. The first time Anderson served Ellis in the drive-through she wondered if he might be a little crazy. She told her boss that Mr. Ellis would say things like "10-4, good buddy," to the drive thru speaker. Her boss suggested that she have some fun with Ellis and give him back a little attitude – and a relationship was born.
Ellis says Anderson is always ready with a big smile and a laugh. "She was so friendly at the drive-up window – I looked forward to it every time." On Monday, Ellis was in the drive-through and Anderson asked him if he knew anyone who might have a cheap vehicle for sale. Her car had died and the $500 it would cost to get it fixed is more than the car is worth. So Chris decided to give her a car and he presented it to her thru the drive up window!
You see, great customer service sometimes does pay off!
Tuesday, January 22, 2019
Cam Jordan is a football star. He leads the Saints Defense every game on the field. His work ethic during the week inspires teammates to put in the training hours too. But he goes even further – and has since he first signed with the Saints back in 2011. Every Tuesday – his day off – Cam Jordan volunteers in local schools where he reads to kids, mentors students and visits children in the hospital.
Sometimes Cam and his three children will run some football drills with the local school teams. Cam says when his dad was in the NFL he started doing this and wanted to honor his dad by continuing to show there are more important things than playing football.
Monday, January 21, 2019
What do you do when you are being bullied and feel like no one is listening? You write a book and get it published!  At least that's what a fourth grader in Iberville Parish did!  Marcayah Carter was teased last school year when she started wearing glasses. Even though she could see better and she picked mint green frames — her favorite color — they laughed.
But look who's laughing now. Marcayah's mom, surprised her daughter with a hard copy of the book (Don't Be A Bully: Love Always) for her ninth birthday, contracting a graphic designer to design the cover art. Since then, they've started selling the book around Iberville Parish, and they've listed it on Amazon as both an e-book and a physical book. With more than 100 copies sold, they're about to order their fourth reprint of Don't Be A Bully.
Between speaking at local school board meetings, 4-H Club, cheerleading, Junior Beta and regular school work, Marcayah already started writing another book.
Friday, January 18, 2019
God takes ashes and turns them into something beautiful. Alex takes a ball of yarn and turns it into an answered prayers.
Alex Reins has been busy knitting hats and scarves for people who will need them for the winter. His mother, Bri Reins, and three great-aunts regularly get together to knit for what they call Alex's Warm Hat Project.
The 9-year-old from Lakewood, Colorado, was inspired to give back after hearing about a person who was discharged from the hospital wearing ONLY a hospital gown and socks, and had to wait for the bus in the cold.
Alex's great aunt said: "His big heart saw that and he thought, 'We just need to do something to help other people,'"
Since then, Alex and his family have worked diligently, making more than 300 hats and scarves, which they've dropped off at local food banks and shelters.
Thursday, January 17, 2019
Most weddings are pretty predictable. White dress, 1 Corinthians 13, light a candle, shake your tail feather and cut the cake. But what if the bride and groom did things a little… different.
Brad and Jennifer's unique wedding reception stemmed from when they first started dating years ago around Christmas. The holidays are very special for Brad's family, because they always go shopping for gifts that they can donate to Toys for Tots. So when Brad & Jennifer tied the knot, instead of an ordinary reception, they brought all of their guests to a Target in Orlando, Florida to shop for goodies to donate to needy children!
And for the icing on the cake: they gave each of their guests $10 gift cards to spend on the toys.
Wednesday, January 16, 2019
Holding a door open for a stranger can change the course of their day….but what if that same stranger needed a kidney?
Lisa Schumacher knew nothing about Pam Cassidy when she decided to donate a kidney to her. Lisa is a labor and delivery nurse at Edward Hospital in Illinois. She overheard Dr. Brett Cassidy saying that his wife's kidney was failing. Now some would pause and weigh the options of how best to help or what to do… but not Nurse Lisa! Right then and there, in that very moment, she told Dr. Brett that she'd be the person to help!
Little did Lisa know that she and Dr. Brett's wife would have so much in common! Both are near the same age, they each have teenage children and Pam Cassidy was also a labor and delivery nurse! When asked why she would give a kidney to a stranger, Lisa said, "It was time in my life to do something for somebody." A simple answer for a big gift.
Tuesday, January 15, 2019
In Southeast Louisiana, when it gets so cold that the roads and bridges start to ice, we usually just cancel school. We aren't prepared to handle that. But in some parts of the country (literally MOST of the country) you just have to bundle up and get to work and school.
Bus driver Wayne Price had already picked up several students in Montevallo, Alabama, when he got a message letting him know that school was going to open late because of an ice storm. Many of the kids in the school district get free or reduced breakfast and lunch at school, and Wayne was concerned they were going to miss a meal. So he drove to a nearby fast food restaurant and bought every kid on the bus a sausage biscuit. In total, he bought about 50 breakfasts!
Wayne didn't win any awards*, but he did get a lot of high fives and a deep appreciation from the kids' parents. Wayne the bus driver showed a kind of thoughtfulness and kindness that seems so rare these days – but if you look around, you'll see folks just like Wayne making a difference!
* McDonalds DID however hook him up with a $1000 Visa card and coupons for his bus riders!
Monday, January 14, 2019
Have you had a chance to go through all the gifts and boxes you received over the holidays? Sometimes, those things linger (especially if your tree is still up) and you realize you haven't even opened a stray gift!
Look at that – it's an Instant Pot … but there's something inside…
One Washington state woman, Shiloah, was full of joy when she opened up her new Instant Pot on Christmas morning. When she took the packaging out of the box, all the pieces and parts to the pot were there, but there was something extra… something that didn't belong AT All!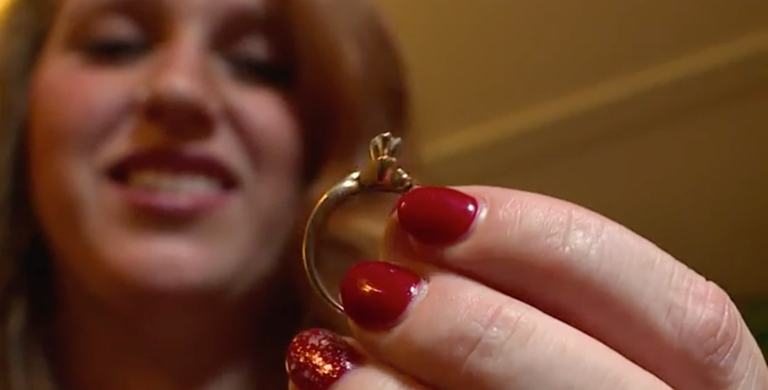 A wedding ring!
But it was not a Christmas marriage proposal. Turns out the ring belonged to someone else. Shiloah had NO clue how to find the owner. It was a needle in a haystack situation so she decided to harness the power of social media! She posted her discovery on a local Facebook page and thanks to friends and friends of friends for sharing… she heard back from the ring's owner, JoAnn Johnson!
The ring was returned just days before JoAnn and her husband celebrated their 20th wedding anniversary. She reacted with great joy after getting her ring back. But how did the ring end up in the box in the first place?
JoAnn and her husband were shopping for an Instant Pot, and wanted to see one of the smaller ones, so they opened a box to look at it, and that's when the ring fell off! She realized her ring was missing about 15 minutes later, and after retracing her steps (and looking EVERYWHERE) it couldn't be found. JoAnn and her husband had given up all hope of ever finding it.
JoAnn said, "For Shiloah to find the ring and reach out in all the ways she could think of, makes her an exceptional person" And the pair have formed a real (not just Facebook) friendship through all this Christmas drama! So in the end, Shiloah got an Instant Pot, JoAnn got her ring back and both ladies got a new friend.
Friday, January 11, 2019
When Sgt. Brian Maynard pulled over Laura and Jimmy Baker, he was prepared to deliver a ticket. Instead, the state trooper summoned an EMS team, which delivered the couple's baby girl on the side of North Carolina's US Highway 64.
The highway patrolman's dash cam captured the scene (so no need to hire a photographer). Parents Jimmy and Laura Baker were going 85 in a 60 mph zone but couldn't quite make it to the hospital. Sgt. Maynard calmed the frantic father and then contacted EMS, and with the ambulance on its way, the patrolman grabbed his gloves and a blanket, and then helped deliver the baby girl.
Sgt. Maynard says, "For so many years, I've seen a lot of death… to be a part of the process that actually brings a life into this world is absolutely amazing."
Thursday, January 10, 2019
Does your pastor often use jokes to transition from point to point during his sermon? There's only so many stories about Boudreau and Thibodeau that you can tell. So Pastor Jon Neal worked up a plan to enact the very topic he was speaking on from the pulpit. The subject? Gratitude and generosity.
Pastor Neal and his wife Brittany ordered pizza for the congregation of Life Church in Danville, IL during the service. When the delivery driver arrived, they asked her up to the front of the pulpit and presented her with a tip for over $1600, collected by the congregation.
On one hand, can you imagine the feeling of delivering a pizza to a church service and being called up to the front? But on the other hand … $1600.
Wednesday, January 9, 2019
Becca Kinsey just wanted to take her two preschoolers to Disney World. Is that so wrong? It is when your 2 year old is having a meltdown while you are trying to get through airport security and what's that? You lost your driver's license? And where's the other kid – there were two kids just a minute ago…
Can you imagine this chaos? Does your heart hurt for poor Becca?
But this story has a happy ending. While fumbling through the airport with James (age 5) and Wyatt (all of 2), strangers did not hesitate to help the mom get her family to the happiest place on earth (where her husband was already waiting for his family). Some stepped in to carry luggage – others distracted the kids while in line.
Becca said "I couldn't believe how many people were just so willing to jump in and do things!"
Would you offer to soothe and distract a 2 year old on a flight you paid hundreds of dollars for? Someone did. Would you carry heavy luggage including car seats for a stranger through the airport? Someone did. And we're not talking TSA or airline employees here – just good people.
Chris Pratt (Andy from Parks & Rec, AKA Star Lord) saw the story and sent it viral when he shared a picture on Instagram.
When asked if she would try to fly with her two littles again, she said "not until they are teenagers."
Love this. https://t.co/ItETDA6WzS

— chris pratt (@prattprattpratt) December 10, 2018
Tuesday, January 8, 2019
Texans pride themselves on being friendly and neighborly, and one group of Texans proved recently that it's not just talk. They put their good intentions into action.
Greg Bishop, a man who lives near Lubbock, Texas, was diagnosed with leukemia in September. The deadly disease wasted no time in ravaging the man. A cotton farmer, Bishop became so ill and weak from chemo that he couldn't even harvest his cotton crop this year. Furthermore, his immune system had weakened so much that he had to remain indoors. But never mind that. His friends, neighbors and his entire community immediately stepped up to make sure it got done.
Bringing in millions of dollars worth of equipment, 35-40 farmers made short work of getting Bishop's cotton harvested. They brought in about 20 cotton strippers and all of the rest of the equipment needed to get the job done.
So many people wanted to help that they had to turn people away. And this wasn't a small job. Bishop grows a lot of cotton. Seriously, a LOT of cotton. These farmers harvested 300-400 acres of cotton in five hours. Local companies contributed food, fuel, and service trucks. One local chemical business even brought in 75 hamburgers to feed all the people working. It was truly a community effort to help a friend and neighbor. The end result was about 1,200 bales of processed cotton. Its value is about $420,000, money that will go a long way for Mr. Bishop as he fights the deadly disease of leukemia. It's heartwarming to see neighbors showing what it really means to be a neighbor.
Monday, January 7, 2019
Here we are, one week into a new year! Still sticking to those resolutions? How did last year's pan out?
One married couple rang in 2019 by completing their 2018 New Year's resolution – and they did it simply by having dinner together at a restaurant. That's because Justin and Sarah Breen's resolution was to go out to dinner with each other once a week without their two kids.
At the beginning of 2018, Justin then suggested that they use their New Years resolution as a commitment to having at least one date night every week for a year. The couple from Chicago, Illinois is quick to emphasize that they love being parents and spending time with their sons, but raising the youngsters can often be quite stressful, and the Breens wanted to ensure that they were paying enough attention to each other.
Though there were some weeks that were harder than others, due to babysitter cancellations, sickness, and sudden plan changes, Justin and Sarah have successfully gone on 52 wonderful dinner dates. When asked whether he had any tips for couples wanting to complete similar New Years resolutions, he said, "Marriage is not magic. It's about commitment to each other. Much like becoming a doctor or building a successful business or keeping a resolution, it takes time, patience and commitment."
Friday, January 4, 2019
After 2 decades of giving, Richard Packman of Chicago made his 500th blood donation to end 2018.
It all started with a blood drive at his church. Richard, age 74, first donated blood in the early 1990s. After being told by a phlebotomist that he had "big veins," the Chicago resident made the switch to platelets – a process that takes a little longer, about two hours. The platelet donations go to help people battling cancer.
Richard Packman has spent an estimated 1,000 hours giving blood or platelets – celebrating the end of 2018 by making his 500th donation. A small celebration was held, with streamers and carrot cake. But Packman has no plans to stop giving, saying: "Just remember one thing: It's better to give than to receive."
Inspired by Mr. Richard's gift of love? You can do the same with the LifeSongs Love Drive on February 9th. Visit lifesongs.com/lovedrive to learn more!
Thursday, January 3, 2019
Snacks, toothbrushes, jackets, socks, deodorant — Carolyn Collins' closet has it all. Collins is a janitor at Tucker High School in Tucker, Georgia, and four years ago, after learning that two students were homeless, she decided to set up a "giving closet" for students in need.
"I knew that they weren't the only kids at school who were struggling," Carolyn says. "And I thought, 'I'm going to do whatever I can to help these kids.' High school is hard enough without being homeless."
Carolyn Collins set up shop in a storage room near the cafeteria, and now teachers and other students help her keep it stocked. She doesn't want any student to feel ashamed or embarrassed about having to take items from the closet. Carolyn is there to offer them a hug, love on them and let them know that she's there for them.
Wednesday, January, 2, 2019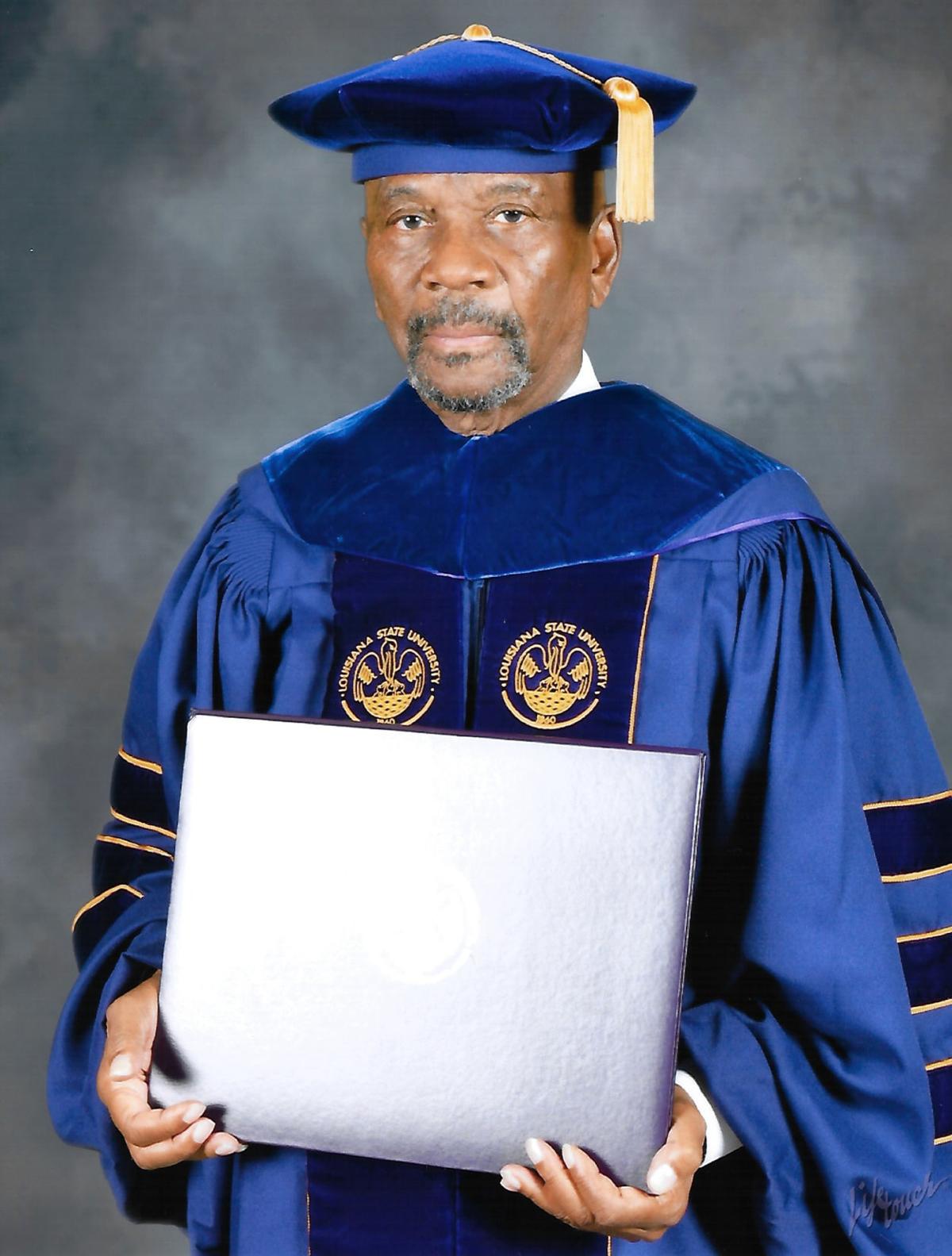 83 year old Johnnie Jones graduated LSU with a doctorate in Social Work just a few weeks ago. Now he plans to enroll in law school. Why? Johnnie says "One of the guys who climbed Mount Everest — when someone asked him why did he do it, he said because the mountain was there. That's pretty much my attitude toward knowledge. I'm pursuing it because it's there."
Dr. Jones dropped out of school in the sixth grade to take care of his family just after WWII. He fell in love with academics while serving in the Marine Corp in the 1950s. He studied at LSU through correspondence courses while serving in Vietnam. Over the years Johnnie Jones raised a family – ran a restaurant – worked in the corrections department and has had an all around exceptional life – with much left to do according to the octogenarian!
TODAY'S GOOD NEWS STORIES FROM 2018:
Friday, December 21, 2018
Acts 20:35 Amplified Bible (AMP)
"…….remember the words of the Lord Jesus, that He Himself said, 'It is more blessed [and brings greater joy] to give than to receive.'"
An Alabama second-grader didn't want her fellow classmates to go without this holiday season. So she took it upon herself to give everyone a present. Abby Henderson gave each of the 430 students at Southview Primary School in Opelika, Alabama a gift that included a toy, pencils, candy and a holiday cup. Her mom says the 8 year old paid for the $200 in supplies by doing jobs around the house between Thanksgiving and the beginning of the Christmas break.
Now that is a child who gets Christmas!
Thursday, December 20, 2018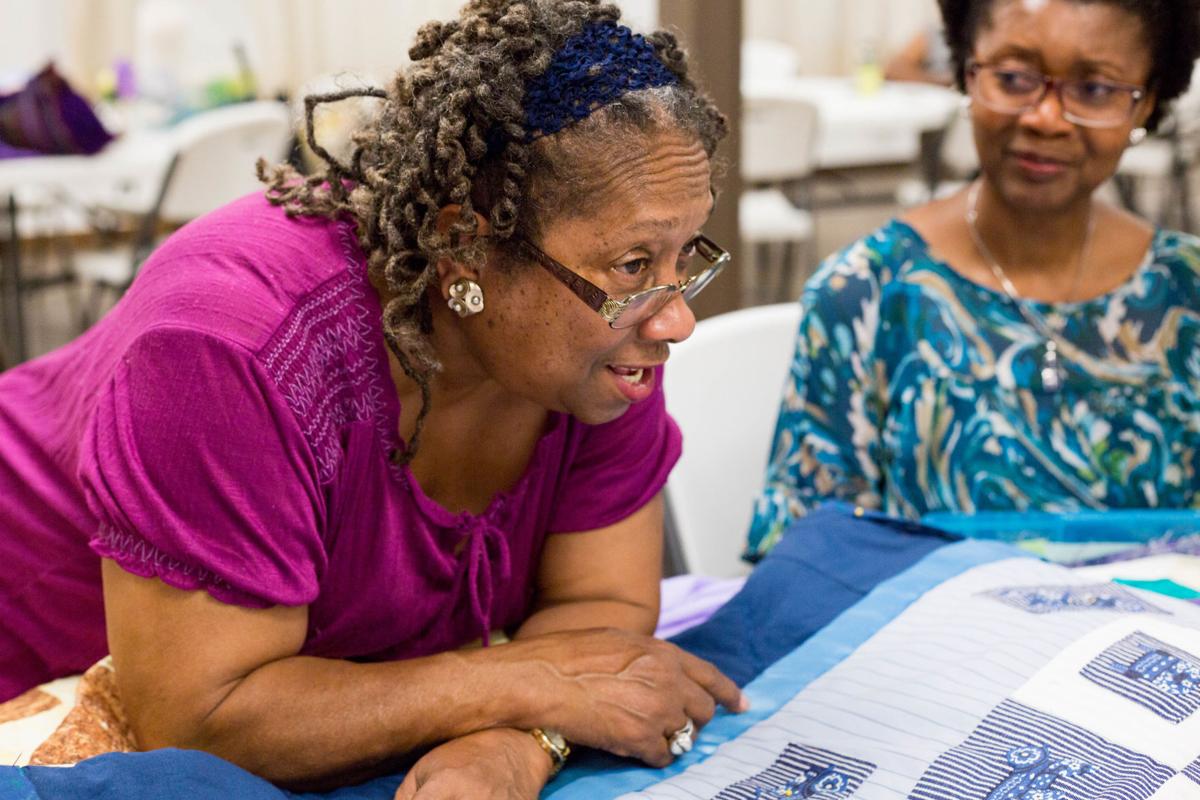 Cecelia T. Pedescleaux lights up the room with stories of a childhood spent reading and cuddling up in a special quilt, made for her by the aunt she called Big Mama. Now an accomplished quilter herself, Cecelia's love of the craft has attracted a community of women who have met monthly for more than two decades at the Beecher Memorial Church in the Seventh Ward. Some women quilt by hand; some use sewing machines. Members are encouraged to explore any method that inspires them.
The women find joy in quilting, but the work is not only for themselves and their families. Every year, the group creates custom quilts for children in foster care, offering foster children a sense of security – something that is all theirs – made just for them – something they don't outgrow.
Wednesday, December 19, 2018
A Vietnam war veteran has been united for the first time with a woman who sent him a Christmas card while in elementary school almost fifty years ago. John Metzler was 23 years old and serving in Vietnam as an Army helicopter gunner when he got a Christmas card from DonnaCaye Ludemann Sica, who was in sixth grade at the time.  Metzler still keeps the letter to this day, and DonnaCaye flew to Metzler's hometown in Idaho to surprise him in person. Metzler said being thanked for his service kept him going through tough times.
"When you got up in the morning you always wondered whether you would see the sun go down at night."  Metzler was shocked when meeting his long-lost letter-writer in person."You're real!" he said when he first saw her.
DonnaCaye says she remembers writing the letter, because she was amazed at the opportunity to write to a serviceman. Her sweet simple words were:
"Dear Serviceman, I want to give my sincere thanks for going over to war to fight for us. The class hopes you will be able to come home."
John says, "I think the letter means more today than it did when I got it!"
It has become almost cliche to thank a veteran for his or her service, but John and DonnaCaye's story reminds us how crucial it is to both say and hear "thank you."
Tuesday, December 18, 2018
Right now you are most likely realizing that Christmas is exactly ONE week away from this exact moment… You might be panicking for any number of reasons – for example: maybe you forgot to make an appointment with your hairdresser. You gotta look your best for all of those Christmas parties and pictures, right?
When a white mother in Georgia realized she wasn't doing her adopted black daughter's hair correctly, she turned to social media for advice — and a woman she had never even met offered to help. Two days after Stephanie Hollifield posted about her daughter's hair on Facebook, Monica Hunter arrived at the Hollifield's home armed with "advice, headbands, combs and hair product."
Now their story has gone viral, and Hollifield is calling it a reminder of "the importance of kindness."
Monica Hunter, who saw the viral social media post, reached out and offered to come over and help.  She asked for nothing in return and wouldn't accept any payment. Monica not only helped style the child's hair – she taught Stephanie how to do it for her daughter, giving her confidence for the future.  A new friendship was born – and a little girl's hair looks great for Christmas!
Stephanie says in a time when our world is so divided, this is newsworthy because it's a quiet act of kindness that spoke loudly to people from all walks of life. There are many opportunities to make someone's day brighter every day.
Monday, December 17, 2018
Get in on the GOOD NEWS with us – by making Christmas special for a Louisiana boy.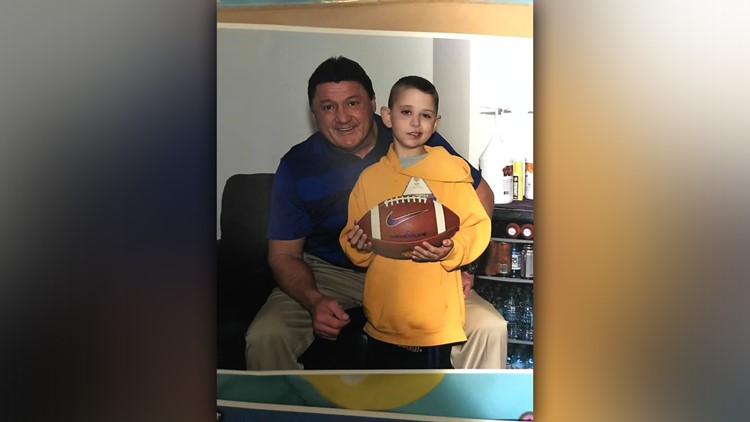 A Louisiana boy fighting the most deadly form of childhood cancer is hoping to receive 190 cards for Christmas this year. Drake Quibodeaux, 8, was diagnosed with diffuse intrinsic pontine glioma, or DIPG, in March. There is no known cure. Participating in his favorite activities has become increasingly difficult as his family has gotten news the tumor is growing,
A family friend suggested flooding Drake's mailbox with holiday cards so that it might bring him some Christmas cheer this year.
According to Drake's mom Danielle, the 8 year old asked for cards for his birthday in June, and he got nearly 80! By Christmas, he's hoping to have double that amount.
If you want to send Drake a Christmas card, his address is: 2412 Hwy 388, Vinton, LA, 70668.
Friday, December 14, 2018
Growing up we were taught that if you needed help you could talk to your parents, pastors, teachers, coaches, police officers, doctors and firefighters. Today, the idea of trusting authority is a hard sell. Many kids don't know who they can go to when they have questions or need help in any way.
A teacher named Julia Brown in Texas did a school survey asking the students to name an adult at their school they trusted and felt they could go to with anything. The results of the survey were staggering – 10% couldn't name a single person they trusted.   So over Summer break Ms. Brown created the 'I Need' box. She says, "It was my desire to make sure my students knew I was there for them no matter what they needed, large or small."
This is a great example of being a community leader and investing in the future of our world. What would you put in the "I NEED!" box today? LifeSongs has something similar – it's not a box though – it's called PrayerWorks.
Thursday, December 13, 2018
It's a dream come true! Imagine you get a notification from Walmart that all of the Christmas presents you put on layaway have been paid in full – would you please come pick them up. We've heard how celebrities have been popping up and paying the tab – but what if regular everyday people started doing this?
That's exactly what happened at a Walmart in Derby, Vermont (it must be beautiful this time of year in Vermont. All that snow…). The Good Samaritan kept his identity a secret and cleared out the layaway for this town's Walmart. Completely. He paid over $45,000 towards complete strangers' Christmases.
Customers were in shock. Hopefully some of them will pass on the blessing in whatever way they can. What if we all started budgeting for Christmas a little earlier and each paid off one other person's layaway next Christmas? What would that even look like?
If you need help setting up a budget, don't miss the LifeSongs Ministry Podcast MoneyWise – every weekday at 10 am!
Wednesday, December 12, 2018
Last month Megan Nierman got pulled over for speeding by Hendricks County Sheriff's Office Sgt. Evan Love. Megan was not only speeding — she was driving with an expired license plate. She confessed to the officer about her plates — and about what she was going through. Megan is a single mom and her ex isn't paying child support. It's real life stuff, but Megan was sure the officer got plenty of sob stories from people who get pulled over.
Sgt. Love listened to Megan's story, walked to his car and came back holding a ticket. The police officer told the mom that if she got her plates renewed within a week, he'd tear up her speeding ticket. It was Megan's 2-year-old daughter that tugged on his heart. Officer Love thought with the holidays coming up, she can buy a lot of gifts instead of the cost of a speeding ticket. But the police officer went even further to help this family out – he made a couple of phone calls to some family members to see if they wanted to help too.
Officer Love tracked Megan down, tore up the ticket and gave her a Christmas card with a $300 Target gift card inside – to help her out during Christmas.
Megan tears up when she tells the story – saying there are a lot of good officers out there that don't make the news like the bad apples do. But Officer Love wasn't looking for publicity. It was just a "little something" to make a single mom's holidays a little easier. These acts of kindness often run under the radar, but they happen all the time. And each of us can do them too!
Tuesday, December 11, 2018
For almost 30 years, John Chhan and his wife, Stella have run the Donut City shop in Seal Beach, California – a constant, reassuring part of their customers' lives. But now the hard-working couple is facing a medical crisis, and their patrons are returning the sweetness. Stella suffered a brain aneurysm last month.
With a business to run and bills to pay, the doughnuts still have to roll. John Chhan thought he would have to spend most of his time working at Donut City – away from his wife. But when customers learned about the Chhans' situation, they opened their hearts – and their mouths – wide. Every morning, beginning at 4:30, customers flock to the doughnut shop. They buy up all the glazed, all the frosted. They drink up the coffee as they hand over their cash and their love. By 7:30 the bins are empty and John can go spend his day with Stella.
Many customers say they are simply giving back the good cheer the Chhans have handed out over the decades.
"Every Sunday for 20 years, we've been purchasing doughnuts," said Jenee Rogers, another long-time customer. "It's one of the few things that's still here. He makes them fresh and brings them right there in the mornings. It's a real American dream for them."
John and Stella have worked hard for their piece of the dream and specifically asked that no crowdfunding sites be set up on their behalf. So, the customers decided to do what they've always done, just a little earlier in the morning: head to Donut City, buy the doughnuts and spread the sweetness.
Monday, December 10, 2018
When you're a kid, there are things you don't forget, especially around Christmastime. One Illinois woman is spending her hours on the "case," helping make happy holiday memories for children in need.
Not one to sit still after her retirement, Karen Persing was looking for a way to give back. So she decided to put her love of sewing to good use, helping children who might not otherwise get a special holiday gift. Persing, has been teaming up with like-minded volunteers to sew pillowcases in bright Christmas colors and designs, or with Disney characters or superheroes. The pillowcases – 312 to date – will be picked up by a van from Together We Cope, where pajamas will be placed in each pillowcase to be given to children in early December.
Can you imagine what kind of a mark on the memory of kids and their parents this leaves? When you're a kid, there are things you don't forget, especially Christmas type things. Mrs. Persing says "A pillowcase doesn't seem like much, but many of them that were created are so kid-friendly … it's going to be a happy time to go lay your head on it."
Friday, December 7, 2018
This entire week America has paid tribute to former President George HW Bush. He passed away at the age of 94 last Friday, and much like President Carter before him – so much of his leadership legacy came after his tenure as President.
Displays of love and stories of his compassion have filled the news. How President Bush adopted a child through Compassion International and would write to the child about life in the White House. Everyone has seen pictures of the president's service dog Sully laying peacefully by the presidential casket. Michael W. Smith sang "Friends are friends forever" at the funeral and his son, former President George W. Bush teared up speaking about missing his dad and knowing he was once again holding Barbara's hand in Heaven.
Local jazz artist Shannon Powell played at the president's inaugural ball back in 1989 and says that the Bush family was so kind – treating everyone in the band like they were family. Like they had been friends forever.
While most of us won't go on to become President of the United States – we can learn from Mr. Bush's legacy to treat everyone with kindness and leave the world a better place than when we started.
Thursday, December 6, 2018
Four hundred families are having a very merry Christmas this year – after the richest person in Louisiana stepped into Walmart and paid off their layaway items at the Tchoupitoulas St. location. Mrs. Benson dropped about $100k to pay off everyone's Christmas presents before quietly exiting the building. It didn't take long for folks to figure out who the Secret Santa was.
The press reached out to the Saints and they confirmed it was Santa Gayle – but that she did this on her own – with her own money.
So to Mrs. Benson, New Orleans says "thank you" and MERRY CHRISTMAS!
Wednesday, December 5, 2018
Local Allstate Agencies are living up to their "You're in Good Hands" Motto. Allstate Agency owners held an online food drive to benefit the Second Harvest Food Bank of Greater New Orleans and Acadiana and nine other Feeding America food banks. The effort resulted in a $10,000 grant. Allstate agency owners also volunteered to help pack food boxes for south Louisiana families in need of disaster relief.
A local Allstate agent, Saul Almendares, is also giving back to the community by sponsoring the LifeSongs 2018 Top 10 Countdown spectacular – which will air on New Years Eve, right here on LifeSongs!
Tuesday, December 4, 2018
Rhami Zeini did the right thing, and he's now $100 richer. Zeini, a 16-year-old high school junior from Santa Barbara, California, was headed home from school last week when he saw a black purse in the middle of the street. He picked it up and started digging around, trying to find an ID. Instead, he discovered the purse was filled with money — $10,000 to be exact.
Zeini notified his parents, and they brought it to the Santa Barbara County Sheriff's Office. The teenager said, "To me, I figured this is the right thing to do … because if the roles were reversed and I had lost something with a significant sum of money inside, I know I would want it back for sure." Deputies were able to find the purse's owner, and she was so grateful that she gave Rhami$100 as a reward.
Monday, December 3, 2018
Louisiana broke our own adoption record – again – this year. More than 900 foster children have now been adopted into permanent homes. That's the 3rd year in a row we've broken this record. Not only did nearly 1000 kids get a new family – over 2300 were reunited safely with their families. The foster and adoption process is never rushed – which goes to show the incredible hard work being done to protect these kids and build lasting families in our state.
LifeSongs is honored to partner with Crossroads NOLA, who specialize in connecting Christian families to foster kids. They have several upcoming information meetings that are free and open to anyone.
Friday, November 30, 2018
Proverbs 17:17
"A friend is always loyal, and a brother is born to help in time of need."
This bookstore in Southampton, England never dreamed it had this many brothers!  October Books – a shop in Southampton, needed to move inventory to a location down the street. So they came up with a novel idea that became a sensation!
The idea was to form a human chain and pass the books down until they arrived at the door of the new location. The bookstore knew it would be expensive to hire movers, so they asked people who came in to the shop regularly if they'd join in and help pass the books from the old stockroom to the new store. The best estimate they could come up with was that maybe 100 people would show up…
But to the store owner's surprise, more than 200 book passers reported for duty!  The human chain stretched for 500 feet, and the whole neighborhood got involved, with local restaurants passing out cups of tea. Even Bystanders joined in when they learned what was going on. In about an hour, more than 2,000 books had a new home.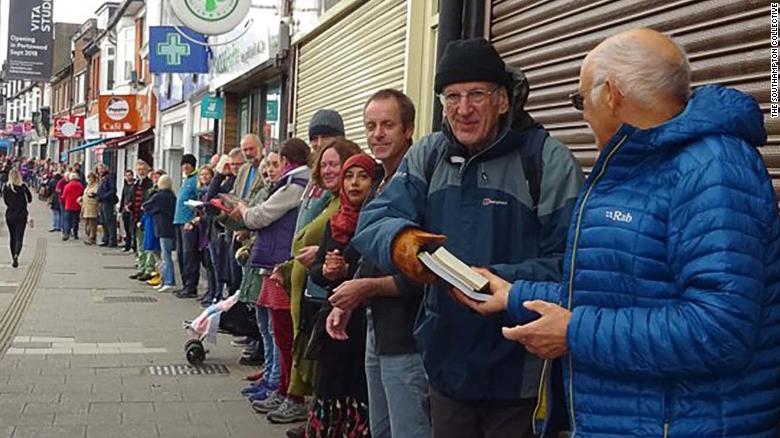 Thursday, November 29, 2018
In less than a week, a photo capturing a random act of kindness has inspired more than a million people around the world. In the picture, a man cradles a sleeping baby while the child's mom sits next to them, filling out forms at the doctor's office.
The moment was captured by Natasha Wilson of Florence, Alabama. Wilson was in the waiting room when she saw a mom (later identified as Jade West) walk in with her sleeping baby. When the receptionist handed West paperwork to do, the mom was trying to figure out how to hold her baby and do the paperwork at the same time
That's when a man (later identified as Joe Hale) asked West from across the room if she would like him to hold the baby while she filled out the forms.
"She smiled and said that would be wonderful!," Wilson wrote on the viral Facebook post. "Joe went over there and rocked and loved on that baby like he was his. Hale hummed to the baby, rocked him, and talked to him as if he was his own grandchild until he was called back to his room.
Wednesday, November 28, 2018
One pre-K class in Iowa has the most adorable way of starting the day thanks to a teacher who encourages her students to be kind… one hug at a time! Every morning, the class has a designated greeter of the week who welcomes students to start the day!  Each student picks how they want to be greeted by pointing to a list of fun ways to say hello. They can choose from a fist bump, hug, high five, & hand shake.
(What would YOU pick?)
Pre-K teacher Cali, started this to encourage a friendly & positive environment in her class & also as a way to make all the students feel included and loved. It's never too early or too late to learn kindness.
Tuesday, November 27, 2018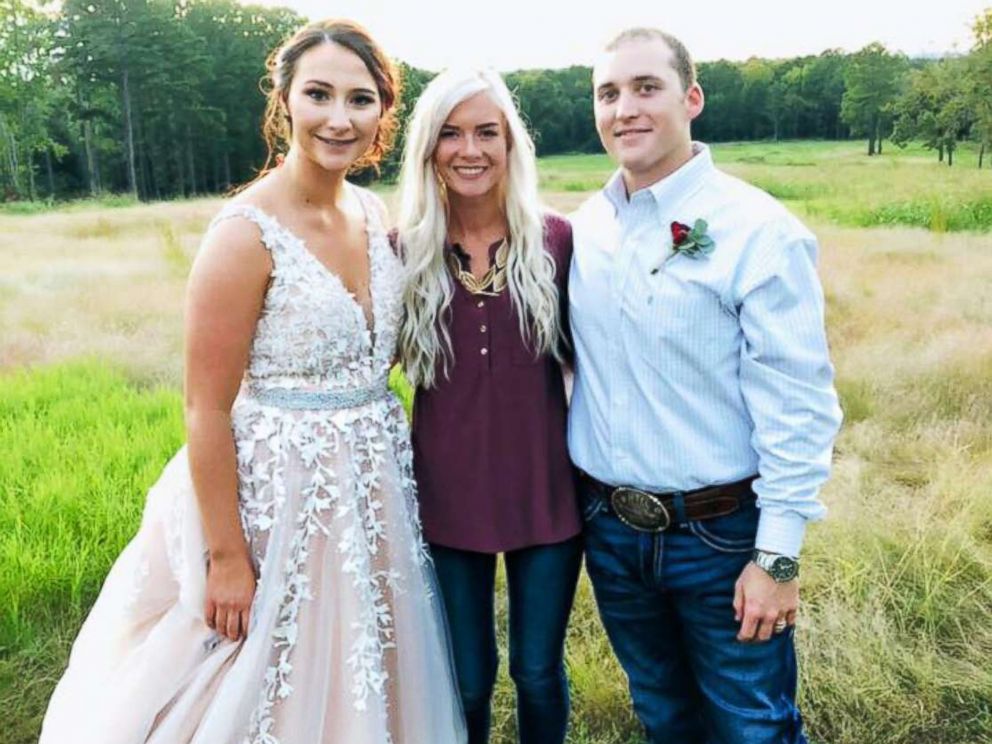 Kolbie Sanders of Tyler, Texas, was set to get married on Oct. 20th. But then, the wedding was called off and she wasn't going to get the $3,500 venue rental fee back. Kolbie didn't let that stop her from making someone else's dream come true. She announced on Facebook she was giving the venue away for the day.
Messages came flooding in, and Halie and Matt were the couple chosen. They planned on getting married in 2019, but Halie was afraid her grandfather, who has stage 4 pancreatic cancer, might not make it another year. Halie & Matt immediately jumped into planning mode, and a photographer and other vendors donated their services.
Kolbie was able to give Matt and Halie the wedding of their dreams – turning sorrow into joy! A great reminder in this Christmas season that giving is always better than receiving.
Monday, November 26, 2018
Christmas is an entire season to celebrate the birthday of Jesus – our Savior. Weirdly we don't get to his birthday cake until the feast of Epiphany – you know, King Cakes. Maybe that's why we all get birthday cakes … hmmm. Today is National Cake Day – and what goes great with cake? A rousing rendition of Happy Birthday To You!
But what if the whole room was singing to you and you just couldn't hear it? James Anthony is the custodian at Hickerson Elementary School. He just celebrated his 60th birthday. And also, James is deaf. The kids at Hickerson Elementary love Mr. Anthony, so kindergarten teachers Amy Hershman and Allyssa Hartsfield taught them how to sing Happy Birthday in sign language.
The surprise birthday singing brought tears to Mr. Anthony's eyes as he was overwhelmed by the sweet display of love. James Anthony has worked for the school district for 20 years – teaching generations of kids good manners, sign language and always offering a smile.
Friday, November 23, 2018 – Black Friday – MERRY CHRISTMAS!
For a long time in New Orleans, we all knew exactly which house was Al Copeland's – and we flocked there to see the extreme decorations celebrating Christmas. In the town of McCook, Nebraska, everyone knows which house belongs to Raleigh and Kathy Haas. It's the one decked out from top to bottom in lights at Christmastime.
These lights that the family turns on the night after Thanksgiving have deep meaning. The whole theme is waiting for the Light of the world – according to Kathy Haas
The tradition began more than 30 years ago when Raleigh's mom gave the family some extra boxes of Christmas lights – every year it expanded and expanded and expanded.
In August of this year, Raleigh, a longtime volunteer firefighter and active volunteer in the community, passed away at 62 due to a heart attack. When he died, it seemed that the Christmas lights might go away, too.
Until his brothers at the McCook Fire Department stepped up, quite literally — they climbed ladders and scaffolding and put up all those lights on the Haas house last weekend. As far as the fire chief is concerned, the firefighters are ready to pull this duty every year from now on.
Thanks to the generous efforts of the fire department, the community can fondly remember Raleigh and continue with this special Christmas tradition, their work a fitting tribute to the spirit of service Raleigh embodied all his life.
Thursday, November 22, 2018 – Thanksgiving Day!
The recurring theme that makes Thanksgiving so special is that it makes people reflect on the importance of family. That's something Jason Compton, a father of two living in Tulsa, Oklahoma, will never forget to appreciate – especially around this time of year.
Just a few weeks before Thanksgiving in 2016, his mom was diagnosed with a deadly form of cancer. The doctors said she probably had about two months left – and the family wasn't even sure she'd even survive until the new year.
"Knowing that this could be the last Thanksgiving I'd get to spend with her made me really appreciate it even more," he says. Not only did his mom make it to Christmas, she lived another year and a half. "I got two more Thanksgivings, two more Christmases, and all the other holidays and life events in between," he says.
The experience gave Compton a new appreciation for so many of the moments we often take for granted – and gave him a thoughtful new reminder of the joys to be found in the holiday season.
Wednesday, November 21, 2018
"When we gather around the table at Thanksgiving, and each of us offers our thoughts as to what we are thankful for, I try not to take so long that we're opening Christmas presents by the time I conclude, but that is because there is much to be thankful for. For one, I should not be here – twice over." – Joel Amos
Joel Amos has a new appreciation for life after he was given just a 15 percent chance of survival following a serious heart condition, necessitating emergency surgery. He was just 46 years old when he started feeling extreme chest pains while away for work in New Orleans. He was rushed to the hospital, where doctors gave him the grim news.
Fortunately, Amos beat the odds and had a successful surgery. One year later, he beat the odds again when doctors discovered an aneurysm in his aorta, thanks to his insistence on a CT scan during his checkup.  He underwent a second successful emergency heart procedure, and rather than focusing on the stress and pain these health issues brought into his life, instead, he emerged from these medical scares with a bold new appreciation for life.
"Needless to say, each Thanksgiving – and every day, for that matter – I thank the heavens above that I am still here. I am thankful that I can still be a father to my 5-year-old little girl, be a husband, son, brother, cousin and friend to many," he says. "I also give thanks that I can share my story with people in hopes of saving their lives as well.  Thanksgiving is a chance to bask in that glow, and another opportunity to reiterate to anyone sitting around my table on that day that life is short and we are here to love and be loved."
Tuesday, November 20, 2018
After a long battle with infertility, including surgery and multiple procedures, Stacie Hollowoa and her husband, Luke, will at last be celebrating Thanksgiving for the first time as a family of three.
661 days after starting their journey, the couple received the best news ever: Stacie was expecting. On August 4th of this year the family welcomed their miracle baby girl, Elsie Audrey.
New mom Stacie says, "This Thanksgiving, we finally have our family of three we so desperately desired for so long. We are so thankful our dreams finally came true!"  The new parents look forward to starting new traditions with their daughter, including time-honored favorites like going to the pumpkin patch and taking family pictures each fall.
Monday, November 19, 2018
In New Orleans, we understand that in an emergency, an open kitchen is a first responder. That's what happened in Agoura Hills, CA at the Tavern 101 Grill. Owner and operator Marco Gonzalez shifted from restaurateur to first responder short order cook once the evacuation orders were given.
Gonzalez and a few employees cooked whatever they could get their hands on.  Customers have come in to pitch a hand in feeding the firefighters and guardsmen fighting the Woolsey Fires.  Love and money came pouring in from the community – even from those who had to evacuate. An online fundraiser came up with $45,000 to keep feeding responders at Tavern 101 Grill.
Now the evacuation has been lifted – and firefighters have the wildfire 20% contained. But the good will and good food will always be available for first responders if Marco Gonzalez is around.
Friday, November 16, 2018
One North Dakota woman decided to do something about the hunger problem in her area. Donna Stumphf had kids in mind, mainly, and parents who can't afford to buy fresh vegetables.
She had set an initial goal to grow 1,000 pounds of produce – saying "I thought, I have to give myself a goal – You know, go big or go home."
Stumphf grew the vegetables on a plot of land donated by All Seasons Garden Center in Grand Forks. In the past, All Seasons has donated plots in their community garden to worthy causes, but never an area as big or to one person.
Stumphf did have some help. Her 16-year-old grandson and local members of the Lions Club and some University students pitched in, too. By harvest time, Stumphf ended up with 3100 pounds of vegetables! She was able to deliver the homegrown vegetables to the Salvation Army and the Northlands Rescue Mission over the course of several weeks.
Thursday, November 15, 2018
Saints punter Thomas Morstead and his foundation, What You Give Will Grow, are teaming up with, Vikings cornerback, Marcus Sherels to raise funds to support Best Christmas Ever© families in the Greater New Orleans area and Minnesota. Best Christmas Ever© is a non-profit organization that works with community partners to lift up families who have fallen on hard times through no fault of their own by giving them a Best Christmas Ever.
What You Give Will Grow' was started in 2012 by Morstead and his wife, Lauren. The foundation supports causes, organizations, small businesses, artists and musicians in the Gulf South Region. Morestead's partnership with the Vikings' Marcus Sherels was born out of the Saints embarrassing playoff loss last year. So some good came out of that sad day!
Every year, the number of families on the receiving end of the Best Christmas Ever© has doubled. In 2017, over 700 nominations received and 100 families received the Best Christmas Ever©. One hundred additional families hand-delivered $250 Target gift cards and 100 families were made eligible to receive a $1,000 grant for completing the Dave Ramsey Financial Peace University Course. More information about Best Christmas Ever© can be found at www.bcemovement.org.
Wednesday, November 14, 2018
Beautify the city? Check. Provide jobs for the homeless? CHECK. San José is launching an an initiative that will simultaneously do both.
The California city is hiring local homeless people to pick up litter around the city for $15 an hour. The city hopes to provide them with a steady paycheck that will eventually transition them into full-time work.
The workers will primarily clean up 40 different areas around town that have been identified as litter hotspots and dumping grounds. The program is currently being financed through a grant from the city, and if the initiative proves to be successful, then city workers are eager to see it continue into the future.
Though there is no way to predict how successful the program will be in San José, the city of Denver made national headlines back in January for publishing the results of a similar work model. After one year of paying the workers, over 100 of them were able to land regular jobs.
Tuesday, November 13, 2018
Tackling homelessness is often a complex issue – but one man has come up with a stunningly simple solution for providing jobs and homes to people in need. Chris Fenlay is the mastermind behind a nonprofit called Shelters to Shutters.
The program has a simple premise: many real-estate companies offer discounted (and sometimes free) rent to property managers and staffers who live on their properties and housing complexes. So as a means of providing income and housing to the homeless, Shelters to Shutters is playing middle man, connecting people living in poverty with opportunities in property management. Fenlay's non-profit conducts hiring fairs to recruit both employers and employees to join the cause.
Anthony Puryear is one of the success stories to come out of Shelters to Shutters. Puryear is an Army veteran who, after leaving the military, worked in the hospitality industry for years. Unfortunately, when the cost of living became too high, he found himself without a place to live. A local veteran help-group connected Puryear with Shelters to Shutters. He was hired as an assistant service technician and given secured housing. Since then, he's been promoted to a service tech position where he is in charge of fixing up old apartment units.
Puryear is just one of over 100 success stories – but Shelters to Shutters is not stopping there! The non-profit is currently work in 15 cities across the country and have plans to expand. One of their new initiatives, which is set to launch in San Francisco, will debut by hiring 20 new people off of the streets.
Veteran Anthony Puryear said, "I want as many people as possible to get a chance to benefit from Shelters to Shutters' services in the way that I have."
And by the looks of it, he will get to see this happen.
Monday, November 12, 2018
At the 2018 Invictus Games, an athletic tournament for injured and disabled military service players in Sydney, Australia – one match in particular struck a chord with the players and spectators alike.
UK tennis player Paul Guest was engaged in a match alongside his Dutch teammate Edwin Vermetten, when a helicopter flew over the stadium. Paul Guest, who served with the British Armed Forces, uses a wheelchair due to neck and spinal injuries sustained while on duty in 1987. Guest also suffers from PTSD – so when he heard the chopper buzzing overhead, he suddenly became overcome with anxiety.
His teammate, Edwin Vermetten, noticed that Guest was visibly upset and immediately abandoned play so he could rush over to the UK veteran and console him during his time of need. Vermetten embraced Guest and whispered words of encouragement until he could recover from the breakdown.
The Dutch player later revealed that he was able to bring Guest back to his senses by singing "Let It Go" from Disney's Frozen. Vermetten says, "I took [Paul] by the face and said 'Look at me. We are a team so let it go!"
After the emotional exchange, Guest then went on to deliver the tie-breaking point that brought victory to the UK-Dutch team.
Friday, November 9, 2018
A group of middle school students are trying to change how people view the homeless. Seventh and eighth graders from Summit Intermediate School in Rancho Cucamonga, CA are part of an Odyssey of the Mind team. Odyssey of the Mind teaches kids how to solve problems and work together, and as a group, they chose to focus on homelessness.
Alana Okonkwo, age 13, says "I think that more people should look toward the homeless community as people rather than things that are just on the streets, and they shouldn't be a source of fear."
The students made posters with statistics about homeless youth, created the hashtag #homelessnotless and for two weeks held a toiletries drive. Then the proactive teenagers put together care kits, including backpacks filled with supplies, sleeping bags and inspirational messages on cards. They distributed the care packs to local homeless individuals and shelters.
Thursday, November 8, 2018
Talking Bananas are the latest craze at Kingston Elementary School! Stacey Truman is the cafeteria manager for the school. She's been serving breakfast and lunch there for nine years and wanted to motivate students a little differently. So Stacey began writing inspirational messages on each banana.
"I do it for my kids at home, so why not bring it here and do it for them – because they are like my kids," says Stacey.
Some bananas read, "You are wise," "Keep trying" or "Never give up." Stacey just tries to think about what she would have needed to hear at that age to be encouraged.
The creative cafeteria manager has received national attention for her practice of writing inspirational messages on students' banana peels. And now she and the school are partnering with the Dole Food Company to make sure every one of Kingston's students receives a "talking banana" at Friday's school lunch.
Dole is provides over 500 bananas each week to allow Truman and her team to write individual messages on each one. Plus, each student gets a healthy kid's cookbook, donated by Dole.
The banana peels might get thrown away at the end of lunch, but the message still resonates with students long after school gets out. Small words having a BIG Impact!
Wednesday, November 7, 2018
Weddings can be VERY expensive. Everything from the dress, the venue, pictures, cake – the list goes on and on and on. The more things you add to the list, the more expensive it all gets.  Like invitations. They aren't cheap. Now, imagine sending your wedding invitation to the wrong house! That's what Cassandra did.
Cassandra didn't realize she put the wrong address on an invitation she sent to her family members in Oregon, until she received a sweet note and gift from a total stranger. The person who accidentally received the invite sent Cassandra and her fiancé, a $20 bill along with her well wishes, writing: "I wish I knew you — this [wedding] is going to be a blast. Congratulations — go have dinner on me. I've been married for 40 years — it gets better with age."
Cassandra and her fiance took their friend in the military (about to deploy overseas) out to dinner using the unexpected wedding gift. Cassandra wrote a note back to the stranger and said "I am thankful for people like you still being in the world."
Tuesday, November 6, 2018
Carson Wentz is a quarterback for the Philadelphia Eagles – but he's getting attention in the Philly area not just for his fame in the NFL, but for a new project: Thy Kingdom Crumb. While a lot of focus has been on the uncertainty surrounding Carson Wentz's knee injury, there's no questioning his heart. His charity softball game raised $850,000 and now Wentz has a new endeavor, a food truck that feeds the less fortunate.
Carson is known to be an outspoken Christian. The NFL quarterback recently partnered with a local church to launch a food truck that gives food away for FREE. You can find the food truck parked at all Eagles games, but the food truck's focus will be on going to areas in need around the community. The vision of the food truck is "to provide free food but also to provide the love of Christ."
Wentz continues to prove that his worth extends far beyond the football field. Sure, he won the city a Super Bowl – but should he continue along this trajectory of tremendous athlete and philanthropist, he could someday be the single-most beloved athlete Philadelphia has ever seen.
This is cool project, that's focused on making a difference! A delicious difference!
Monday, November 5, 2018
After watching a movie about James Lawrence – the Iron Cowboy — a man who completed 50 triathlons in 50 days — Niall McDermott thought, "I could do that." The 10-year-old from San Francisco tweaked the challenge a little, telling his parents he'd like to run 50 5K races in 50 days.
After getting the okay from his pediatrician, McDermott ran his first 5K, with his parents letting him know he could stop whenever he wished. He kept at it, and recently ran his 50th 5K alongside a friend. Niall told reporters that while he was running, "I was thinking, 'I'm gonna finish this and I can do it, and when I finish it, I won't have to do it anymore.'"
Niall's grandfather has lung cancer, so his running became a fundraiser, receiving $4,000 in pledges, which will be donated to the Bonnie J. Addario Lung Cancer Foundation.
The Bible verse in 1st Timothy 4:12 comes to mind "Do not let anyone look down on you because you are young, but be an example for other believers in your speech, behavior, love and faithfulness. Way to represent Niall ! Thanks for setting the example!
Friday, November 2, 2018
Ever try to go out for a nice, quiet family dinner with a toddler? Then you know that sometimes a "nice, quiet family dinner" is the last thing that actually happens. One waitress's act of kindness is a perfect example of how the smallest good deeds can have the biggest impact on people.
Courtney Ruth Pedigo was getting ready to enjoy a meal with her father, stepmother and her 18-month old daughter, Harlynn, when the toddler started to get fussy. She was intent on escaping from her mother's lap and causing a ruckus. Mom Courtney admitted to feeling pretty overwhelmed, saying, "She did everything but sit in her high chair and eat her dinner like I picture in my dreams."
So, she approached her server and asked if she could get her food in a to-go box so she could eat it in her car with Harlynn. To Mom's surprise, the woman firmly said NO. Instead, she returned to their table minutes later with a bowl of vanilla ice cream and caramel sauce and spoon-fed the treat to the toddler so Courtney could enjoy a hot meal with her family.
Nianni Rudder is a woman who, in addition to being a waitress, was also going to school full-time to become an anesthesiologist and was recovering from the recent death of her mother.
Courntey was so moved by Nianni's compassion and determined personality, she posted on Facebook a message of thanks for her kindness, saying, "you are so so strong! I know your mom is looking down from Heaven with the BIGGEST smile [because she is] so incredibly proud of the woman you are. I aspire to be the go-getter you are…someone with a strong heart and mind! Thank you for your amazing service and for being so kind to us all!"
Thursday, November 1, 2018
Blanche Reed Pratt is a great-great grandmother who goes by several names – mom, granny – but there's one name that everyone in her community recognizes: Her family says she's known as Mama Reed at her church and basically the entire Ninth Ward.
Mama Reed didn't just raise her 12 children, she helped raise entire communities. In 1970, Mama Reed opened up a nursery at her home. The nursery remained open for about 30 years and she took care of hundreds of children. The walls of her home are covered with their photos. Everyone brings in their own frame and finds an open spot. Everything about Mama Reed is inviting and her laugh is infectious.
Blanche Reed Pratt has 12 children, 34 grandchildren 48 great grandchildren and six great-great grandchildren. Her generosity doesn't end with childcare, Mamma Reed takes care of everyone. This 90-year-old still cooks: red beans, greens, cornbread – this has been Her regular Monday meal since she started the nursery.
"I just thank the Lord he gave me strength to be able to do it," Mama Reed said. "It's always good to do good things for people who you can do it for."
Wednesday, October 31, 2018
Five-year-old Blake Mompher was born with spina bifida and uses a wheelchair to get around. He also likes costumes, but finding costumes to work with his wheelchair can be a challenge.
"He loves school buses… he always loves when they drive by," Blake's mom said. His two older sisters take a school bus every day, so Blake is used to seeing them. And next year he'll ride one when he goes to kindergarten. So THIS year, Blake's grandfather stepped in to create (by hand!) an entire school bus costume for Blake that incorporates his wheelchair. The costume was a HIT!
His mom said he always has a positive attitude, despite being through so much at such a young age. In fact, Blake is facing one of the biggest surgeries of his life next month. But instead of dreading the surgery, the 5-year-old is looking forward to something else: riding around in his school bus costume and collecting candy.
(Just think of how much candy you could fit in a school bus!)
This 5-year-old boy with spina bifida just got a creative halloween costume made by his grandpa — and it's completely functional with his wheelchair https://t.co/CM6eJbzYSE pic.twitter.com/k0qNoXkgfi

— CBS News (@CBSNews) October 18, 2018

Tuesday, October 30, 2018
Dwyane "DJ" Pitts is an 8 year old superhero. When he was younger, DJ was so weak, so sick his family wondered if he'd survive. At age 3 he was in a coma for eight days at Children's Healthcare of Atlanta. During his many months in the hospital, a nurse made him a cape out of a pillowcase. It encouraged his spirit to be strong, even when his body wasn't. DJ quickly became known as the little superhero. His mom said a celebrity even noticed,"One day, Ludacris was [at the hospital] for an event and said 'Hey, there is the Cape boy!'"
Cape Boy took off from there. Five years later, DJ still wears a cape and is back at Children's to say thank you. He's learned there is also strength in spreading kindness, helping others and being grateful. DJ brought a card and flowers to someone who helped save his life, Miss Colleen. She is the nurse who became family over the months she cared for him. They hadn't seen each other in years, but the hug they shared showed a bond that has not faded. "You are doing amazing," Nurse Colleen smiled. "I'm so happy you remember me after five years."
A pillowcase cape and the strength of a little boy who wore it inspired Cape Day. It is a community campaign that has helped thousands of children like DJ in the years since. You can order a cape to wear or sponsor a cape for a pediatric patient. This year is the 5th anniversary of Cape Day – complete with the "Be Someone's Superhero" Kindness Campaign. You are encouraged to do a good deed in the community in honor of Children's Hospital patients.
Monday, October 29, 2018
We love coffee. And when it's free, it's even better! One teen's sweet offer to a stressed-out mother at Starbucks has made a surprising impact on both women's lives. 19-year-old Mackenzie Mauller of Uniontown, bought coffee for the lady behind her at Starbucks. She didn't think twice about it. But then, later in the day, she found a note in her mailbox.
The handwritten note was from Nicole Clawson who just so happened to live in MacKenzie's neighborhood. Nicole wrote "Thank you for the coffee. I rarely go to Starbucks and treat myself but the last couple of months have been a bit of a struggle." Nicole also shared how her family was experiencing lots of transitions. Her father, who had provided daily care for her children, had recently passed away. Just that morning her babysitter had called in sick, forcing Clawson to take the day off work. Nicole was soon leaving her job to become a stay-at-home mother, a role she was not "emotionally and financially" prepared to assume.
Nicole told Mackenzie how she felt it necessary for the teenager to know that what she did was much more than just buy a coffee – it was an act of kindness that turned her whole day around. saying the generosity "..put tears in my eyes and a smile on my face and I feel so grateful." MacKenzie exemplified selflessness for Nicole Clawson's children who now want to pay it forward – which, Nicole says, "makes me proud as a mom."
Friday, October 26, 2018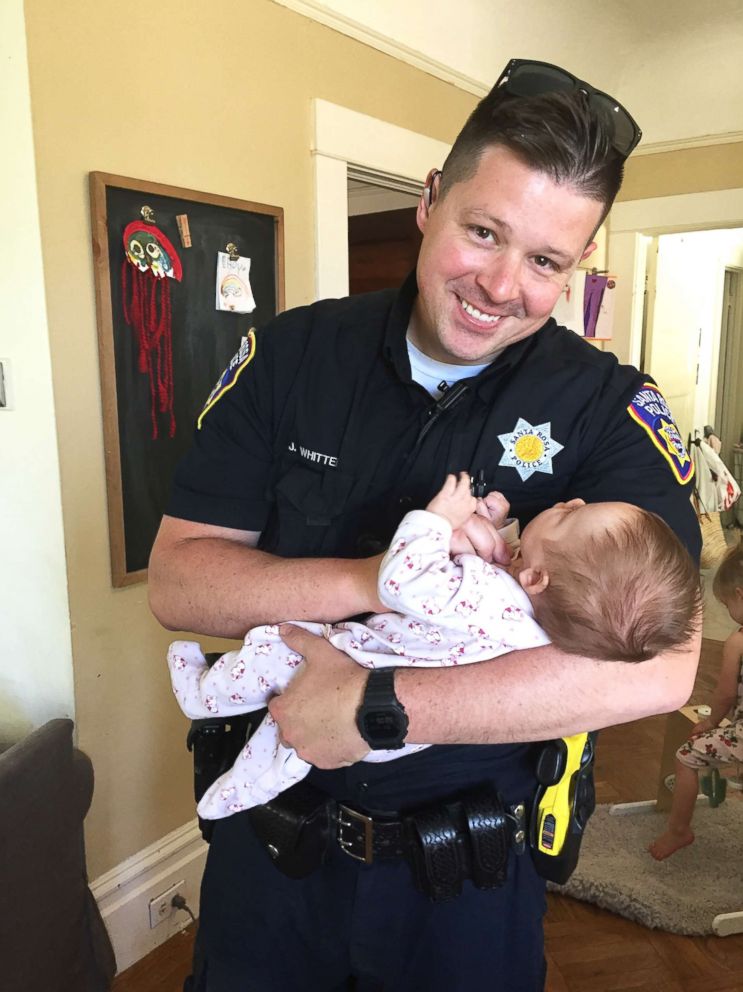 A compassionate police officer is setting a new standard for how law enforcement can protect and serve. Officer Jesse Whitten and his wife have adopted the newborn daughter of a homeless woman struggling with drug addiction.
Whitten, who works for the Santa Rosa Police Department in California, would often stop in to check on the woman throughout the year. The two formed a kind of friendship. Officer Whitten, the proud father of three girls already, opened his heart and his home to this newborn baby – And now it's official! After a moving adoption hearing, the little girl is now officially part of the Whitten family.
Thursday, October 25, 2018
Many patients at Children's Hospital are facing their share of challenges, but they're getting a break thanks to a volunteer arts and crafts program called Amy's Art Cart. Like three-year-old Brody. He spent the afternoon racing cars, playing with stickers and then more car racing. For an afternoon, Brody and his family could forget he's a patient at Children's Hospital.
These moments are made possible thanks to Amy's Art Cart. Every week Claire Thriffiley makes her way through the hallways bringing a little bit of color to a sterile place. Thriffiley knows first hand the impact art can have on the lives of patients. Her story is written in the name "Amy's Art Cart."
She named it Amy's Art Cart after her cousin who was a visual artist, very talented and who lost her life at a young age to multiple sclerosis. Thriffiley says, "What we found with Amy was that continuing to create, to paint really gave her motivation."
Now, Thriffiley brings that same creative outlet to others. "It's amazing how something small, like a coloring book, can bring so much joy to a child's life."
The Manale family, who got to spend an afternoon playing with toys and crafts from the cart agreed: "It was good to see the smile on Brody's face."
Wednesday, October 24, 2018
Everyone loves a rainbow; the beautiful colors and different hues always make you smile. And that is what one Taiwanese man thought when he made a desperate attempt to save his village. Armed with only a paintbrush, 93-year old Huang Yung-Fu turned his town into a vibrant rainbow and in the process saved it from demolition.
Yung-Fu watched helplessly as developers came into his city and paid his neighbors to leave. You see his home is actually a village from a long forgotten era: a military dependents' village. Picking up a paintbrush to pass the time, he transformed his house into a whole painting of bright colors. But he didn't stop there. Yung-Fu moved on to the next house. And the next one. Suddenly the whole village was changed into an awe-inspiring rainbow!
Art students found out about what Yung-Fu had created and quickly alerted authorities, who quickly stopped the demolition. Now tourists come from all around to see the rainbow family village. The entire town serves as a message that one man (and a paintbrush) can really make a difference.
Tuesday, October 23, 2018
Kevin Boyer is the family and student support coordinator at an elementary school in Ohio. Last year, he wrote a personalized letter to every student in the school, and he's doing it again this year.
Every day, he pens six notes, so that by the last day of school, he will have written a letter to all 600 students. Boyer makes it a point to learn the name of every kid in the school and finds out their interests and hobbies so when it's time to write their letters, they are one-of-a-kind.
Boyer says he takes a lot of cues from his own parents, especially his mother who was a school guidance counselor. His parents, he said, helped carve out his own career path.
Monday, October 22, 2018
Country singer Brad Paisley and his wife, actress Kimberly Williams-Paisley, have teamed with Belmont University to open The Store, a modern version of a food pantry that is set up like a free grocery store. The country crooners say, "All of us are one unforeseen disaster away from rock bottom. It's nice to think about a place where when that happens to someone, they can use it to get back on their feet."
The Store will partner with Second Harvest Food Bank of Middle Tennessee and other organizations to provide both fresh and nonperishable groceries to individuals and families in need for one year. Customers will be referred by nonprofit and government agencies. The nonprofit has an initial goal to serve 3,000 people per year.
You can help our local food pantries by partnering with Second Harvest right here in SELA!
Friday, October 19, 2018
Big generosity come in small slices!
Just months after Mike and Jennifer Stevens opened up their Fargo, North Dakota Little Caesar's restaurant in 2015, they saw a homeless man sitting outside of a gas station for several hours at a time. They gave him a slice of pizza. He was so thankful the family ended up doing it again for a different person. And again for a different person.  And then again for another person. Their kindness did not stop at individual slices, however – one year later, the family realized that there were people going through the dumpster of the restaurant.
So Mike put up a sign in the window reading: "To the person going through our trash for their next meal, you're a human being and worth more than a meal from a dumpster. Please come in during operating hours for a couple of slices of hot pizza and a cup of water at no charge. No questions asked."


Instead of giving away a couple slices, the family started giving away entire pizzas to anyone who asked. They have even partnered with a couple of homeless shelters.  Collectively, the family has given away over 142,000 slices of pizza, worth about $70,000.
Thursday, October 18, 2018
There are so many reasons why you love Chip & Joanna Gaines – and not just because Fixer Upper was such an awesome show – or for giving us a reason to visit Waco, TX. It's because they do amazing things like this!
Chip and Joanna have invited a church to hold service at their Magnolia Market at the Silos. The church normally holis normally held under a Texas bridge – a ministry to Waco that has been going on for years! Chip & Joanna offered to host them every Sunday (for a year at no charge) because the church won't have anywhere to hold their services due to road construction that will begin in March.
Chip reached out to the church's pastor (Jimmy Dorrell) after learning about how the construction project would affect the congregation. The Church Under the Bridge draws between 200 to 300 worshippers who include the homeless and others who may feel out of place in a normal church setting.  The Church plans to eventually return to its home under the bridge – once the expansion of I-35 is complete.
Wednesday, October 17, 2018
Do you have a child or know someone that has a life threatening illness or allergies ? Many times, it can affect a child's quality of life and they feel left out because they can't enjoy things that other kids can.
Braylon Henson is a first grader that has ectodermal dysplasia – he was born without sweat glands. Because of this, he can't go outside when it's over 74 degrees. (So he basically CAN'T live in Louisiana!) He gets easily overheated. Naturally, Braylon has FOMO (Fear Of Missing Out)!
Ronald Saladin is the school resource officer and he noticed that Braylon was in his classroom while the other kids were at recess. So the cop started inviting Braylon to walk along with him as he does his daily officer duties. Braylon & Officer Ronnie now get to spend two hours a day patrolling the hallways. Of course, Braylon now wants to become a police officer when he grows up!
A simple act of kindness can make the biggest impact! You are NEVER too old or too young to be a difference maker.
Tuesday, October 16, 2018
Do you roll out of bed in the morning and immediately step on Legos?  Instead of getting mad from them being left on the floor, you can put those Legos to good use like one lego enthusiast…
A Maryland Zoo employee found a wild Eastern box turtle in a park, and discovered that he had multiple fractures on the bottom part of his shell.  The zookeepers needed to figure out a way to keep the turtle elevated so his shell didn't hit the ground while healing. Garrett Fraess, drew many sketches of wheelchairs for the turtle to help find the perfect fit for him! Thanks to a friend who is a Lego enthusiast, the turtle now has a wheelchair until he heals completely!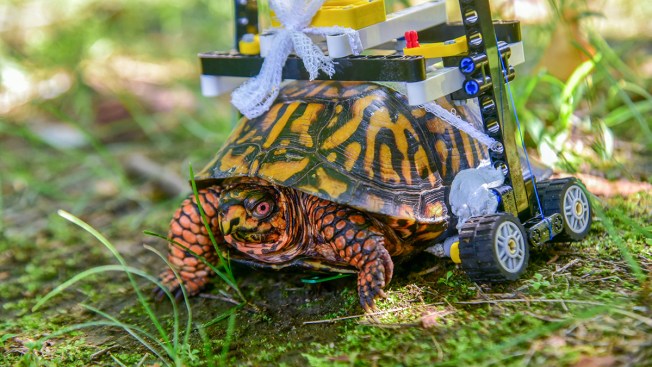 It's a good reminder to make lemonade from lemons! Bad things happen, but there are people around you who can help you in times of need and encourage you!
Monday, October 15, 2018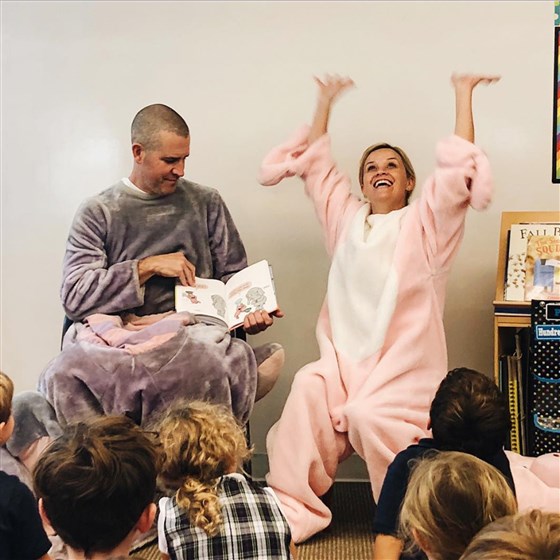 Have you ever gone out of your way to put a smile on your child's face?
Even those in the public eye will do whatever they can to make their child laugh and smile even though it may embarrass them a little…
Reese Witherspoon takes all of her acting roles seriously, so it's no surprise she went out of her way to participate in "Mystery Reader" day at her 6-year-old son's school.
She didn't show up wearing a ball gown or heels, she showed up wearing a pig costume! And her hubby dressed as an elephant! (in honor of the book they were reading: "Elephant and Piggie".)
This is a reminder to make fun memories with your kids regardless of how silly they may be! Because these will be memories that last a lifetime! It's also a great reminder to not take this life so seriously! Smile! Laugh! Enjoy every moment God has given you!
---
Friday, October 12, 2018
Anyone who works downtown or has tried to go enjoy a nice evening out on the weekend knows the struggle of finding parking. But what if you had your own reserved spot? Christie Dietz's 4-year-old son has parked his bicycle at the same lamppost every day for the last year. On Monday, Christie discovered the spot is now reserved just for him. A kind stranger had taken the time to create a parking sign sticker that features the child's green bicycle.
My son has parked his bike by this lamppost just about every day for the last year. This morning, this sticker had appeared. Absolutely made our day. People can be so brilliant. Thank you, whoever did it 😊 pic.twitter.com/rYC8jCTD5L

— Christie Dietz (@asausagehastwo) September 24, 2018

She tweeted a photo and said this "Absolutely made our day. People can be so brilliant. Thank you, whoever did it." Her tweet has over 261,000 likes. And the reaction on Twitter suggests the smiles have come with an equal number of happy tears. She wrote a thank-you note and left it at her son's newly-reserved parking space. "It makes me so very happy that this one person's lovely deed has made so many people smile."
Thursday, October 11, 2018
How well do you know your neighbors? Could you call on them to borrow a cup of sugar? What if you needed more than that?
Kathy Felt was diagnosed with multiple sclerosis in 1978. She's 66 now, and can't get out of her wheelchair under her own power to get into bed at night. But Kathy, who has lived in her neighborhood for almost four decades, is a beloved figure in the community she calls home. So for the past 10 years, a rotating cast of volunteers have showed up nightly like clockwork, lifting her into bed and tucking her in.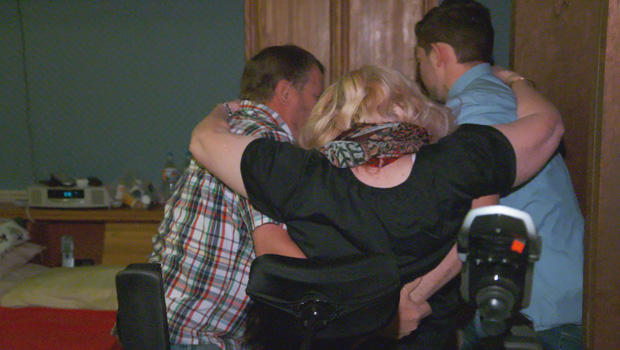 This is how folks care for each other in Sandy, Utah. The nightly ritual enables her to avoid nursing homes and sleep in her own bed. But the volunteers find it equally uplifting. Some 60 men are on a schedule to visit Felt two at a time. And what's more? Even more neighbors want to help. They have so many people wanting to help Kathy that there is actually a waiting list. When asked how she feels about this outpouring of help, Felt says, "It just makes me feel very humble. I'm just so grateful for the friendship that I have with them. You just can't put a price on that." Her army of volunteers and their families are genuinely grateful for her, too.
"So many people have been inspired by her story and her courage in the face of such devastating health challenges," one volunteer says. "We're all here together, and we should help each other on the journey."
Wednesday, October 10, 2018
October is Pastor Appreciation Month. Our ministers do so much for so many, they may seem like superheroes. But that doesn't make them immune from troubling times. One minister, Jerome Jones of Springfield Baptist Church in Georgia, was recently struggling through a crisis of faith. But while working his day job with a power company, he found a note that was attached to three balloons. The note read: "God, help me go to college… please help me get everything I need to leave Wednesday. – Mykehia Curry" She was about to start her freshman year at Albany State University. No one in her family had ever gone to college, which is why she sent up that prayer – scared and worried. Jones had $125 to his name when he found the note. And he spent it all on Mykehia. He bought her supplies, but most importantly, gave her a ton of much needed inspiration. "It encourages me to keep going knowing that prayers are answered," Mykehia said. Likewise, Jerome also has renewed faith – a good reminder that sometimes the best way to see your prayers answered is to be used by God as an answer to someone else's. This is also a great reminder to pray for our pastors!
Tuesday, October 9, 2018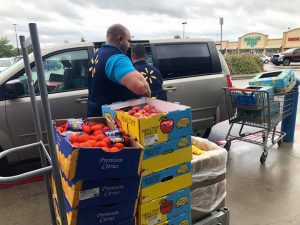 Any of us who went through Katrina are familiar with a sense of loss, but have also come to know that disasters tend to bring out the best in a lot of people. Shelli Trench, who lives in North Carolina, has come to know that, too. She went to Walmart to purchase specific items that had been requested by a local shelter. When she went in, she spoke with a manager about her quest, thinking at best she might score a discount to help her money go further. Instead, he called over another employee and had him fill a shopping cart – on him. The over 250 items of clothing totaled over $1200. And he wasn't done. The next day, he donated case after case of fresh fruit, bread, pastries, drinks, energy bars and more.
Monday, October 8, 2018
In southeast Louisiana, we're no strangers to delicious food and tons of amazing dining options to choose from. And the chefs at those restaurants strive for recognition within the world of fine dining, which comes in the form of Michelin stars. That may be the ultimate goal for many restaurants, but the owners of onevenue in the UK are giving it up for the sake of their family. The rural restaurant, which serves classic French cuisine near the town of Montgomery, Wales, has held a Michelin star for seven years, thanks to the efforts of partners Stéphane Borie, Sarah Francis, and Sarah's sister Kathryn Francis. Raising five kids between them, they say they want family to come first. It's a decision the team calls "bold, scary, exciting, and maybe bonkers," but it's an important one for them and their loved ones. "It will be lovely to have more evenings at home and to be a little less nocturnal!" (Good reminder to keep our priorities in check – hope you can enjoy a little time with your loved ones today, too.)
---
Friday, October 5, 2018
It's pizza Friday, right? Passengers from American Airlines Flight 2354 from Los Angeles to Dallas-Fort Worth were bracing for a long night. Their plane had been diverted to the regional airport in Wichita Falls, Texas due to severe thunderstorms that impacted the northern part of the state. That left 159 frustrated passengers facing the prospect of being stuck on a plane until morning.
Trying to ease their inconvenience, the plane's captain, Jeff Raines, called the local Papa John's and ordered 40 fresh pizzas for delivery at Wichita Falls Municipal Airport. Captain Raines actually ran back and forth between the delivery car and the stranded passengers to personally deliver the pizzas.
Thursday, October 4, 2018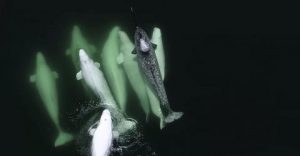 Even the whales in Canada are nice, with a band of belugas adopting a lost narwhal far from home. Narwhals live in the Arctic, but in July a team of researchers from the Group for Research and Education on Marine Mammals (GREMM) filmed a narwhal playing with about 10 belugas in the St. Lawrence River, hundreds of miles from its normal habitat.
The team believes the narwhal is a juvenile male and has been seen with the pod four other times. Martin Nweeia, a researcher from Harvard University who has spent two decades studying narwhals, says this shows the "compassion and the openness of other species to welcome another member that may not look or act the same. And maybe that's a good lesson for everyone."
Wednesday, October 3, 2018
Middle school can be tough. Your body is changing. Kids can be cruel. But not always. In fact, one middle school in Harriman, TN decided they would counteract bullying with encouraging notes … all over the walls, lockers and hallways. Led by Eighth grader Nicole True, the teens covered the walls, hallways and lockers with sticky notes of encouragement for everyone. The plan is to continue to post fresh encouragement all over school grounds all school year long.
Tuesday, October 2, 2018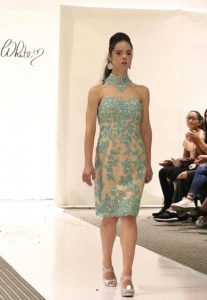 Marian Avila, a 21-year-old Spanish model with Down syndrome, fulfilled her dream to walk at New York Fashion Week thanks to an Atlanta designer she met through the magic of social media. And she did it with flair – in the ballroom of a Midtown hotel in evening looks of red and gold, her parents and siblings in the audience and other models who have challenges by her side.
Marian walked the runway with models young and old, including one in a wheelchair, Tae McKenzie of Charlotte, North Carolina, and a young girl who also has Down syndrome. White's 43 looks were shown like a rainbow with glimmering beaded embellishments on some in red, pink, gold, white, black and rose.
Monday, October 1, 2018
Over 900 people joined the family of LifeSongs over the past two weeks – getting this listener supported ministry to 100% fully funded for the next 6 months! God bless each and every one of you who gave – and you know what – if you didn't give – God bless you too. Because you still have that opportunity to join us in the good work of showing Jesus to our community each day! It's not too late to give at lifesongs.com! It's truly an honor and a blessing to say to you this morning GOD IS GOOD, ALL THE TIME!