LifeSongs Prayer Schools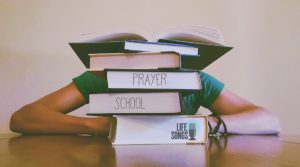 What an honor to be able to speak with God through prayer! And to talk with God on others' behalf? #doubleblessing
We want to cover each and every school in prayer! For the students, teachers, staff, bus drivers and families.  Scroll down and nominate your school right now!
MONDAY, January 23rd – Covington Elementary School
School's City – Covington, La
Mascot/Team – Little Lions
Requested by – Loralyn DeRoche
Prayer for School – "Prayers for a blessed and peaceful remainder of the school year. May God bless our staff, students, and families in a mighty and powerful way."
TUESDAY, January 24th – Tchefuncte Middle School
School's City – Mandeville, La
Mascot/Team – Gators
Requested by – Christine Reid
Prayer for School – "Pray that my sons, Samuel, Henry, and William, and all the students of TMS have a successful last half of the school year. That they learn all they need to know for next year and have fun while doing it!"
WEDNESDAY, January 25th – Broadmoor Elementary School
School's City – Houma, La
Mascot/Team – Cardinals
Requested by – Analysse Dardar
Prayer for School – "Lord, we intercede for our children as they head to school today, fill their lives with trusted teachers and advisers who can lead them toward You and Your promises. Lord, send Your Spirit upon these students and fill them with Your wisdom and blessings. Grant our teachers an abundance of Your wisdom. Prepare their hearts to welcome and love our loved ones, and may we show them love and respect in return. We pray our school will be a place of great discovery, adventure, and creativity, and that you will fill each person with your love, compassion, and mercy. That every child and teacher will be accepting and kind towards one another."
THURSDAY, January 26th – Houma Christian School
School's City – Houma, La
Mascot/Team – Warriors
Requested by – Angie Perdomo
Prayer for School – "I pray for Mrs. Ashlee Laiche and Mrs. Chanda Price. And principal jimmy. and pastor Ben Bufkin. and the whole school. Nurse Allison and every teacher, and student there."
FRIDAY, January 27th – Serve Homeschool Outreach
School's City – Metairie, La
Requested by – Jodie Ellis
Prayer for School – "Praying that we will continue to serve the community and surrounding communities. We were praying for hearts to be touched and softened."
Thank you for your CONTINUED SUPPORT so that together we can pray for our local students and educators.
We would like to pray for your school.
Moms! Check out Moms In Prayer to find out more about impacting schools and children for Christ through prayer!