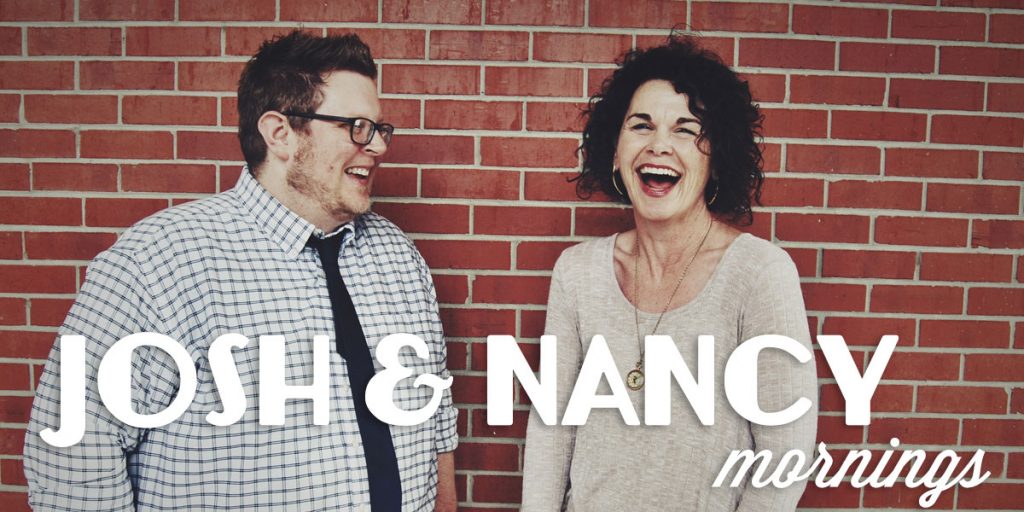 Start your day the uplifting way: The LifeSongs Morning Show with Josh & Nancy, weekday mornings 5:30-9am on LifeSongs!
Recently heard on the morning show…
3/26 – Penguins – How cute is this?!
3/19 – Suddenly Homeschooling – Didn't see this twist of fate coming, did you? Now we are ALL homeschool parents. HELP!
3/13 – Song In Your Heart – What 20 second song/chorus are you singing to yourself while washing your hands?
3/11 – I Want One – This is the coolest scariest thing ever…
2/21 – Friday Laugh – The weekend is here – need a feel-good laugh?
2/19 – Vinyl Lovin' – Do you remember your first vinyl? What music did you jam out to around the record player?
2/13 – No Place Like Home – Astronauts get the best angles…
The #Mississippi River delta looking like somebody spilled their watercolors. That's #NewOrleans nestled up on Lake Pontchartrain to the right of center, and #BatonRouge up above the lake. #Louisiana #EarthArt pic.twitter.com/rRuMhvgftX

— Jessica Meir (@Astro_Jessica) February 11, 2020
2/7 – Adopt a Cop – During Mardi Gras you can help provide hot meals and help to our Men and Women in Blue!
1/29 – SuperBowl Snacks – Are you trying a new recipe for the big game? Josh is – THIS one.
1/28 – Colorful – American history is full of color and it is incredible! #blackhistorymonth is coming – learn something new!
1/27 – Kobe – The measure of a man is not found in trophies or awards, rather love. THIS incredible tribute was penned by Kobe Bryant's good friend Derek Jeter and is remarkably beautiful
1/24 – Crunchy Peanut Butter Balls – Need a great treat for your SuperBowl party? Prepare to have your world changed! CLICK HERE and send me some if you make a big batch.
1/23 – Naming Rights – Some kids name their pets – THESE KIDS get to name the Mars rover for NASA!
1/13 – Knuckle Power – How do you know how many months have 31 days? Use your knuckles!
12/19 – The Legend of St. Nick – Everyone needs to know this story!
12/17 – Christmas Is Here – Writing a fresh Christmas song is really hard…
11/21 – Save Money & Live Longer – Today is the day to quit smoking! The Great American Smokeout!
11/18 – Taco Bell Bisque – Need a new tradition for Thanksgiving? Perhaps try Taco Bell's Recipes!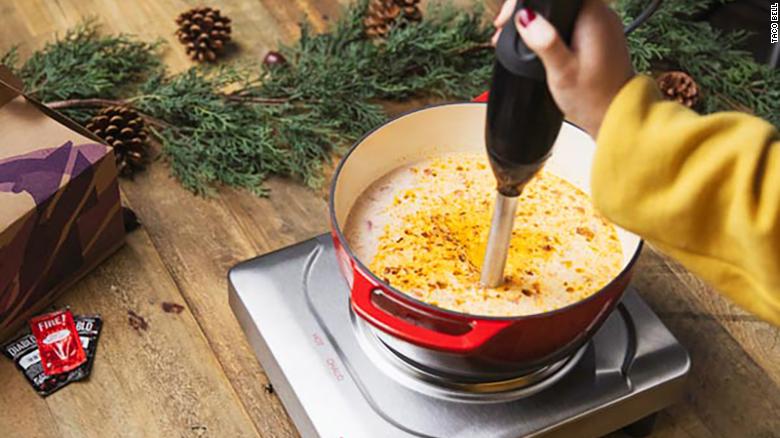 11/15 – God Only Knows at the CMAs – Because who has time to watch the entire CMA broadcast…
11/12 – Save It For Black Friday – Stores should close for Thanksgiving. There, I said it. Here are the good guys who say their employees getting a Thanksgiving break is more important than $$$: CLICK HERE
10/22 – Are you a Barbie Girl? – Well you could STAY in the Barbie Malibu Dreamhouse!
10/21 – Happy Hulaween – Pineapple Jack-o-Lanterns are trending and I can see why!
10/17 – Yellow Cardinal – No, not a cowardly Catholic – a yellow Cardinal!
10/4 – Happy birthday … to you… – The Rock is just so dang charming.
Love seeing this. Happy 100th Grandma Grover! I'm honored you're a fan and grateful you were born! Much love, Rock.
(wish my grandma was still around, but stuff like this is always the best part of fame) #phillystrong 💝 https://t.co/EvuKAbuULT

— Dwayne Johnson (@TheRock) October 2, 2019
8/30 – OB. SESSED. – Dolly's still got it, y'all.
8/28 – New I Voted Sticker – The Primary Election for the Louisiana Governorship will be held on Oct. 12th – if no candidate receives over 50% of the vote then a general election between the top 2 candidates will be held on Nov. 16th. Can't wait to see your selfie rocking this new sticker!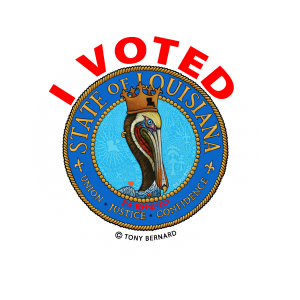 8/26 – Popeyes v Chick-Fil-A – In the end … we're all winners.
8/22 – Empty Nest – Need a good cry?
8/21 – National Poets Day – Nancy loves the poetry of Morgan Harper Nichols – and with one read, you will be too! CLICK HERE
8/14 – Bear Necessities – This will just make you giggle.
7/23 – Founding Father Vanilla Ice Cream – Let's make Thomas Jefferson's recipe for vanilla ice cream!
7/22 – Rescue – Music by Lauren Daigle | Wardrobe by Hannah Donahue | Setting by God
7/19 – Maverick – I didn't know I wanted a sequel to Top Gun until I saw this trailer.
7/17 – Sky rocket in Flight – The Washington Monument has been turned into a giant Saturn V rocket!
7/9 – Little Mermaid Controversy – Is this even possible? Because: Sign. Me. Up.
We got no troubles 🦞
Life is the bubbles 🐡
Under the sea 🐠 https://t.co/SlepakSULp

— Guy Fieri (@GuyFieri) July 6, 2019

7/5 – Murica – Want to be challenged in both your patriotism and your walk with Jesus? Check out THIS article. Just mute the video at the top.
6/26 – Anastasia – In honor of today's Genius Club Question…
6/13 – Random Acts of Light Day – Remember, light doesn't cast a shadow. #BeTheLight
6/7 – Leah Circle – Solving a major problem for New Orleans – what are we going to call Lee Circle? This PETITION has a pretty great idea!
5/29 – Jello Pool – What says Summer Fun more than a pool filled with jello?!
5/17 – Spark A Fire – The Sparks family of Slidell lost everything in a fire. Want to help? Click Here!
5/10 – Don't Panic – Making breakfast for Mom this weekend? Tropicana can answer your panicked questions on Sunday morning. Just call 1-833-2TROPMOM
5/9 – Moms Need Breaks Too – Kraft (Mac & Cheese) wants to reimburse moms for babysitting on Mother's Day! Because you deserve a break – and honestly, it might be for the children's safety that you get some time off…
4/15 – Raise Up The Church – Want to join Ben Watson and hundreds of others to help rebuild the three churches lost to hate-fueled arson? Click Here for the official GoFundMe for the Opelousas churches.
4/8 – Need a Good Cry? – Check out this blind mom-to-be feel her baby's ultrasound!
4/2 – Skrill Those Mosquitos – Scientists say that blasing dubstep keeps mosquitos from mating and spreading disease. But I mean … listen to this "song." It's kind of like dying anyway.
3/14 – #TriangleDanceChallenge – Because you have nothing better to do…
3/12 – A Whole New World – Suddenly Josh is VERY excited to see this movie…
3/11 – Shelley's #OwnIt Story – Shelley shared her story (and won Francesca Battistelli tickets!)
3/7 – Ranch – Yes it is true – there is no container too big to contain your enthusiasm for Hidden Valley… Literally.
2/21 – Going Pro – Finally a sport for the more civilized…
Athletes can act out "Star Wars" fantasies in a galaxy not so far away. The fencing federation in France has officially recognized lightsaber dueling as a competitive sport. Read the full story from @johnleicester: https://t.co/QBmO0XL8Ef pic.twitter.com/z015rHL5Bu

— The Associated Press (@AP) February 18, 2019

2/19 – We're Talking Citrus Here! A Slidell couple grew the world's largest grapefruit!
2/18 – Black History Month – One school is Slidell really knows how to celebrate!
2/4 – Super Bowl LIE Highlight – The game hadn't even started and the biggest highlight took place!
/1/30 – B-I-B-L-E – Leaders of the community are reading through the ENTIRE Bible, right now!
1/23 – Write a Letter, Win a House – Sure, that house is in Alberta, Canada, but still… CLICK HERE!
1/18 – Moves – Here are some dance move options for the Saints touchdown celebrations on Sunday!
1/15 – A Perfect 10 – It's nearly impossible in gymnastics competition. Unless you are Katelyn Ohashi – who does it every year…
1/4 – Love Story – It'll be hard to top this love story come Valentine's Day… CLICK HERE to read about JRR Tolkien and wife.
1/2/ – GOOD – Have you searched for the GOOD in the world? Try CLICKING HERE for Good News every day!
Want to go back even further? CLICK HERE for even older, funny, cool stuff!
SaveSave