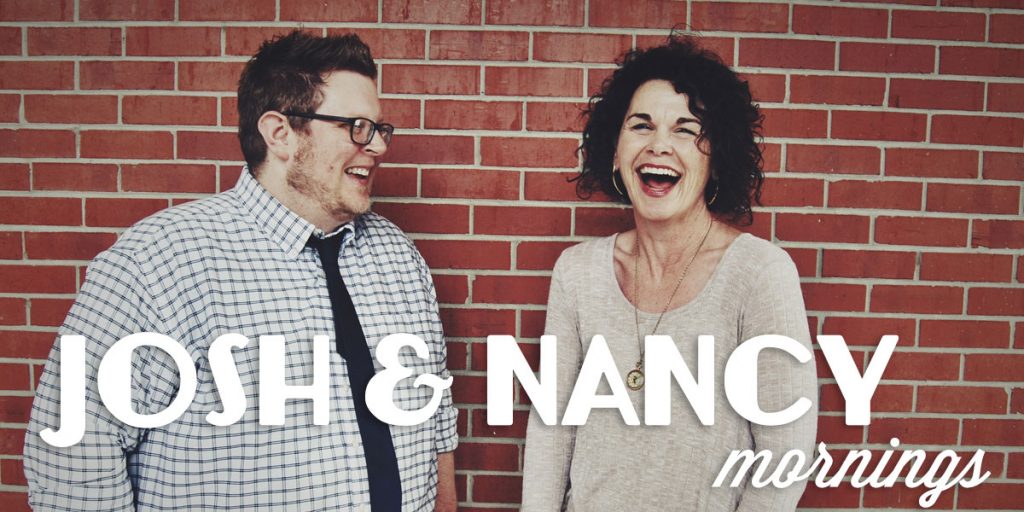 Start your day the uplifting way: The LifeSongs Morning Show with Josh & Nancy, weekday mornings 5:30-9am on LifeSongs!
Not-So-Recently heard on the morning show…
2019
12/19 – The Legend of St. Nick – Everyone needs to know this story!
12/17 – Christmas Is Here – Writing a fresh Christmas song is really hard…
11/21 – Save Money & Live Longer – Today is the day to quit smoking! The Great American Smokeout!
11/18 – Taco Bell Bisque – Need a new tradition for Thanksgiving? Perhaps try Taco Bell's Recipes!
11/12 – Save It For Black Friday – Stores should close for Thanksgiving. There, I said it. Here are the good guys who say their employees getting a Thanksgiving break is more important than $$$: CLICK HERE
10/22 – Are you a Barbie Girl? – Well you could STAY in the Barbie Malibu Dreamhouse!
10/21 – Happy Hulaween – Pineapple Jack-o-Lanterns are trending and I can see why!
10/17 – Yellow Cardinal – No, not a cowardly Catholic – a yellow Cardinal!
10/4 – Happy birthday … to you… – The Rock is just so dang charming.
Love seeing this. Happy 100th Grandma Grover! I'm honored you're a fan and grateful you were born! Much love, Rock.
(wish my grandma was still around, but stuff like this is always the best part of fame) #phillystrong 💝 https://t.co/EvuKAbuULT

— Dwayne Johnson (@TheRock) October 2, 2019
8/30 – OB. SESSED. – Dolly's still got it, y'all.
8/28 – New I Voted Sticker – The Primary Election for the Louisiana Governorship will be held on Oct. 12th – if no candidate receives over 50% of the vote then a general election between the top 2 candidates will be held on Nov. 16th. Can't wait to see your selfie rocking this new sticker!
8/26 – Popeyes v Chick-Fil-A – In the end … we're all winners.
8/22 – Empty Nest – Need a good cry?
8/21 – National Poets Day – Nancy loves the poetry of Morgan Harper Nichols – and with one read, you will be too! CLICK HERE
8/14 – Bear Necessities – This will just make you giggle.
7/23 – Founding Father Vanilla Ice Cream – Let's make Thomas Jefferson's recipe for vanilla ice cream!
7/22 – Rescue – Music by Lauren Daigle | Wardrobe by Hannah Donahue | Setting by God
7/19 – Maverick – I didn't know I wanted a sequel to Top Gun until I saw this trailer.
7/9 – Little Mermaid Controversy – Is this even possible? Because: Sign. Me. Up.
We got no troubles 🦞
Life is the bubbles 🐡
Under the sea 🐠 https://t.co/SlepakSULp

— Guy Fieri (@GuyFieri) July 6, 2019

7/5 – Murica – Want to be challenged in both your patriotism and your walk with Jesus? Check out THIS article. Just mute the video at the top.
6/26 – Anastasia – In honor of today's Genius Club Question…
6/13 – Random Acts of Light Day – Remember, light doesn't cast a shadow. #BeTheLight
6/7 – Leah Circle – Solving a major problem for New Orleans – what are we going to call Lee Circle? This PETITION has a pretty great idea!
5/29 – Jello Pool – What says Summer Fun more than a pool filled with jello?!
5/17 – Spark A Fire – The Sparks family of Slidell lost everything in a fire. Want to help? Click Here!
5/10 – Don't Panic – Making breakfast for Mom this weekend? Tropicana can answer your panicked questions on Sunday morning. Just call 1-833-2TROPMOM
5/9 – Moms Need Breaks Too – Kraft (Mac & Cheese) wants to reimburse moms for babysitting on Mother's Day! Because you deserve a break – and honestly, it might be for the children's safety that you get some time off…
https://youtu.be/kM3L4ngnq9Q
4/15 – Raise Up The Church – Want to join Ben Watson and hundreds of others to help rebuild the three churches lost to hate-fueled arson? Click Here for the official GoFundMe for the Opelousas churches.
4/8 – Need a Good Cry? – Check out this blind mom-to-be feel her baby's ultrasound!
4/2 – Skrill Those Mosquitos – Scientists say that blasing dubstep keeps mosquitos from mating and spreading disease. But I mean … listen to this "song." It's kind of like dying anyway.
3/14 – #TriangleDanceChallenge – Because you have nothing better to do…
3/12 – A Whole New World – Suddenly Josh is VERY excited to see this movie…
3/11 – Shelley's #OwnIt Story – Shelley shared her story (and won Francesca Battistelli tickets!)
3/7 – Ranch – Yes it is true – there is no container too big to contain your enthusiasm for Hidden Valley… Literally.
2/21 – Going Pro – Finally a sport for the more civilized…
Athletes can act out "Star Wars" fantasies in a galaxy not so far away. The fencing federation in France has officially recognized lightsaber dueling as a competitive sport. Read the full story from @johnleicester: https://t.co/QBmO0XL8Ef pic.twitter.com/z015rHL5Bu

— The Associated Press (@AP) February 18, 2019

2/19 – We're Talking Citrus Here! A Slidell couple grew the world's largest grapefruit!
1/23 – Write a Letter, Win a House – Sure, that house is in Alberta, Canada, but still… CLICK HERE!
1/18 – Moves – Here are some dance move options for the Saints touchdown celebrations on Sunday!
1/15 – A Perfect 10 – It's nearly impossible in gymnastics competition. Unless you are Katelyn Ohashi – who does it every year…
1/4 – Love Story – It'll be hard to top this love story come Valentine's Day… CLICK HERE to read about JRR Tolkien and wife.
---
2018
12/14 – Bully Book – Marcayah Carter didn't let bullies get her down – she became a published author to combat it!
12/4 – S-O-C-K-S – I told you it was real…
10/31 – THIS is Halloween – If you grew up in the 80s/90s – THIS music video pretty much defined Christian Halloween…
10/30 – Candy Corn – Maybe Alton Brown (Good Eats & Iron Chef America) can change your mind about CANDY CORN!
10/16 – Happy Halloween – It certainly will be if you put your baby in THIS costume…
9/10 – Global Maritime Ministries – We are very excited to tour the world of food – and all for a good cause! LEARN MORE!
9/7 –  Vocabulary – Remember Vocabulary Tests? Now we make them for fun…

8/23 – Playground – these local kids can ONLY IMAGINE a playground… (They got $20k for this video)

8/14 – Dream Job Abroad – Would you like to live alone on a cat filled island? Now you can – AND get paid!
8/8 – Happiness is Hard to Find – What if we have everything backwards about being happy at work?

8/7 – Like A Princess – Your dream wedding just got way more expensive.
8/6 – Dance Off – Need some extra pep in your step? Check out Jordan Feliz' new music video – and then get your tickets to see Jordan at Big Church Night Out this October!

8/2 – Office Party – Josh & Nancy would love to deliver coffee and donuts to your office if you LISTEN AT WORK. Your job PROBABLY isn't as awesome as THIS ONE though…
7/16 – Art & Safety – What if an art project could save lives? Check THIS out!
6/29 – Marriage Goals – for KING & COUNTRY shot a music video with their wives … and it is incredible!

6/25 – Ugly Doggling – Who won the Ugliest Dog award? THIS wonky looking Bulldog.
6/20 – As Heard On Radio – Let your senses be ushered into awakeness…

6/15 – Take Me Out to the Ballgame – Steve Scalise is back!
Sweet moment as Rep. Steve Scalise is mobbed by his teammates after snagging a grounder on the first pitch of the annual congressional baseball game.

A year ago, Scalise was among four people shot during a GOP practice for the annual charity ballgame. https://t.co/hl4OTixje5 pic.twitter.com/Lja2AT0eQy

— ABC News (@ABC) June 15, 2018
6/11 – Making Life Beautiful Day – Here are Nancy's 3 steps to Making Life Beautiful:
*Spend TIME with the people you love (most importantly Jesus)
*Count your blessings
*WRITE IT DOWN
6/8 – Best Friends Day – Cause our hearts … in big and small ways …keep the love that keeps us strong…

5/17 – ConGRADulations – this pretty much sums up your near future…

5/16 – What Do You Hear? Josh hears "Laurel" clear as day – Nancy, not so much…

4/30 – Free Snoballs for a Cause?! – Saints punter Thomas Morstead wants to give you a free snoball!
4/18 – Velociraptor Day – Happy…?? Velociraptor Day! In case you need a reminder of to watch your sides…

4/9 – POW – Check out the complete story of a WWII POW who built a violin to bring hope in the darkness!
4/6 – Accepted – This is what it looks like when you get a full-ride to Every. Single. College.

4/5 – Off Season Training – Mark Ingram is in Italy as a part of the NFL's UFO tour for the troops.

4/2 – Spring Break Louisiana Strawberry Lemonade – A delicious treat for the whole family on a warm Spring afternoon!
4 Cups Ice
1 Cup chopped frozen/fresh Louisiana Strawberries
3/4 Cup Real Lemon concentrate
2/3 Cup Sugar
Add ingredients to blender, top off with cold water. Blend until fully combined and frothy on top. Enjoy!
3/27 – Pure Joy – You didn't even know your day needed this video…

3/2 – WinterJam Friday – It's Friday. It's WinterJam Day. Kinda feels like this…

2/26 – John Crist – John Crist made us laugh this morning – and will again on Friday night!

2/22 – Nu Thang – I can't help but sing this along to today's LifeSongs Uplifting Word…

2/19 – Olympic Bandstand – This is why the world gets together – so great!
2/16 – Plogging – From the makers of exercise comes free trash pick-up! Go for a PLOG!
2/14 – Christian Pick-Up Lines – Fall in Love – don't fall for these!
2/9 – Let The Games Begin – The Olympics are rolling in South Korea – here's some fun activities & recipes to help celebrate!
2/5 – Tide Ad – Is it Scripture … or is it a Tide Ad?
2/2 – Groundhog Shmoundhog – The real tell-tale is what Clementine the Nutria has to say…
1/31 – Undefeated – Our Way to go Wednesday story is truly inspiring. And you can check out a moving video featuring this week's hero!
1/18 – Winter Blues – The cold got you down? Here's a peaceful, sweet video to help lower your blood pressure.

1/11 – Morse Code Day – "I would imagine that if you could understand Morse code, a tap dancer would drive you crazy." – Mitch Hedberg
1/10 – Go Ahead, Do the Sean Payton.

1/9 – Neigh Thank You – Remember, it could always be colder…
---
2017
12/13 – What are Sugar Plums anyways? – Alton has a recipe, of course.
12/7 – Kutless – All week we've been giving away the new Kutless CD – now Jon Micah is giving away Christmas secrets!
12/4 – Cowboy Cookies – Get Nancy's "famous recipe" that she stole from the internet: HERE
12/1 – Dogs Rule & Cats Drool – It's #science…

11/30 – Cajun Aces – New Orleans chef couple on Food Network? Yes, please!
11/29 – Look Before You Leap – Like these guys who jumped off a mountain… INTO a plane.
11/17 – Turkey Wellington – How about Thanksgiving for the entire family for just $15?
11/15 – Way To Go Wednesday – One man is helping kids pay for college while their parents are in prison.
11/13 – Cornbread & Chorizo – Josh spent the weekend testing Thanksgiving recipes. Enjoy…
11/9 – Majority Whip – It is apparently way more fun in the House of Representatives than we were led to believe…
11/7 – Super Science Saturday – Check out the science recipes from Cabrini High!
11/2 – Black as Death – Like black licorice? Bad news…
11/1 – Way To Go Wednesday – Come on, Eileen…

10/27 – Sidewalk Prophets – We got a PREVIEW of the Big Church Night Out when SWP stopped by!
10/24 – Laugh Factory – The best part of WinterJam 2018? It might just be THIS GUY.
10/23 – No. 2 – Do you think New Orleans is ONLY No. 2? Check out the List.
10/13 – What Matters – Welcome to "The Team!"
10/11 – Way To Go Wednesday – The ICU Grandpa is #MakingADifference just by cuddling newborns!

10/10 – Does Josh Sound Distracted? It's his son's birthday. And also there's this…
10/9 – Why so Curious… – We got to know Albert Einstein a little better today in celebration of curiosity!
9/28 – Read A Book To A Kid Day – One of Josh's favorite books to read to his kids is Not Your Typical Dragon.
9/8 – Since We're Dreamin' – Turns out, Nancy & Josh both want the same $500k dream car…
9/5 – Instagram Husbands – It's hard work making y'all look casual and spontaneous…
8/30 – Helping Hands – When your entire community needs a place to crash and you have beds… THIS.
8/10 – Car In a Bag – What if you could save your car, even if the flood waters rise… THIS.
8/9 – Dig a Hole – Ever wonder If I dig a hole through the earth to the other side, where would I come out? Click Here
6/21 – National Selfie Day – Take the "God is Good All the Time" Selfie Challenge!
6/7 – Hobby Horsing – So THIS is what might happen if you don't get your daughter a pony…
5/26 – Husband Check-List – Ladies, does your man do ALL OF THIS? Guys … it might be time to up your game.
5/25 – #NationalTapDanceDay – I WISH I could dance. I really do. Who would you pick in a dance-off?
5/24 – Nerd Alert – Come on … it's SPIDERMAN!
5/22 – Normal Day – This video … so so so sweet! Have a magical Monday!
5/16 – Pastors – Pray for your church leaders. And never let them go HERE.
5/10 – 3 Ninjas – Inspired by this morning's #MomMoment – Click Here for awesome.
5/8 – Check out THIS unique #MomMoment – and listen to win all week!
5/4 – May the 4th be with you – Yes, it's also the National Day of Prayer – but THIS!
4/26 – Mandisa & NYC – Mandisa is about to dazzle the world on GMA!
4/20 – Tauren Wells – This bright newcomer is wow-ing us. And the NBA… HERE.
4/11 – VIP Style – Do you get all dolled up when going backstage at a concert?
4/3 – Shareathon – $30 a month keeps LifeSongs going strong!
3/31 – Dance Marathon Day – This is one of my favorite things…
3/22 – Julia – The newest Muppet on Sesame Street has autism. And what a story it is.
3/16 – Mike Donehey makes leading worship look easy. But it ain't. And he's truly awesome. Here.
3/15 – Colton Dixon – His hair isn't even the greatest thing about him. And it's ridiculously great. See?
2/22 – Stupid Spain – They gave up THE BEST THING ABOUT AMERICA!
2/14 – Valentine's Day – Josh's 5 Tips to a Stellar Valentine's Day
1. Picture book time – grab the old wedding album and explore it with the kids. Show them Great Aunt Agnes and Crazy Uncle Mike. Talk about the day – the drama – the excitement.
2. Candlelit dinner is always a way to encourage intimacy – even if you are just having leftover chili mac – set the mood. Dim the lights, light the candles – and let the flickering flames fan the romance.
3. Dinner and a movie has once again topped the "Best Date Night" survey. Another survey says The Notebook is the most Romantic movie you can watch. I, personally, think Joe Vs. The Volcano is way more romantic. And way less depressing.
4. Pick a challenging recipe off of your Pinterest page – go get all the weird ingredients – put on some fun music and get the whole family involved in the preparation. It might turn out a total failure, but dancing in the kitchen might be one of the greatest things about your day.
5. Groupon a weekend getaway in the Quarter (for after Mardi Gras). You can save a bundle – and be a tourist in your hometown. There are some awesome 4 and 5 star hotels with private courtyards and of course amazing food to explore.
2/6 – Best Superbowl Commercial – by a mile THIS was the best laugh-out-loud moment.
2/2 – Groundhog Day – You can actually watch a live feed of the festivities!
1/30 – National Bubble Wrap Day – Sometimes you just need a quick POP.
1/27 – We Are Messengers – Darren is just a fantastic bloke. Get to KNOW HIM. Then see him in concert TONIGHT!
1/23 – Be A Scribe – Write out "God is Good All the Time" on a piece of paper and post it on my FB Live video about Handwriting!
1/18 – Dinosaurs Are Real – Never go to Florida.
1/11 – JoJo's Blacklist – Somethings need to go away. Like now.
1/10 – Houseplant Appreciation Day – Yep, it's a real thing. And nope, I did not remember to water the plants…
1/3 – Mission Accomplished – Did you actually knock out any of last year's resolutions? Any at all… even one?
---
2016
12/21 – Superpower – Josh can write a perfect Hallmark Christmas movie with just a few details. Put him to the test!
12/14 – #2 – Only we can decide who is the second best holiday beverage (Hot Chocolate is easily #1).
12/12 – SaintsFail – Maybe our season is over. Maybe it was disappointing. But one thing is certain: It could be worse. We could be Cleveland.
12/9 – Christmas vs Pets – Sometimes our Christmas cheer becomes their Christmas playground…
12/1 – Chris Tomlin – The Jolly Elf of Worship, some call him. Well … Josh calls him that. Chris Tomlin!
11/30 – Christmas Trees – It's weird that we put a try in the middle of the house right? Here's WHY.
11/15 – Want a perfect turkey? Follow THESE instructions. You are welcome.
11/14 – Super Moon! Wow… it's so big and bright… and gone. Now we wait…
11/9 – Scrapple. Sure, sure, there was a national election yesterday… but Scrapple.
11/4 – Mark Romig is calling in to get us walking around a cemetery and stopping diabetes!
11/3 – Ellie "My New Favorite Person" Holcomb spent some time hanging out at LifeSongs. She's literally The Best.
11/2 – Leftover Candy Casserole – Check out these (wackadoodle) recipes for using leftover Halloween candy. Or, you know, just eat the candy.
10/31 – Halloween Tradition – This goes back to a simpler, weirder time. Witch's Invitation.
10/27 – #ThankfulThursday – It's time to let your pastor know just how thankful you are.
10/26 – Rise of the Machines – KOBI might just be your new best robotic friend.
10/24 – School Shootings – JoJo saw I'm Not Ashamed over the weekend. Powerful and intense. Faith-based films are kicking it up a notch.
10/20 – State By State – A breakdown of the favorite candy in each of the United States… LA #epicfail
10/18 – Night Out Against Crime – The Greater New Orleans area celebrates a night out against crime TONIGHT!
10/10 – Pierre & King Cake Baby – USA Today would have us believe these lovable mascots are "creepy"…
9/27 – Leash Law Gone Wild – Would you put your cat on a leash?
9/22 – #ThankfulThursday – Check out these stories of heroism involving the Cajun Navy!
9/20 – One Ping Pong to Rule Them All – They are bored in Japan. And we are reaping the benefit…
9/14 – Disney Ruins Gumbo – I'm sorry, Mickey, but there is no kale in Gumbo.
9/7 – Sick Kids – Are you a smother-them-with-love or whip-them-into-shape kind of parent?
8/31 – Diatomaceous Earth Day – Because it's dirt you can eat, clean a pool with & only celebrate today…
8/30 – It's Personal – James shares his heartache as his family guts their homes in Ruston.
8/11 – Rod Stewart – You remember this song? The Three Musketeers was an awesome movie. Is it on Netflix?
8/3 – National Watermelon Day – Turns out, there is a BETTER WAY to cut watermelon.
7/21 – Line Dancing Practice – Josh & JoJo found this helpful video to prepare for Open Mic Night at Nashville's.
7/19 – Seth & Nirva – Did you hear THIS AWESOME SONG at 6:00 am? It's perfect for our world right now.
7/6 – Sky Sliding – "Hey, let's put a slide on the outside of a skyscraper" – A Crazy Person
6/28 – Chris Quilala – A fun name to say – even cooler guy to get to know!
6/27 – Give us Freedom or at least a cup 'o joe! – Win FREE LifeSongs Blend Coffee!
6/24 – Zephyrs Forever – A name change is imminent… but we can do better than Baby Cakes.
6/21 – Cheerio Challenge – Watch This – and then try it on your sleeping angels!
6/20 – National Kouign Amann Day – Pastry? Yes, please. La Petite Sophie Patisserie
6/17 – Weekend Plans – James filled us in on some epic weekend events!
6/16 – Mustache! – Ever wonder what your favorite Christian artists would look like with a lip-rug?
6/15 – Chick-Fil-A On A Sunday – An Orlando Chick-Fil-A opened this past Sunday and didn't make a dime…
6/3 – Coffee With Cops – Local officers would love to chat with you over a cup of joe! Click Here FMI!
5/26 – Practice Makes … Uhm – Josh & JoJo are getting ready for the LPPC – get your tickets!
5/25 – Laugh Til You Cry – If we were all as joyful as this Happy Chewbacca…
5/24 – Team Blake – Remember that time we talked with Blake Shelton about Jesus? #cray
4/28 – Attitude of Gratitude – Today is #ThankfulThursday – so share who/what you are thankful for!
4/27 – Mom Moments – Have a story to share but haven't connected on the phone? Try here!
4/18 – Greatest Kiwi Ever? We loved chatting with Phil Joel of Zealand Worship!
4/6 – Stalker Alert – Have you ever launched yourself at a famous person without thinking "Is this totally legal?"
4/5 – Flying Selfie Stick – Because who wouldn't want a robot helicopter flying around taking pictures like an FBI drone?
3/30 – WinterJam – All week long we are chatting with jamtastic WinterJam bands!
3/16 – St. Patrick's Day – Why wear green? Who was St. Patrick? Thank God for the Veggietales!
2/18 – Flavor Swap – Get the lowdown – eat some chips – win $250k!
2/16 – Can Anyone Land This Plane? – Be prepared for the worst. Learn how to land a 737!
2/3 – Wake Up! – Doctors agree – we all are doing a terrible job at getting up the right way…
2/2 – Happy Groundhog Day – The meteorological rodent says "Early Spring!" And so did John Tibbs!
1/26 – Rules of the Sky – Check out these tips straight from the flight attendants themselves!
1/13 – Bedtime Snacks – Need some healthy snacking options? Click here.
1/5 – Relax With A Donkey – Baby Donkey + Hammock = Best Thing Ever
---
2015
12/23 – How To Be Hospitable – Check out THESE TIPS to being the best host/hostess this holiday season!
12/10 – The 12 CDs of Christmas – Here's what you can win today! Also: Michael Tait!
12/8 – Happy Birthday, JoJo!
12/4 – Frosted Windows: JoJo says "1 part rubbing alcohol to 3 parts water in a spray bottle – spray liberally on frosted windshield, then turn on windshield wipers for a quick fix" (Thanks John!)
12/3 – Christmas Lights: Colorful or Classic White? Weigh-in!
12/2 – Xmas Netflix & Chill – What are your go-to Christmas movies?
12/1 – #GivingTuesday – Forget Black Friday & Cyber Monday – TODAY is the real jam!
11/24 – Butterball Q&A – When your turkey queries go beyond "How long do I cook it…"
11/23 – Turkey Talk – Need some pointers for your Thanksgiving feast? Butterball has got your back!
11/20 – Kutless – Josh & JoJo spoke with James Mead of Kutless – Thanksgiving, beard oils & Surrender!
11/9 – Row, row, row at the show… Listen all week and WIN an entire row of seats for the Saints & Sinners Tour!
10/29 – Chris August loves this time of year…
10/28 – Candy of Yesteryear – Some of the best stuff is no longer available in the US…
10/27 – #PizzaMonth – Where can you grab the absolutely BEST pizza?
10/22 – Google Costumes: Each state has a unique identity… and weird costume ideas…
10/20 – Road Trip! Grab the fam and head to Pensacola, FL – for an EPIC Big Daddy Weave Road Trip!
10/12 – Woodlawn – All week we're giving away tickets to the latest Faith (and Football)-based film Woodlawn!
10/05 – Praise & Prayer Day – Today we celebrate God's providence and blessings – How has He shaped you?
10/02 – Instagram THIS – What are the most Instagrammed spots in every single state?
9/24 – Bacon LOVERS – Yep, there's a dating site for bacon enthusiasts… But more importantly, prayer.
9/22 – White Chocolate Day – A day to celebrate a LIE! (It's not chocolate! Don't believe the liars!)
9/14 – SYATP – Somehow it became the middle of September, which means soon: See You At The Pole!
9/2 – Farmers' Market Mayhem – What good is local produce, if you can't pronounce the names of the exotic vegetables…
8/31 – Faith-based Film – War Room came in No. 2 at the Box Office this weekend, raking in $11 million. Star Wars Episode VII is forecast to top that by a bit this December…
8/28 – Kiss Me, I'm Irish! Things took an Irish turn on the show this morning – with Gareth Gilkeson of Rend Collective!
8/27 – Field TRIP! Watch where you fall, if you are around expensive art…
8/24 – Make Back To School… FUN! There are ways to transition to this new season.
8/19 – Back To School Mini-Dates: Take the time to work on your marriage – while the kids are away at school!
8/18 – Clean House, Clean Heart – Well that might be an exaggeration, but these might help…
8/14 – True MC, No Slack On The Track – It's not everyday that you get to talk to the voice of a generation…
8/13 – Happy Lefthanders Day! Left-handed folks often get a bad rap in art, history, mythology… yep, mostly it's all bad.
8/12 – Mid-Week Slump Busting – Don't get wiped out by the week – use Wednesday as a mid-week fuel stop!
8/11 – Drive Thru Etiquette – Before you make a #LifeSongsDifference at the Drive Thru – review these rules of etiquette!
8/10 – Coffee Barons – Win free #LifeSongsBlend coffee on Facebook – and learn unexpected things about coffee HERE.
8/5 – Back To School Safety Patrol: Don't get hurt trying to learn! CLICK HERE!
8/3 – Coffee Grinds, Science & You! Don't toss those coffee grinds – put them to work for you!
7/31 – Back To School: This weekend is your last chance to make a difference with the LifeSongs Back To School Project! Also – want more info about Bobby Bowden's 2015 FCA Kick Off Rally? Call 504-582-1972!
7/29 – Happy Outcry Day! Need a quick guide to hand raising during worship? John Acuff has you covered!
7/28 – Tennis Shoe Day – New Chucks are here! But maybe you just outta clean your old ones…
7/27 – Summer Is Almost Over! But don't let that stop you from re-connecting with your family.
7/20 – No AC? No Problemo! Ok, maybe a little problemo… but these TIPS should help.
7/16 – #TasteTestThu: Jelly Belly Edition – So. Much. SUGAR!
7/14 – Cow Appreciation Day: Dress up like a cow – get free Chick Fil-A. It's a good thing.
7/7 – Travelling With Tots: Children + Travel = One of Dante's Rings of the Inferno. Here's HELP!
7/6 – Coffee: A How To. We have consistently been sabotaging ourselves when it comes to coffee. Thankfully, this.
7/2 – #TasteTestThu – Creole Creamery Ice Cream. 22 Flavors. 1 definitive winner. (It's a hard job, but someone had to do it)
7/1 – International Joke Day: What's red, white, blue, and green? A patriotic turtle!
6/29 – UNSEND – We've all accidentally hit Send or Reply-All at the wrong time. Good news. Now you can TAKE. IT. BACK.
6/25 – #TasteTestThu – We had to wash down last week's French Fries with some SWEET TEA!
6/23 – Let It Go Day is the perfect occasion to stop wasting your energy on negative feelings and focus on the positive. Here's our list of things we can all Let Go!
Past hurt
Resentment
Disappointment in the Star Wars prequels
People who don't use blinkers
People who say "same difference"
People who say anything more than 100%
People who ax a question instead of asking a question
People who are not blind or have eye issues but still wear sunglasses inside or at night
Hunger
Luke from from All Things New's bowling score last night
Bedazzling
Trying to convince Josh that essential oils are legit
6/19 – Terrible Father's Day Gifts: There are good gifts to give your Dad. These are not those.
– Paperweight – or desk figurine
– T-Shirt for mom that says "I'm With Stupid"
– A discount Valentine's Day Teddy Bear
– Laundry Detergent and Toilet Paper (Roll Tide!)
– LED light up Belt Buckle
– A tie featuring pictures of his babies (He'll NEVER wear it)
– A printed out certificate for World's Best Dad.
– Man Spanx. (Girdle) There are better times to hint that he needs to work on his DadBod.
– A movie replica sword out of SkyMall. If Dad wants a sword, he'll forge it himself. Like a man.
– The Absolute Worst Gift: Added Responsibilities
6/18 – #TasteTestThu: Fries. Get the break-down on fast food fries HERE!
6/17 – Eat Your Veggies Day – if we're going to celebrate Fudge Day… Click here for some amazing Summer Veggie Recipes!
6/16 – Fudge Day: Is there any better way to celebrate this National holiday than by a trip to the awesomely renovated Riverwalk – where the fudge professionals know how to put on a show?!
6/15 – The History of Coffee: Professor Josh taught JoJo Coffee 101 at the School of Life.
6/11 – #TasteTestThu: Hot Pockets. After a week of scorched mouths – we've got the rankings of the best and worst Hot Pockets $15 can buy at the grocery store…
Pepperoni Pizza – 9 (It tasted just like pepperoni pizza. "That's just good." – Josh.)
2 & 3. Bacon Cheddar Cheese Melt – 8 (The pretzel crust set this one apart. It was the best crust overall.)/ Meatballs & Mozzarella – 8 (This is Julie's favorite. "I really liked this one, because it tasted just like my favorite Hamburger Helper – Cheesy Italian Shells.")
Philly Steak & Cheese – 7.5 (I've never had a real Philly Cheese Steak, but Josh said it didn't taste like one. However it did taste good.)
Four Meat & Four Cheese Pizza – 6 (This one might be unfairly judged. The first bite was cold. And we just couldn't get over that.)
Cheddar Cheeseburger – 5 (Tasted like a cheeseburger, complete with pickle. But not in a good way.)
Chicken Broccoli Cheddar – 3.5 (Which is the lowest score yet on Taste Test Thursday. Very bland. The croissant crust was the only redeeming quality.)
6/10 – Road Trip! Be sure to prepare your vehicle for your next journey. Also, pack lots of snacks. And wipes.
6/9 – So gross. Stuff we use every day needs some serious disinfectant…
6/8 – Weird Stuff in Coffee: Cream & Sugar – that is all that should be acceptable. But this is America…
6/5 – Happy National Donut Day! (Why are all of these about food?) NOLA is home to the second best donut shop in America!
6/4 – #TasteTestThu: Frozen Yogurt. Here are the scientific results of our taste test:
#1 – It's a TIE! Death by Chocolate (9) & Almond (9) both came in at near perfect scores!
#2 – Pomegranate (8)
#3 – Chocolate Hazelnut (7)
#4 – Honey Graham Cracker (6.5)
#5 – A FOUR-WAY TIE (so basically all the rest we tried)! Coffee (6) Vanilla (6) Birthday cake (6) & Tart (6)
6/2 – Breakfast of (fussy) champions! There's an art to making great toast. And it's a bit time consuming…
6/1 – What's your coffee say about you? Whether you drink it black or mixed with ice & sugar, coffee has your number!
5/29 – Now you can be a little mermaid! But like most careers, you have to go to school for it…
5/28 – #TasteTestThu returns! This week … health food.
5/27 – Summer Jobs! They're harder to find, and you might not actually have a Summer break anymore… but money.
5/26 – New Orleans Kids Probs. Growing up in NOLA gives us some … unique perspectives.
5/25 – Memorial Day. Here are some resources to help teach your kids about Memorial Day: Crossword Puzzle Word Search & Quiz.
5/21 – Pop Tart #TasteTestThu! The winner(s) are Peanut Butter and Cinnamon Roll – both with a 9.5! Suggest future #TasteTestThu options here!
5/20 – He's baaaack! McDonalds is re-introducing the iconic Hamburglar, but with a new look. Check it.
5/19 – Baby Names: The Social Security annual baby name list is out. Once again, Optimus Prime did not crack the Top 10.
5/15 – Joel of for KING & COUNTRY keepin' it real with J&J. LISTEN.
5/14 – Chicken Dance Day: Hands at the ready… and DANCE!
5/8 – Mother's Day Gift Ideas: Click here to check out Josh's guide to Mother's Day gift-giving on Pinterest!
SaveSave