Every day we share stories of hope – joy – Love! Enjoy some GOOD NEWS each day with LifeSongs. And if you know of some good news, share it here!  Thank you for sharing hope each day with listener-supported, uplifting LifeSongs!
Wednesday, September 22, 2021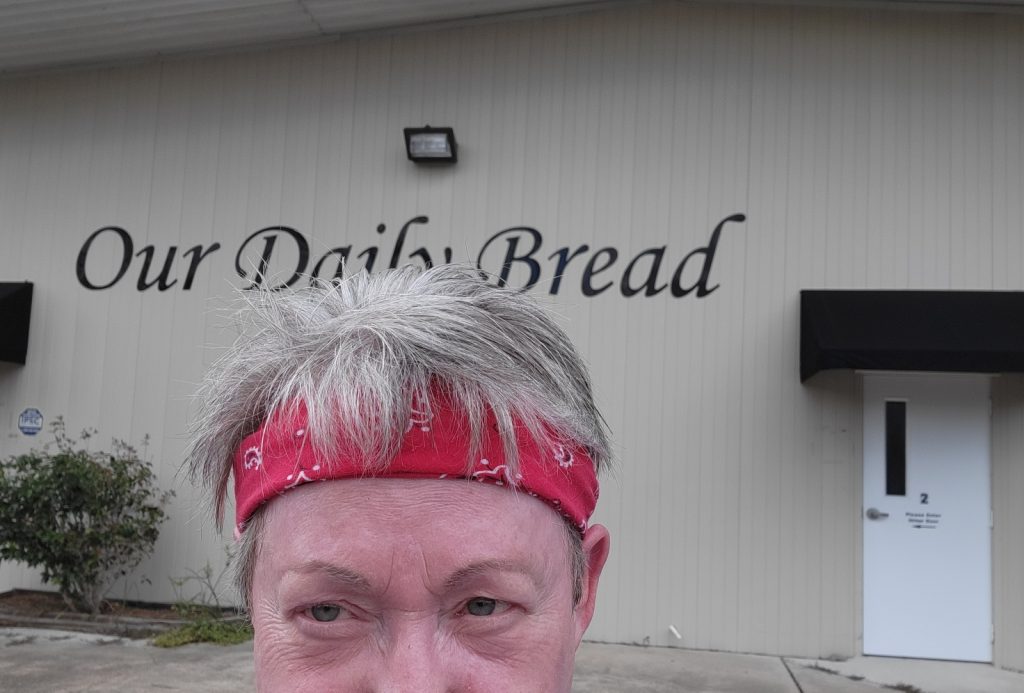 Our Daily Bread is a local food bank that has faithfully served the disadvantaged of Tangipahoa Parish since 1999. Their mission is to alleviate hunger and make an eternal impact by sharing kindness and compassion with everyone who is in need. And they have been VERY busy these past few weeks.
Ms. Joy in Ponchatoula recently retired from her job of 24 years to commit her time and focus to serving at Our Daily Bread Food Bank in Hammond. [CLIPS] She told us, "We have been serving 2,500 meals a day since Wednesday after the storm. It is heartbreaking to see so many still in need, but I am thankful I am part of the team that gets to serve."
Tuesday, September 21, 2021
Individuals, families, church groups – so many folks have come to SELA to help pick up after Ida. One group of landscapers from Houston visited St. John the Baptist Parish and helped clear out properties, cut down trees and clean up neighborhoods.
Lorena Mercado-Hunter was a part of this team of Houston landscapers. She was floored by the devastation, telling WWLTV, "Every single house… everyone just lost everything." Adding, "..it's heartbreaking but I'm glad I was able to come out here, make a little difference, help people out."
And Lorena did help. Her whole team from Don A Cut Above the Rest Landscaping worked hard all weekend long. And so did many many others. And we cannot thank everyone enough for their willingness to serve. Long months of hard work lay ahead for many communities stretching from Terrebonne through the river parishes, on up to Tangipahoa.
Monday, September 20, 2021
10th Ward Buck and Lucky Johnson got together to turn an abandoned McDonald's parking lot on the corner of Downman and Morrison into a place where locals could pick up free food and resources as they rebuild and restore after Ida. Many volunteers have joined the cause and bring food – boil seafood on the spot – and help load water and ice into cars.
The bounce rapper and local actor hope to eventually turn the site into a food truck hotspot, but right now they are just glad they can help their neighbors during this trying time.
---
Today's Good News - Heroes & Helpers
Share your GOOD NEWS stories! Tell us about the Helpers & Heroes in your life - folks that make a difference - so we can share the good news!
---
Friday, September 17, 2021
In the middle of a community in shambles, First Baptist Church Golden Meadow is meeting needs by becoming a one-stop, drive-thru needs meeting beacon of hope. No AC, roof damage and downed trees are a lot to deal with. The needs are great, so FBC Golden Meadow is doing what they can to meet as many needs as possible.
Pastor Matthew Chouest decided to make the church building a drive-thru makeshift shop to distribute resources. Anyone can pull up and hand over their list of needs – and then volunteers gather everything they can for that person and load it in their car. Food, clothes, cleaning supplies – whatever they have is going to anyone in need.
The Cajun Navy set up in the parking lot to cook and hand out meals. In between distributions, volunteers work on cleaning up the debris at the church house, which also took heavy damage during Hurricane Ida. Now that's what I call Bayou Hospitality!
Thursday, September 16, 2021
Just a couple of days after Hurricane Ida devastated Southern Louisiana, the Virginia-based non-profit Mercy Chefs was on the scene, utilizing volunteers and churches to provide hot meals to the hardest hit places.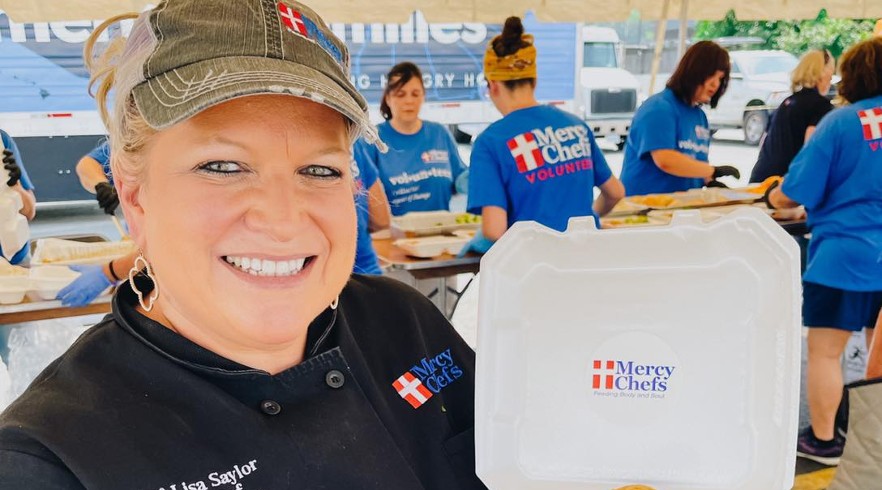 Thirteen sites were set up; from Celebration in Metairie and Church of the King in Kenner – out to Violet in St. Bernard parish, LaPlace in the River Parishes, on down to Houma and Golden Meadow. And Mercy Chefs knows how to get it done – they learned in Lake Charles just last year after Hurricane Laura.
Mercy Chefs may be based in Virginia, but their roots are right here in Southeast Louisiana. Founder Gary LeBlanc is from Gonzalez and lived in New Orleans for 20 years. He went through Katrina – he knows the devastation and decided he would spend the rest of his life on the frontlines, helping people recover.
While Mercy Chefs is faith-based, they are not pushing religion on folks who are hungry – they are just meeting needs, like Jesus demonstrated. Many people who received meals immediately signed up to be volunteers for days afterwards.
Wednesday, September 15, 2021
Breeze Airways
made New Orleans one of their four main hubs – connecting other Southern cities like Little Rock, Louisville, San Antonio and Tampa. The new airline is offering $1 million in free flights to get New Orleans residents home, first responders to the worst hit areas and volunteers into town to help with the Ida recovery.
Anyone can apply for the free flights at flybreeze.com. What a beautiful gift to Southeast Louisiana?! The deadline to apply is next Wednesday, the 22nd.
Tuesday, September 14, 2021
The video game industry is helping Louisiana (and others impacted by Hurricane Ida) with a bundle of games. These games don't teach you how to shingle a roof or run power lines – but their proceeds are supplying the Cajun Navy, Bucket Brigade, food banks and more!
A bundle of 15 video games put together by local developers aimed to raise $5000 by packaging their games for a suggested $10 donation. The bundle sale ended last Friday.
They did not raise their target of $5000.
They raised nearly $30,000!
Monday, September 13, 2021
One of the first "heroes" many children meet are firefighters. Fire departments do a great job of being involved in the community – letting kids climb around on the big red fire engines – and teach fire safety at local schools. This they do when they are not busy being superheroes.
Like the name says, firefighters fight fires – something they have been called to do frequently with much of Southern Louisiana depending on generators for power. But they are also usually the first on the scene at accidents, as emergency medical responders. For the last couple of weeks Bridge City Firefighters have also become ice delivery people – checking in on an elderly community slow to get power back.
The ice helps, for sure, but a friendly face full of concern might mean even more. Especially after a weekend where as Americans we remember the impact thousands of firefighters made responding to the September 11th attacks 20 years ago. The famous Mr. Rogers' quote about looking for the helpers still holds true,".. you can always find people who are helping."
Friday, August 27, 2021
College is very expensive. There are all kinds of grants and scholarships you can apply for, but millions of Americans still end up drowning in student loan debt. Now the largest private employer in the country is declaring NO MORE to student debt.
Walmart announced a program to pay college tuition and the cost of books for its full time AND part time associates! That's over 1.5 million people that essentially just got a full-ride scholarship because of their generous employer.
Not to be outdone, Big Box rival Target says they'll pay for college for their employees too – and even help cover the cost for grad school! So if you were worried about your future after high school, two of the world's largest employers will give you a job and a free college education … it's gonna be ok, friends.
Thursday, August 26, 2021
18 year old Sebbie Hall of Great Britain is making the most out of pandemic life.. Sebbie suffers from a rare Chromosomal issue, which creates learning disabilities. His mom Ashley asked him to think about what skills he could use to raise money for charities.
Without missing a beat, Sebbie responded, "I can be kind."
Every day Sebbie performs at least one act of kindness. So far he's done over 1,600 good deeds in his community. And with that "wonderful determination" (according to Prime Minister Boris Johnson) Sebbie has raised tens of thousands of dollars for charity.
Sebbie has walked neighborhood pets, watered gardens, washed cars and baked cakes. He's handed out PPE for medical personnel and even given warm coats to the homeless. A bit of a Lothario as well, Sebbie has handed out 100 roses to 100 women just to make them smile, on his way to serve at a local food bank.
Wednesday, August 25, 2021
The Baltimore Museum of Art is arranging an exhibition called "Guarding the Art," which will feature a selection of works chosen by unsung giants in the art community: Museum security officers.
One officer chose a series of pre-Columbian sculptures because they made him feel connected to his Puerto Rican ancestry. Another officer with a classical music background chose a piece by German painter Max Beckmann that depicts the artist's second wife, a violinist.
Whether it was a personal connection to the artwork or a more indescribable one, the 17 officers involved are changing ideas of what it means to "know" art.
Tuesday, August 24, 2021
Lisa Radcliffe's son Buster was born with a neuromuscular condition that requires him to wear adaptive braces. The medical wear scared other children in Buster's preschool and that led to a world changing business.
Lisa thought, "if the orthotics looked like superhero gear, every kid would want to wear them!"
So Lisa started PunkinFutz, which produces super cool looking orthotics for kids. The name PunkinFutz was a loving childhood nickname from Lisa's dad. The product line, which includes bags for wheelchairs, compression vests for children with sensory issues and fidget toys for the ADHD crowd has been so successful that Lisa was able to quit her full time job and focus on the business.
In fact, it was such a big deal that Sesame Street and JCPenney have joined PunkinFutz to develop an exclusive line for their stores!
About 75 percent of the company's staff has special needs and Lisa hopes to build an entire product line factory that is built to be manned by people with all manners of disabilities.
Monday, August 23, 2021
Pianist Tonee "Valentine" Carter received the biggest tip of his life last Wednesday, courtesy of strangers who heard him play virtually. Carlos Whittaker was dazzled by Carter when he spotted him playing the piano at the Hartsfield-Jackson Atlanta International Airport, and shared videos of the performance with his 200,000 Instagram followers.
Carlos asked them to help him deliver Carter his biggest tip ever, and within 30 minutes, $10,000 had been sent via Venmo and Cash App. When Whittaker told Carter about the tip, he was stunned. "I love giving and donating and helping people, but I never expected someone to do it for me!" Carter said.
The money kept coming in, and that $10,000 grew to $70,000 by Saturday. Carter has kidney disease and receives dialysis treatment nightly, but that doesn't stop him from going to the airport nearly every day, because when he plays the piano, "I feel like the happiest man in the world."
Friday, August 20, 2021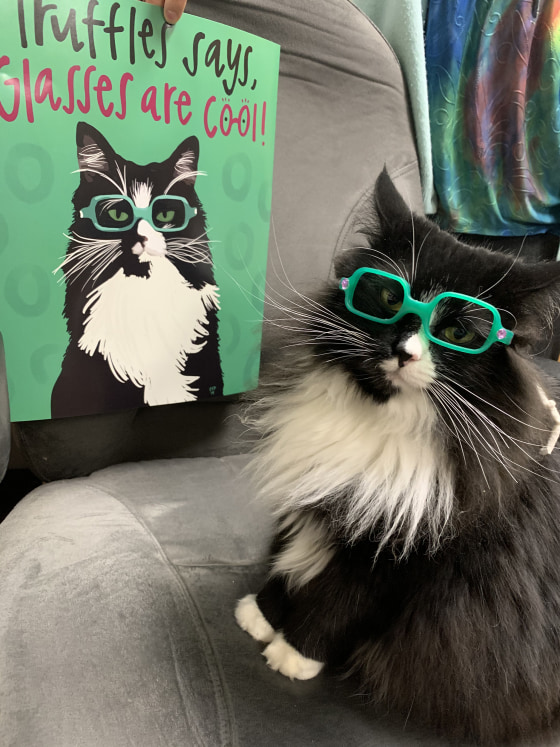 A cute kitty wearing glasses would make anybody smile. This is a story about how a bespectacled cat is helping children regain their confidence.
Danielle Crull runs a pediatric optometrist office in Mechanicsburg, PA. She specializes in helping young children with severe ocular problems. Many of her patients have had surgery and are keyed up when it comes to anyone touching their eyes.
That is until a glasses-wearing rescue cat named Truffles hops up into their lap. Dr. Crull says Truffles loves to accessorize with glasses and loves to snuggle with the kids, helping ease their anxiety when getting their own glasses.
Thursday, August 19, 2021
Brayden Morton grew up in rural Canada and became hooked on drugs at a young age. He became a dealer – was involved in gangs and violence. He nearly died multiple times and even tried to take his own life. After 15 failed attempts to get off drugs, the 16th time was the charm.
When a drug addicted young woman stole his dog Darla for some quick cash, Brayden was crushed. But he was able to find the young woman, retrieve his Shar-pei Darla and instead of pressing charges, has offered to help the young woman get clean.
Braydon told her that he recognizes the struggle – he truly has been there before. Westminster House is a drug addiction treatment facility with a bed now waiting on this girl, whenever she is ready to do the work.
Wednesday, August 18, 2021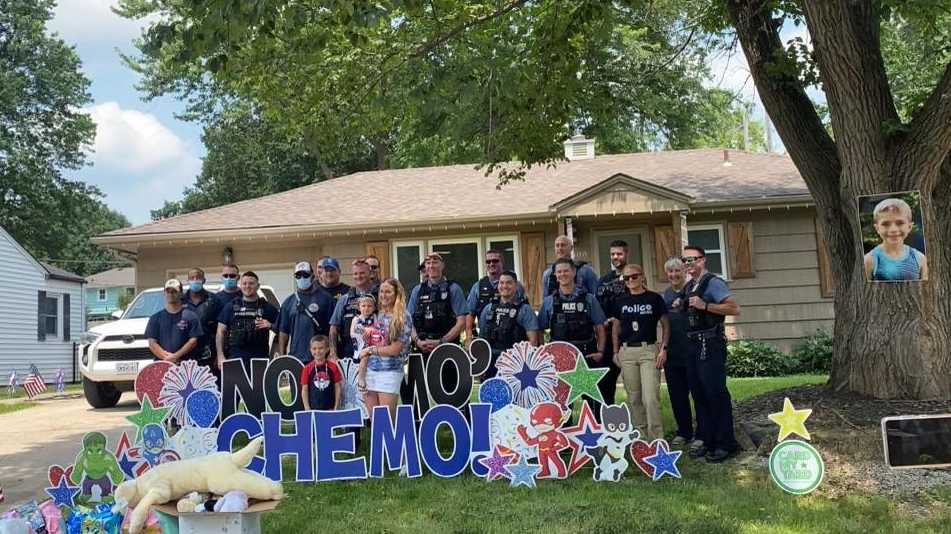 Tripp Hughes is a winner. The 7 year old has spent the last three years battling cancer – and recently rang a Fire Truck bell to celebrate his final chemo treatment. When you feel like a winner – you want others to feel like winners too. And so Tripp got to work.
For his seventh birthday this young fighter collected cash and new toys to donate to other kids in the hospital still in the middle of their own fight. Thanks to some generous friends, Tripp was able to donate over 2500 toys and $6000 to the children's hospital he had just left.
Tuesday, August 17, 2021
Have an old clunker lying around? Eliot Middleton will cut you a deal. The restaurant owner/mechanic fixes up old cars and donates them to people in need throughout rural South Carolina. To get the vehicles, he trades people a plate of ribs from his restaurant, Middleton's Village BBQ.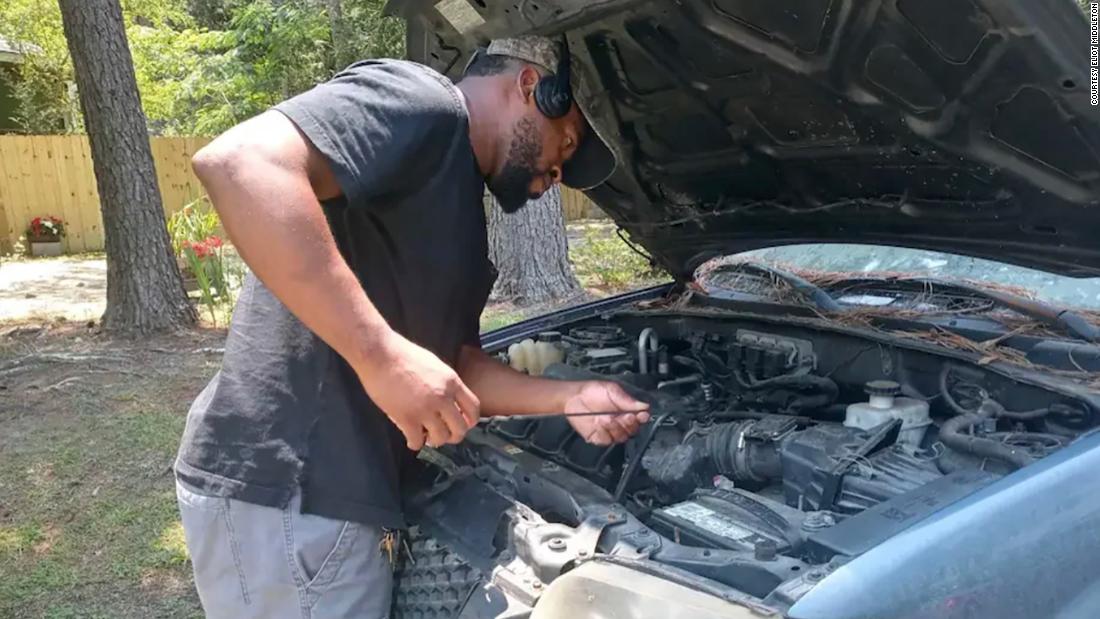 "You don't have a car, you don't have a career," Middleton says simply. "I want to help everybody looking to better themselves when transportation is what's holding them back."
So far, he's collected 100 cars and surprised 33 people with a repaired ride. Middleton says he is committed to using his time and skills to help hard-working community members. It's also a way to help himself heal: He learned how to fix cars from his father, who passed away in 2020. Every car he fixes, every life he changes, is carrying on that beloved legacy.
Monday, August 16, 2021

Joan Cather runs a Martial Arts training school in Bridgeton, Missouri and this Summer, she and her class were invited to ride on a float in the town's 4th of July parade.
Halfway through the parade, a fellow karate instructor stopped the parade when he noticed a man in need of medical attention. The other instructor – an off-duty cop – began chest compressions. At first there was no pulse – but the CPR worked and the man was breathing on his own when the ambulance arrived.
A few minutes later, after re-starting the parade, Joan and her co-instructor stopped everything once again to help someone in distress from the heat. CPR and emergency response is a skillset taught and required at Joan's dojo – and the parade put that need on full display.
After the parade was over, Joan and her team took home 1st place trophy for the performance category – which was just icing on the cake!
Friday, August 13, 2021
The fire started at the entrance to the apartment building and quickly shot up the stairwell to apartments above. Firefighters and first responders came as fast as they could – but it wouldn't have been quick enough to save everyone from the burning building.
But neighbors and strangers alike saw the flames and began to work together to save everyone. Some scaled the outside of the building to help residents escape through windows. Three people had to go to the hospital but dozens of others were saved because of the swift action of their neighbors.
The chief fire warden praised his community saying, "It's amazing to see this kind of involvement and to act when other people are in danger, I am proud to see that the residents acted the way they did."
Thursday, August 12, 2021
Over the last five years, Rodney Smith Jr. has inspired thousands of young people to mow dozens of yards in their communities for free. Smith, 33, is the founder of Raising Men & Women Lawn Care Service in Huntsville, Alabama. In 2017, he took his lawn care service on the road, traveling to all 50 states to help out veterans, cancer survivors, senior citizens, and people just trying to get by. He's also started a program called the 50 Yard Challenge, which challenges young people to mow 50 yards in their communities.
More than 2,000 people have signed up, and they get t-shirts and other perks along the way — including new lawn care tools if they finish. Why mow so much? Smith says it builds character, and helps people feel connected to their communities.
"My mission in life is to give back," he says. "Especially to those who need it the most."
Wednesday, August 11, 2021
THANK YOU to our amazing superheroes in the medical field. We couldn't be more grateful for you and the hard work you're doing.
Florence "SeeSee" Rigney, is said to be America's oldest working nurse. After more than 70 years caring for patients, 96-year-old Rigney is officially hanging up her scrubs for a well-earned retirement. Rigney's career in nursing started when penicillin had just been introduced to the medical field, and she ended it as a beloved operation room nurse in Washington state.
Imagine the the thousands and thousands of lives she's cared for in 70 years! Nurse SeeSee may get to put her feet up now, but her legacy is far from over. The hospital system has established the SeeSee Rigney Nursing Endowed Scholarship Fund to inspire future generations of nurses.
Tuesday, August 10, 2021
Officer Rose Cauthron's home in Bridge City was severely damaged in a storm last month. The roof began collapsing and needed to be replaced.  Officer Rose works with Causeway Police and formerly worked with the New Orleans Police Department. The collapsing roof isn't even the biggest trial she's currently facing. About a month ago, she lost her stepson to an accidental gunshot. The grief, the roof, and her brother's mental health have all been overwhelming.
Seeking help for PTSD, Rose reached out to Michael Parker, who volunteers with Project Refit. Project Refit is an organization that helps first responders, active duty military, and veterans dealing with isolation or PTSD.  Parker said, "I knew we couldn't do anything about her stepson or her brother, but I was like we can raise this money, we can help her out [with the roof]."
The group raised $8,500 to fund repairs and NOLA church volunteers helped out along with volunteers from all over including New Jersey, Arkansas, and Northern Louisiana, who camped outside in tents so Rose would not feel alone or afraid while construction was underway.
Monday, August 9, 2021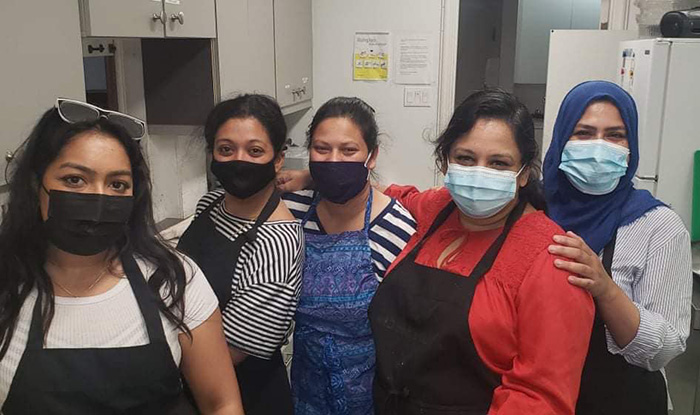 They go by the nickname, The Shathi Sisters – which means "togetherness" in Bangladeshi. The Shathi Sisters get together once a month to cook up a storm at the St. George's Anglican Church for a multifaith food kitchen in downtown Montreal.
One Saturday a month, the Shathi sisters produce 100 meals for the homeless and less fortunate of their hometown. They noticed the increase in homelessness due to the pandemic and wanted to make a difference. The plan is to do even more than a once a month cook day.
---
Friday, August 6, 2021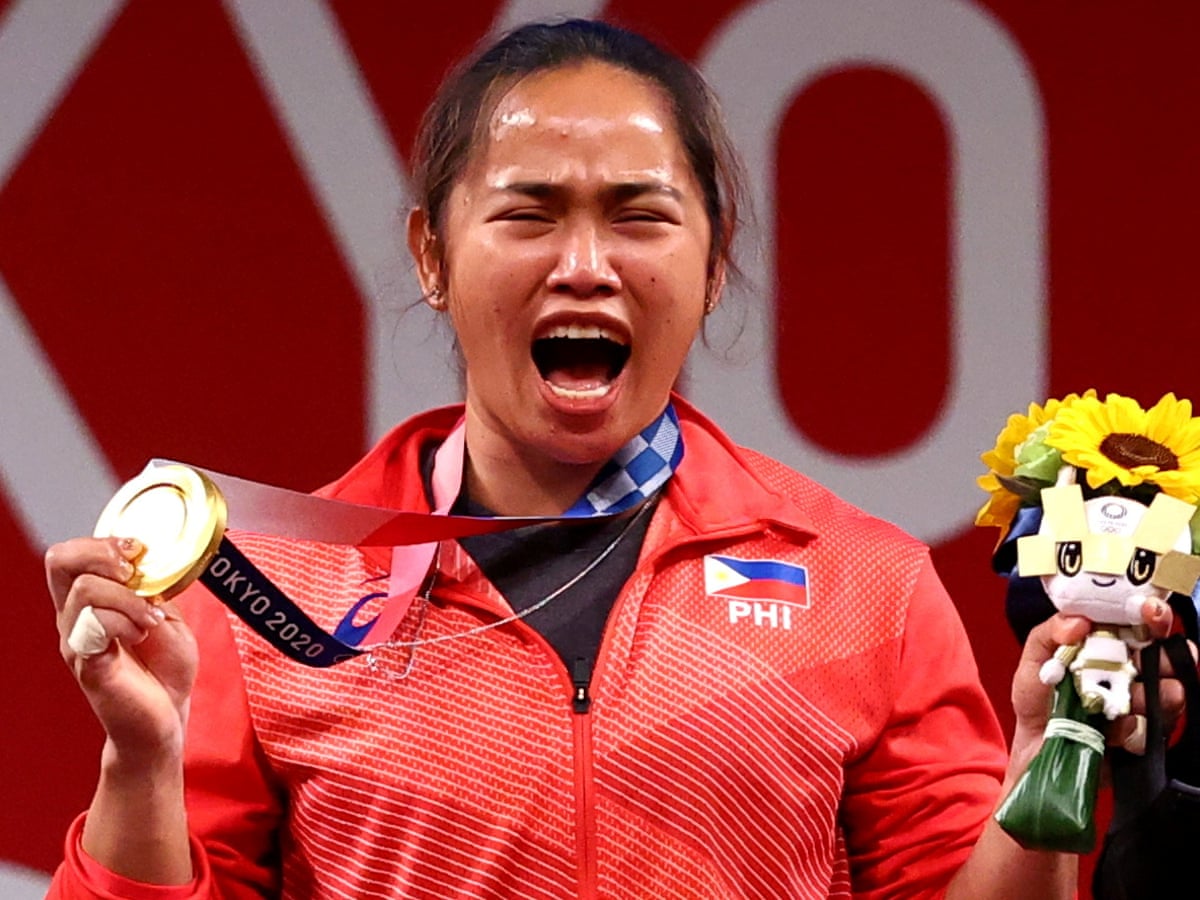 Hidilyn Diaz did something for her home country of the Philippines that no other Fillipino Olympian has ever done – brought home the Gold!
Diaz is a two time Olympian – and at 30 years of age she was able to deadlift 127 kg (around 280 lbs) – setting a new world record and for the first time since The Philippines began sending athletes to the Olympics in 1924, Diaz is bringing home a Gold medal!
But how she got to the Olympics is the real story. Like many athletes, Hidilyn spent the last year on COVID lockdown. She wasn't able to see her family after getting stuck in Malaysia due to a travel ban. Stranded without proper training equipment, the innovative Olympian used water jugs to weight train!
Diaz thanks God for opportunities and encourages young Filipinos to "..dream high… That's how I started. I dreamed high and finally, I was able to do it."
Thursday, August 5, 2021
When Rayssa Leal was 7 she went viral for skateboarding in a fairy costume. But now Rayssa is trending on Twitter because she's an Olympic champion!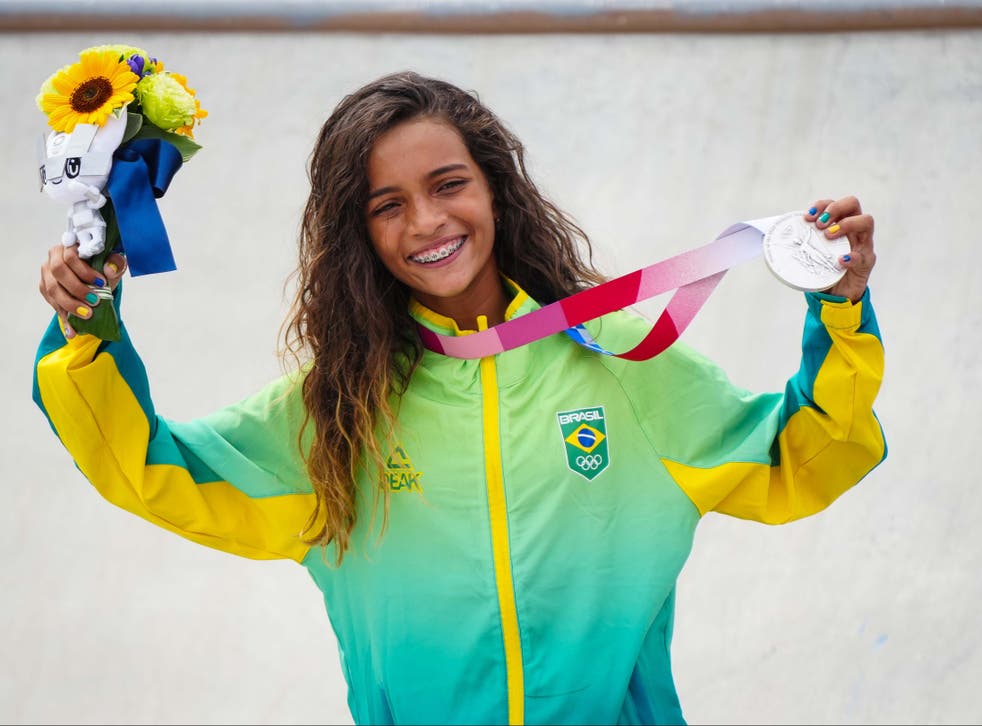 Rayssa became internet famous back in 2015 when Tony Hawk shared a video of the costumed little girl nailing a heelflip at her home in Brazil. Now she's rocking a Silver medal on the Olympic podium as one of the first Olympic Skateboarding champions in history – at just 13 years old!
The teenager now has over 6 million Instagram followers, but doesn't want to be bogged down by fame. She said, "I want to go on with being a little girl that I am, having fun with my friends. I don't want to have too many responsibilities right now. I just want to be a lovely, lively little girl that I am for the whole [of] Brazil."
View this post on Instagram
Wednesday, August 4, 2021
There is a lot of expectation heaped on Olympians. South African swimmer Tatjana Schoenmaker was feeling the pressure so the devout Christian took to her Instagram to pray for peace.
The swimmer wrote: "Father God, may Your will be done, may Your peace fill us up, may we praise You no matter what the outcome. May we be empowered by Your strength to give our all and may we forever be in awe of Your goodness! Thank You for bringing us to this very moment."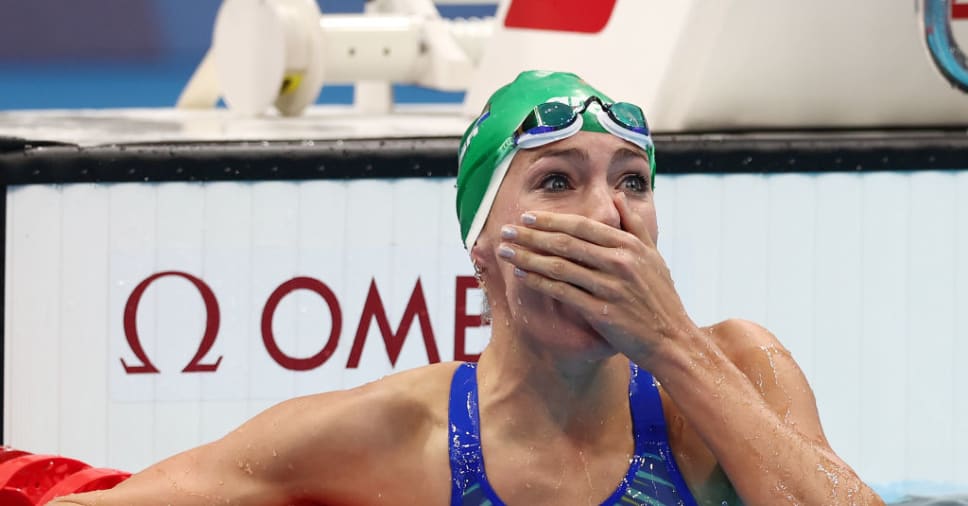 But that "outcome" was going to be better than Tatjana could have possibly anticipated. She started destroying records – setting an Olympic record in the prelims for the 200-meter breaststroke, then setting a new world record and winning the Gold medal in the finals! She also took Silver in the 100-meter breaststroke.
Tatjana became a Christian in 2016 and has used her social media presence as a way to give God glory as she competes on the international stage. At the Olympics, she wears two swim caps – one for South Africa, and another with the phrase "Soli Deo Gloria" written on it. Glory to God Alone.
Tuesday, August 3, 2021
From fleeing the Syrian Civil War to saving refugees all the way to swimming in the Olympics – this is the story of young Yusra Mardini.
The Mardini family lived a relatively comfortable life in the suburbs of Damascus, the effects of the Civil War were minimal for them. But steadily the violence grew. One day their father, a member of the national swimming team, was arrested and beaten. Their world began to collapse. It was decided that Yusra and her sister Sarah would have to flee the country.
The pair of teenagers went to Turkey and were then crammed on a boat built for 7, but had 20 refugees trying to get to the Greek Island of Lesbos – which has become a waystation for refugees. Just 15 minutes into the voyage, the little boat's engine sputtered out. Yusra and Sarah got into the cold water, along with a couple of other refugees and used ropes to literally pull the boat through the Aegean Sea to port at Lesbos. They weren't just swimming for their own lives, but the others on the boat.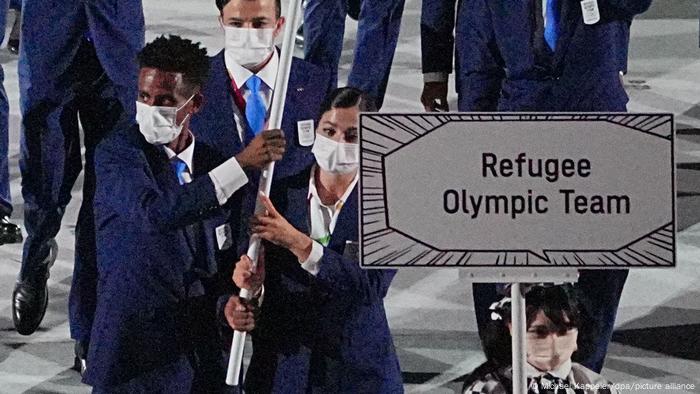 Once on dry land, the sisters traveled to Berlin, Germany – often by foot – to live in a refugee camp. While living in a foreign land, Yusra and Sarah connected with a local swimming club for young athletes. With help of their new friends, the sisters were able to get papers and officially immigrate into Germany.
Yusra then went on to become the youngest ever UN Refugee Agency Goodwill Ambassador. And just a week ago in Tokyo, the young woman proudly carried the flag for the Refugee Olympic Team during the Opening Ceremonies.
Monday, August 2, 2021
First Lieutenant Amber English draped herself in the American flag, with her skeet shotgun resting on her shoulder and a gold medal between her teeth! She won top marks and even set an Olympic record by hitting 56 out of 60 targets.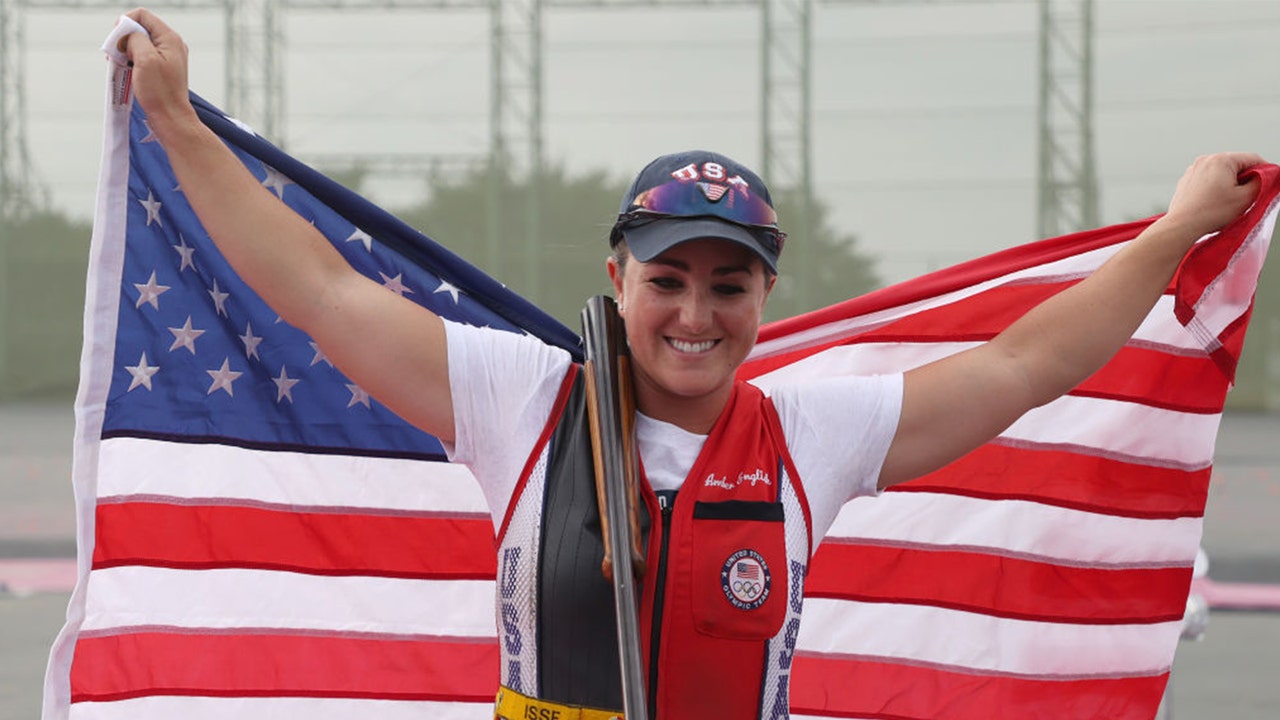 Lt. English's journey to the Olympics has been a long and difficult path. She went out for the Olympics in 2012 but came up short. Then just before trials in 2016 her father passed away. Again, a missed opportunity. But after 4 years in the Army, at the age of 31, she's an Olympic champion.
Amber is one of nine US soldiers representing America in the Olympics this year.
Friday, July 30, 2021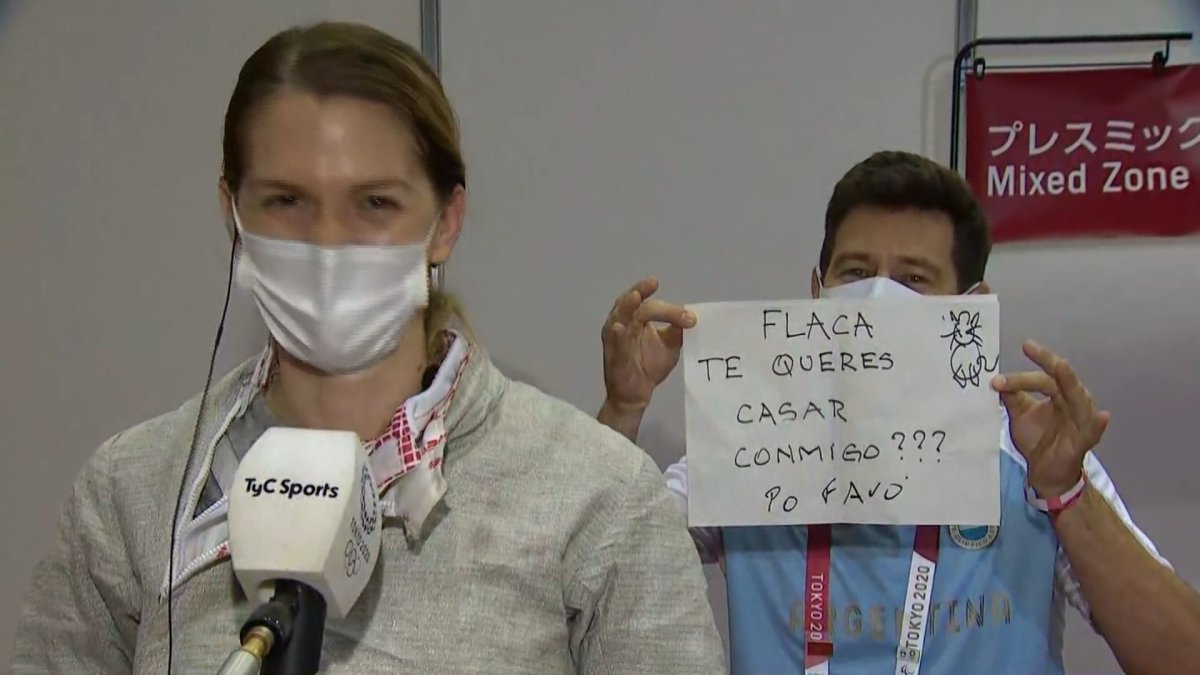 An Argentinian fencer lost her Olympic match but still won something even better than Olympic Gold. After losing 15-12 against a Hungarian fencer, Argentina's Maria Maurice was giving an interview when her coach and boyfriend handed her a large handwritten note saying "Do you want to marry me??? Please!"
Maria turned around to find Perez on one knee for the proposal. After screaming in glee she said "YES!!" Maria's fiancé is a gold medalist fencer himself. Soon the pair will return home to Argentina to celebrate with their friends and family.
Thursday, July 29, 2021
Olympic sprinter Allyson Felix is making sure mothers of young children, like herself, have the resources necessary for childcare. She and her sponsor Athleta have created The Power of She Fund: a $200,000 childcare fund for athletes competing this year.
The grant program helps fund child care costs for mothers who are also athletes while they travel to competitions. Ahead of the Tokyo games, The Power of She Fund gave nine mom/athletes $10,000 grants to help cover childcare while they win medals for Team USA.
Tokyo will be Allyson's 5th Olympic Games. She's won nine medals, six gold and three silver. She'll once again be running the 400m dash.
Wednesday, July 28, 2021
When Sydney McLaughlin qualified for the Tokyo Olympics for track and field, she also set a new world record. She was the quickest woman ever to compete in the 400-meter hurdles.
As soon as a microphone was put in her face what came rushing out was "All the glory to God!"
The outspoken Christian went on to praise God and thank him for her coaching team. This is her second trip to the Olympics. The hurdle competition begins on Saturday in Tokyo.
The Olympian wrote on her Instagram, "by grace, through faith, Jesus has given me everything. Records come and go. The glory of God is eternal. Thank you Father."
Tuesday, July 27, 2021
It's been a really challenging few years for track star Quanesha Burks. She excelled in high school and went to the University of Alabama on scholarship. In 2019 her grandfather (who helped raise her) passed away, causing her performance to drop off. Then 2020 hit and the pandemic impacted every athlete. While training for an Olympic run, Burks was sidelined with a bone injury for three months. Her coaches didn't think she would be ready for trials, but hard work and determination prevailed.
At the trials for the Tokyo Olympics Quanesha Burks landed a personal best long-jump of 6.96 meters, and took third place overall, securing her spot on the Team USA roster.
Quanesha said, "I didn't have everything laid out for me. I didn't have all the eyes on me. I feel like still to this day I get overlooked. That's okay. I just know it all starts with your confidence within. Everything I've become is because of my mindset and my determination. It's been a journey and it all started with a little girl working at McDonald's and here I am."
Monday, July 26, 2021
18 year old Kieran Moise just graduated high school and is preparing to enter the Air Force Academy – but first, he was going to need a very important haircut. Six years earlier Kieran lost a friend to cancer. Inspired to help children recovering from chemotherapy, Kieran decided to grow out his afro to donate hair to be turned into free wigs through Children with Hair Loss.
By the time school was over, Kieran had grown an impressive 19-inch afro. He then organized a hair cut event to raise $1000 per inch that got chopped ($20,000) before signing up for life in the Air Force.
Kieran noted, "There's nothing special about helping others, you just have to want to do it."
Friday, July 23, 2021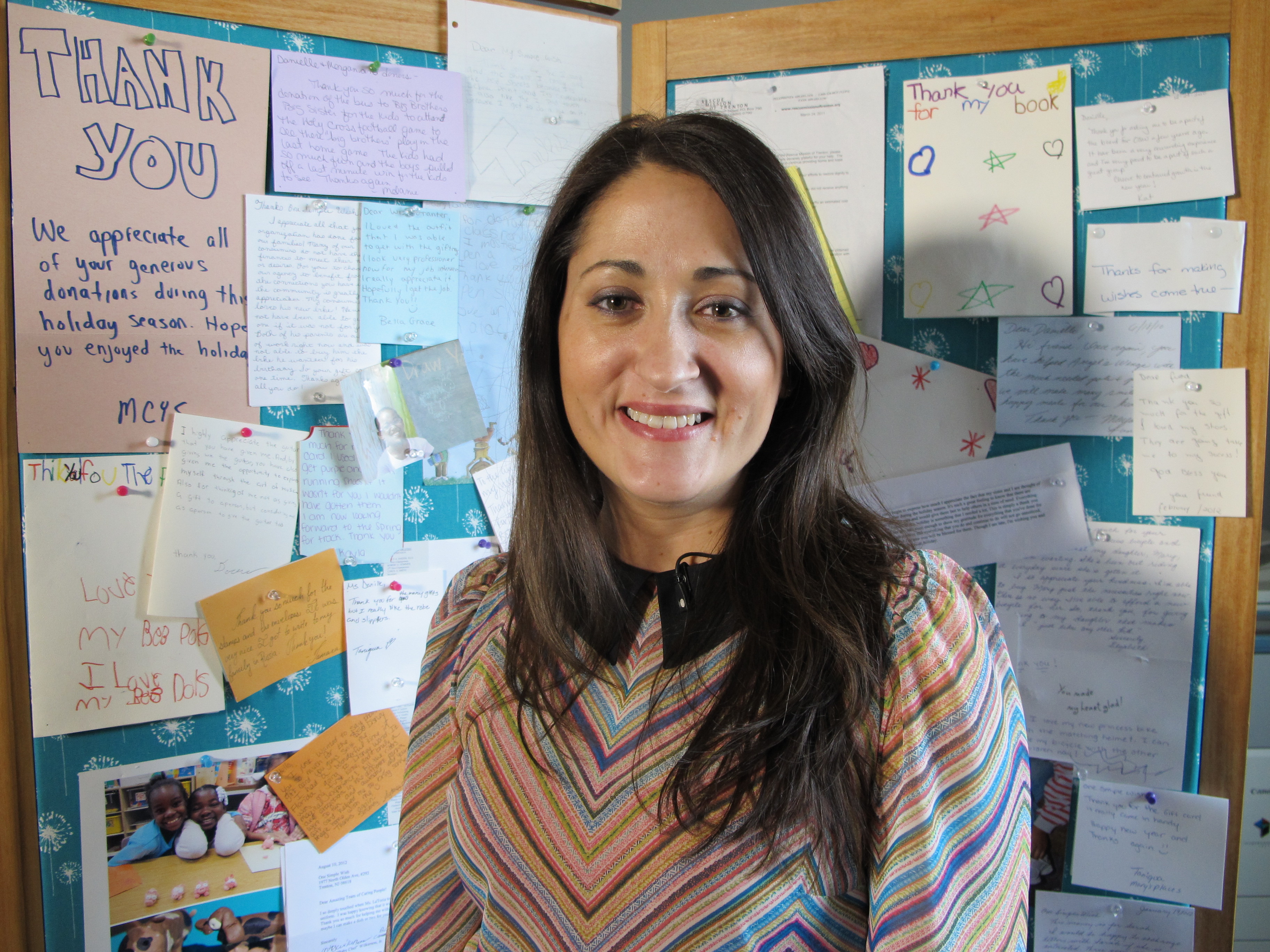 Danielle Gletow is the founder of One Simple Wish, an organization that helps donors grant wishes from foster kids, foster parents and young adults who have aged out of the system. It's emotional work, and one night last month, Gletow was feeling the full weight of it. Her friend had just passed away from ALS, and she was overwhelmed with anxiety over whether she could support all of the people counting on her.
In fact, she had made a special birthday wish days earlier, asking the public for donations on One Simple Wish's page. Little did she know that at the same time, a Reddit user was writing a post on the message board site that would change everything. The Redditor, who goes by dartdoug, answered the question "What is something you've done purely out of the goodness of your heart but have not told anyone?" by mentioning the One Simple Wish site.
Within hours, the Reddit community had donated sneakers, books, toys, electronics and more, fulfilling dozens of wishes. By last count, donations after the post have totaled more than $185,000. Danielle was blown away.
Danielle Gletow expressed her gratitude by sharing about the young people who would be helped by the outpouring of support: "I want them to feel valued and seen and not for what they've been through, not for their trauma, but just for who they are. For their sense of humor. For their intelligence. For their quirkiness. For their interest in writing or art. I want all of them to have some sense of wonder and hope and childhood. And this is what Reddit did."
Thursday, July 22, 2021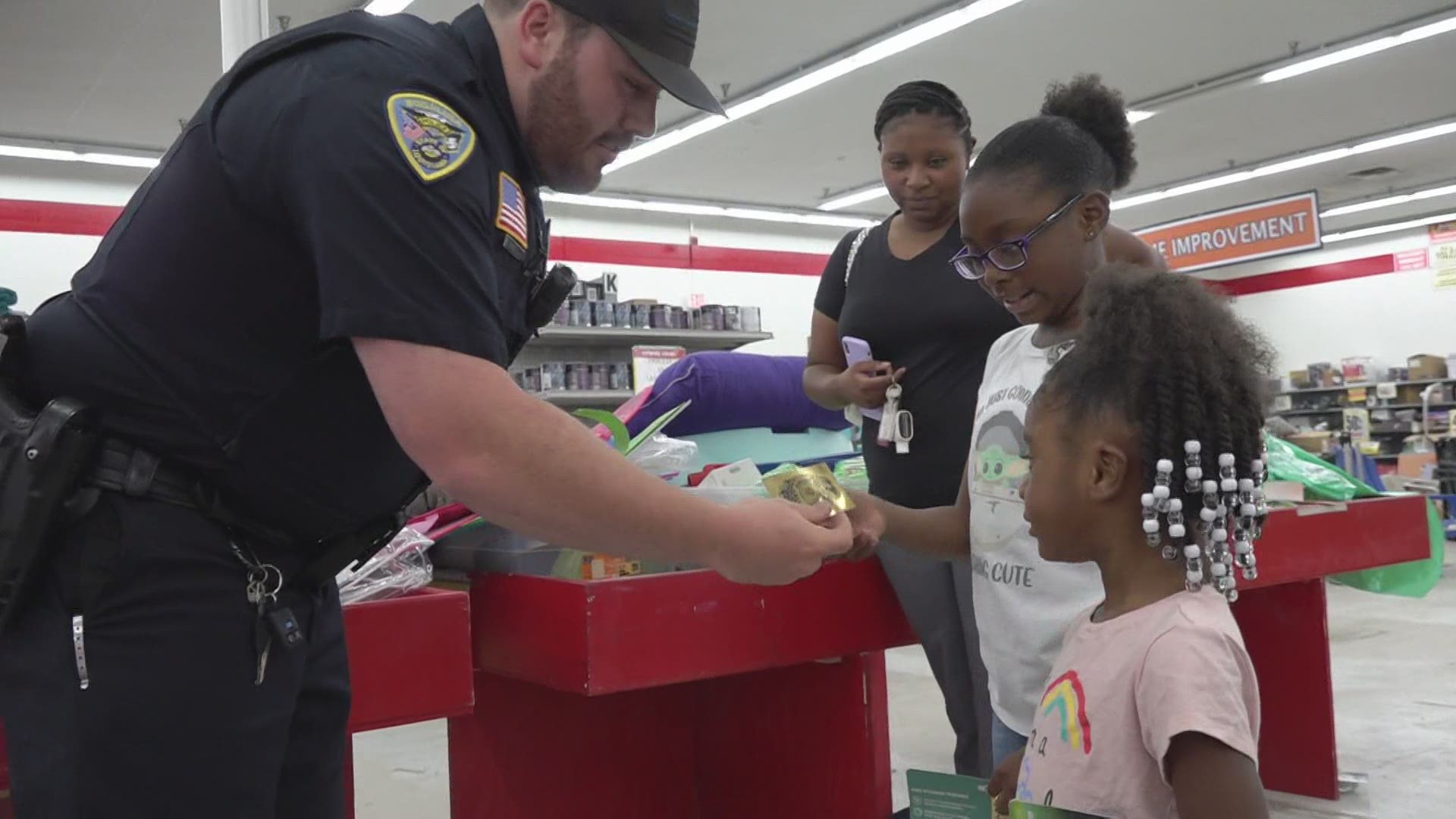 Some kids as young as 2 or 3 are getting ticketed by police in Bogalusa – but not for breaking the law, rather, for being upstanding young people. And by tickets, I mean coupons for free snowballs and ice cream!
The Bogalusa police force are pumping up their numbers by issuing over 200 tickets for local treats to kids of all ages, hoping to build a better relationship with young people and stop crime before it starts.
Wednesday, July 21, 2021
Jonathan Bright is a police officer in Tennessee and last week, he and six of his fellow officers just finished a 12-hour shift and stopped by Waffle House to get something to eat, but it was closed. The reason was that several employees walked off the job mid shift leaving them so short-handed that they were forced to close the restaurant.
After working their 12-hour police shift, the officers jumped in and started helping out at the Waffle House by cleaning, taking orders, and getting the restaurant running again.
Tuesday, July 20, 2021
Retired Judge Keith Davison decided that grief would not get the best of him. A few years ago he lost his wife to cancer after 66 years of marriage. His grown children have yet to provide grandkids, so Keith became the unofficial grandpa to all the kids in his neighborhood. And he became their favorite grandpa by putting in a HUGE pool.
There is no community pool in Morris, MN – but Judge Davison has extended the invite to his new, huge, 32 feet long, 9-feet deep backyard swimming pool for everyone in the community. Parents are required to be present with the kids. Keith's backyard has become the Summer hangout spot for dozens of kids and families.
The 94 year old former judge stays fit by swimming laps before and after the children descend on the pool – and then enjoys talking with the families as they live up some Summer fun.
Monday, July 19, 2021
When someone is in trouble – heroes act fast. 16 year old Joseph and his friend 15 year old Dominic are absolutely heroes. The two boy scouts were riding their bikes surveying the damage after flood waters moved through their hometown of Columbia, Missouri when they heard cries coming from a flooded basketball court.
The two young men saw a young woman fighting to keep her head above water. She had tried to swim through the flooded playground but was caught in a current and cramping up. Joseph and Dominic did not hesitate – jumping into the deep and dangerous waters to rescue the flailing woman. She was later taken to the hospital and is expected to be ok.
For their part in the rescue, Joe and Dom were awarded the Citizen Life Safety Award by the local fire department.
Friday, July 16, 2021
We've heard so many stories about how during the pandemic, there has been a surge in generosity. Those with the means, blessing those in need. Stumble Inn Bar & Grill in Londonderry, New Hampshire is a local dive known for their chili dogs. A new customer must have really enjoyed his meal because he left a whopper of a tip.
The bill was for $37 – the tip was for $16,000! The diner told the staff to not spend it all in one place as he walked out the door. That is a baller move!
Thursday, July 15, 2021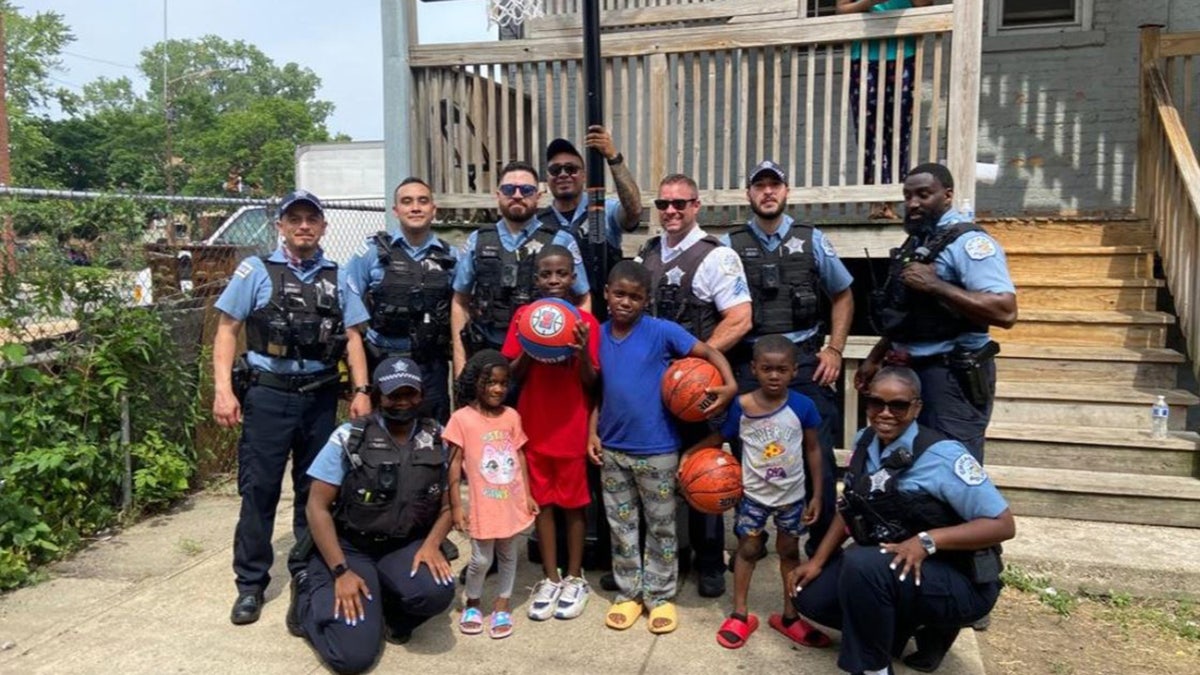 Chicago police officers were patrolling the 6th district and saw some kids having fun playing basketball. But the milk crate they were using as a hoop had seen better days. So the officers hatched a plan. They collected cash from their coworkers and surprised the neighborhood kids with a brand new basketball goal and some fresh basketballs.
The kids were so excited it was high fives all around. It took 9 officers a few hours to put the goal together, but afterwards they stuck around to shoot some hoops with the kids. This is a gift these families will never forget – and maybe some of these kids will grow up to become cops because they experienced the difference that can be made.
Wednesday, July 14, 2021
Captain Jennifer Dowker was busy cleaning her glass bottomed boat, docked on the Cheboygan River in Michigan, when she saw something glimmer in the sunlight. It was an old timey glass bottle … and inside was a piece of rolled up parchment.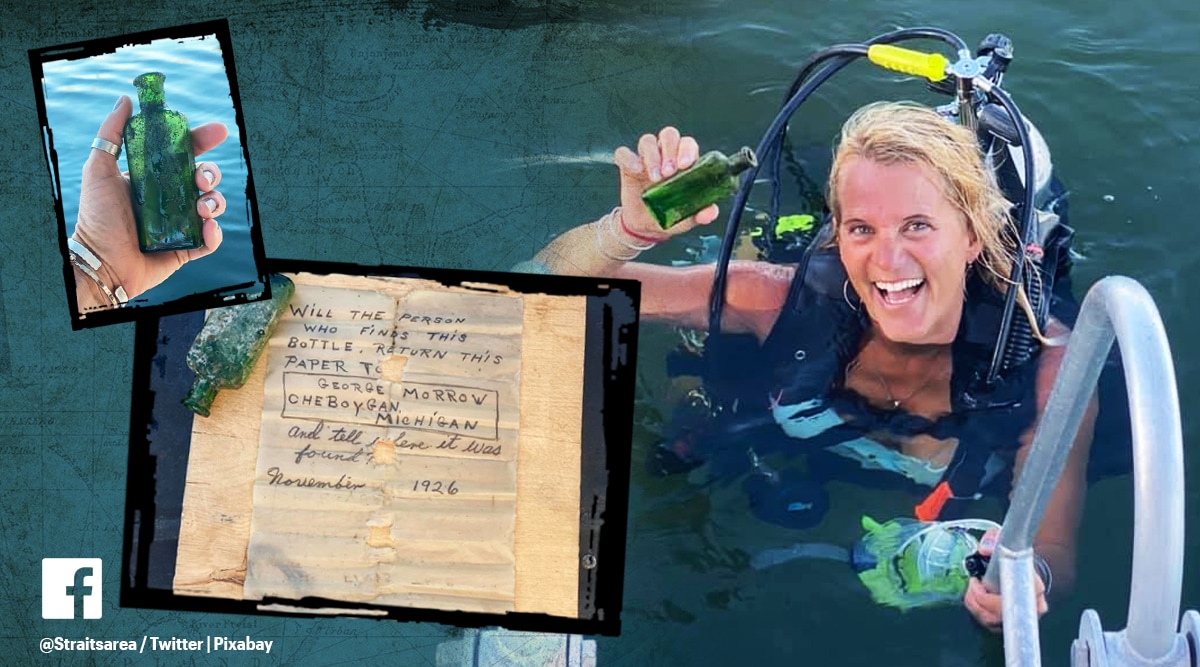 Jennifer fished the bottle out of the river and read the note inside. Dated November 1926, the note said, "Will the person who finds this bottle return this paper to George Morrow and tell where it was found."
Jennifer's crew shared the message in the bottle on Facebook and folks tracked down Michele Primeau – the daughter of George Morrow, who wrote the message nearly 100 years ago. George passed away back in 1995 – but this past Father's Day Michele got to reminisce about her dad with this special glimpse into his past.
Tuesday, July 13, 2021
When Richard Scott William Hutchinson came into the world last year, doctors at Children's Minnesota Hospital in Minneapolis gave him a zero percent chance of survival. The infant was born five months premature – recognized by Guinness as the world's most premature baby. Richard weighed just 11.9 ounces and was so tiny, he could fit in the palm of his parents' hands.
But inside his little body beat the heart of a fighter.
After six months in the hospital, Richard was discharged from the NICU. This June, he celebrated his first birthday as a thriving, smiling little boy.
Monday, July 12, 2021
For your average 8 year old boy – a Pokémon card collection is the equivalent of your grandmother's fine china or those Beanie Babies you "invested" in back in the 90s. It's a priceless possession. Bryson started collecting Pokémon cards when he was just 4. But at age 8 he put up a sign, "Pokémon 4 Sale" in his front lawn.
Bryson's best friend is his puppy Woodruff, a black lab mix. Woodruff got sick with a virus and Bryson overheard his parents talking with the veterinarian that it would cost hundreds of dollars to save the dog. Bryson wanted to help so he put his Pokémon collection up for sale. When neighbors got wind of what Bryson was up to, the donations started pouring in. Most
didn't want the cards – just to help Woodruff.
While Bryson did sell a few cards – a lot of neighbors made donations of both cash and their own Pokémon cards to the cause. The family quickly had enough to treat Woodruff, who is now back to his healthy happy self. Someone told the Pokémon Company what Bryson did for his pup, and they sent him a ton of new Pokémon cards to make up for the few he sold.
Friday, July 9, 2021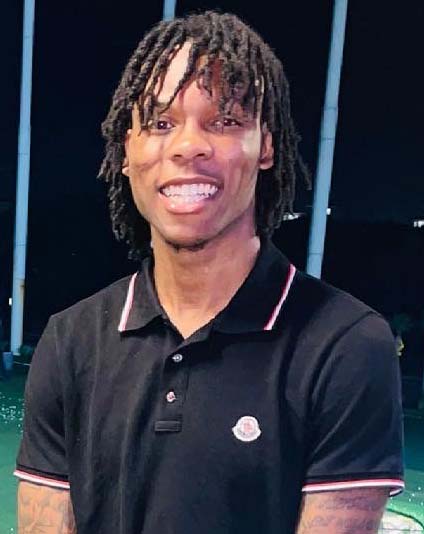 A young man named Jabari Richardson – a student at Texas A&M – was in the process of moving when he saw a man on the side of the road. The man was homeless, holding a sign that simply said "Anything helps, God Bless."
Jabari pulled some clothes and shoes out of his trunk and gave them to the grateful man. What Jabari didn't know was the person behind him in traffic filmed the entire thing and posted it to TikTok.
That kind of generous act quickly went viral – set to the country song "The Good Ones" by Gabby Barrett. It's been viewed well over 6 million times. Jabari was identified and interviewed by local news. He told reporters that his mom raised him to understand not everyone is as blessed as he is and to never take that for granted.
Thursday, July 8, 2021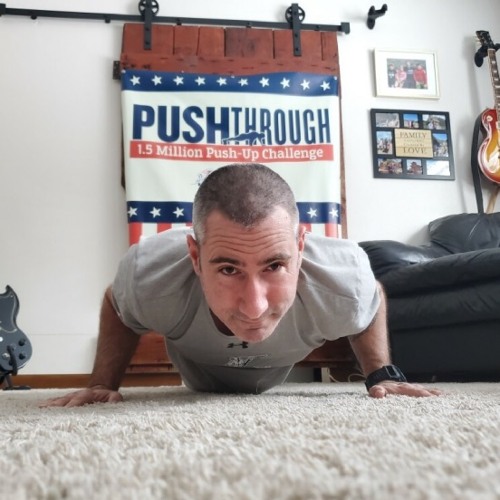 A dad wanted to inspire his kids to never give up in pursuing their dreams – and in the process raised a ton of money and got super jacked. Over the course of 12 months, Nate Carroll completed 1,500,231 pushups. He averaged 4,100 pushups a day – often doing many more.
Not only is he the toughest dad on the block, Nate raised money for Tunnels to Towers Foundation – a nonprofit that pays housing bills for families of fallen police and firefighters.
For Nate it was never about breaking records – which of course he did – it was always about showing his children that the key to tackling incredible challenges in life is to take it a little bit at a time.
Wednesday, July 7, 2021
Michael is 18 years old and is on the autism spectrum, experiencing extreme emotional outbursts. He's mostly non-verbal but has found a handful of ways to express himself – like editing short videos with special effects, trying to make his dad Mike laugh and playing video games.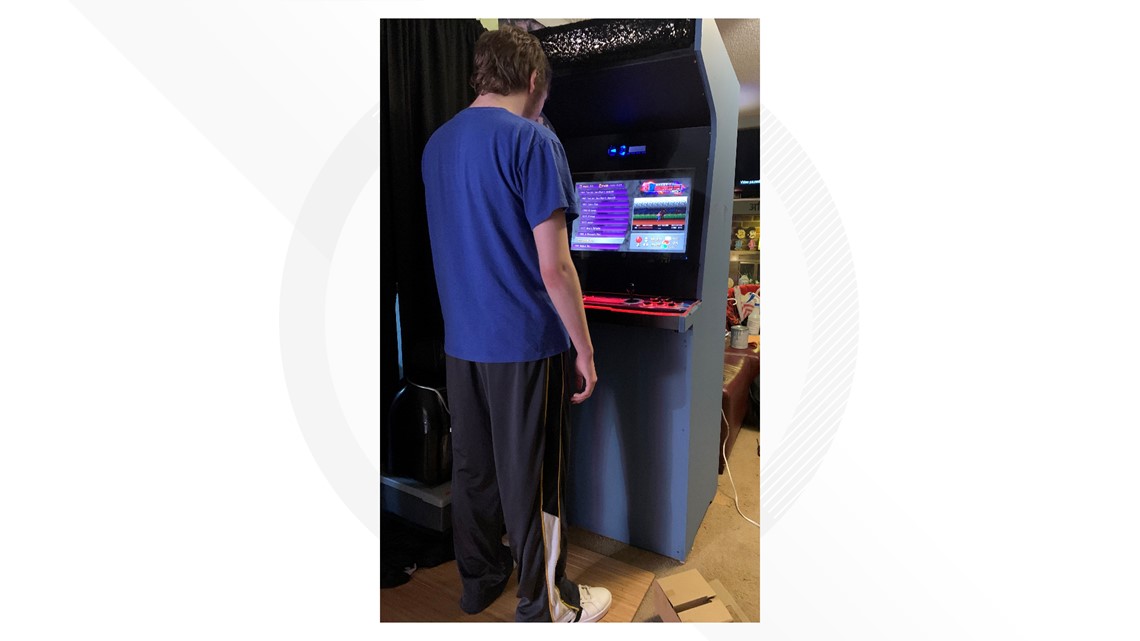 Michael was with his dad in Walmart one day and spotted a full-sized old school arcade cabinet. The young man was so enamored by the expensive hardware, his dad, Mike (who was laid off from his job during the pandemic) decided to put his engineering skills to work and built an even better arcade system just for his son.
Mike wired together a stereo with a computer system loaded with games and put it all into a custom built wood frame, tricked out with paint and lights. Michael LOVED his new arcade cabinet. Since completing the project and sharing it online, another family with an autistic child has hired Mike to build one for them.
Tuesday, July 6, 2021
Cancer patients look for inspiration and hope everywhere. Faith, family, friends, art and music give strength in the fight. Juan Lopez of Marrero spent a year battling cancer. The 13 year old found peace in listening to classical music.
Now that the hardest part of Juan's battle against Non-Hodgkin's Lymphoma is over, the teen is living his best life – and learning to play the piano. While in the hospital, Clair de Lune became his anthem – a challenging piece on the piano. And Juan now gets to practice the piece in style.
Make A Wish, Chick-Fil-A and Larargue Piano banded together to gift the survivor a Yamaha Baby Grand Piano! Juan is now cancer-free and getting better at the piano every single day.
Monday, July 5, 2021
Stefani Shamrowicz really hates litter. It's her pet peeve. The Colorado native had to take a month off of work in May, so she decided to travel and see family and friends – and along the way, she collected 126 bags of litter.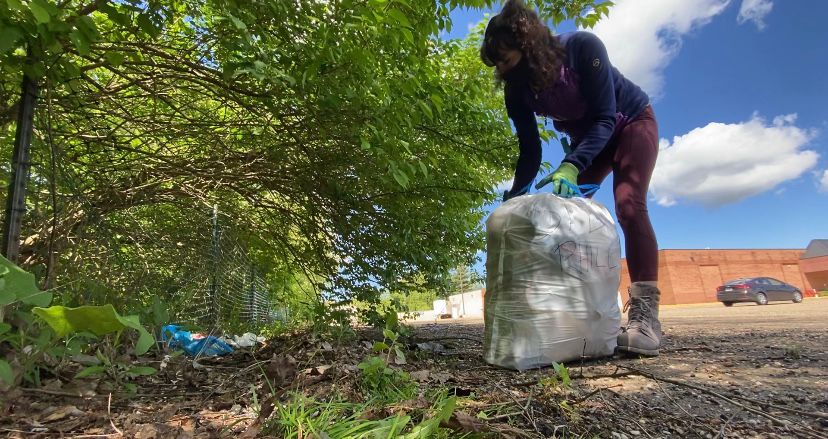 Steff used GoFundMe to pay for gas and lodging as she travelled and collected litter into garbage bags, chronicling the entire thing on Instagram. She picked up waste in 12 states – the biggest offender being Ohio – Arizona and Florida rounding out the top 3 littered states visited.
Friday, July 2, 2021
Timothy Harrison spent a lot of his senior year working part time at a local Waffle House in Alabama. Timothy had taken a Saturday morning shift off to attend his high school graduation – but the morning of – he showed up to work.
His manager, Cedric Hampton asked him what was going on and it turned out Timothy couldn't get a ride to the graduation venue, about a half hour drive away, nor could he afford his cap and gown – so he just decided to come into work.
The staff and patrons of the Waffle House quickly put together the cash to pay for the cap and gown, and manager Cedric grabbed his keys to take Timothy to his graduation ceremony. After a local news channel did a story about Timothy and his Waffle House family, a local State college offered the young man a full scholarship.
Just recently the soon to be college freshman took a tour of the school campus – with Cedric, his manager and mentor from Waffle House right by his side.
Thursday, July 1, 2021
Thank you to the men and women in local police forces that are out to serve and protect everyone – everyday. It's a hard – sometimes impossible job. We're praying for you – and thankful for your service. Usually when police make the news, it is for all the wrong reasons – but the unsung acts of good public servants will not go unnoticed.
Recently police in Pasco, FL were called to a gas station in response to someone loitering behind the building. When they pulled up, deputies noticed the man looked hungry and had no shoes. They talked with the man, bought him a sandwich and some flip flops to protect his feet and then he went on his way with some basic needs met.
That type of story happens in communities all over the country every day. Let's be like these cops, today.
Wednesday, June 30, 2021
Last year, 8-year-old Desiree Mohammadi wanted to help care for the healthcare heroes in New York City. She emptied her piggy bank – a grand total of $52.65 – and donated it all to Northwell Health to buy snacks for front-line workers. Desiree dreams to one day be a doctor on the front-lines as well.
One day came on her 9th birthday.
As a way to say "thank you" to the thoughtful little girl, LIJ Medical Center invited Desiree to shadow some doctors on her 9th birthday. She got a white coat, a stethoscope and jumped right in at the Labor and Delivery Unit. Throughout the day Desiree learned how to dress wounds, use various health instruments and experience a day as a doctor.
The staff at LIJ Med Center all said you didn't need a stethoscope to experience Desiree's big heart – she showed compassion to every person she met.
It might be a few years before Dr. Desiree is treating patients at the hospital, but she knows the path before her and is walking it with lots of hope and a group of healthcare professionals already cheering her on.
Tuesday, June 29, 2021
Hats off to Verda Tetteh, a graduating high school senior from Massachusetts who graciously accepted a $40,000 scholarship from her school — and then asked that it be donated to a student attending a community college instead.
Verda was inspired by her mom Rosemary – who works two jobs to provide for the family. Verda's mom immigrated from Ghana and graduated from Community College, so that's where Verda wants to invest her $40,000 scholarship – in the lives of others like her mom.
Meanwhile Verda is off to Harvard to study biochemistry. She has other scholarships and financial aid so tuition won't be a burden on her family. Verda said matter of factly, "We're blessed to be a blessing. I thought that I was in the position where God has blessed me so much, and I thought it was the right thing to do to bless somebody else."
Monday, June 28,2021
7 year-old Lawson Haas is a really cool kid. He loves fishing, hunting, martial arts – and especially baseball. Back in May he helped his Northshore team to a nearly undefeated season. But after one game he wasn't feeling very well. He had a fever, headaches and bruises. Two days later Lawson was diagnosed with Acute Myeloid Leukemia.
The brave 7 year-old has already begun chemotherapy. His family says he is a fighter and will beat this. But Lawson will eventually need a bone marrow transplant. But he will not be walking this journey alone.
Next time you are on the Northshore you might see someone wearing a Lawson Strong bracelet or t-shirt. The community is rallying around the family with blood drives, online fundraisers for medical expenses and a huge baseball tournament to help raise money for the family as they focus on the fight ahead.
Twenty-four local teams signed up to play in a fundraising baseball tournament for Lawson. Of course his team is fired up to win it all for their friend and teammate.
Friday, June 25, 2021
A mega church in Ohio – Crossroad Church – has multiple campuses and boasted a weekly attendance of over 35,000 people pre-pandemic. This year marks the 25th anniversary for the church and to celebrate, they are spreading their considerable resources to a host of other non-profits and ministry organizations.
To celebrate 25 years the church will dole out $2.5 million in grants over the next several months, starting with a $100,000 gift to City Gospel Mission, which cares for the homeless in Cincinnati. They also plan to help fund organizations in Haiti and India.
The generous spending spree was actually inspired by the federal government. In the middle of a global shutdown, Crossroad Church was fortunate to make their operating budget with the help of the Payment Protection Program loans. Grateful for the help in their time of need, the church now wants to give until it hurts to help as many other organizations as they can.
Thursday, June 24, 2021
One new mamma was trying to balance her new family with completing a graduate degree at MIT. Can you say overachiever? Her supervising professor of neuroscience, Dr. Troy Littleton wanted to help ease his student's burden so he bought a pack 'n play for his office, so he could watch the 9 month old while her mom got some research work done.
Dr. Littleton calls it a win-win because while mamma gets to finish her graduate studies, he gets to play with a baby!
Wednesday, June 23, 2021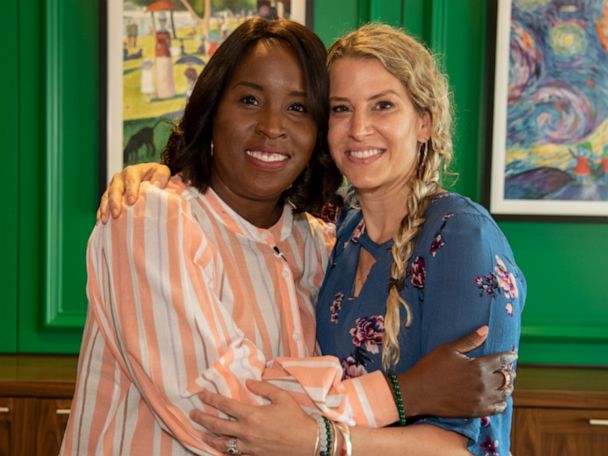 Tia's husband Rodney and Susan's husband Lance were both on dialysis. Tia and Susan are both nurses at Children's hospital in Atlanta and connected so they could encourage each other on the difficult journey. Both women had been tested and were not a match for their own husbands – but a chance conversation in the hospital bathroom led to the discovery that the ladies were a match for each other's husbands!
Instead of waiting forever on the kidney donor list, the wives immediately went into surgery to give kidneys to both Rodney and Lance. Now the families are forever linked – they literally share body parts!
Interested in learning more about kidney donation? kidneyregistry.org
Tuesday, June 22, 2021
Tom Stevens was working hard to get the Majestic Ventura Theater open for business now that COVID restrictions have eased in California. While wiggling through a crawl space to do some electric work, Tom discovered a long-forgotten wallet. There was no cash – just some old photos, a Grateful Dead ticket stub and an expired California driver's license for Colleen Distin.
Tom shared his find on Facebook hoping to get the wallet back to Colleen. In just a couple hours – with over a 1,000 shares of the post, Colleen responded to Tom – excited to see the 40 year old photos again. Colleen had lost her wallet when it fell out of her purse while on a date in 1975. The old family photos immediately brought tears to her eyes.
Monday, June 21, 2021
Yeva crossed the finish line of the 4×1 relay – arm in arm with three of her teammates. They didn't win the race – but they brought everyone to tears.  Yeva Klingbeil was a senior at Shenendehowa High School this year. She's also been battling an aggressive cancer since 2019. Her friends from the school's track and field team have gone every step of the journey with Yeva. They've done fundraisers to help pay for treatment and included Yeva in every way they could at school.
Yeva has never given up hope for a full recovery, largely because of the support of her friends. She's undergone chemo and radiation and the tumor has shrunk by half – praise God!  At the last track and field race of the year, her teammates half-carried Yeva across the finish line where she was met by all of the competitors cheering her on – a celebration of her won't quit spirit.
Friday, June 18, 2021
In America it can be hard to fathom the type of poverty experienced in the developing world. A family in Paraguay was living in literal garbage until strangers from all over the world heard their story – and bought them a house.
A mom and her three children were left homeless when the children's stepfather burned their home to the ground and was sent to prison. They scrapped for building material and were living behind the city dump. One little boy would collect recycling to make money for the family to get food.
Their story was told via TikTok by Aaron Murphy – an American who went to South America to learn Spanish. Raising over $30,000, Aaron was able to purchase this family a house, clothing and furniture. These children had never been in a shower before. The mom is now operating a small restaurant out of the house and the children are all back in school. They have hope and a future thanks to the generosity of strangers from around the world.
View this post on Instagram
Thursday, June 17, 2021
Chef Q. Ibraheem
runs an upscale catering business and underground supper club in Evanston, Illinois. It took her years to grow her dreams, and she was finally tasting the fruits of all her labor when the pandemic hit.
Chef Ibraheem watched as schools shut down and families were plunged into food insecurity. Putting aside her own fears for her business, the chef started a program called Kids with Coworkers (referring to children who were home with their parents). Kids With Coworkers prepares and delivers healthy meals to struggling families.
The work came naturally to Chef Ibraheem, since she had volunteered for years with youth programs in the Chicago area, teaching young people how to grow and prepare vegetables from local community gardens. Word of her efforts quickly spread, and donations started arriving, which enabled her to expand. Since March 2020, Ibraheem says she has provided more than 60,000 meals to more than 600 people.
Wednesday, June 16, 2021
Since 2015, Virginia Rose has been helping mobility-challenged people like herself participate in her favorite pastime: birding. Rose says there's something deeply satisfying about being engrossed in nature, appreciating the present moment and searching out feathered beauties that leads her to pick up her binoculars time after time. But navigating trails with a manual wheelchair can be nearly impossible. So she founded Birdability, a non-profit group that helps people find birding locations that fit their needs.
So far, the group has mapped out more than 500 birding sites along with their accessibility scores, both in the US and a few internationally. Anyone can access their interactive trail map, and Birdability members can even become captains to help lead inclusive excursions. That's the other beautiful part of Birdability: connecting people so they can nerd out about birds, together.
Tuesday, June 15, 2021
Devarius Peters showed up excited to graduate from Hahnville high school this past Spring – he even got some brand new black and white leather Alexander McQueen shoes for the ceremony. But as he was walking in, a school employee informed Devarius that the shoes broke the dress code and he could not wear them if he wanted to walk across the stage.
Devarius was heartbroken and embarrassed. That's when his former teacher, Mr. John Butler stepped in to help. Mr. Butler quickly slipped his own shoes off and had Devarius put them on so he could walk the stage with his peers. John's own daughter was also graduating with Devarius, so he took his seat in the auditorium with no shoes, just socks. The folks around him chuckled – they had no idea that the teacher's shoes were on the feet of his former student on stage.
Devarius, whose feet were a little too small for his borrowed shoes, proudly slid across stage and accepted his diploma with a special grin for his former teacher's kindness. And the St. Charles School Board is working to change their graduation dress code rules to be more inclusive.
Monday, June 14, 2021
A father and his two children were out fishing on the St. Johns River in Jacksonville, FL. It was a hot day, so while anchored, the kids were swimming by the boat. That's when the current suddenly kicked up and swept them away. Thanks to a cool minded dad and a strong swimming 7 year old, everyone survived the scary ordeal.
When the current became too much for 7 year old Chase and his 4 year old sister Abigail, their father Steven jumped into the water to help. He was able to reach 4 year old Abigail, who was in a life vest, but could not get back to shore. His 7 year old son Chase, who was not in a life vest, battled the rough water for an hour, inching towards shore. Thankfully Chase is an incredible swimmer. As soon as his feet hit dry land he ran to the nearest house to get help.
Rescuers arrived and were able to save Steven and Abigail, who had drifted almost 2 miles further down river. Chase is the hero of Jacksonville for never giving up in the face of great danger.
Friday, June 11, 2021
When California couple Krystal Duhaney and her husband Patrick had their first baby, they struggled to make ends meet. Now Krystal owns a successful business and they wanted to help out other struggling new parents.  Krystal & Patrick decided to spread some kindness by leaving $1,000 worth of cash inside baby products at various Target stores in Southern California. They slipped dollar bills into diaper boxes and under unopened formula lids at the Target stores.
Krystal posted about her Target adventure on Instagram at the end of April and in the weeks that followed, Krystal's post went viral and has since earned nearly 96,000 likes and hundreds of comments from people commending the couple for their generous actions.
Though the couple was praised on social media, Krystal said she just hopes their gesture will inspire their children, and people raising kids all over the world, to be kind to others.
"As parents raising two young children, it's really important for us to let our children know… kindness matters and that you never know what somebody's going through."
View this post on Instagram
Thursday, June 10, 2021
Charter boat captains Mark Pisano and Paul Strasser have a whopper of a story to tell! Thirty-five years ago, Mark & Paul were piloting a charter back from Catalina Island off the California coast, when they came across a capsized boat and an orange life vest bobbing in the waves. Mark jumped in and pulled out 9-year-old Desiree Rodriguez — the only survivor. Her mother, father, sister, aunt, and uncle all perished in the incident. Desiree had been in the water for 20 hours when they found her.
Thirty-five years passed. Mark & Paul always wondered what happened to Desiree. Then a podcaster invited both men on his show, along with a surprise guest. On the show, Mark & Paul were reintroduced to Desiree Rodriguez and they could not hide their joy.
Now Captains Mark and Paul keep in touch with Desiree, who said the podcast recording really gave her a sense of closure about the tragedy in her past. Desiree and her aunt, who raised her after the incident, were invited to join Mark & Paul on their boat. It was the first time Desiree had been back on the ocean since she was rescued at age 9.
The journey was their first memorial — a commemoration of the family she lost — but also a celebration of guardian angels she gained.
Wednesday, June 9, 2021
Zohaib Begg is one incredible 8 year-old. He fought and beat cancer at age 4. When the pandemic hit last year, the then 7 year-old self-proclaimed "Chief Kindness Officer" collected more than 6,000 pieces of Personal Protection Equipment for the doctors who helped heal him as a preschooler. Now Zohaib has turned his big heart to helping the homeless in his hometown of Washington DC.
Zohaib gave himself a lofty goal of helping 1,000 homeless people on Global Youth Service Day. He got some help from Sharon Wise, who was once homeless and now advocates for the homeless in the D.C. metro. The pair passed out food, toiletry kits and other supplies to people in need at an underpass off New Jersey Avenue in the shadow of our nation's Capital.
Each supply pack was filled with donations from local companies that 8 year-old Zohaib personally reached out to, including socks from Bombas, food from Chickfila and groceries from Trader Joe's.
Zohaib says, "I believe in spreading kindness, and all my donors and partners for this event share this vision and also believe that no one is too young to make a difference."
Tuesday, June 8, 2021
Meredith Crane watched with frustration as her children (born deaf) struggled to find jobs. With that in mind, she started a company called Keepsake. She produces T-shirt quilts and blankets out of Columbus, OH. Over the last twenty years, Meredith has employed around 125 deaf and hard-of-hearing people at her company.
Keepsake takes old t-shirts and turns them into quilts for their clients. It's pure comfort – and for many of the deaf employees at Keepsake, each blanket is a vote of confidence in their abilities and achievements.
Monday, June 7, 2021
It was March 29, 2011. Michael Shannon was off for a drive on the Pacific Coast Highway near Dana Point, about an hour's drive south of Los Angeles. But this joyride wasn't going to end well. A tractor-trailer crashed into Michael's SUV.
Michael was alive – but trapped – and he could feel a fire starting to move towards him. He had no way of calling for help. Michael probably shouldn't have survived. But that's when the heroes showed up.
A team of two county firefighters and two paramedics were on their way back from another call. Two minutes after the crash they were on the scene of the accident and helping free Michael from the wreck. The paramedics broke out the Jaws of Life and extracted him from the vehicle while other firefighters worked to put out the fire. Michael was air-lifted to a hospital, where he spent the next 45 days undergoing treatment. The crash cost him two toes, which had to be amputated, but he otherwise — miraculously — survived and recovered.
And in a strange way, he had himself to thank.
Orange County paramedic Chris Trokey was one of the heroes of the day, helping rescue Michael from the fiery crash. And while Chris didn't know it until he arrived at the hospital, it turned out that they had met before – 25 years earlier.
Chris Trokey was just 3.2 pounds at birth, and doctors had initially given him a 50/50 chance at surviving, but the attending pediatrician monitored his health around the clock and made sure he was stable. That pediatrician? Dr. Michael Shannon.
Trokey's family long credited Dr. Shannon for saving the future paramedic's life, and as coincidence would have it, the once-premature baby was able to repay the favor. They've made a habit of keeping in touch since. The pair get together for dinner every year on the anniversary of the car accident. And Chris recently became a father. Can you guess who his son's pediatrician is?  Dr. Shannon.
NEED MORE GOOD NEWS? Click Here for previous Today's Good News stories featured on LifeSongs!