Friday, March 27, 2020

While some folks stockpiled important pandemic supplies, others are giving health and safety supplies for free. Asiyah and Jawad Javed, who run a market in Scotland, are giving anyone over the age of 65 free face masks, antibacterial hand gel, and cleaning wipes to help slow the spread of coronavirus. And if you can't make it to the shop, they will deliver the items free of charge.
So far, the couple have delivered 500 kits. No doubt the elderly in their community are feeling cared for and grateful for the Javed's help.
Thursday, March 26, 2020

U-Haul is stepping up to help students who suddenly had to move out of their dorms due to suspended classes/campus closings over the Coronavirus pandemic by offering 30-day free self-storage at U-Haul owned and operated facilities.
U-Haul President John Taylor said, "Students and their parents are in need of moving and storage solutions. We have the
expertise and network to help, and that's exactly what we're going to do."
Colleges have asked students to vacate the campus for the rest of the semester, leaving some students, especially international students, in a bind.
Wednesday, March 25, 2020
Amazon is donating $25 million toward its network of independent delivery drivers, Amazon Flex workers, and seasonal employees who are dealing with disruptions caused by the COVID-19 outbreak.
Workers diagnosed with COVID-19 or placed under quarantine will be able to apply for grants from the Amazon Relief Fund. The fund will also provide grants for employees and contractors around the world who "face financial hardships from other qualifying events, such as a natural disaster, federally declared emergency, or unforeseen personal hardship."
Amazon is also pledging $5 million fund to help Seattle based small businesses. (Seattle is one of the hardest hit areas in the U.S. by this outbreak so far.)
Tuesday, March 24, 2020
In a memo to employees just over a week ago, Delta Air Lines chief executive officer Ed Bastian said for now, he will forgo his salary for six months in an effort to avoid having to lay off his employees. His announcement comes three days after Southwest Airlines CEO Gary Kelly revealed plans to reduce his salary by 10%. So many businesses and people are being affected financially by this right now; it's so encouraging to see people care for others. We hope many more follow suit during this dire time for many employees and their families, too!
Monday, March 23, 2020
It's easy to become more inwardly-focused when times feel uncertain. Which is why it makes headlines when people look outward at how they can help others. Dallas Mavericks owner Mark Cuban thought of the hourly workers who are going to be massively hurt by the NBA season's shutdown. He's announced plans to start a program to financially help the American Airlines Center employees who can't work because of the coronavirus.
With the possibility of many long term effects due to the pandemic, it's encouraging to see people decide to start taking care of each other right now.
"I reached out … to find out what it would cost to financially support people who aren't going to be able to come to work."

–Mark Cuban on his plan for Mavericks employees during the NBA suspension pic.twitter.com/McOl1vHUqO

— ESPN (@espn) March 12, 2020
---
Friday, March 20, 2020
NBA star Kevin Love is donating $100,000 to help Cleveland Cavaliers arena workers after the growing coronavirus outbreak led the NBA to suspend games indefinitely.
"Everyone reacts differently to stressful situations," he said. "And the fear and anxiety resulting from the recent outbreak of COVID-19 can be extremely overwhelming. I'm concerned about the level of anxiety that everyone is feeling and that is why I'm committing $100,000 in support of the Cavs arena and support staff that had a sudden life shift due to the suspension of the NBA season. I hope that during this time of crisis, others will join me in supporting our communities."
He also made a plea for more kindness and understanding during the panic around the pandemic. (He's been vocal about his own struggles with anxiety in the past.) He says, "Be kind to one another. Be understanding of their fears, regardless if you don't feel the same. Be safe and make informed decisions during this time."
Extend some kindness and grace today, and share with someone the peace and hope we have in Christ!
Thursday, March 19, 2020
As the coronavirus pandemic continues, it's impacting the physical and financial well-being of people around the world. In the midst of that, many are stepping up to help those in need, including New Orleans Pelicans forward Zion Williamson. The 19-year-old has announced that he will pay the salaries of all of the employees of Smoothie King Center, for at least 30 days.
As if we couldn't love him more! Zion said, "some of the most special people I have met are those who work at Smoothie King Center." They have been "incredibly welcoming and supportive" since he was drafted.
"These are the folks who make our games possible, creating the perfect environment for our fans and everyone involved in the organization. Unfortunately, many of them now face the economic impact of the postponement of games because of the virus. My mother has always set an example for me about being respectful for others and being grateful for what we have, and so I am pledging to cover the salaries for all of those Smoothie King Center workers for the next 30 days."
"This is an incredibly resilient city full of some of the most resilient people," he wrote, "but sometimes providing a little extra assistance can make things a little easier for the community."
Wednesday, March 18, 2020
When fears of coronavirus outbreaks prevented an Ohio sports event from accommodating its typical crowd of 200,000 people, the stadium sent their surplus of event food to first responders and tornado victims in Nashville. Since the stadium knew that other local restaurants prepared for the festival would be donating their own surplus of food to community charities, they loaded up a refrigerated truck with more than a ton of sandwiches, mixed green salads, fresh fruit, yogurt, vegetables, brown rice, potato chips, and bottled water. The Greater Columbus Convention Center truck then brought all the food to Nashville and used it to feed several thousand first responders and tornado-affected families.
Tuesday, March 17, 2020
Italy is in the midst of a lockdown after the government implemented strict isolation measures to contain the spread of coronavirus, which is one of the worst affected countries in the world with over 17,000 confirmed cases and 1,266 deaths, according to the latest data from Johns Hopkins University. That's the largest outbreak outside of China.
Even in the most desperate times, music can lift the spirits — as some Italian neighbors have proven by singing together in harmony. Residents in Siena, a city in Tuscany, leaned out of their windows and broke into song recently and in Sicily, neighbors are seen accompanied by a man playing the accordion.. In Naples people were heard singing a song reportedly called "Abbracciame," which translates as "hug me."…
Lifesongs knows that music soothes the soul. Lifesongs gives us the ability to go beyond the balconies and touch people's lives with songs of truth and encouragement. Lifesongs is instant, it's personal, it's portable, and it speaks to our Southeast Louisiana Heart by reminding you God is Good all the Time!
---
Friday, March 13, 2020
After getting off work for the day as a school resource officer at Richmond Alternative School, Mervin Mayo goes straight to church. He needs some "praise and worship" time for himself, saying, "I have to minister to myself before I can minister to someone else."
Officer Mayo serves as the minister of music at his church, and works in the community, youth and intervention services unit of his local police force, participating as a mentor and singing at department events.
His hope is to provide inspiration to those who might need it, saying, "Know that, no matter what you are going through, there is a higher power that looks beyond your faults and sees your needs."
Amen to that! You may not serve as a youth mentor or police officer, but you CAN make a difference by encouraging others. In fact, you DO that already through your support for LifeSongs! Thank you for keeping this ministry going through your giving so that those who need to be ministered to through music and uplifting words can be every time they listen.
Thursday, March 12, 2020
School resource officers have a lot on their plates while on duty, but one Arkansas officer stays busy during his time off duty, too, by stopping at the school flagpole to pray.
Officer DeAndra Warren has been an officer for the Wynne Police Department for the last seven years. For five of those, he's protected the halls of Wynne Public Schools as a school resource officer. Every day, he stops at the school's flagpole to say a prayer for the school systems, children and community.
Officer Warren says being able to interact with the students from Kindergarten through 12th grade is something he enjoys most about being a police officer. "I enjoy showing them the positive side of law enforcement, from giving them high-fives or just a simple word of encouragement."
He says he does whatever his heart and hands find to do for God. "I feel led by the Spirit of God to pray for our students and all staff in our school district. I've been praying for the students ever since I started being a school resource officer, but I started standing at the flagpole just last year. I don't do it to be seen but I do it to glorify my Lord and Savior Jesus Christ. To God be the Glory!"
You may not patrol the hallways of OUR local schools, but you do have an impact there, just like Officer Warren, by praying with us for our LifeSongs Prayer Schools each day. THANK YOU for making a difference with us in our community every day!
Wednesday, March 11, 2020
Lamar Harris is the kind of neighbor you want to have. His tight-knit New Jersey community of Cherry Hill knows this: he picks up his neighbors' trash, delivers their mail and treats many of them like family, calling them daily and accompanying them for breakfast and haircuts.
Lamar has developmental delays and disabilities, and has lived alone for five years since his father passed. He's handled it well – until he received a notice of possible foreclosure of his childhood home due to unpaid taxes and interest payments.
His neighbors scrambled to help, setting up a Go Fund Me page that raised over $50,000 in just ONE WEEK. (Talk about amazing neighbors!)
Lamar was so thrilled when he heard he'd be able to stay in Cherry Circle, he called everyone on his street and met them in their yards to celebrate with those he calls his "family."  That community is also helping him handle his finances for the future to ensure he's taken care of. Without him, they say, Cherry Hill wouldn't be the same.
(LifeSongs wouldn't be the same without YOU, either. We are so grateful YOU are a part of this family community, and that you give to ensure this ministry stays right here, providing hope and encouragement everyday. THANK YOU for your support!)
Tuesday, March 10, 2020
Home security doorbell cameras capture everything from package deliveries to garbage pickup to car break-ins. One Rhode Island family's doorbell camera captured the moment their pizza was delivered.
What was so special about that moment, was that their toddler went to the porch to greet the pizza delivery driver with a hug. What they didn't know was how much the sweet gesture meant to the driver.
Lindsey Sheely shared the video on Facebook showing her 2-year old son Cohen running out to give the man a hug. Only after her video spread online did she hear from the driver, Ryan Catterson, whose 16-year-old daughter had recently passed away unexpectedly.
Lindsey called her son's hug for Catterson a little blessing from God, saying, "I believe in divine appointments and know that Ryan was the one to deliver our pizza for a reason. I couldn't believe that this guy was going through the most devastating thing, but his life had to go forward, and he still had to work and to do his job. You never know what people are going through. This is such a good example of that."
Ryan agreed, saying little Cohen's hug couldn't have come at a better time for him.
You never know what someone may be going through, and what can speak to them. God uses this ministry for divine appointments all the time, and that is possible because of YOU. Thank you for giving, and being part of delivering encouragement and hope everyday.
Monday, March 9, 2020
Four years ago on Valentine's Day, Arizona native Natalie Reilly started "Nothing but Love Notes" with her mom, who was battling cancer. The goal? To show first responders how much they are appreciated.
Her mom has since passed away, but Natalie still makes it a priority to continue writing the notes and finding first responders to give them to—and not just on Valentine's Day. Reilly keeps the cards in her purse always and hands them out whenever she sees a person in uniform.
Over the last four years she has given out more than 20,000 love notes. Each time she gives one out, she thinks of her mother. A two-fold way to share the love! She makes a difference in the lives of those who protect and serve in her community, and fills her mind with sweet memories of her mom.
I may have to take a page from Natalie's book and start carrying around thank you cards with me, although I don't think I could find a purse big enough to carry all the cards I'd need to say thank you to YOU. LifeSongs is listener-supported and would not be here without you. I hope you know just how grateful we are for YOU!
Friday, March 6, 2020
Former President Jimmy Carter has written many books since his time in the White House – but he has LIVED OUT the way to be a former President like no one else in American History. The faith fueled former President has devoted his post-politics life to
helping people in every way he can. And his family has just added one more good deed to the mountain of kindness.
The Carter farm in Plains, GA has its own private solar panel field – well over 3800 solar panels covering 10 acres of land. Former President Carter is a huge proponent of clean energy. His farm now generates so much power that they provide clean free electricity to over half the population of his town – or about 400 homes.
Thursday, March 5, 2020
Ronnie Backenstoe is a proud member of the Girl Scouts and loves the annual cookie sale. At age 10 she began racking up sales in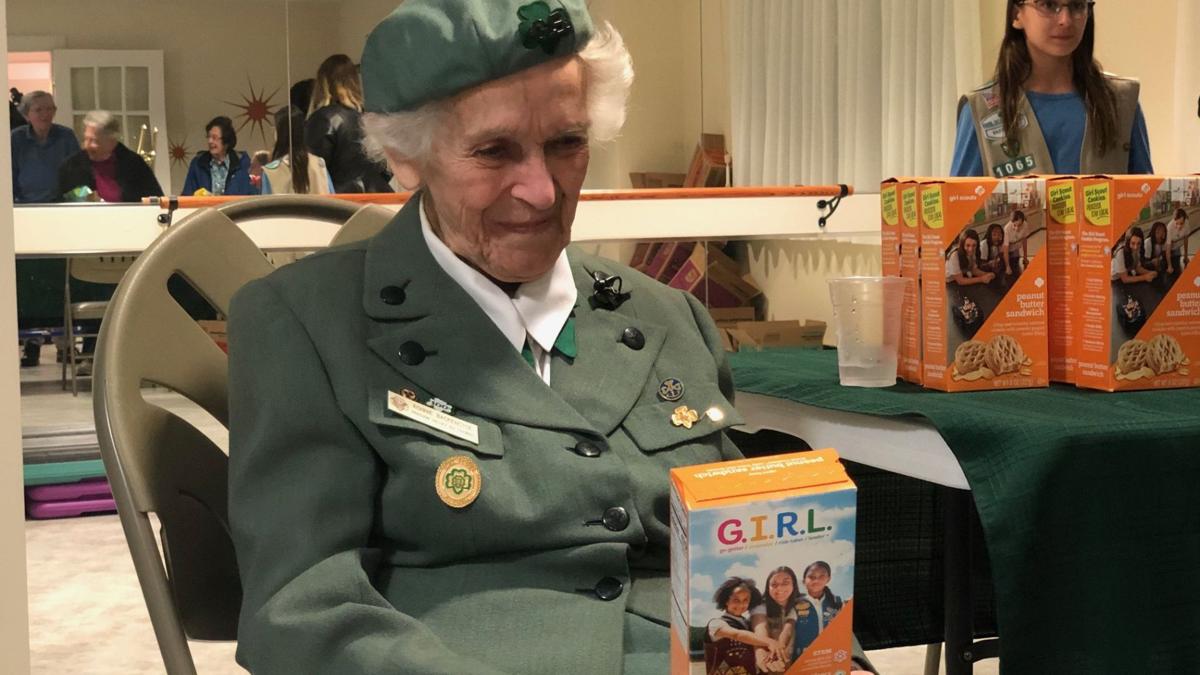 her Wernersville, PA neighborhood. She'll knock on the door, wearing her proud uniform and convince her neighbors to get that extra box of Thin Mints … after all they are just 15 cents a box.
Ronnie began her Girl Scout journey in 1932! Now at age 98, she still is selling the cookies as a proud member of the Girl Scouts. Of course there are many more flavors to choose from now (there were only 3 options in the 1930s) and the cookies cost a LOT more than 15 cents a box.
Ronnie loves to see each new generation come up through the ranks of the Girls Scouts – bringing joy to each life that gets impacted.
Wednesday, March 4, 2020
Remember last Summer when the beaches from Louisiana to Alabama were closed due to bacteria and water quality? What a bummer! This is a problem on beaches around the world. Sasha Olsen of Bal Harbour, FL is a 10 year girl on a mission to save the beach.
Sasha and her cousin Narmina have formed a non-profit called IWANTMYOCEANBACK. They lead and organize beach clean-up projects, create art out of plastics picked up from waterways and host YouTube seminars to teach other young people how to stop pollution.
While hosting their YouTube shows, the kids will paint together and then auction the art off to help pay for their causes.
Tuesday, March 3, 2020
There is a small island between Norway and the North Pole that houses the Doomsday Vault – also known as the Svalbard Global Seed Vault. Safely preserved there are back-up seeds of critical crops and flora that could theoretically be reintroduced to Earth after a cataclysmic event. There are close to 1 million samples in the Doomsday Vault.
Recently some more special seeds were added courtesy of the Cherokee nation. Nine different heirloom seeds, including Cherokee White Eagle Corn, candy roaster squash, amongst other indigenous native species of plants. Cherokee Nation Principal Chief Chuck Hoskin Jr. said the tribe was honored by the invitation saying, "Generations from now, these seeds will still hold our history and there will always be a part of the Cherokee Nation in the world."
Monday, March 2, 2020
Michael Platt was a fun-loving kid. At age 11 he was doing great in school, on the swim team and constantly outside playing with his friends. But then Michael was diagnosed with epilepsy. The seizures meant he had to scale back many of his activities – he even left his school to be homeschooled. But instead of letting that wreck his life, Michael found a new outlet to express his zest for life.
Michael, his mom Danita and his grandmother have enjoyed baking together for his entire life – now that time in the kitchen has become Michael's playground. Together as a family they founded Michaels Desserts. Inspired by TOMS Shoes, Michael wanted his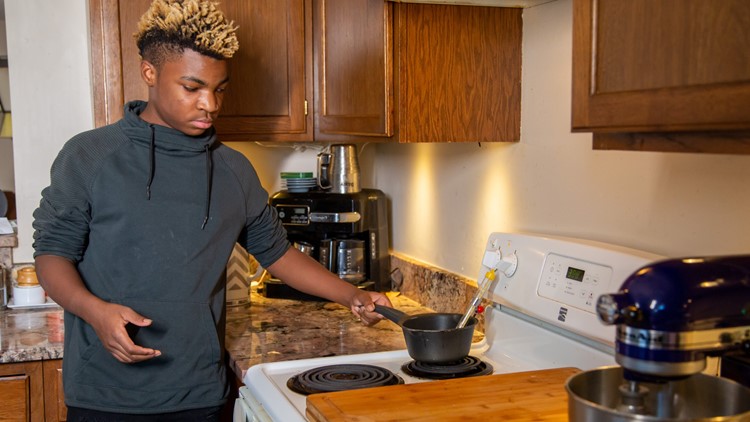 baked goods to be about more than just making money – so he gives away a dessert for every single one that he sells.
Now, three years in, Michaels Desserts takes online orders every day and donates baked goods to nearby soup kitchens and other service nonprofits that help people in need. Doing good, and delicious treats has not only kept this family going – Michael has been seizure free since 2017!
*Bonus Black History Month Good News Story*
First grade teacher LaToya McGriff decided to take an untraditional approach to teaching her students in Suffolk, Virginia about Black History. LaToya decided to dress up like a famous African-American trailblazer and taught her students about their contributions to the United States and Black History.
She started their creative lessons by dressing up as Virginia native Mary Jackson. "She was a mathematician who worked as an aeronautical engineer whom people referred to as a human computer," McGriff wrote on Facebook. She shared a photo of herself in 1960s attire, like Jackson would've worn when she worked for NASA.
And thus began many days of dressing up as prominent black history figures, such as Ella Fitzgerald, Booker T. Washington, Misty Copeland, and many more.
"My students will want to know who I will be tomorrow. Today, they just said 'Are you going to be Barack Obama? Are you going to be so-and-so?' Because they want to know and kind of prepare themselves for it so they can tell me something they know about that person," she said.
McGriff said bringing history alive kept her students curious and asking questions, and she's hoping the overall project will give them the confidence to know that, like these historic figures, they can be great, too.
Today I was Ella Fitzgerald! She was born in Newport News, VA. She was a jazz singer. She was sometimes referred to as the First Lady of Song, Queen of Jazz, and Lady Ella!

Posted by LaToya Smith McGriff on Monday, February 10, 2020
Friday, February 28, 2020
While other interns were fetching coffee, Wolf Cukier was discovering a brand new planet. Cukier, 17, is a high school senior from Scarsdale, New York. Last summer, he interned at NASA's Goddard Space Flight Center, and one of his first assignments was to help with the Transiting Exoplanet Survey Satellite mission.
On his third day, while looking through a telescope at TOI 1338, a solar system 1,300 light years from Earth, Wolf saw there was something in the orbit of two stars that was blocking the light. He made notes, and after further study with his bosses, they determined that 17 year old Wolf Cukier had discovered a planet 6.9 times larger than Earth!
It is a circumbinary planet, which are hard to spot; this is just the 13th planet of its kind ever discovered. Cukier hopes this is just the beginning of his career studying the stars, and plans on majoring in physics or astrophysics in college.
Thursday, February 27, 2020
Jamie Willis served in the Army for 8 years, until a back injury he sustained left him disabled. During his physical therapy he was introduced to an organization called Free Canes for Veterans. The head of the organization actually took the time to teach woodwork to Jamie, showing him how to craft his own cane. This brought a lot of joy to the former soldier – a chance to work with his hands. And he didn't want to stop at just one cane.
Jamie Willis started the Texas Chapter of Free Canes for Veterans and continued to use donated wood to make canes for other injured GI's. Here is where the story takes a very Christmassy turn: much of the scrap wood comes in the form of donated Christmas trees!
Now with a team of 60 volunteers, the veterans will churn out close to 1,000 canes for injured vets this year. These canes brought joy as Christmas trees and will live on aiding the great servants of our country, out veterans.
Wednesday, February 26, 2020
If you have boys in your house, you know they are FULL of energy! Sometimes they need an outlet to get it out! 2 companies geared towards helping students release frustration and energy, are changing the stigma about boxing! Title Boxing Company in Nebraska (Led by Head trainer Milton Lopez) helps kids with disabilities learn how to float like a butterfly and sting like a bee!!
In Forest Hills, New York, Jessica Margulies started The Spectrum Bout Boxing Club to help young people with autism (between the ages of 7 to 22) have the confidence they need to overcome life's challenges that they encounter on a daily basis! Boxing helps them to develop focus, control, structure, discipline, & release! (Things that we could ALL use more of!) Two amazing companies making a difference in their communities!
Tuesday, February 25, 2020
23-year-old Sarah Yob of Florida had a really horrible day while on a trip to New Orleans to celebrate the College Football National Championship to be played there.
Her day started with a car wreck. Later that day, after hanging out with friends in the French Quarter she discovered someone had stolen her purse from her rental car. They didn't get her wallet or cellphone since she'd carried those with her. But the Michael Kors purse adorned with a purple feather charm, her GoPro camera, some money and a necklace were gone.
Later that day, James Elmes, 21, was leaving the French Quarter and spied the now-abandoned purse sitting on the curb with the camera still inside. With no identification inside the purse to help him track down the owner, he turned to the camera. He posted a photo Sarah had taken of her and some friends on a beach onto Twitter on the remote chance someone would see the photo and put him in touch with the owner of the purse.
The tweet read: "I found a stolen purse in the French Quarter, New Orleans. Wallet was missing, so I have no identification. This girl has traveled all over the world … with a GoPro I found. Looking for her to return her lost memories. Help me find her."
Within 16 hours and 800 retweets later, he'd found Miss Yob and was able to return the purse.
As if returning the purse wasn't enough, James wanted to make sure Sarah had good memories of her time in New Orleans. He realized as he was scrolling through her camera that she hadn't been able to take any photos of New Orleans before her purse and camera were stolen. So Mr. Elmes, who is a produce deliveryman, took some photos of the sites along his delivery route such as Cafe du Monde in the French Quarter before returning the items to Sara!
Monday, February 24, 2020
An 88-year-old Virgin Atlantic passenger named Violet was on her way back to London after a stateside visit with her daughter. As luck would have it, the retired nurse struck up a conversation before boarding with Jack, a fellow traveller. You know how sometimes you just click with a person? That was the instant friendship between Violet and Jack.
What happened when they boarded the plane surprised Violet and warmed the hearts of the entire Virgin Airlines flight crew. Violet was sitting in the back of the plane – next to the lavatory. I'm sure her seat was comfortable, but a transatlantic flight next to the bathrooms? Hardly the choice seat.
Flight attendant Leah Amy shared the incredible story on Facebook, alongside a few photos of her "two favourite passengers ever."
Jack had a seat in first class, but went and found Violet and swapped seats with her! No fuss, no attention, literally, Jack just wanted to give Violet the chance to fly up front.
Chivalry is not dead!
Friday, February 21, 2020
A sandwich, a soda or maybe even a chocolate bar to satisfy a midnight craving: These are some of the many things you'd expect to find at a New York deli and convenience store.
But customers at Lucky Candy in the Bronx get an entirely different experience, and it's all thanks to cashier Ahmed Alwan.
To his customers, the 20-year-old college student is easily recognizable, and it's not just because of his bright smile and cheerful energy. Two weeks ago, Alwan decided to start playing a game with shoppers — and it's since gone viral.
The rules are simple: If you can solve a math equation, you get five seconds to grab anything you want off store shelves and
have it for free.
The one thing you're not allowed to grab? His cat. (Yes, someone tried.) 
Alwan, who's studying at Bronx Community College to become a pharmacist, has a history of being charitable.
He often gives customers food and household supplies on credit, his father said. And on cold mornings when he spots people sleeping at the nearby train station or by the tracks, he offers them free coffee, bananas and muffins
He even started a GoFundMe to support the game and enable him to help more people.
"The money will be going towards products and food that would be used for the challenges and even simple donations for customers in need," he said.
The goal, he explained on the GoFundMe, is "to inspire others to always be kindhearted."
Thursday, February 20, 2020
When Dwight the cat first arrived at an animal shelter in Kennebunk, Maine, Megan Marsh immediately fell in love. She'd been thinking about adopting a cat for a few years, and as soon as she saw Dwight, she knew he was the one she'd been waiting for. Dwight came with some baggage though, having travelled much of the country through foster care – a past that would make for a Disney film.
While Dwight was in kitty-foster care, he'd met another foster cat named Conan, and the pair instantly became the best of friends. They spent over a year doing everything together, until Dwight was transferred from MS to Maine. Conan stayed behind for seven long months before being sent to the same animal shelter. The story of the best buds was passed on to Megan, who knew Dwight needed his brother Conan.
Conan and Dwight were apart for seven months, but as soon as they were reunited, it was as if nothing had changed. They instantly fell back into being best friends and brothers, and they're clearly thrilled that it'll be that way for the rest of their lives
Although Dwight and Conan found their forever home, many foster cats are still waiting to find their forever homes. LifeSongs has partnered with the LASPCA and every week we feature an adoptable pet that is looking for a forever family.
Wednesday, February 19, 2020
Ever wonder what happens to all of the leftover food from the Super Bowl? In past years almost all of the food was just disposed of, but this year Food Rescue US, Centerplate Hospitality and the NFL Green Initiative collected and distributed over 30,000 pounds of food to local Miami shelters with the help of countless volunteers.
The effort started Monday morning following the Kansas City Chiefs' victory over the San Francisco 49ers. Volunteers took to Hard Rock Stadium in Miami to collect, pack and ship massive amounts of food that remained from concession stands, VIP catered sections, suites and other areas.
Beef tenderloins, barbecue chicken, wings, ribs and charcuterie plates are just some of the food that were rescued.
The rescued food is being donated to the Broward Outreach Center, Broward Partnership for the Homeless, Camillus House, Lotus House Shelter and the Miami Rescue Mission. Bowen said that enough food was collected to feed around 20,000 people in need.
Tuesday, February 18, 2020
When a little boy accidentally left his stuffed bear named Teddy on a flight from Dallas to New Orleans over the Thanksgiving holiday, he was crushed. Grayson and his teddy bear did everything together. His mom, Christina did what any mom would do. She tried to get Teddy back.
She was in contact with all of the baggage claim, TSA, she even called the lost and found repeatedly. Christina even posted on the Southwest Airlines Facebook page asking for help. Maybe a flight attendant had seen him or another passenger on the plane had picked him up. What she didn't know at the time was that the New Orleans airport was overwhelmed with calls from employees and strangers. Everyone is just trying to find Teddy.
A month went by and still — nothing.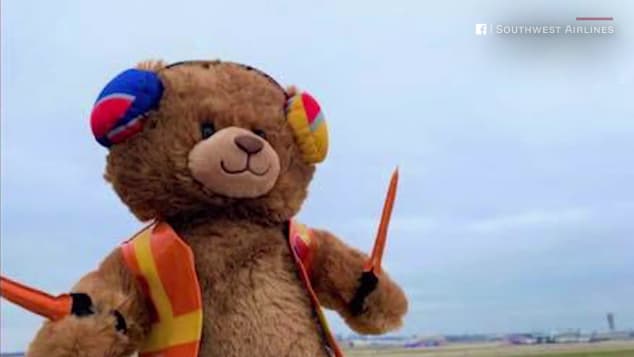 That's until the end of December when Christina received a call from a corporate employee at Southwest Airlines, who told her that her post caught a lot of attention on private Southwest pages and even made its way to some executives.  The Execs at Southwest wanted to give Grayson a new bear with a story all it's own, so the airline sent Grayson a new bear, along with a picture book about his travels.
"It's been a busy holiday season here at Southwest Airlines, and I'm almost all done with my work here. Guess what!? I get to come live with you!" the book reads. "I'm so excited about meeting my new best friend. I wanted to share some pictures of what I do at Southwest and my trip to meet you!"
The bear can be seen doing everything from working on the tarmac, inspecting the cockpit and getting the plane ready for passengers.
Grayson named his new bear Jack. Grayson also said there is a reason that a heart is part of their logo and displayed everywhere, because they care about people.  Southwest Airlines says "We love connecting people to what's important in their lives, and our employees put their servant's heart on display to help make Grayson's day. We are proud to have played a small role in bringing Grayson and Jack together,"
Grayson and his new friend 'Jack' have been inseparable ever since.
Monday, February 17, 2020
Dustin and Caren Moore wanted to be parents. They tried for 9 years before being blessed with their first child, an adopted baby girl. The pair flew from California to Colorado to pick up their newly adopted 8-day old daughter. As they boarded the flight home with their new infant, they apologized to his fellow passengers – as many parents with babies feel pressured to do while flying.
Mid flight, Dustin asked about a changing table to take care of his daughter's diaper. The flight attendant cleared a space in the back of the plane and gave them privacy.
The act of kindness was just the first of several on this flight home. Next, another flight attendant and fellow passengers complimented the couple on their new baby girl. The Moores shared their adoption story, and not long after, they heard the intercom come on. 
The attendant told the other passengers about Caren and Dustin's new bundle of joy, and the entire cabin erupted in cheers and applause. 
This act of kindness didn't end there. The crew then passed out pens and napkins and asked other passengers to write down advice for the new parents. They received over 60 notes of encouragement.
The flight attendants also gave the Moores a set of pilot wings for their baby girl – who, as an infant, had already experienced flying.
"The outpouring of love from that flight, brought on by the actions of two thoughtfully observant flight attendants… it exceeds my ability to describe what it meant to us," Dustin says. "How much those wings and written notes uplifted two new parents determined to love their new daughter. The fact that that entire flight, everybody cheered, everybody took the time to share those notes with our daughter, it was just everything we needed in that moment just to feel secure. And to feel, 'Okay, this is going to be great.'"
Friday, February 14, 2020
You may have heard of celebrities or multi billion-dollar companies donating money to cover students' lunch debt. But Keoni Ching from Vancouver, Washington, is just your normal 8-year-old who wanted to help his schoolmates.
With his handmade key chains that go for $5 each, Keoni raised $4,015 to erase the lunch debt of students from his school and six others.
It all started because Keoni wanted to do something special for "Kindness Week" at his school, Benjamin Franklin Elementary. With his mother, April, and father, Barry, by his side, Keoni thought about projects that would truly reflect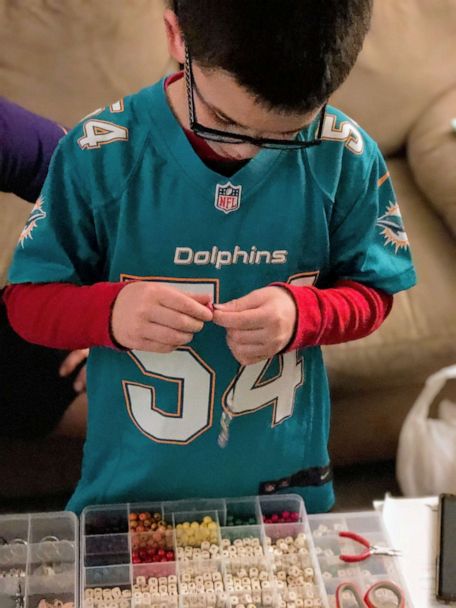 kindness.
Keoni was ultimately inspired by San Francisco 49ers player Richard Sherman. The cornerback, who previously played for the Seattle Seahawks, donated more than $27,000 to cover students' lunch debt. Keoni, for the record, is a Miami Dolphins fan, he said. Once word of Keoni's key chains and his heartwarming cause got out, people from all over the country started sending in their requests for one of the custom key chains.
"We have sent keychains to Alaska, Rhode Island, Minnesota, Arizona, all over the country,"
Keoni delivered the $4,015 check to Franklin Elementary last week. Of that amount, $1,000 will go to the school to pay off the $500 lunch debt and for any future debt incurred. The rest will go to six other nearby schools, which will get $500 each to clear their own lunch debts.
Helping others is important because "it just makes the world a better place," Keoni said
Thursday, February 13, 2020
10-year-old Logan Fraychineaud was born deaf. He now hears with the help of a cochlear implant, but also signs. He's a boy of two worlds – bridging the deaf and hearing communities. Recently this brave young man had the chance to take center stage … or center field … well kind of both.
While Lauren Daigle was singing the National Anthem at the College National Championship game (Geaux Tigers!) – just off camera, 10 year old Logan was SIGNING the song for the deaf attendees of the game, performing in front of the 75,000 fans at the game … and also the President and First Lady!
While Logan was nervous, he had been practicing non-stop and completely nailed his performance. He had so much fun, he's decided that 75,000 college football fans just aren't enough – he's now applying to do a repeat performance at a future Super Bowl! Logan, at just 10 years old, wants to use his platform to educate about American Sign Language (ASL) and show people that not only is it a unique language, it can be a lot of fun!
Wednesday, February 12, 2020
The story of the University of Wisconsin saving a very special pup and being shared as an ad during the Superbowl has gone viral, stealing the hearts of many across the country.
Our pets are members of our families. We love them and we will go to the ends of the earth for them. When David MacNeil found out his treasured Golden Retriever Scout was sick, he put all his hope in the team at the University of Wisconsin School of Veterinary Medicine. Scout also happens to be the unofficial mascot of WeatherTech, a company that makes anything from floor mats to pet care products.
Scout had a tumor on his heart and was given less than a 1% chance of survival. But he beat the odds with the care of his veterinary team! Scout's owner, WeatherTech CEO David MacNeil, was so moved by his pup's progress that he wanted to celebrate him and the UW's veterinary work in an ad that would run in, of all places, the Superbowl. To say thanks, David MacNeil has purchased a $6 million thank you – a Super Bowl commercial to honor the University of Wisconsin School of Veterinary Medicine.
University of Wisconsin vets and their spotlight in the Superbowl ad, the story has gone viral. National outlets across the nation have reported his heartwarming story. The coverage has brought an extra benefit: much-needed donations to the School of Veterinary Medicine. According to the University of Wisconsin, the school has received thousands of dollars in gifts.
Tuesday, February 11, 2020
There's a dog in Cumberland County that's making history. Hansel is a rescued pit bull who is about to become the first of his breed to take on the role of an arson-detection K9 officer in the Garden State.
"When I put on his harness and I tell him, 'Do you want to go to work?' he literally does laps in his crate," says Millville firefighter Tyler Van Leer.
Hansel and Van Leer are inseparable, and as of now they get to work together as a team at the Millville Fire Department. Hansel was rescued from a dog-fighting ring in Canada when he was just 7 weeks old.
He eventually made his way to the Throw Away Dogs Project – a group that takes rescued dogs and turns them into working dogs. That agency says they spotted qualities in him that reminded them of K-9 officers.
The duo has been training for 15 weeks.
"Hansel has been through so much and this absolutely is needed to find his niche, his person, and Fireman Van Leer is that person and his job, now he's going to have a purpose," says Carol Skaziak, the founder of Throw Away Dogs.
They say they hope Hansel's new job is a win for pit bulls as a breed.
Monday, February 10, 2020
The LSU Tigers football team will live on in History as the best of all time. And the very field they played on will live on … at a local school. Since the Superdome is getting a 3 year makeover, the first step this year was pulling up the turf right after the College Football Championship game. But it was still nice turf … so the city found a way to recycle and reuse it!
The faux-grass has been installed at the Brees Family Field on the Uptown Lusher High campus. The new, slightly used turf is the centerpiece to Lusher's $3.5 million athletic complex. Future Lusher athletes will play on the literal same field that the Tigers won the championship on!
While there was an upfront investment for the field, the school says it will pay for itself since they won't have to water, mow and keep it up in the frequently soggy ground of New Orleans. Knowing Lusher's football program, I imagine some kids who play on this field will go on to win a college football championship someday.
Friday, February 7, 2020
Maj. Bill White served in World War II, survived the Battle of Iwo Jima and went on to have a long career in the U.S. Marine Corps. Among his many medals is the one he's most proud of – his Purple Heart. It is a badge of honor for surviving the Battle of Iwo Jima. His injuries may have taken him off the battlefield but his fighting spirit carried on in life.  Maj. White keeps his proudest memories tucked away on his bookshelf and the 104-year-old veteran said he's hoping his collection grows a little bigger this Valentine's Day.
The California-native spends his days dining with his friends, staying active and scrapbooking, which is one of his favorite hobbies. He keeps a lifetime full of memories carefully preserved on the bookshelves of his room, each scrapbook organized by year.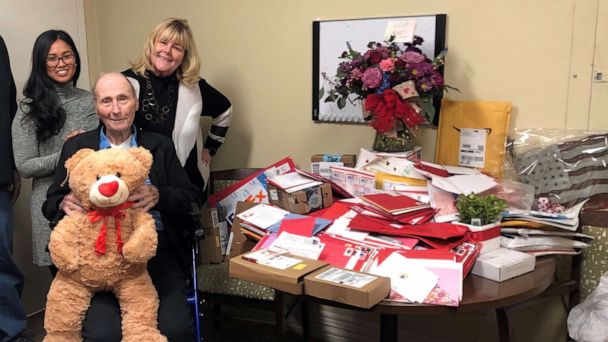 For Valentine's Day, Bill said he wants to add to his collection with cards from people near and far. Bill says he'll save every one of them "..and they'll be a personal part of [his] history."
It's a life story that is still being written. If you would like to send Maj. Bill White a Valentine's Day card, you can address it to:
Operation Valentine
ATTN: Hold for Maj Bill White, USMC (Ret)
The Oaks at Inglewood
6725 Inglewood Ave.
Stockton, CA 95207
Thursday, February 6, 2020
We've heard of lemonade stands for fundraising, well in the winter, why not have a hot cocoa stand!? The efforts of some hardworking preschoolers are warming people's hearts, and it's not just because of all the hot cocoa.
Jasper Mazzocco, age 4, was diagnosed with a rare type of brain cancer late last year. He was taken out of school and hospitalized, but his classmates never stopped thinking about him. They decided to have a hot cocoa fundraiser to raise money for Jasper's family. With help from their parents, local stores and the community, the hot chocolate stand was a massive success: altogether they raised more than $10,000.
The local Trader Joe's provided space and supplied water bottles, a Dick's Sporting Goods offered to set up tables and chairs, and both the Costco and Starbucks donated baked goods. Three Starbucks employees even made back and forth runs to supply hot water to make the cocoa.
Jasper's preschool teacher, Jessica Stephens, said some of the people who stopped by the sale were cancer survivors themselves, and many shared stories of their own battles with cancer, or the ones they lost along the way. In addition to the hot cocoa stand, more than 350 donors have raised over $30,000 on GoFundMe for Jasper's family.
Wednesday, February 5, 2020
In 2016, brothers Mike and Nick Fiorito quit their 9-5 jobs in search of more meaningful work. Unsure where to start, the first 6 months weren't easy for the brothers. They went from one idea to the next, failing miserably. But on one cold and sleepless night in November, everything changed.
It was 2 A.M. and Nick couldn't sleep.  While tossing and turning, the image of a homeless man he used to see on his daily commute wouldn't leave the screen of his mind. While working, Nick would often tell himself he was going to help this man – but he never did.
That night, a gentle voice whispered to him and said, "If not now, when?"
Nick finally listened to the call. He crawled out of bed, opened his laptop and wrote a GoFundme campaign to raise money to give blankets to the homeless of NYC. Needless to say, he slept like a baby that night. After some thoughtful consideration, Mike decided to join the cause the very next day.
They called their new family project, Blankets of Hope.  They went on to hand out 100 blankets and handwritten notes that Winter – each including a simple message: WE BELIEVE IN YOU!"
Their efforts caught the attention of a venture capitalist, and Blankets of Hope became a global movement. Now, the organization has worked with more than 150 schools across the US, Mexico and Canada to deliver over 25,000 Blankets of Hope — and each one is still delivered with a thoughtful, handwritten note.
Mike and Nick say if they've learned anything from their journey, it's that the secret to living is giving.
Tuesday, February 4, 2020
After an armored car guard accidentally left a cash box outside a credit union, George Condash picked it up and found $27,000 inside. Did he immediately go buy a new car? Or stick in a savings account and wait for the heat to die down? No – he did the good and Godly thing, Mr. Condash immediately turned it into the bank.
What would you do if you found $27,000 cash in a box on the ground? The credit union was so thankful they made sure George Condash got an undisclosed token of appreciation – a cash reward.
George said humbly, "It's not mine and any honest person, I hope, would take it back in."
Monday, February 3, 2020
In this life, you will at times, have to walk through the fire. Adversity comes in all different shapes and sizes. But if you are willing, God can use these events in life to mold you into the person He longs for you to be. Ilene Lainer fully embraced her life challenges and now gets to inspire others as they face the same walk.
Seventeen years ago Ilene's young son Ari (Arr Ree) was diagnosed with autism. Ilene was a powerful attorney, but was struggling to find a preschool that would accept her son. So she walked away from her job to care for her son.
She and a friend who also has an autistic child formed a non-profit called NEXT to focus on resources for families dealing with autism, specifically to provide training for young people on the spectrum so that they can get jobs as adults.
Thanks to NEXT, autistic students have accepted jobs in all walks of life.
Friday, January 31, 2020
A stunning new set of portraits are hanging in the halls of Princeton University. Mario Moore, a painting fellow at the university, wanted to pay homage to the institution's unseen heroes: The janitors, dining hall workers and other blue-collar employees who help keep everything humming. He focused on African-American workers and tried to include personal stories in the sweeping, colorful scenes.
The result was 10 huge oil portraits that "put them in positions of power," as the artist, Moore said, and offer a fresh perspective on the medium. Moore's exhibit was supposed to be temporary, but the people at Princeton liked the energy of his works so much they have decided to make some of them permanent.
Thursday, January 30, 2020
Imagine the smell of freshly baked breads and cakes filling the air. The walls are lined with confections and sprinkles, jars of cookies and all the carbs you can possibly imagine? That's the scene at Sweet Generation – a little bakery in Manhattan's East Village. But what is more exceptional than the sweet treats on display is the collection of stories behind the young people who did the baking.
Owner and founder Amy Chasan combined her passion for teaching and love of baking to create RISE, an internship program that teaches young people, ages 16 and 24, about life skills and professional development. These youngsters mostly come from low-income families of all shapes, colors and creeds. They get trained in the art of baking and the mathematics of running a business.
RISE stands for Reach, Inspire, Shape & Elevate – the program lasts for 8-weeks and so far has changed the lives of 130 families. Amy says it is a great way to find future employees too – over 75% of Sweet Generation's staff came straight from the internship program.
But we don't have to own and operate a bakery to Reach, Inspire, Shape and Elevate the next generation – what are some things we could be doing right where we are today?
Wednesday, January 29, 2020
NBA star Trae Young partnered with the nonprofit RIP Medical Debt to wipe out the debt of 570 families in the Atlanta area. Young's $10,000 donation ended up erasing more than $1 million in medical bills. The nonprofit was started by two former debt collection executives, and they focus on underprivileged families and families with disproportionately huge debts.
The NBA player said "Giving back to this community is extremely important to me. I hope these families can find a bit of relief knowing that their bills have been taken care of as we enter the New Year."
RIP Medical Debt works with debt collections by paying off a settlement instead of the entire bill. Collection agencies often settle for less than 10% of what is owed – opting for something instead of nothing. Right now RIP Medical Debt is fundraising to cancel out millions of dollars of medical debt right here in SELA!
Tuesday, January 28, 2020
How's that side hustle going? Lots of folks drive for Uber and Lyft to help pay the bills – and we all have bills. Latonya Young was pulling triple duty, working as a hairstylist, taking college classes and driving Uber at night. But the bills kept mounting – her kids needed clothes and food too, which ultimately led the 43 year old single mother to drop out of college.
One night while driving Kevin Esch home from the Mercedes Benz Stadium in Atlanta, Latonya shared her story as she chatted with her Uber fare. The next day she got an email from Georgia State University letting her know that she was now eligible to register for classes.
That very night after he got home, Kevin Esch had called and paid off Latonya's balance. The two have kept in touch and Kevin was there at Latonya's graduation, celebrating with her family. Latonya kept her grades up and plans to continue her education and become a lawyer – all because of a generous and kind Uber rider!
Monday, January 27, 2020
It's every performer's nightmare: You get up in front of a big crowd, and all of a sudden…something goes wrong.
Before a recent game between the Detroit Red Wings and the Montreal Canadiens, singer Karen Newman got a taste of that panic when her microphone failed during the Canadian national anthem. No amount of lung power is going to help in a giant hockey arena, but the fans in attendance gave Newman a big assist in belting it out.
Using the lyrics projected on the in-game monitors, Americans and Canadians alike joined together in a rousing rendition of "O Canada." People on social media reflected that the moment represented sports at its very best. "I KNOW it's just a hockey game. I KNOW it's just a song. But there is something about people coming together in times of need that gets me every time," one Twitter user wrote.
Sound goes out at LCA and Red Wings fans chip in with an assist on the Canadian Anthem pic.twitter.com/KwJXaQIxSn

— Max Bultman (@m_bultman) January 8, 2020
Friday, January 24, 2020
For many, medical procedures are so costly they are simply unaffordable. According to Doctor Demetrio Aguila III with Healing Hands of Nebraska, about two-thirds of those who went bankrupt last year did so because of medical debt. He is hoping to help solve that issue by allowing people to pay for medical procedures with volunteer work. He calls it the M25 program. Its named for the 25th chapter of the book of Matthew in the Bible.
For years Dr. Aguila had been doing surgery for patients and taking care of their health problems, taking care of their medical
problems, and then he would find out months later, sometimes years later, in fixing their medical problem, he had caused, or contributed to, their financial ruin. Aguila said. "I need to be able to look myself in the mirror at night and know that I'm taking good care of my patients..
The process is simple. If someone elects to pay for surgery through the M25 Program, Aguila gives them the list of non-profit partners working with Healing Hands of Nebraska and tells them to simply tell the non-profit they are there for the M25 program. TSome added benefits of the program are they have eliminated a lot of the administrative hassle that's associated with healthcare,as well as lowering the cost of healthcare. We've made it fair for everybody involved. Nobody loses. That is the core of the M25 Program."
Aguila hopes programs like M25 work to inspire others to do good in their communities and to create a situation in which everyone wins.
Thursday, January 23, 2020
Self- cleaning clothes sounds like a miracle, right? The shirts are made from nanoscopic polyester fibers that repel liquid – fluids simply bounce off the surface of the clothing without staining it. In addition to repelling liquids and spills, the shirts can also go without being washed for up to a month—and once they are cleaned, the fabric dries 40% faster than regular clothing.
This futuristic sweatshirt is being hailed as the world's first ever "self-cleaning" article of clothing—and for every one sold, one is donated to the homeless. Varun Bhanot and his wife Anisha Seth developed the hoodies as a means of helping homeless people in Britain. The 29-year-old entrepreneurs from London are the co-founders of Unhoused: a charity dedicated to helping homeless people throughout the city.
Since launching the charity, they have donated more than 100,000 articles of clothing to London's homeless. This could be a game-changer for sustainable clothing all over the world, and an absolute lifesaver for the homeless, who may not have access to washing facilities and need to be kept warm and clean all year round. Check it out HERE!
Wednesday, January 22, 2020
This US Army veteran is a perfect example of how anyone can achieve their dreams—regardless of their experiences.
Joshua Carroll had only been in high school when an airplane crashed into the World Trade Center back in 2001. Rather than pursue a college education, Carroll got his GED so he could enlist in the military.
After spending three deployments in Iraq, Carroll returned to his home in Virginia and found himself suffering from PTSD—and a general lack of purpose.
Carroll had begun working as a janitor at a local school when he caught sight of a Stephen Hawking book sitting on a library shelf. As he flipped through the pages, Carroll suddenly decided to pursue his childhood dream of being a physicist.
With just a 10th grade education in geometry, Carroll managed to persuade the admissions staffers at Radford University to let him skip the prerequisites for the physics program provided he could teach himself trigonometry.
Armed with nothing but the internet, Carroll prepared for his entrance exam by watching dozens of YouTube videos to learn advanced mathematics in just three weeks.
Not only did he pass with flying colors, he graduated as one of the top students in his class—and he has been working as a physicist ever since.
Tuesday, January 21, 2020
An elderly woman's telephone misdial turned into a heartwarming surprise after she left a voicemail with the local attorney's office instead of a medical supply store.
Bernice, who is from Albuquerque, New Mexico, tried several times to call the store so she could order a new walker—but since she kept typing the wrong last digit, she kept telephoning the Bernalillo County District Attorney's office instead.
"I put it on speaker and played it for everybody because it was a different kind of missed call, and it was kind of cute and humorous at the same time," said office agent Kyle Hartstock.
When someone at the office called her back to set the record straight, the senior simply said she was trying to get in contact with someone with a walker.
Rather than giving up on the woman, the office staffers pitched in their money so they could buy Bernice a new walker and bring it to her house for a surprise.
Though the employees refused to accept any of Bernice's money for the walker, the senior said she was most excited for all the hugs she got from the young staffers during their visit.
Monday, January 20, 2020
When you think "Skateboarder" do you also think "Straight A Student?" There's a stigma attached to skateboarding that just isn't true. A French Quarter skate shop aims to highlight the great students who frequent the store. Humidity Skate Shop started the Good Grades Movement which rewards straight A report cards with a free complete skateboard. A's & B's will score a kid a free deck. And word has gotten out!
The best part is for most of these straight A students, it's their first board. Which grows the sport and the community of skaters in New Orleans. Of course that is a big financial investment for a small local business – a skateboard runs between $50-$150. As word spread about the cause, skateboard maker DGK got involved and donated some boards.
Humidity is also designing t-shirts as a fundraiser for locals to be a part of the Good Grades Movement.
Friday, January 17, 2020
For two years, Colleen Powell has been teaching special needs students Dominic, Jay and Korde. She immediately bonded with them, even though the three do not speak much. Colleen decided that Korde would push Jay, who has cerebral palsy and is in a wheelchair, down the aisle as the ring bearers and Dominic would give her away along with her father.
Colleen smiles when remembering the service saying "They were laughing and giggling. It is so important for our society to see children with special needs included because … they are children, just like other children." Colleen's wedding planner wasn't so sure it would all work out, but it turned out to be the perfect ceremony for the teacher, her family and her students and their families.
In fact, it was the three children's moms who shared this story with the TODAY show just to spotlight what a special teacher Colleen is – and how much their kids enjoyed shaking their groove things on the wedding dance floor!
Thursday, January 16, 2020
Three years ago, Massachusetts resident Peter Kelleher had to live through unthinkable tragedy. His 33 year old son died from a drug overdose while living on the street. Through the grief, Peter vowed to make sure everyone had something warm to eat during the cold Massachusetts Winter – no matter what. And that is how Peter became Soup-erman. (It's spelled soup)
Peter renovated an old school bus to be a mobile soup kitchen – also passing out warm clothes to people on the street. Support has poured in (pun intended) to fund the venture. Al Roker even featured it on the TODAY show!
Peter says he's given out more than 3,000 cups of soup, and has donated tens of thousands of winter clothes. He even travels with a portable shower, allowing people without homes to enjoy a hot shower.
Wednesday, January 15, 2020
It could've been a dreary Christmas for a pair of rogue pups if it weren't for one watchful bus driver. A pit bull and Doberman pinscher were wandering the freezing streets of Milwaukee one night when bus driver Danielle Grabowski spotted them on her route.
Danielle immediately pulled over, popped the door and guided the dogs on her bus. She played with the pups before police picked them up to reunite them with their family. Danielle believes it was simply meant to be that she would find the dogs.
If you are looking to grow your family with a four-legged friend, check out the LifeSongs Pets of the Week – each week we spotlight adoptable animals from the Louisiana SPCA. You can find your next fur-baby right here on lifesongs.com!
Tuesday, January 14, 2020
It's hard being a waiter or waitress. Largely a thankless job filled with complaints – no matter how perfectly you remember the order and the 12 refills of sweet tea you provide. This year there is a sweet new trend going around called the 2020 Tipping Challenge. The idea is to leave a nice tip for a service person that includes the year in the total.
For example: A $20.20 tip, a tip that rounds the whole bill to some 2020-like number or, in the case of one waitress, a whopping $2,020!
Danielle Franzoni, a server in Alpena, Michigan, was shocked when a customer left the four-figure tip on a $23 bill. To Danielle, it was more than just a joyful way to start the new year. She recently moved to the city of Alpena as a recovering addict in a homeless shelter to find a fresh start. The special 2020 tip helped her move into her own place.
And yes, she's paid it forward (isn't that the idea?) with a 2020-themed tip of her own.
Monday, January 13, 2020
Running a small business is hard enough, but when the unthinkable happens, it can become nearly impossible to do it alone.
Dave McAdams and his wife Tina own The Local Coffee Company in Oak Grove, Oregon. Sadly, Dave has terminal cancer, and recently entered hospice care. Obviously, the last thing anyone wanted to think about was coffee, so the owner of a nearby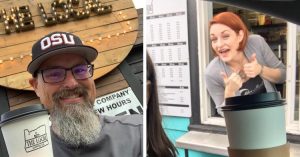 coffee shop decided to step in and support the family. Tina says Pixie Adams, the owner of Moonlight Coffee, closed her shop for a day and ran the McAdams' shop, free of charge.
It turned out to be a record day: Coffee lovers lined up for their usual lattes, cappuccinos and treats, and ended up raising $3,000 in sales and donations. Adams says she'll keep raising money for the McAdams' at her own shop. As a breast cancer survivor, she understands what it's like to just need some help.
"I fought hard for more birthdays, and I want to do the very best I can for my community with as many years as I can," she said.
Friday, January 10, 2020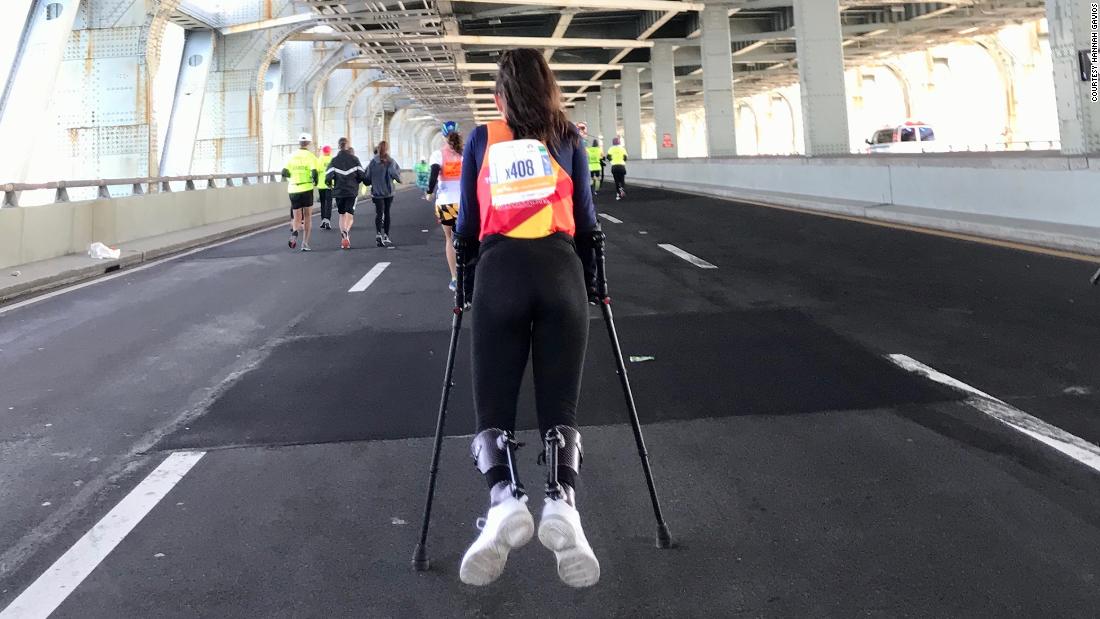 It's tradition for New Yorkers of varying athletic abilities to conquer the beast that is the New York City Marathon. Hannah Gavios wanted in, too — and she did the whole thing on crutches. The 26-year-old just completed her second 26.2-mile trek across New York's boroughs, three years after a spinal cord injury left her without full mobility of her lower body.
The injury has hardly slowed her down: She goes on challenging hikes, excels at yoga and can defend herself with Krav Maga. And if that weren't enough, she's raised almost $30,000 for the Christopher & Dana Reeve Foundation, dedicated to spinal cord injury research. "I always knew I was a strong person," says Hannah. "But I didn't know I was that strong."
Thursday, January 9, 2020
Kerry Pakucko works at Animal Rescue New Orleans, or ARNO for short. Recently, her friends and family helped her throw what must be one of the cutest events ever conceived: A kitten shower!
Just like at a baby shower, they asked for items that will help neonatal foster babies and kittens under one month old, any supplies they would need in a foster home to give them the best chance of life.
Animal Rescue New Orleans came through, and Kerry was able to assemble three "go" kits for foster homes, complete with baby bottles, formula, scales, thermometers and other gear.
Wednesday, January 8, 2020
When Bill Giguere lost his gold wedding band while hiking on a trail near Mt. Hancock, he knew finding it was probably a lost cause. Imagine the emotions? Sadness, shame, frustration… But Bill is a can-do kind of guy, so he posted about the lost wedding ring online, asking anyone who was hiking the trail to keep an eye out.
Tom Gately and another hiker named Brendan Cheever decided to go on a treasure hunt – so they hit the trail and brought along a metal detector. Sure enough – on the trail they heard a telltale beep! JACKPOT!
Man and ring were reunited, and all involved should be very proud of themselves.
Tuesday, January 7, 2020
She gave them extra ice cream – they gifted her a new car!
Adrianna Edwards definitely got the sweeter end of this deal after two customers at a Texas Denny's, where she works as a waitress, gave her a much-needed tip: a 2011 Nissan Sentra!
While dining at the Galveston restaurant recently, a couple found out that Adrianna has to walk to work, a 14-mile round trip that takes her more than four hours. The couple paid their bill, left the restaurant and headed to a local car dealership, where they purchased the Nissan. A few hours later, they went back to the Denny's and presented their gift to their kind waitress, who was ecstatic and in tears!
The gift givers said"[It] made [us]happy that she was so moved!"
Adrianna said "I still feel like I'm dreaming! Every two hours, I come look out my window and see if there's still a car there."
The couple, who chose to remain anonymous, simply want Edwards to do something generous for someone else in the future; she says she'll honor that wish.
Monday, January 6, 2020
Earlier in the season, the unranked Stephen F. Austin Lumberjacks beat the top-ranked Duke Blue Devils in a shocking NCAA basketball upset, but the victory ended up being way more than your typical underdog story.
The hero of the night was 24-year-old Nathan Bain, who sank the game-winning layup. Bain's family is from Freeport, Bahamas, and they lost almost everything when Hurricane Dorian battered the multi-island nation earlier this year. His father is a minister whose church was severely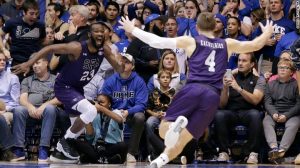 damaged in the storm.
After the big win, Bain dedicated his heroic moment to his family and thanked his teammates for being there for him when disaster struck.
Here's the best part: After people learned about his dramatic story, a GofundMe the university set up for him in September was flooded with donations. So far, it's raised more than $137,000 for his parents – and the many people in the Bahamas they care for – to rebuild.
Friday, January 3, 2020
Jim Harris is a minister and artist from Staunton, Virginia. After retiring from full-time pastoral work in 2004, he focused on creating a new style of art he calls "stained glass canvas." His works have been sold in several galleries in North Carolina's Outer Banks, but he decided to focus on creating art for charitable efforts instead.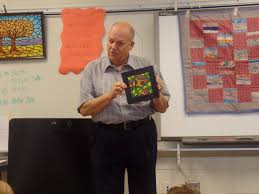 Last year, The Society of Saint Andrew asked him to donate original art for a few years for Christmas cards sold to raise funds for feeding the hungry. This year, he created a card titled "The Witnesses," which has been so popular SoSA is offering prints of the work.
"To be able to help feed hungry people while doing something I enjoy is a win-win," Harris says. "I am truly blessed to — in some small way — make a difference in the world." He says he's also thankful for the Society of Saint Andrew, which focuses on providing fresh fruits and vegetables to people in need.
Thursday, January 2, 2020
When a party of 11 people came into Dublin's Cracker Barrel and asked manager Tabitha Coley for her best waitress, she obliged and sent her longtime employee of 12 years, Janet Ballard, to the table.
Janet had no idea that by the end of the meal she would receive the largest tip she's ever gotten at $1,100! Each person in the party tipped $100.
What a wonderful idea and great way to spread the Christmas spirit!
Friday, December 20, 2019
A boy with a big heart is looking to help others — through snow globes.
Making a difference through kindness and creativity …
Cooper Patera, 5, makes the novelties as a way to raise money for the homeless.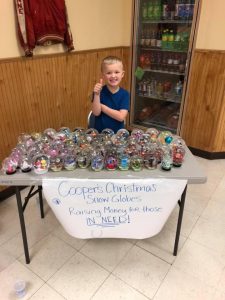 "So we can raise money and give it to persons that are in need," he said.
His Facebook page, Cooper's Christmas Snow Globes, has described how even in November, he had already raised more than $1,000.
Cooper proposed buying a homeless person a house, his mother, Katie Patera, said.
His dad, Ryan Patera, said alternatively, the money could go to an organization or help others in need.
Thursday, December 19, 2019
It's not too soon to start contemplating your New Years' Resolutions. Want to get healthier? Make some small decisions and move forward. Need some motivation to lace up those running shoes?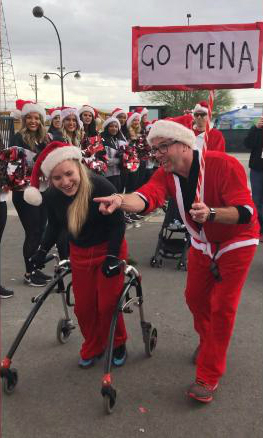 Mena Hawkins is a 17 year old junior at Liberty High in Las Vegas, NV. Mena has Cerebral Palsy and uses a walker to get around. Last week she walked across the finish line of the Las Vegas Great Santa Run.
Mena decked out in her Santa Hat and walker did the one mile race all on her own – with fans and friends cheering her on, holding signs at the finish line. Mena has been training for years to complete this race. A few years back she attempted the Santa Run, but was so far behind that police opened up traffic after the race was officially over and she was nowhere near the end.
So Mena worked with physical therapists and hit the gym. She refused to let her disability define her. And that's a lesson that we can all learn – no matter what it is holding you back – God made you special and you can do more than you think.
Wednesday, December 18, 2019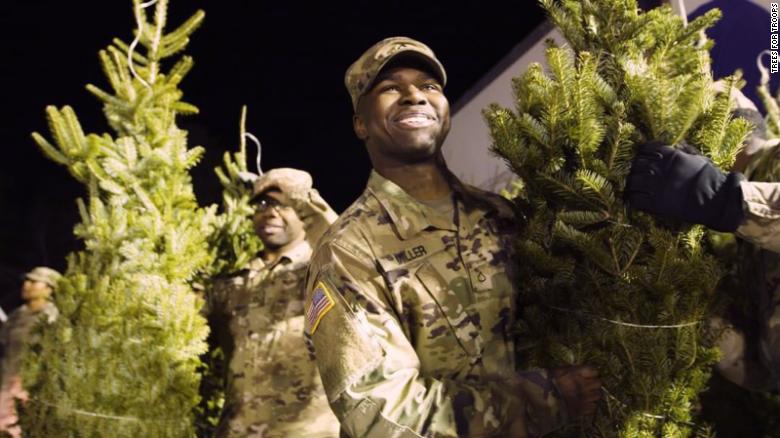 When Mom or Dad are serving in the military, the holidays can be a really rough time. Traditions get postponed – important milestones get missed. So anytime we can do something to bring Christmas joy to military families – it is all hands on deck!
A group of nine friends are actively working to bring the holidays to military families through Trees for Troops. The group will deliver a total of 16,000 free Christmas trees across the country and abroad.
Since 2005 they have given away almost a quarter of a million Christmas trees to military families.
The impact has been felt – in fact Marvin Hill retired from the US Army after 35 years and went to work for Trees for Troops because of the impact it had on his family. Trees for Troops will deliver thousands of trees to more than 74 US bases in all branches of the military and over 200 trees overseas!
Tuesday, December 17, 2019
83 year old Johnny Gondensen wrote a Christmas song for his children back in 1965. He called it "Christmas is Here." The former country musician had a lot of fun crafting the song, writing "Ho, ho, ho. He, he, he. Comin' down the chim-uh-knee!"
Last week Johnny got a special surprise. His grandkids recorded him singing the song and got a local country station to play it on the radio in Houston.
Now the old country crooner is bent on spreading his knee slapper around the world – with local fans posting it to iTunes and spreading a music video on YouTube and other social media platforms.
Monday, December 16, 2019
What if Nicholas Sparks actually wrote a happy ending? It might sound a little bit like the Summers' story. Dan and Lisa met, fell in love, got married and had a son, Jasper.
But when Dan Summers was in his 20s he was diagnosed with a rare kidney disease. He knew that at some point he would need a kidney transplant, but didn't expect to face the struggle until much later in life. But last year things took a turn.
Then a miracle happened. It was a 1 in 100,000 chance – but his wife Lisa was a perfect match for a kidney transplant. Flash forward and now the couple is closer than ever… literally. Dan's body has fully accepted Lisa's kidney and they are both all healed up, back to normal life playing with Jasper.
Now Dan and Lisa advocate for kidney transplant donations – using their story as a talking point for the value of life – especially life lived together.
Friday, December 13, 2019
When Crystal Wang was 3 years old, she was photographed with Officer Charles Marren on Harvard's campus. When she moved in with the Class of 2023, the pair met again.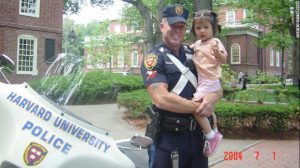 Crystal didn't even know the picture existed until her father Jin showed her after she was accepted into Harvard's dual degree program with Berklee College of Music.
When she announced her college decision with the original picture on Instagram, a reporter working for the Harvard Gazette saw it and recognized Officer Marren. She got in touch and set a date for the two to meet again.
When the two reunited, Wang said the connection was genuine. Marren even gave her his personal cell phone number and told her to call if she ever needed anything.
"It was just a really, really good time," she said. "I really connected with him."
https://www.instagram.com/p/B29k7KmBxF2/?utm_source=ig_embed
Thursday, December 12, 2019
A late-night Waffle House run turned into a chance to do some good for a group of customers who got to work upon realizing that the restaurant's lone employee needed the help.
Ethan Crispo was headed home from a friend's party recently when he stopped at a Waffle House in Birmingham,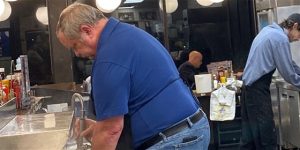 Alabama for a midnight snack.
Upon arrival, he noticed that one worker, a man whose name tag indicated his name was Ben, was doing it all, from taking orders and cleaning dishes to busing tables and making food.
"From out of the blue, a man from the bar stands up. Asks Ben for an apron, and begins to work behind the counter. It was a transition so smooth I initially assumed it was a staff member returning to their shift."
It wasn't, but that didn't stop the mystery man from helping out to the best of his ability, stepping in to help do dishes while Ben handled the rest.
Eventually, other customers did the same, including Alison Stanley, who volunteered her services brewing coffee even though she was wearing a dress and stiletto heels.
Waffle House reps thanked Ben for keeping the restaurant open and pointed out that He is a testament to our Waffle House culture by always putting the customer first." "
This is just one of the most wild instances of really, really cool people just coming together."
By the way Waffle house reps also mention that if the mystery customer doing dishes was "looking for a side hustle, I hope he comes in and fills out an application."
Wednesday, December 11, 2019
No person should be left out of the thrill of yelling, fighting and laughing over a game of UNO! And now the Mattel game is more inclusive than ever with UNO Braille. Mattel worked with the National Federation of the Blind to develop the game, and with more than 7 million blind and low-vision people in the US, that's a big market to tap into.
The cards are made so that the blind community can play along with their see-ing friends. Mark Riccobono, President of the National Federation of the Blind says "The fact that a blind person is now able to play a classic game of UNO straight out of the box with both blind and sighted friends or family members is a truly meaningful moment for our community."
Tuesday, December 10, 2019
God sent His son, Emmanuelle, Jesus, so that we too could become sons and daughters of God – through adoption. It's one thing to be born to parents – but there is something exceptional about being chosen by parents. One little boy in Grand Rapids, Michigan was so excited to be officially adopted by his parents that he wanted all of his friends there to celebrate.
Five year old Michael Orlando Clark Jr. invited his entire kindergarten class to attend his adoption hearing last Thursday – and they ALL SHOWED UP! This story is spreading like wildfire around the world.
Each of Clark's classmates introduced themselves and told the Judge why they were there – because they love Michael. Then, with a bang of a gavel it was official, Michael was adopted and the room erupted into a standing ovation.
Monday, December 9, 2019
It started out as just another Tuesday for students at the Rooted School, an Uptown New Orleans charter high school focused on teaching the latest skills needed in tech industry jobs. But students working in computer labs and other classrooms got more than they bargained for when three high-profile New Orleans Saints popped into their classrooms to see what they were up to.
Demario Davis, Cam Jordan and Thomas Morstead didn't come empty-handed: They were there to announce a $50,000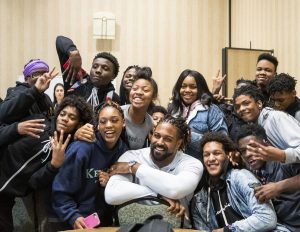 grant from the Players Coalition, a charitable organization that partners with professional athletes and coaches across leagues in an effort to improve social justice and racial equity.
"It's for technology and more resources for all that you guys are doing," Davis told a group of shocked ninth graders, who in turn showed off their work involving 3D printing and other design projects.
Davis, Jordan and Morstead were joined by fellow Saints Craig Robertson, Justin Hardee, Vonn Bell and Johnson Bademosi as they moved around the classes and chatted with the enthralled students. The grant will be used to support the school's program of offering industry-based credentials and technology certifications. Funds will also go toward the creation of a technology lab and a robotics class and club, officials said. During the presentation, Davis said he was inspired to donate to Rooted after learning about the school's mission of helping to close the city's wealth gap.
"I get excited with things like this because you really get to effect change," he said. "It's just kind of ahead of its time."
Friday, December 6, 2019
JA house is Covington is falling apart, but to the man who lives inside, the home is actually a huge blessing. Albert McKastkill says, "I prayed for a house, clothes. God does everything. I prayed for this- I'm in a better place now than I was."
One look and you know, his home clearly needs work, but for Albert it is a major step up from no roof, no utilities – the state of his last home. A family member offered to let him live in his current house, but warned it would need a lot of work.
But Albert and his friends are taking the gift and working hard to repair it. Albert worked in construction and trash pick-up his entire life, but now at 73, he needs a helping hand. The tin roof and outside walls need replaced, the home needs leveled, plus new kitchen cabinets and sink. It also needs insulation.
His friends contacted the non-profit organization St. Tammany Parish Helps (STP Helps) about how to move forward with repair work. STP Helps contacted the Lowes in Covington about trying to fix up this man's home. What they didn't expect was Lowes to agree to donate $3,000 worth of materials and supplies.
Now with friends on hand and supplies in hand, it is going to be a very special Christmas for Albert McLaskill.
Monday, December 2, 2019
Alex Fischer is just 9 years old but already has a giving heart. 
When Alex was 7, her mom suggested they help make a difference in their community. So, the family chose to support the Charlotte Rescue Mission, a Christian recovery program in North Carolina that provides free assistance for men and women battling addiction and homelessness.
They planned to pack a food box as part of the group's Thanksgiving drive, but Alex said one box wasn't enough. So, she started her own fundraiser (bake sales, lemonade stands, etc.) and, fast forward, 1 box quickly turned into over 100 boxes. It's years later, and Alex is still fundraising for the mission center. 
She says, "I think everybody should have a Thanksgiving meal with their families. A lot of people in Charlotte don't have Thanksgiving meals." 
Her mom, Lisa, said she never expected the family service project to grow the way it did. Every year it continues to grow, and as her daughters grow older, she hopes their appetite for serving never fades.
Friday, November 29, 2019
You don't have to be an elf to help Santa during this year's holiday season.
As the US Postal Service prepares to start mailing letters to the North Pole, they have launched their online service that allows users to "adopt" children's letters to Santa in order to help deliver gifts for low-income families.
The USPS Operation Santa website has been publishing photos of Christmas wishes from children in 15 US cities whose parents may not be able to afford many gifts. Users can then volunteer to anonymously fulfill the Christmas wish on behalf of Santa.
This is the 107th year that Operation Santa has been running—except USPS expanded the service this year to include letters from 8 more cities.
All participants have to do is create an account on the Operation Santa website, select a letter that plucks at their heartstrings, fulfill the Christmas wish as desired, and ship it from a participating post office before December 21st.
Children from any of the cities listed on the USPS site who may want to send a letter to Santa can address their letters to:
Santa Claus
123 Elf Road
North Pole
88888
Thursday, November 28, 2019
One of the most popular dishes on the Parkway Bakery and Tavern menu happens for only 5 days a year.
Every Wednesday in the month of November the offering is the delicious turkey stuffing, cranberry and gravy all on one sandwich.
Justin Kennedy from Parkway says, "We've been doing this po-boy since 2009, and an old-schooler that used to work here named Randy. This was right after the storm. This was FEMA trailer days. He was living outside, and he told me one day during Thanksgiving he said, 'You need to do a Thanksgiving po-boy.' He was 9th Ward, and he said it'd be off the chain!"
Kennedy continued, "We partnered with the Copeland Foundation and as you can see you have this line, and I said what's something I can do to raise money with and it's festive. The sandwich is so festive, it's novelty. There's people out in lawn chairs waiting for it at 6 in the morning, and I said donate $50 skip the line all your money goes to the Al Copeland foundation to fight cancer. They're saving lives here in Louisiana left and right. Big Al was stricken with merkel cell carcinoma. He had more money than anybody but couldn't pay for a cure. Since his death his son vowed to fight this and cure this cancer. Guess what? A man stricken with the same cancer only had a few months to live, he might be here in line today getting a turkey cancer-free."
Wednesday, November 27, 2019
Alex Trebek is perhaps the most famous know-it-all in the world. The host of Jeopardy has been a part of generations growing up watching and learning and making Final Jeopardy wages that usually don't pay off. Last year when Trebek shared his pancreatic cancer diagnosis, the world was shook. His battle continues, all the while the host has continued to lead Jeopardy.
The best episodes of Jeopardy are always the special tournaments – especially the Teen Jeopardy tournaments. In June Avi Gupta took the crown, winning $100,000. The Columbia University freshman has grown up watching Jeopardy and loves Alex Trebek, so the first thing he did with his winnings was donate $10,314 (10% of his winnings, along with an homage to the number pi) to pancreatic cancer research.
The month of November is Pancreatic Cancer Awareness Month. This disease is beatable when caught early, but is rarely diagnosed early because men ignore the symptoms.
Tuesday, November 26, 2019
14 year old Alaina Gassler or West Grove, PA is a problem solver – and $25,000 richer. The teenager created a prototype solution to blindspots in most cars. She 3D printed a highly reflective material and used a webcam and micro projector to turn the A-pillar in her mom's Jeep Grand Cherokee invisible. The projector lets the driver see THROUGH the A-pillar which is needed for crash protection and stability.
In typical little sister fashion, the budding scientist through her big brother under the bus saying she knew there was a need for this sort of life saving technology once her brother started driving her to school. But she was right. Research says over 800,000 accidents each year in the United States are from not seeing another car in the blindspot.
Alaina won the $25,000 Samueli Foundation Prize for her design. Now the eighth grader is hoping she can sell her design to Tesla and maybe turn this big win into a big career in Science and Engineering.
Monday, November 25, 2019
Twin sisters Hermon and Heroda Berhane love dancing but can't hear the music because they're both deaf, so the invention of a jacket with sensors that enables them to feel the different sounds has transformed their nights out in London clubs.
The "Sound Shirt," created by London-based fashion company CuteCircuit, has 16 sensors embedded in its fabric, so wearers can feel violins on their arms, for example, while drums beat on their backs. Sound Shirts don't come cheap, as they are expected to go on sale at more than 3,000 pounds, but Heroda believes it's a price worth paying for deaf people who enjoy music as much as she and her sister do.
Friday, November 22, 2019
Boun Thorne grew up in a boat village in the Southeast Asian nation of Cambodia. In the aftermath of a terrible situation, she moved at age 10 to a safe house where she received Bible teaching and an Operation Christmas Child shoebox—her first gift ever!
When she asked why anyone would send her a gift, Boun's teacher said "because they love you." She had never before been told that she was loved. That, more than the flip flops and yo yo in her gift box, the simple idea that somebody loved her was a game changer.
Boun is one of 1.2 million children who have been blessed with an Operation Christmas Child shoebox gift in Cambodia. Of this group, 84,000 boys and girls have also participated in The Greatest Journey, a discipleship program designed especially for shoebox recipients.
From a child receiving a gift, to a young woman alive with Christ, Boun Thorne now shares her story with communities around the world as a spokesperson for Operation Christmas Child.
Thursday, November 21, 2019
Kululu Atsiaya often felt forgotten, especially at Christmas. He knew his family loved him, but life was hard for a boy growing up in the slums of Nairobi, Kenya. Kululu and his six siblings lived in a shack with several other family members and slept on the bare floor. For Kululu, Christmas was a reminder of what he and his family didn't have—enough food, new clothes, or sometimes even the acceptance of those around them.
Kululu could have become a thief – stealing to survive is normal in Nairobi. But a flashlight included in his Operation Christmas Child shoebox changed his life – and life for his entire family. Now they had light in the darkest of nights. Kululu would use his flashlight to help children and families get around in the dark.
Kululu says that light changed his course in life and set him on a path to follow Jesus. Today he serves as an Operation Christmas Child spokesperson, sharing his testimony with churches and other groups to encourage them to get involved in the Samaritan's Purse project.
Wednesday, November 20, 2019
As part of the 2019 Shoebox Roadshow, a dozen children raised enough money through a bake sale to send their shoebox gifts—packed full of toys, school supplies, and hygiene items—to boys and girls around the world in Jesus' Name!
Grace Presbyterian Church has about 60 members, but don't let their small size fool you – they dream BIG. The Franklin, NC church partnered with Operation Christmas Child to host a baking workshop for kids and turned their treats into cash with a bake sale and are making a difference around the world.
Patti Huettig volunteers as the local OCC director – and she was inspired by her favorite baking shows on TV to work with local kids in the kitchen – and then turn that around to benefit Operation Christmas Child. Proceeds from the cook-off helped send 60 shoebox gifts around the world.
Tuesday, November 19, 2019
Ava and Sam are two friends from Oklahoma and they have a healthy sense of competition. Each year the kids compete to see who can pack the most shoebox gifts for Operation Christmas Child!
Last year there was no winner … or loser. They tied, packing 126 gifts each. This year they are shooting for between 150 and 200 gifts EACH!
These gifts of toys, clothes and basic necessities get shipped around the world, along with a Bible and other ministry services through Operation Christmas Child. Ava and Sam don't just think about bulk gifts when they pack them up – they think about the quality of life for the children who receive the gifts will experience.
Ava includes sewing kits in her gifts. Sam makes sure the kids get a cool t-shirt and some socks. This week is collection week – so you have time to be inspired just like Ava and Sam, to make a difference with Operation Christmas Child! Visit Lifesongs.com/occ and you can even pack a digital box by making a donation, without ever having to wait in line at the store!
Monday, November 18, 2019
Jesús was sentenced to seven years in jail in Mazatlan, Mexico. He was lost and defeated. But in prison he met Pastor Carlos. Jesus gave his life to Christ through the ministry and witness of Pastor Carlos and his wife Marilu.
This changed man was such a model prisoner that his sentence was reduced to just 2 years and when he walked free, Jesus immediately joined his pastors in their work outside of the prison – serving in Operation Christmas Child feeding centers throughout Mexico. The feeding centers were created out of the Operation Christmas Child distribution points, to meet needs year round!
Children who received shoebox gifts at these centers are invited to participate in The Greatest Journey discipleship program. Jesús teaches The Greatest Journey at the feeding center where he serves and about 100 children attended the last round!
Friday, November 15, 2019
When Abby Fink accidentally texted a stranger instead of her church friend, she put in motion an unexpected flow of kindness. Abby meant to text Alex Jakeman about bringing over dinner, since Jakeman's son 4-year-old son Noah is currently battling a severe type of epilepsy and cerebral palsy at Phoenix Children's Hospital. However, she ended up reaching Bill Clayten, a complete stranger.
At first, Bill made a joke — wrong texts are usually pretty amusing, after all. But when Fink apologized and explained the situation, Bill Clayten immediately asked what he could do. After some coordination, Bill started raising money on Facebook and asking friends for cards for Noah and donations to help the family with medical expenses.
Bill tells friends, "All we have is each other, so it's our job to look out for each other."
Abby says she knows the Jakeman family appreciates the kind gesture, and little Noah is making baby steps in his recovery. Adding, "I told [Bill Clayten] he was an angel sent to help this sweet family."
Thursday, November 14, 2019
We all know many stories of a boy and his dog. They are endearing and heartfelt and it's a relationship bond like no other.
Ian Unger, 6, wanted to be able to ride the school bus with his friends, but to do so, he either needed an adult assistant or a service dog that could alert him if his blood sugar dropped. The first-grader has Type 1 diabetes, and his family decided it would be best to get him an alert dog. Because of the high price tag — $25,000 after training and fees — they knew it would take a few years to save up, but Unger announced he was going to start earning money himself.
In the summer he sold lemonade, then for the Fall he switched to pumpkins, which his family grows on their farm. "He's quite the little salesman," says Ian's mom, "We had hundreds of people in the driveway." Word spread online, and strangers ultimately raised $24,890 for Unger.
Ian will get to meet his dog when training is over in 10 months.
Wednesday, November 13, 2019
Sometimes a little encouragement makes a huge difference and no one knows that better than moms. That's why one mother from Astoria, New York who travels for work started leaving inspirational messages on Post-It notes in a Mamava lactation pod at New York City's LaGuardia Airport for other moms to read.
Grace Stevens says she got the ball rolling when she returned to work at LaGuardia Airport in August by leaving words of support on Post-Its on the walls of the pods for breastfeeding and pumping moms. She also left pens and pads behind for other moms to do the same and it's really taken off. Notes reading: "You're doing a great job!" or "Just Breathe!"
As a working mom who travels some for her job, Stevens understands the demands mothers like her face and her goal is to inspire and support other working/traveling moms with the messages. When we can share words of encouragement, it makes it a little easier.
Tuesday, November 12, 2019
No one can stop a wildfire alone, and when the blazes come as often and as rapidly as they are in California right now, it's easy to feel helpless. However, some A-list celebrities are proving that help comes in all forms, whether it involves your talent, your time, or just some tacos.
NBA star LeBron James, who was forced to evacuate Los Angeles with his family earlier this week, sent a taco truck to feed firefighters battling the area's Getty Fire. Wrestling star and actor John Cena announced plans to donate $500,000 to first responders across the state. (Coincidentally, Cena is playing a firefighter in an upcoming film.)
Meanwhile, a bevy of star chefs, including José Andrés and Guy Fieri, teamed up to feed evacuees and first responders affected by the Kincade Fire. See? When it comes to pitching in during a disaster, no one can do everything. But everyone can do something.
Monday, November 11, 2019
When Andrella "Lashae" Jackson was pulled over recently by a Milwaukee police officer he noticed her two young daughters were not in car seats, the single mom of five expected to leave with a hefty ticket.
Instead, Officer Kevin purchased and installed two car seats for the girls, Niyah and Sky, and issued Jackson a simple verbal warning.
Ms. Jackson said she couldn't afford car seats at the time."With bills coming up and winter coming up, I have to get coats and boots and shoes for my kids. Hearing that , Officer Zimmerman, decided to visit Walmart to buy two car seats RIGHT THEN AND THERE!
The 12-year veteran also stopped by the police department to pick up stickers and children's books for the girls. He visited Jackson's home and installed the car seats himself. After years of witnessing serious accidents where children went through windshields because they weren't properly secured, the officer's main priority was not recognition, but keeping the girls safe.
"I am a dad of three kids and can't imagine anything happening to them or not being able to have them secured in their car seats," Zimmerman said.
The Milwaukee Police Department thanked Zimmerman on Facebook "for going the extra mile and going above and beyond your call of duty".
Friday, November 8, 2019
A group of Florida nurses are using their stitching skills in a whole new way to help the homeless.
Nurse Nicole Hubbard got the idea when she realized how many sterile wrappers, which are used to protect surgical instruments at Tampa General Hospital, get thrown away. She says, "I thought, what a cool recycling initiative to help the homeless. The beauty about it is they conserve heat and they're waterproof."
Instead of tossing the wraps, the nurses decided to stitch them together. In came Nicole's fellow nurses (and sewing pros!) Lucy and Claudia. They sat down together and figured out how to execute their plan. Now, they've made 100 sterile wrap sleeping bags (that vary in sizes) to be handed out to the homeless community across Tampa Bay.
Thursday, November 7, 2019
In the hectic world we live in, little moments of kindness can often go unnoticed. But thanks to modern technology, the efforts of one sanitation worker won't be overlooked.
88-year old Opal Zucca lives in Missouri, and has a Ring doorbell. The surveillance video captured Bill Shelby, a sanitation worker, link arms with Ms. Opal and help her wheel in her trash bin.
In the video, he also compliments her hair. Obviously, the two are friendly pals. And that's because Bill has been helping Ms. Open with her trash bins all year, ever since he first saw her fall when trying to bring the bins back up her driveway. Since then, he's taken time out of his schedule to lend a helping hand.
Opal's daughter saw the video and uploaded it to Facebook with a note of gratitude: "Such a small kind gesture, but it's an enormous relief for us. Thank you, kind sir."
Acts of kindness, no matter how small they may seem, can make a big impact.
Wednesday, November 6, 2019
Chloe Newman lost her right leg when she was a baby, and now she's helping kids like her see themselves in a new way.
When Mattel recently released a line of diverse Barbie dolls, including one with a stylish prosthetic leg, Chloe, now 18, had an idea. She wanted to buy 100 of the dolls so her doctor at Shriners Hospital for Children in Springfield, Massachusetts, could give them to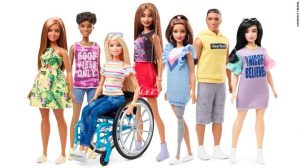 young patients when he made them a new leg.
At first, the dolls were hard to find in large numbers, but after a few posts on Facebook, friends started sending them to her by the dozen. Chloe and her family wrote to Mattel to see if they could purchase the dolls in bulk, and the company donated 200 of them to her cause.
Chloe ended up with about 430 Barbies to share, and Shriners is making sure everyone gets to enjoy the doll haul. The hospital is giving them to orthotic and prosthetic patients in Springfield, and also plans to share them with patients at other Shriners' facilities.
Tuesday, November 5, 2019
No one likes to pay parking tickets. Well, statistically someone must, but that person is deeply disturbed and probably needs a hug. However, ponying up might not be so bad for Las Vegas residents this month: The city is accepting food donations in lieu of cash for citations issued between October 16 and November 16. The Las Vegas city council says the donations will be given to Helping Hands of Vegas Valley, a nonprofit that assists low income and disabled senior citizens, to bolster their efforts around the upcoming holidays.
This isn't the first time Las Vegas has offered a helpful payment alternative for naughty parkers. In July, the city accepted donations of school supplies instead.
Monday, November 4, 2019
Dana Perella isn't your average 9-year-old. Despite her age, she has already helped bake more than 10,000 cookies and raised over $86,000 towards treatment and research of rare diseases.
The Boulder, Colorado girl started raising money after her grandma gave her $100 for her 7th birthday to donate to a cause of her choice. She used the cash to raise money in honor of her friend Mila, who lives with a condition.

Dana raised an additional $1000 for Mila, and founded Cookies4Cures – And the success of Cookies4Cures spread to nearly 50 other families who wanted to help raise money for rare diseases.
This led to Cookies4PANS, a second fundraising initiative looking to raise money for a friend named Ollie who suffers from Pediatric Acute-onset Neuropsychiatric Syndrome (PANS), After more baking and more GoFundMe donations, Dana and her friends raised $30,000. Dana understands the large time commitment for family members caring for a sick child and feels as though her baking skills can help find a cure.
While Dana's goal is to find a cure for every rare disease, the Parella's want to create spreadable information that can help other kids start their own Cookies4Cures for their friends suffering from rare diseases.
---
NEED MORE GOOD NEWS? Click Here for previous Today's Good News stories featured on LifeSongs!