Friday, October 19, 2018
Big generosity come in small slices!
Just months after Mike and Jennifer Stevens opened up their Fargo, North Dakota Little Caesar's restaurant in 2015, they saw a homeless man sitting outside of a gas station for several hours at a time. They gave him a slice of pizza. He was so thankful the family ended up doing it again for a different person. And again for a different person.  And then again for another person. Their kindness did not stop at individual slices, however – one year later, the family realized that there were people going through the dumpster of the restaurant.
So Mike put up a sign in the window reading: "To the person going through our trash for their next meal, you're a human being and worth more than a meal from a dumpster. Please come in during operating hours for a couple of slices of hot pizza and a cup of water at no charge. No questions asked."


Instead of giving away a couple slices, the family started giving away entire pizzas to anyone who asked. They have even partnered with a couple of homeless shelters.  Collectively, the family has given away over 142,000 slices of pizza, worth about $70,000.
Thursday, October 18, 2018
There are so many reasons why you love Chip & Joanna Gaines – and not just because Fixer Upper was such an awesome show – or for giving us a reason to visit Waco, TX. It's because they do amazing things like this!
Chip and Joanna have invited a church to hold service at their Magnolia Market at the Silos. The church normally holis normally held under a Texas bridge – a ministry to Waco that has been going on for years! Chip & Joanna offered to host them every Sunday (for a year at no charge) because the church won't have anywhere to hold their services due to road construction that will begin in March.
Chip reached out to the church's pastor (Jimmy Dorrell) after learning about how the construction project would affect the congregation. The Church Under the Bridge draws between 200 to 300 worshippers who include the homeless and others who may feel out of place in a normal church setting.  The Church plans to eventually return to its home under the bridge – once the expansion of I-35 is complete.
Wednesday, October 17, 2018
Do you have a child or know someone that has a life threatening illness or allergies ? Many times, it can affect a child's quality of life and they feel left out because they can't enjoy things that other kids can.
Braylon Henson is a first grader that has ectodermal dysplasia – he was born without sweat glands. Because of this, he can't go outside when it's over 74 degrees. (So he basically CAN'T live in Louisiana!) He gets easily overheated. Naturally, Braylon has FOMO (Fear Of Missing Out)!
Ronald Saladin is the school resource officer and he noticed that Braylon was in his classroom while the other kids were at recess. So the cop started inviting Braylon to walk along with him as he does his daily officer duties. Braylon & Officer Ronnie now get to spend two hours a day patrolling the hallways. Of course, Braylon now wants to become a police officer when he grows up!
A simple act of kindness can make the biggest impact! You are NEVER too old or too young to be a difference maker.
Tuesday, October 16, 2018
Do you roll out of bed in the morning and immediately step on Legos?  Instead of getting mad from them being left on the floor, you can put those Legos to good use like one lego enthusiast…
A Maryland Zoo employee found a wild Eastern box turtle in a park, and discovered that he had multiple fractures on the bottom part of his shell.  The zookeepers needed to figure out a way to keep the turtle elevated so his shell didn't hit the ground while healing. Garrett Fraess, drew many sketches of wheelchairs for the turtle to help find the perfect fit for him! Thanks to a friend who is a Lego enthusiast, the turtle now has a wheelchair until he heals completely!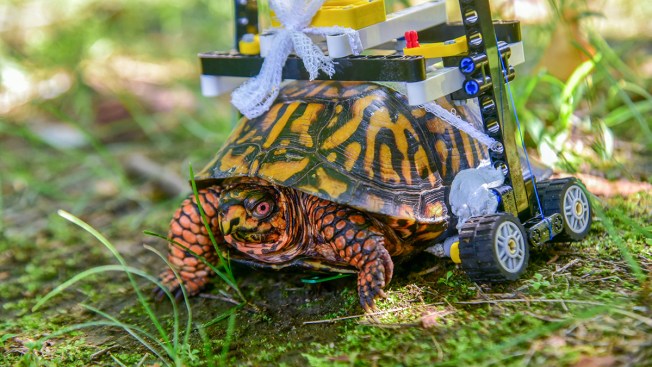 It's a good reminder to make lemonade from lemons! Bad things happen, but there are people around you who can help you in times of need and encourage you!
Monday, October 15, 2018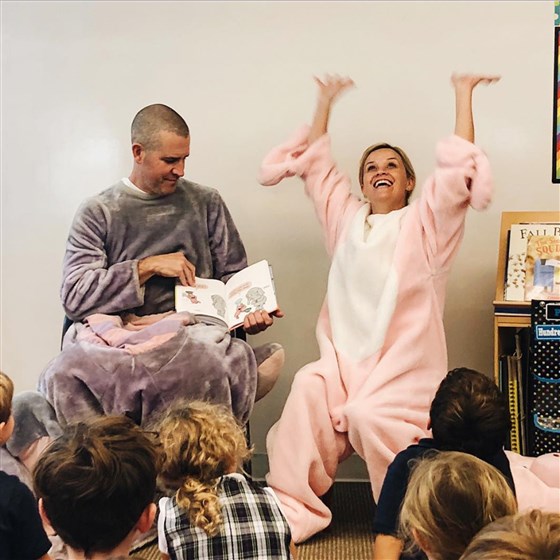 Have you ever gone out of your way to put a smile on your child's face?
Even those in the public eye will do whatever they can to make their child laugh and smile even though it may embarrass them a little…
Reese Witherspoon takes all of her acting roles seriously, so it's no surprise she went out of her way to participate in "Mystery Reader" day at her 6-year-old son's school.
She didn't show up wearing a ball gown or heels, she showed up wearing a pig costume! And her hubby dressed as an elephant! (in honor of the book they were reading: "Elephant and Piggie".)
This is a reminder to make fun memories with your kids regardless of how silly they may be! Because these will be memories that last a lifetime! It's also a great reminder to not take this life so seriously! Smile! Laugh! Enjoy every moment God has given you!
---
---
Friday, October 12, 2018
Anyone who works downtown or has tried to go enjoy a nice evening out on the weekend knows the struggle of finding parking. But what if you had your own reserved spot? Christie Dietz's 4-year-old son has parked his bicycle at the same lamppost every day for the last year. On Monday, Christie discovered the spot is now reserved just for him. A kind stranger had taken the time to create a parking sign sticker that features the child's green bicycle.
My son has parked his bike by this lamppost just about every day for the last year. This morning, this sticker had appeared. Absolutely made our day. People can be so brilliant. Thank you, whoever did it 😊 pic.twitter.com/rYC8jCTD5L

— Christie Dietz (@asausagehastwo) September 24, 2018

She tweeted a photo and said this "Absolutely made our day. People can be so brilliant. Thank you, whoever did it." Her tweet has over 261,000 likes. And the reaction on Twitter suggests the smiles have come with an equal number of happy tears. She wrote a thank-you note and left it at her son's newly-reserved parking space. "It makes me so very happy that this one person's lovely deed has made so many people smile."
Thursday, October 11, 2018
How well do you know your neighbors? Could you call on them to borrow a cup of sugar? What if you needed more than that?
Kathy Felt was diagnosed with multiple sclerosis in 1978. She's 66 now, and can't get out of her wheelchair under her own power to get into bed at night. But Kathy, who has lived in her neighborhood for almost four decades, is a beloved figure in the community she calls home. So for the past 10 years, a rotating cast of volunteers have showed up nightly like clockwork, lifting her into bed and tucking her in.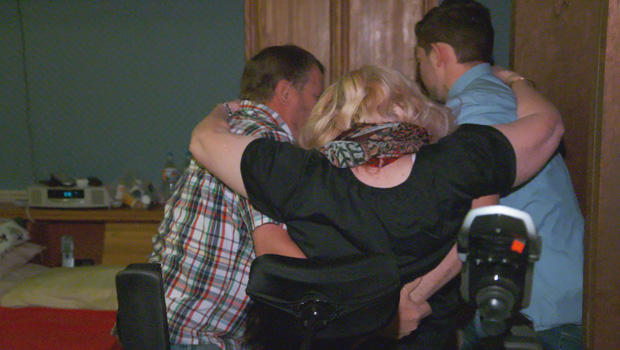 This is how folks care for each other in Sandy, Utah. The nightly ritual enables her to avoid nursing homes and sleep in her own bed. But the volunteers find it equally uplifting. Some 60 men are on a schedule to visit Felt two at a time. And what's more? Even more neighbors want to help. They have so many people wanting to help Kathy that there is actually a waiting list. When asked how she feels about this outpouring of help, Felt says, "It just makes me feel very humble. I'm just so grateful for the friendship that I have with them. You just can't put a price on that." Her army of volunteers and their families are genuinely grateful for her, too.
"So many people have been inspired by her story and her courage in the face of such devastating health challenges," one volunteer says. "We're all here together, and we should help each other on the journey."
Wednesday, October 10, 2018
October is Pastor Appreciation Month. Our ministers do so much for so many, they may seem like superheroes. But that doesn't make them immune from troubling times. One minister, Jerome Jones of Springfield Baptist Church in Georgia, was recently struggling through a crisis of faith. But while working his day job with a power company, he found a note that was attached to three balloons. The note read: "God, help me go to college… please help me get everything I need to leave Wednesday. – Mykehia Curry" She was about to start her freshman year at Albany State University. No one in her family had ever gone to college, which is why she sent up that prayer – scared and worried. Jones had $125 to his name when he found the note. And he spent it all on Mykehia. He bought her supplies, but most importantly, gave her a ton of much needed inspiration. "It encourages me to keep going knowing that prayers are answered," Mykehia said. Likewise, Jerome also has renewed faith – a good reminder that sometimes the best way to see your prayers answered is to be used by God as an answer to someone else's. This is also a great reminder to pray for our pastors!
Tuesday, October 9, 2018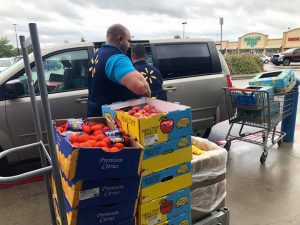 Any of us who went through Katrina are familiar with a sense of loss, but have also come to know that disasters tend to bring out the best in a lot of people. Shelli Trench, who lives in North Carolina, has come to know that, too. She went to Walmart to purchase specific items that had been requested by a local shelter. When she went in, she spoke with a manager about her quest, thinking at best she might score a discount to help her money go further. Instead, he called over another employee and had him fill a shopping cart – on him. The over 250 items of clothing totaled over $1200. And he wasn't done. The next day, he donated case after case of fresh fruit, bread, pastries, drinks, energy bars and more.
Monday, October 8, 2018
In southeast Louisiana, we're no strangers to delicious food and tons of amazing dining options to choose from. And the chefs at those restaurants strive for recognition within the world of fine dining, which comes in the form of Michelin stars. That may be the ultimate goal for many restaurants, but the owners of onevenue in the UK are giving it up for the sake of their family. The rural restaurant, which serves classic French cuisine near the town of Montgomery, Wales, has held a Michelin star for seven years, thanks to the efforts of partners Stéphane Borie, Sarah Francis, and Sarah's sister Kathryn Francis. Raising five kids between them, they say they want family to come first. It's a decision the team calls "bold, scary, exciting, and maybe bonkers," but it's an important one for them and their loved ones. "It will be lovely to have more evenings at home and to be a little less nocturnal!" (Good reminder to keep our priorities in check – hope you can enjoy a little time with your loved ones today, too.)
---
Friday, October 5, 2018
It's pizza Friday, right? Passengers from American Airlines Flight 2354 from Los Angeles to Dallas-Fort Worth were bracing for a long night. Their plane had been diverted to the regional airport in Wichita Falls, Texas due to severe thunderstorms that impacted the northern part of the state. That left 159 frustrated passengers facing the prospect of being stuck on a plane until morning.
Trying to ease their inconvenience, the plane's captain, Jeff Raines, called the local Papa John's and ordered 40 fresh pizzas for delivery at Wichita Falls Municipal Airport. Captain Raines actually ran back and forth between the delivery car and the stranded passengers to personally deliver the pizzas.
Thursday, October 4, 2018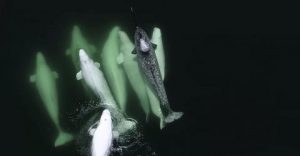 Even the whales in Canada are nice, with a band of belugas adopting a lost narwhal far from home. Narwhals live in the Arctic, but in July a team of researchers from the Group for Research and Education on Marine Mammals (GREMM) filmed a narwhal playing with about 10 belugas in the St. Lawrence River, hundreds of miles from its normal habitat.
The team believes the narwhal is a juvenile male and has been seen with the pod four other times. Martin Nweeia, a researcher from Harvard University who has spent two decades studying narwhals, says this shows the "compassion and the openness of other species to welcome another member that may not look or act the same. And maybe that's a good lesson for everyone."
Wednesday, October 3, 2018
Middle school can be tough. Your body is changing. Kids can be cruel. But not always. In fact, one middle school in Harriman, TN decided they would counteract bullying with encouraging notes … all over the walls, lockers and hallways. Led by Eighth grader Nicole True, the teens covered the walls, hallways and lockers with sticky notes of encouragement for everyone. The plan is to continue to post fresh encouragement all over school grounds all school year long.
Tuesday, October 2, 2018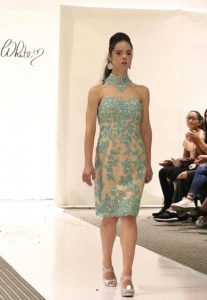 Marian Avila, a 21-year-old Spanish model with Down syndrome, fulfilled her dream to walk at New York Fashion Week thanks to an Atlanta designer she met through the magic of social media. And she did it with flair – in the ballroom of a Midtown hotel in evening looks of red and gold, her parents and siblings in the audience and other models who have challenges by her side.
Marian walked the runway with models young and old, including one in a wheelchair, Tae McKenzie of Charlotte, North Carolina, and a young girl who also has Down syndrome. White's 43 looks were shown like a rainbow with glimmering beaded embellishments on some in red, pink, gold, white, black and rose.
Monday, October 1, 2018
Over 900 people joined the family of LifeSongs over the past two weeks – getting this listener supported ministry to 100% fully funded for the next 6 months! God bless each and every one of you who gave – and you know what – if you didn't give – God bless you too. Because you still have that opportunity to join us in the good work of showing Jesus to our community each day! It's not too late to give at lifesongs.com! It's truly an honor and a blessing to say to you this morning GOD IS GOOD, ALL THE TIME!