Every day we share stories of hope – joy – Love! Enjoy some GOOD NEWS each day with LifeSongs. And if you know of some good news, share it here!  Thank you for sharing hope each day with listener-supported, uplifting LifeSongs!
Friday, January 15, 2021
Patrick Brady was serving at a US military base in the former soviet nation of Georgia when one day while hard at work, a little fluff ball of a puppy wandered her way onto the base. She was smaller than Patrick's boot, but very friendly. Patrick named her Marshmallow and over the next few months she became a source of great joy for the entire barracks – especially when they were on lockdown from COVID.
Marshmallow was pretty easygoing, but she has a fondness for mud, so Patrick and his comrades had to bathe her frequently. When it was time to return home, Patrick contacted the International SPCA and Operation Baghdad Pups Worldwide to navigate the tricky rules to get his puppy home with him. It took some work and wasn't without drama, but ultimately when he boarded his plane home, Marshmallow was right by his side.
Maybe your next pet will simply wander into your yard, but it's a little bit easier to adopt a pet here than in Eastern Europe! Simply check out the LifeSongs Pets of the Week.
Thursday, January 14, 2021
Over 350,000 Louisiana residents have experienced that awful moment that the nurse says "Yep, you tested positive." COVID-19 is running rampant – and whether it is a severe case or mild symptoms, every person in your household has to go into quarantine with a single positive test. And this creates a logistical nightmare!
Thankfully the United States Postal Service are experts on logistics. Lisette LeJeune coordinated with her mail carrier to drop off her mail in a bucket instead of the mailbox, that way they wouldn't be touching the same things and reduced the risk of her mail carrier getting sick. Lisette and her 2 sons were in quarantine and trying to follow all of the rules.
This touched the heart of their mail carrier, who put together a package of canned soup, cookies and gummy snacks for the family and dropped it off with their mail, along with a "Get Well Soon" card. Once this pandemic is over, that mail carrier is going to get the biggest hug in the world.
Wednesday, January 13, 2021
Erin Durga is a teacher. She loves being a teacher because her dad was a teacher. When she first began her educator's journey her dad offered this word of advice, "Befriend the school custodians because they are the heart of the school." That's exactly what Erin did – she made friends with Pat Mertens – the school custodian.
While Pat is certainly the heart of their elementary school, he needed another organ – a kidney. When Erin heard about the need, she didn't hesitate – immediately offering hers!
Pat received the kidney transplant in July, which was a success. Both he and Erin were healthy enough to return to work in August, for one of the most challenging school years in American History. I guess you could say the pair are closer than ever!
Tuesday, January 12, 2021
It's a regular segment on the nightly news now – an update on what kind of business support the federal government is working on. Holding together the global economy during a pandemic has been a challenging task. Most businesses in America are small, local businesses. And while federal support has helped – shopping local does even more!
Many local businesses also support non-profits and relief organizations with their proceeds. Many of these local businesses have been featured on national news programs – like Fisher Space Pen in Nevada who sells craft made pens and supports first responders. When Metal Art of Wisconsin was featured on World News Tonight, they got over 3,000 new orders the next morning. That led to new hires and a booming business.
In St. Louis a father and son donate a face shield for every one that is purchased – over 20,000 shields have been donated since last year! Even here at home in Southeast Louisiana local businesses sew profit into things like Second Harvest Food Bank and support for LifeSongs! If you want to shop local, visit the LifeSongs Business Partner Directory and find local people doing good work!
Monday, January 11, 2021
Sometimes all you need is a hug – but the global pandemic has isolated so many people. None are more affected than the elderly. In order to protect residents, many assisted living centers and nursing homes have been closed off to all visitors during the pandemic. The sense of isolation and loneliness can be overwhelming.
Becky Hudson, the lifestyle director for Heartis Clear Lake assisted living in Webster, TX, reached out to a local Boy Scout troop to find a creative way to let family and friends reach out and touch their loved ones, without risking viral spread. 17 year old Boy Scout McCain Penrod took point on the project and built hug booths.
The three structures are made of wood, plexiglass and long-sleeved rubber gloves that let you literally reach out and hug grandma! The residents and families love the hug booths so much that the construction plans are being shared around to other facilities. Even if you can't reach out and touch those you love right now – you can still show them love with an encouraging text, phone call or leave a King Cake at their front door!
---
---
Friday, January 8, 2021
Alvin Kamara is a joy to watch on the football field. His Christmas Day, record-shattering performance and 6 touchdowns helped the Saints beat the Vikings, led in points for any individual player in Fantasy Football this season and ended up blessing a charity as well.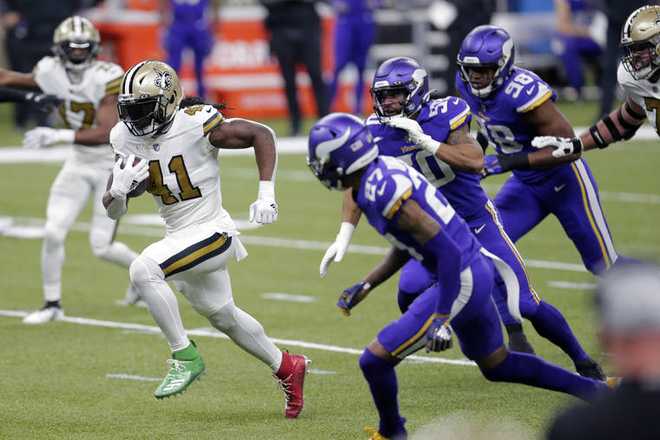 Kamara took to the field in Christmas cleats – rocking red and green shoes that broke the NFL rules on uniforms. He knew he was going to get fined (he can afford it as one of the best paid players in the league) and smiled when asked about it – saying he would just pay the fine and match it towards charity.
True to his word, when the NFL fined him $5,000, Kamara donated a matching check to Son of a Saint – a charity that mentors boys who have lost their fathers. And the cherry on top – some of those Fantasy Football players showed their gratitude for all of Kamara's points by making donations to Son of a Saint as well! Thanks to some Christmas cleats, Son of a Saint has received over $30,000 in donations!
Thursday, January 7, 2021
If you are new to Southeast Louisiana – bienvenue! Prepare to re-learn how to spell. For example, we spell go with all the wrong vowels – it is "g-e-a-u-x" down here. KC Kilpatrick founded Geaux 4 Kids to provide Geaux Bags for minors in need.
The Geaux Bags have pajamas, toiletries, a backpack, pillow food, water and much more. These special Geaux Bags are given to kids rescued out of dangerous home lives. When these kids are pulled out of dangerous living conditions, they often have nothing but the clothes on their backs.
KC has adopted children out of the foster system in Louisiana but uses Geaux Bags to help thousands of children that she can't bring home. Want to join in the mission to help these children? Visit GeauxBags.org!
Wednesday, January 6, 2021
What if you were in a position to give a gift that would radically change the New Year for hundreds of families? That's what one doctor in Arkansas has done.
Dr. Omar Atiq of the Arkansas Cancer Clinic (who is also a professor at the University of Arkansas) hatched a Christmas plan to change lives. The clinic opted to completely forgive all outstanding bills for all of their patients – to the tune of over $650,000.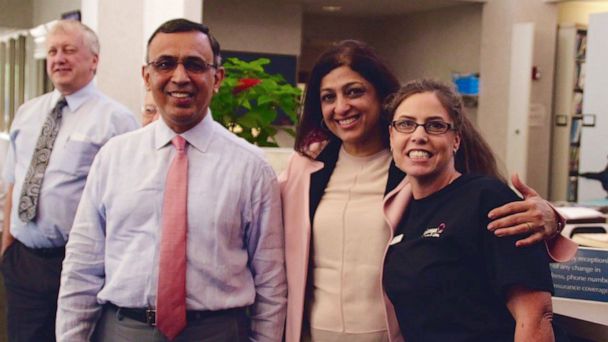 Dr. Atiq decided to close the oncology practice during the pandemic and wanted to help his community in whatever way he could. By forgiving the outstanding bills – most of which were co-pays and deductibles that insurance would not cover – he freed over 200 families of heavy burdens, just in time for Christmas.
Tuesday, January 5, 2021
When Bethany Moultry turned 6 in August of last year, she had something particularly special on her birthday list. She wanted to help homeless people through this difficult time, and care packages seemed like the perfect idea.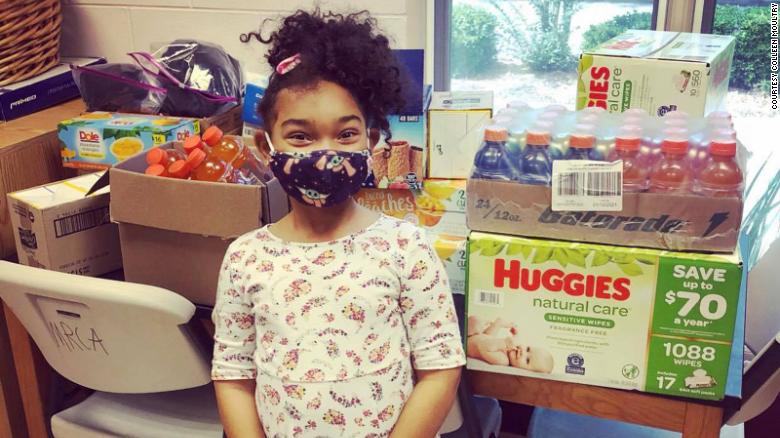 Bethany and her mother Colleen launched "Bethany's Happy Bags for the Homeless" on Facebook, created an Amazon wishlist and partnered with local homeless shelters in Georgia. Each bag contained a handwritten note from Bethany as well as essential items homeless people need like beef sticks, first aid, toiletries, masks, Gatorade and more.
The initiative went Facebook viral in October, and now students across the country are volunteering their time to make the bags. Bethany's family says the bags are a great way to get people involved in their community during a time when more traditional forms of volunteering have been put on hold.
Monday, January 4, 2021
Two kids miss their daddy. He's currently serving overseas in the military, so they don't get to talk directly with him often. But kids are great with technology and they figured out they could send their dad video messages through their front doorbell.
The family has a RING doorbell that takes videos. Their father can access the videos from anywhere. So the kids send him messages every day – chronicling their days, their haircuts, learning to ride their bikes without training wheels. It is beyond cute and yes, I'm crying now.
Friday, December 25, 2020
There are so many families in need this Christmas. But we can't be overwhelmed by statistics – we must simply do what we can. And everyone can do something to help.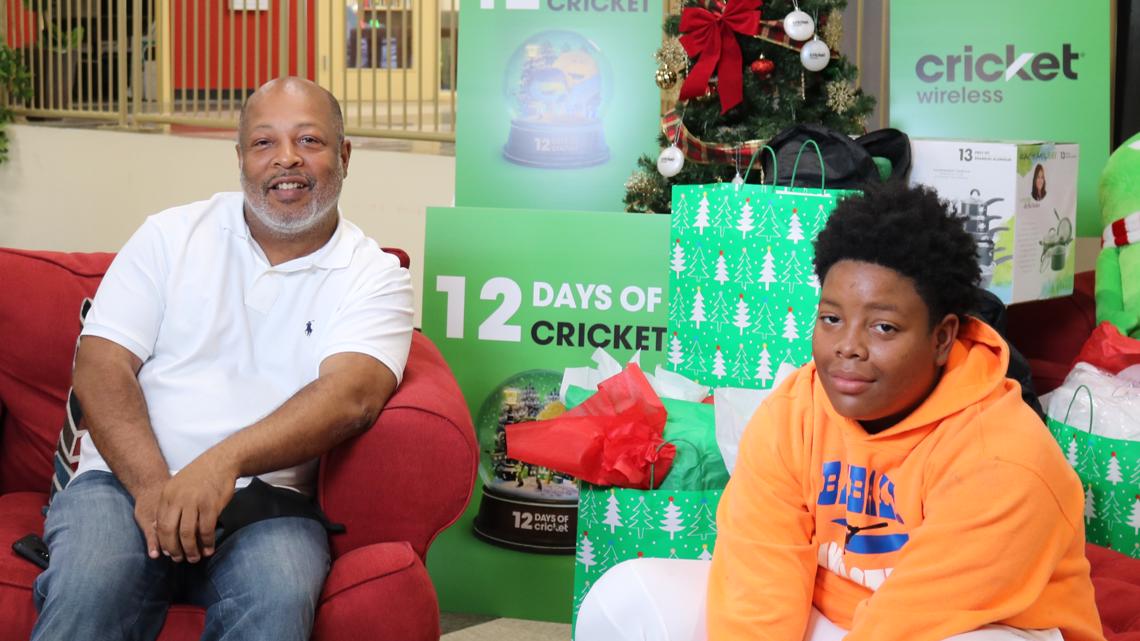 Still it is great to hear stories like this – the Boys and Girls Club of Metro Atlanta partnered with Cricket Wireless to provide some much needed income for one Atlanta family. Neighbors nominated the Cook family and they were the fortunate ones who received $2500!
The gift became even more of an event when the Cook kids' favorite WWE wrestler, Kofi Kingston sent a video with a message of hope!
Thursday, December 24, 2020
It was really something to see folks learning to sew just to provide Personal Protection Equipment for at risk workers back when the pandemic began. Now, as Winter fast approaches and the pandemic stretches into another season – there's another need to be met. And that's where Suzette Aposhian comes in.
Suzette runs Scarves in the Park out of Salt Lake City, Utah. Through donations and her own sewing prowess, Suzette collects hats and scarves to hand out at her local park when the holiday season rolls around.
She's given out thousands of winter-wear to folks – and distribution involves hanging the clothes out in the park and letting folks come claim what they need – that way there isn't any hangups with pride. Suzette thinks the need will be greater than ever this year – and she got some help to meet demand from a local Credit Union, who donated $500 to Scarves in the Park.
I can't sew, but I know my church gives me ways to help others in need during the holidays. And if you don't have a church to check with – we can connect you to a local body of worship on the Church Guide on lifesongs.com!
Wednesday, December 23, 2020
In April, two dads in Huntingdon, Pennsylvania, decided to have a bake-off — mostly out of boredom. They had no idea it would turn into a movement! When Scott McKenzie was furloughed from his job, he vowed to acquire an untapped skill every week. Baking homemade chocolate chip cookies was at the top of his list. The 58-year-old man had never made them from scratch; he decided it was time. Despite making quite a mess in the kitchen, the cookies turned out pretty good!
Proud of his small achievement, Scott shared a photo of his homemade creation on Facebook. That's when Jeremy Uhrich, 42, a fellow Huntingdon dad and a longtime friend of Scott's, challenged him to a cookie competition. And as they say, "It was on like Donkey Kong."
After the mayor chose the winner, they delivered the remaining dozens of cookies to essential workers, who were touched and delighted by the sweet gesture. It gave the dads an idea. They created a Facebook group called "Cookies for Caregivers," thinking maybe a handful of people in the Huntingdon community might volunteer to bake treats for essential workers on a regular basis. Within a few days, the group had over 100 members, all eager to participate.
Over the past eight months, the pair — now known around the small town as "the cookie guys" — and their 100 volunteer bakers have made more than 15,500 cookies. And new chapters of Cookies for Caregivers are popping up in communities across America.
Tuesday, December 22, 2020
A small restaurant in Cleveland received a holiday surprise. The restaurant, Nighttown was voluntarily closing until January due to the increase of Covid-19 cases in Ohio. Brendan Ring, who owns the restaurant, said that he was having lunch at his restaurant when a regular customer came over and left his check at his table that included a huge tip.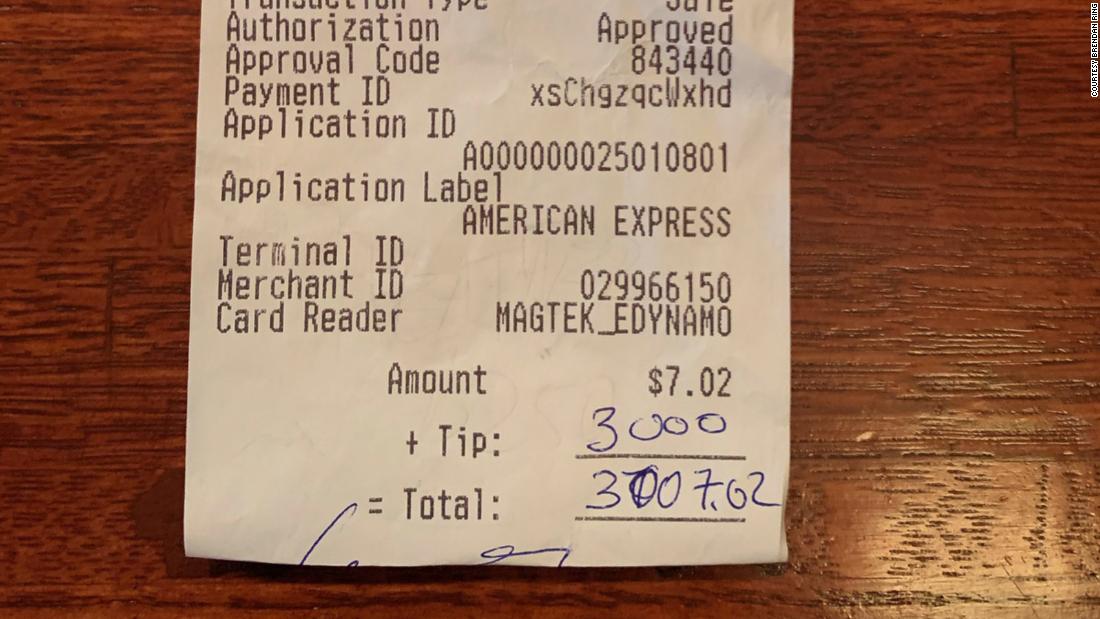 At first Brendan thought it was a $300 tip, but after he put on his glasses he realized he missed a zero. It was a $3,000 tip on a $7 bill. He ran out to the customer to make sure he hadn't made a mistake. "He said, "No, that's what I intended. Share it with the staff, good luck to you guys, Merry Christmas and we'll see you when you come back."'
There were four servers working on Sunday, and each of them got $750 from the tip. Brendan cannot believe the generosity of this customer or the outpouring of love for the simple story. When his sister, who still lives in his native Ireland, saw the story in her newspaper she immediately contacter her brother to share the joy.
"We're all so desperate for uplifting news, if this was a normal year, yeah, this would be a good story, but it's a great story because of the year we're in."
Monday, December 21, 2020
A third-grade student at Fairview Elementary has been collecting new or gently used blankets to give out to the homeless in Fort Smith, Arkansas because she wants to make sure those in need are able to stay warm this winter. Chloe Durham is 8-years-old, and she is making a big difference in her community with "Chloe's Cozy Drive." And her genuine concern for others is inspiring all those around her.
Blanket donations have been pouring in since Chloe started her drive on World Kindness Day, and she has collected over 250 blankets & sleeping bags to be donated to The Next Step homeless Services. Chloe's parents, Aaron and Emily Durham, both teachers at Fort Smith Public Schools, said Chloe has a huge heart and is always wanting to help others.
The outpouring of love from friends and family has been such a positive light during an otherwise dark time with this pandemic," said Emily.
"Chloe is overjoyed every time she checks the front door and finds another blanket or Amazon delivery with her name on it. She just really wants to help the homeless and prays for them at night."
Emily said she is grateful for the friends and family who have donated because they are truly empowering Chloe to do big things.
Friday, December 18, 2020
Aubrey is a Fedex driver in Ohio and would often see a boy named Eli playing basketball in his driveway with his parents or friends. She noticed his basketball hoop was a bit beat up, so she decided to change that.
Aubrey purchased and delivered a brand new basketball and hoop to Eli's house with a note that said, "I just wanted you and your son to have the best hoop that'll grow with him and all his friends! It's wonderful that you guys shoot hoops with him."
When his parents showed him the new basketball goal and told him who it came from, he knew exactly who Aubrey was. He started crying and, of course, he instantly was ready to play some basketball.
Thursday, December 17, 2020
Mystery surrounds Idaho Secret Santa, giving out $500,000 to families! A Secret Santa in Idaho is taking things to a whole new level. A teacher was gifted a new car. A blind man was given thousands of dollars in gift cards. Many others have also received special and timely gifts.
This "secret Santa" has been giving out gifts to people in the East Idaho community for the last six years. The generous donor wants to remain a mystery, but this year, he will give more than $500,000 to area families in need, some of which are nominated by friends and families.
This is generosity lived out in spectacular fashion! We can do the same, by paying attention to the needs we can meet in our own bubbles. While we can't afford to give out new cars and hundreds of thousands of dollars – each person can do something! And we want to say thanks and acknowledge the incredible generosity of the listeners who support LifeSongs each month!
Wednesday, December 16, 2020
We cannot thank the front line responders enough for their work through this pandemic, but Starbucks is at least keeping them caffeinated. Front-line responders will receive an iced or hot brewed coffee for free at Starbucks for all of the month of December.
The Starbucks vice president for Global Social Impact said the company decided to announce the offer because "it has been an extraordinarily difficult year, especially for the front-line responders who are serving our communities."
Of course, the question remains – who is considered a "frontline" worker? Doctors, nurses, public health workers, pharmacists, dispatchers, firefighters, paramedics, police officers, dentists, dental hygienists, mental health workers (therapist, psychologist, social worker, counselor, etc.), hospital staff such as janitor/housekeeping/security and active-duty military.
If someone you think should be on the list but isn't is in your life, you know you can always treat them to a cup of coffee.
Tuesday, December 15, 2020
Remember Homeward Bound? The tale of a couple of dogs and one mischievous cat crossing dangerous forests to find their family. It was a tearjerker for every 90s kid. And it has happened in real life! 11 months ago a pitbull went charging out an open door and disappeared.
The family searched, posted signs, offered rewards … nothing. Nearby a human began feeding a stray who was scared by every person who approached. By offering food this kind human was able to reunite the pup with her family after getting her microchip scanned by a local vet.
Does this story leave you wanting to adopt a pet for Christmas? Check out the LifeSongs Pets of the week on lifesongs.com!
Monday, December 14, 2020
The Whitleys — like thousands of other smart families who forwent their usual Thanksgiving crowd to help stop the spread of the coronavirus — are the kind of people who need to feed. They are that house, the one always full of people, buzzing with activity. And the thought of a quiet, small Thanksgiving was agonizing for them.
So the Whitleys decided to cook the same amount of food as always and take at least 50 Thanksgiving dinners to the people they see living under bridges, in parks and in tents throughout the nation's capital.
Across the country, families like the Whitleys have had the same idea — a beautiful and synchronous gesture by the kinds of humans who insist on feeding and nurturing people, whether strangers or friends, despite the constrictions of the coronavirus pandemic.
Friday, December 11, 2020
When the pandemic upended their wedding plans, Emily Bugg and Billy Lewis tied the knot at Chicago's city hall last month instead. But there was still one piece of unfinished business: What to do about their $5,000 nonrefundable catering deposit?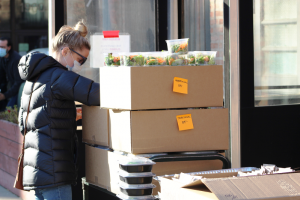 The newlyweds decided to turn it into 200 Thanksgiving dinners for people with severe mental illness. "This just seemed like a good way to make the best of a bad situation," said Emily, who is an outreach worker at Thresholds, a nonprofit dedicated to helping people with bipolar disorder, schizophrenia and other psychiatric conditions. In the week leading up to Thanksgiving, dozens of Thresholds clients received a boxed dinner of turkey, dressing, mashed potatoes, green beans and other fixings from a high-end Chicago-based caterer, (Big Delicious Planet). This was especially important because Thresholds' usual communal dinners were canceled because of COVID-19. Emily said, "We hope they can still feel the warmth of knowing that we care about them. These small moments of connection are what's keeping us going during these difficult months."
The planned venue for the wedding (Salvage One), also agreed to put the couple's deposit toward a future event for the Epilepsy Foundation, another cause Emily has a connection to.
Thursday, December 10, 2020
Last Christmas, NOPD Daniel McCreary's wife gave him an unusual gift, a little black bag of first aid supplies. And just last month, the New Orleans police officer used it to save the life of a 7-year-old girl, shot in crossfire of gun violence.
Officer McCreary's combat training kicked in, using that first aid kit from his wife. What lasted for a few minutes felt like hours. "I've got four kids, and one's 7 years old as well, so I don't think you can really prepare for that," McCreary said.
While waiting for the ambulance, McCreary kept the girl motivated to hang on by exchanging names and birthdates. Later, he heard that she made it out of surgery and into the hospital recovery room. He hopes the family will one day let him meet her. "I hope that she's flooded with support and love and everything that she deserves," McCreary said.
Wednesday, December 9, 2020
There are still remnants of downed trees littering SELA after a crazy hurricane season. Storms all across the country and knocked down some mighty trees – even up in Mount Vernon, Iowa.
That's where 12-year-old Tommy Rhomberg lives. Like most 12 year olds, Tommy has been trying to stay busy during this unique school year of shutdowns and pandemics. When a storm knocked down a lot of limbs around his town, Tommy grabbed his grandfather's whittling tools, some sandpaper and got to work.
This crafty kid made baseball bats from the many limbs he collected after the big storm. He sells them and uses a portion of the proceeds to provide for neighbors whose homes took damage. While these bats aren't strong enough to play baseball with – each one on display from a thoughtful buyer means another family gets help repairing their roof! Sounds like a home run to us.
Tuesday, December 8, 2020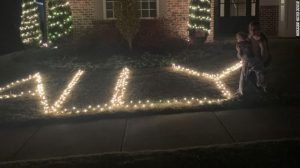 Many will celebrate this Christmas with empty chairs at the table. It has been a year of great loss around the world. Life in the Bible is described as like a blade of grass or a flower in the field – beautiful but short lived. One family knows this all too well.
The Cheek family in Vestavia Hills, AL have had all too short a time with twin daughters Ally and Bailey Grace. The girls suffered from a rare genetic issue that already claimed the life of six year old Ally last year and will soon take Bailey Grace.
With time slipping away, the entire neighborhood joined together to give Bailey Grace one last spectacular Christmas – decorating every house to the nines. Mom Morgan Cheek knows that sorrow is just around the corner – but each Christmas light means so much to the family – and to Bailey Grace.
What kindness can you show to someone who is grieving this Christmas?
Monday, December 7, 2020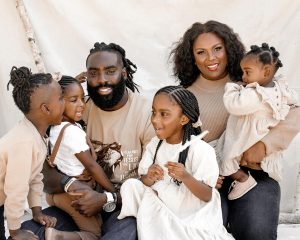 Saints star linebacker Damario Davis' family is back with him in New Orleans. His wife and kids had been in Nashville, where the Davis' 1-year-old daughter, Carly-Faith, was undergoing monthly tests after being treated for retinoblastoma, an eye cancer that most commonly affects young children.
But Carly-Faith is doing well and the doctors no longer have to see her every month – and that means the family can be reunited. In fact, the latest report is that there is NO SIGN of cancer! Not all victories are on the field.
Friday, December 4, 2020
There's a silver lining to those months spent at home — longer hair means more wigs for people who want them. Nonprofit hair stylists who make free wigs for cancer patients say they've received a boon of donations from people who've grown their hair out in the last several months.
Waiting longer between cuts has led to longer donations — something especially exciting for nonprofits who cater to kids, since many younger girls and teens want long-haired wigs. More men and boys are donating their hair to charity than before, too.
If you're ready to chop off all the hair you've grown out, many nonprofits will gladly accept them. They all have different requirements for donations in terms of length, but keeping the hair clean, dry and secure is key since loose or wet hair can't be donated. It's also a good idea to trim loose ends before donating — healthy hair makes for better wigs and happier recipients.
Thursday, December 3, 2020
To complete a triathlon is a Herculean feat — there's the exhaustive 2.4-mile swim, the grueling 112-mile bike ride and a 26.2-mile marathon that turns legs to jelly.
Chris Nikic did it all at just 21 years old — and became the first person with Down syndrome to complete an Ironman triathlon. With the help of a guide, Chris crossed the finish line in under 17 hours, which is the cutoff time to complete the Ironman. The race wasn't without hiccups, though — at one point, Chris fell off his bike and was attacked by ants during a rest stop. But neither insects nor a bloody scrape could stop him.
Now Chris has got his sights set on the 2022 Special Olympics! But in the meantime, he'll continue to fundraise for Down syndrome research, saying, "I achieved my goal and now I want to help others like me."
Wednesday, December 2, 2020
When Jericha Palmer's car died, there was no money to fix or replace it. Jericha's family of 8 did their best to get by, taking Uber when there was cash and walking almost everywhere – including all the way to work.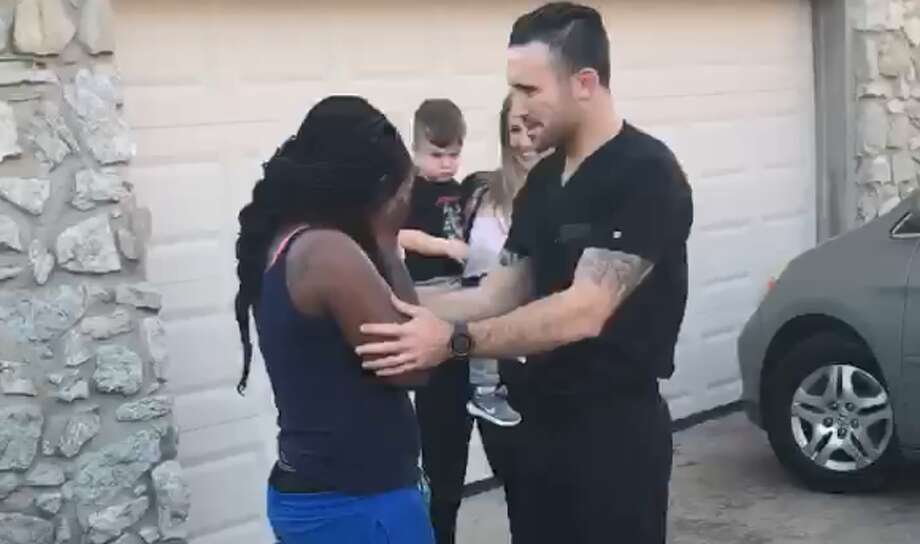 Some neighbors noticed Jericha's trouble and secretly began collecting donations from friends to buy the family a new vehicle. In a matter of days they had scraped together about $5000 and bought the Palmers a used Honda Odyssey minivan with room for all 8 of them!
As you can imagine there were lots of tears of joy from everyone involved. Pay attention to everyone around you this Christmas. Ask God each day how you can be a help – how you can be salt and light.
Tuesday, December 1, 2020
At the Veterans Healing Farm, former service members have the opportunity to grow plants and flowers while cultivating friendships. John Mahshie says he felt "alone and isolated" after leaving the Air Force in 2008, yet "sucked it up and pressed on." He knew other veterans were struggling with their own issues but might not know how to reach out for help, and in 2013 he decided to plant fruit trees, berry bushes, herbs, and flowers on nine acres of land he owned in Hendersonville, North Carolina.
With that, the Veterans Healing Farm was born. There are bunkhouses on the property for vets to stay in, and John says they not only learn new skills, but also "that they can trust people and they are valued."
Over the last six years, the farm has donated more than 35,000 pounds of produce and flowers to veterans.
Monday, November 30, 2020
Medical workers on the front lines of the pandemic deserve the world — or at least a really, really good break once in a while. Enter the Hero Recharge program, which provides free outdoor adventures, like surfing, rock climbing and mountain biking, to hundreds of frontline health care workers in major cities across the United States.
Hero Recharge is run by First Descents, a non-profit that organizes adventure retreats for young adults with cancer and multiple sclerosis. As the pandemic overwhelmed health care workers, bringing with it risks of burnout, illness, PTSD and depression, the organization's founders saw another way to help.
"These health care workers have been stuck for days, weeks, months inside, without seeing the light of day," said Brad Ludden,founder of First Descents. "The outdoors is a tremendously powerful place for healing and connection … (and) one of the most powerful things we can provide them."
Friday, November 27, 2020
As a society, we collect weird stuff, right? POGs and Beanie Babies – any of those ring a bell? But baseball cards are an American tradition – it's basically how I learned statistical math. A nine-year old young lady named Reese Osterberg loves to play baseball and collects cards. But one of the fires in California destroyed her home and her substantial collection of baseball cards.
The California Department of Forestry shared her story on local radio and that's where Kevin Ashford got his chance to shine. Kevin, like Reese, loves baseball and collects cards. In fact, his lifetime collection is valued around $50,000! His plan had been to sell his baseball card collection on Ebay, but once he heard about Reese, he knew where his collection belonged.
Reese and her mom, Amy, were so overwhelmed by the generous gift, that they wanted to pay it forward. So the pair are sharing their new collection of cards with kids at Children's Hospital in Central California. Reese was quick to give away most of the Dodgers cards – because she's a Giants fan.
Not only has Kevin given Reese an immeasurable gift, the families have connected and look forward to watching some baseball together as soon as the pandemic is over.
Thursday, November 26, 2020
Happy Thanksgiving!  As you enjoy your thanksgiving 2020 meal today, here's something to be thankful for:
125 million meals and counting! At the start of the pandemic, Convoy of Hope set a staggering goal of collecting and distributing 10 million meals – knowing the long term effects of a global shutdown were going to be incredible. What they didn't expect was for God to do one of those "multiply the meal" miracles.
The ten million goal was for the end of 2020 – but it took about 2 weeks to blow past that. So far over 125 million meals have been collected and distributed through Convoy of Hope.
Wednesday, November 25, 2020
A 5th grader in north Texas has a habit of setting very lofty goals for himself… he also has a habit of exceeding them. So, it isn't surprising that Orion Jean wants to continue his mission to do good for others into the holiday season.
Earlier this fall, Orion collected and donated hundreds of toys for hospitalized children in Dallas through his Race to 500 Toys drive. Now, he's started another drive with the goal of donating thousands of meals to people in need by Thanksgiving.
Orion says, "This has been a rough year for everybody, and now it's more important than ever to show support and love to anyone who needs it."
The Race to 100,000 Meals food drive continues through today! You can get involved at racetokindness.com. And while you're there, check out Orion's Kindness Can Change a Nation video which won him the Think Kindness National Speech contest!
Tuesday, November 24, 2020
Jennie Kelley-Crosby has become well-versed in coronavirus self-care measures having worked throughout the global health crisis as a nurse at MetroHealth Medical Center in Strongsville, Ohio. As much time as she has spent finding ways to break away from the daily stress of her work, as encouraged by her employer since the pandemic started, Jennie has a heart for all of the educators that also bear the brunt of pandemic stress every single day.
So Jennie and some other parents arranged for Greg Esterburg's Off The GRIDdle food truck to park at Strongsville Middle School to provide lunch for teachers and staff members as a way to show love and community support for other essential workers that have been called upon for extra duty. While the lunch delivery provided support to teachers and staff at the middle school, it also was meant to support local businesses, which continue to be hit hard by pandemic-related restrictions.
Jennie says, "There is so much negativity, and unrest in our community right now that is unsettling. We cannot change how other people are dealing with stress, but we can choose not to participate in spreading negativity, misinformation or hatred on social media."
Monday, November 23, 2020
"I see a child that may have been forgotten by man, but is known, seen and LOVED fiercely by their Creator." Those are the words of shoebox packer Natalie Kubosh.
What a year. Though it's been filled with challenges and obstacles, it's also been filled with opportunities. Natalie says, "I see an opportunity to share with them the greatest gift through a shoebox gift. This LOVE has the power to turn lives around by bringing ultimate healing, perfect peace, and never ending JOY to their young hearts."
Thank you for generously sharing HOPE, LOVE and JOY this season with children around the world, too. If you didn't have a chance to pack a shoebox gift before the drop-off deadline, it's okay – You can still pack one online!
Friday, November 20, 2020
Both Alison in Utah and Amie in Tennessee are encouraging their churches to Build a Shoebox Online this year. In a few clicks from a computer or handheld device, the page allows people to choose items to include in a shoebox with a letter and photo. Samaritan's Purse will pack and ship the shoebox for a donation of $25.
"This is a great opportunity—especially for those who are not getting out because of the pandemic or those who like to shop online," Alison said. She plans to encourage members of her church to use Build a Shoebox Online for Christmas gifts—filling one on behalf of someone else or sending the link to friends and family when they ask for gift ideas. Alison finds the price makes it perfect for this use.
So, whether you pack a traditional shoebox, build one online, or give to the project in some way, it all gives a child the opportunity to experience God's Greatest Gift—Jesus Christ.
"It's the body of Christ working together to share the Gospel," Alison said. Amie said, "We know that the world needs Jesus more than everything. Don't let what's happening with COVID-19 in 2020 cause you to neglect that calling. Just pack a shoebox!"
Thursday, November 19, 2020
Even if you're primarily remaining in your home, you can still pack shoebox gifts. You can build a box online! And people are getting creative with other ways to fill shoeboxes with joy, including sharing online shopping wish lists.
Or for those who aren't as savvy with online shopping, Amie Winstead invited church members who are stuck at home to fill pencil pouches with writing utensils to be ready to be packed into shoebox gifts by the families at their church. Others are knitting hats to pack in shoeboxes.
Crystal Daggett of Topeka, Kansas, shared her journey of packing shoeboxes at home:  "Each year after National Collection week, I begin praying for the following year. This year it was clear to pack 2,020 shoeboxes. Then the virus hit: no job, no church in person, no collection from church members, weakened immune system."
Crystal wondered if the goal was even reasonable, but she sensed that "with God all things are possible" (Matthew 19:26). She continued: "From using curbside pick-up, to taking advantage of stores going out of business, I have been using this time of isolation to party with God all year…which means 2,020 children will have the opportunity to hear the Gospel after a hard year of this virus."
Wednesday, November 18, 2020
Katie Engjurjan, a chiropractor from West Chester, Ohio, plans to encourage shoebox packing at her office. Last year, she set up a Christmas tree in her lobby and patients dropped off items for shoeboxes, or picked up boxes to take home and fill on their own. 
The plan this year involves lots of plexiglass to keep everyone safe during the pandemic but it won't stop the gift giving – not by a longshot!  Katie started the project in full force in October, but tells her clients about Operation Christmas Child all year long.  Her patients often send donations and gifts, including hand-sewn crossbody bags, school supplies, and toothbrushes to include in shoebox gifts.
While Buddy the Elf says that the best way to spread Christmas cheer is singing loud for all to hear – I think having a heart for the lost and showing love with shoebox gifts might be even more effective! CLICK HERE to build a shoebox gift online!
Tuesday, November 17, 2020
Since mid-March, Milan Baptist Church of Maynardville, Tennessee, has met for Sunday worship in their parking lot. The audio for their service airs over an FM radio station in their area so their congregation and other townspeople can tune in from their cars. Yet even though they are unable to gather in their sanctuary, they are opening their building up for shoebox packing.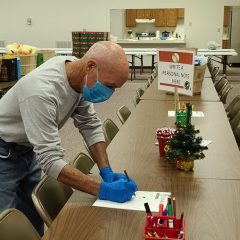 The church is filling their fellowship hall with various items members have collected throughout the year, and inviting individual families to sign up for a specific time to come and pack shoeboxes. Parents and their children will fill shoeboxes with the stuffed animals, school supplies, and bars of soap and washcloths provided as well as visit the letter-writing station and photo booth to be sure to include these personal elements the child will love. Volunteers at the church disinfect each of these stations in between each family.
Last year, Milan Baptist aimed to pack 1,100 shoebox gifts and ended up filling 1,379. After praying about it, two people in the church independently felt God was leading them to pack 1,500 shoeboxes in 2020. Little did they realize what challenges would come.
But they pray – they pack – and they expect God to multiply their efforts!
Monday, November 16, 2020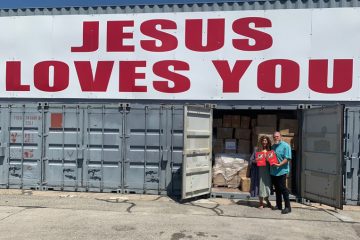 Calvary Salt Lake, a church of 2,200 in Salt Lake City, Utah, collects Operation Christmas Child shoebox filler items from local businesses and individuals year-round. They store these gifts-in-kind—ranging from shoes and clothes to flashlights and school supplies—in two shipping containers in their parking lot until it's time to pack them into shoeboxes for boys and girls ages 10 to 14.
This year, the church is preparing shoebox bundles—complete with empty boxes, all the quality gifts necessary to pack them full, and instructions—that can be picked up at designated times in October by small groups of all kinds. Families, neighborhoods, and groups of coworkers and friends are all welcome to pick up a pack to assemble with proper social distancing and deliver back to the church in time for National Collection Week, Nov. 16-23.
Alison Long, the Operation Christmas Child project leader for Calvary Salt Lake, has been involved in this ministry since 1996. She encourages church members to use the project as an outreach to their friends who may not know the Lord. She asks people to show an Operation Christmas Child video so packers understand what the project is all about and also to "write a letter, take a picture, and put it in the box" to encourage the child.
"We're really trying to get people to see that God is calling us to be light in the darkness. Operation Christmas Child is a project God uses to bring kids to Jesus. It's evangelism, discipleship and multiplication," Alison said. "We need to be bold, we need to be brave, and we need to be a light. Operation Christmas Child gives people something to focus on that's good."
Friday, November 13, 2020
In a word, why do YOU pack a shoebox?
"'Go and make disciples,' are power-filled action words in the Great Commission," said volunteers Dave and Lauren Sebring. "For us, 'obedient' is the one word that describes why we love to pack shoeboxes. God does His part and we are humbled and overjoyed to do our part to bring the Good News of Jesus Christ to a hurting world that needs hope. And to give great joy to children who receive small reminders that Jesus is the Greatest Gift and He loves them."
OCC Gift suggestions: Colorful adhesive bandages, toy dinosaurs, watercolor set with paintbrushes
Thursday, November 12, 2020
In a word, why do YOU pack a shoebox?
Serena Butler sees her one word—"renewal"—working in a variety of ways through shoeboxes.
As a staff member, she witnesses a "renewal of hope" when a community suffering from violence, hatred, crime, and loss receives permission from local authorities for children to receive shoebox gifts and as a result, "people begin to give their lives to Christ."
For her, Operation Christmas Child also means a "renewal of life"—especially for a bus driver named Fusani whom she met in Togo. He was raised by a family who adhered to another religion. He spent a day shuttling a team to shoebox outreach events, and after a long conversation with Serena on the way back to the hotel for the evening, he gave his life to Christ.
She also believes shoebox packing provides a "renewal of calling for pastors and ministry partners in both sending countries and receiving countries as they hear the Holy Spirit calling them to share the Gospel to the uttermost parts of the earth."
It leads to a "renewal of vision as the Lord opens our eyes to the souls still waiting to hear the Name of Jesus. They live in deep jungles, on high mountains, across vast oceans, or maybe in the house next door," Serena said.
Through all these examples, she encourages people to pack shoeboxes, because it brings a "renewal of perspective as we watch the impossible become possible."
Wednesday, November 11, 2020
In a word, why do YOU pack a shoebox?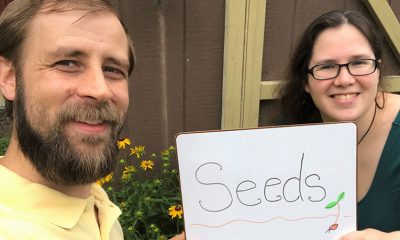 Volunteers Josh and Nicole Kingsbury chose "seeds" as their one word because of the powerful, life-giving force that a shoebox brings into the lives of those who pack them as well as those who receive them.
"We started packing shoeboxes as a way for the children in the church to be actively involved in the Great Commission," Josh and Nicole said.
"We love that each shoebox is an opportunity to share the Gospel with children around the world. Each shoebox gift acts as a seed both at home and overseas."
Need some gift ideas for your Operation Christmas Child shoebox? How about: Hat, scarf, mittens, small puzzles!
Tuesday, November 10, 2020
Sue Alice Sauthoff says, "Operation Christmas Child exists for and by the local church." On her first Vision Trip with Samaritan's Purse to Paraguay, she brought U.S. church leaders to meet a South Korean pastor who had moved to the South American nation two years earlier seeking to plant a church.
"For two years he had been there unable to penetrate into this community that was so closed off," Sue Alice said, "And the day that he showed up with cartons full of Operation Christmas Child shoeboxes, people came out of that community that he had never seen before."
Parents began welcoming the pastor into their homes. He soon offered the shoebox recipients the follow-up discipleship program, The Greatest Journey and the locals who were trained to teach the course received tools that equipped them to disciple their community for a lifetime.
Today "that church is growing and thriving." This new congregation was started, in part, because local churches in other countries packed shoeboxes to help build Christ's Kingdom.
Even if your worship services are hampered by the ongoing global pandemic – here's a chance to be the Capital-C CHURCH! Through OCC!
Monday, November 9, 2020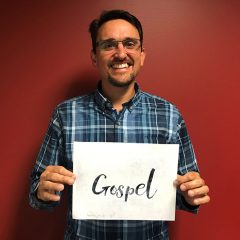 In a word, why do YOU pack a shoebox?
For Nathan Jansen, his one-word answer is GOSPEL. "That one word encompasses so much: Good News, the Great Commission, the hope of the world."
Nathan served as a missionary in Southeast Asia for nine years before joining the staff of Operation Christmas Child. "One of the most difficult things that we struggled with on the mission field was finding bridges into the lives and hearts of those we were working to reach," Nathan said. "When I heard about Operation Christmas Child, I was amazed how these simple shoebox gifts were used by the Lord to bring the Gospel to some of the most difficult places in the world."
Nathan sees that shoebox gifts open hearts to God's Greatest Gift—the Lord Jesus Christ. He hopes the word Gospel will prompt others to pack shoeboxes. He said, "I pray you'll be encouraged, too, just with that word and knowing that God is bringing Good News and great joy to people all around the world."
Friday, November 6, 2020
Nancy Osborn is a prayer coordinator for the Maine West team of year-round Operation Christmas Child volunteers in the Portland area – but she wasn't always so confidant in her prayer life.
About seven years ago, Nancy felt burdened to learn how to pray more effectively. At the same time, one of her friends had contacted Operation Christmas Child about getting involved. She was encouraged to start a prayer group focused on the project and invited Nancy to join her.
"I wanted to grow in prayer," Nancy said. "How perfect is God."  Two years later when Nancy's friend was asked to serve in an area leadership role, she asked Nancy to be her prayer coordinator.
"I'd never seen myself leading any kind of prayer group," she said. "Why would someone who doesn't know how to pray lead a prayer group? It certainly didn't make sense to me. Apparently, it made sense to God, so here I am following."
Reflecting on her five years in the role, Nancy said, "It's been a great growing experience for me, both learning how to pray and watching other people pray. Every year has been better and better."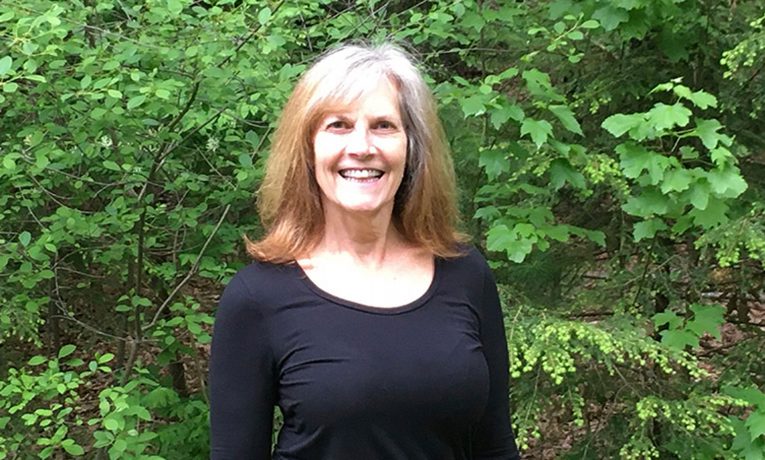 Although she never imagined herself in the role, Nancy said she's found serving as prayer coordinator fulfilling: "It helped me become a prayer warrior."
You can be a prayer warrior, too! Would you join us in praying for all the boys and girls on the receiving end of these OCC Shoebox gifts? And if you want to pack or send one of those gifts, CLICK HERE!
Thursday, November 5, 2020
In remote, bush regions of Liberia, less than 3 percent of the population consider themselves evangelical Christians. Pastor Bobby, Dian and Sandee set out into this area down a path that was overgrown with trees. Stopping along the way to remove branches that had fallen into the trail, the trio eventually arrived in a small village consisting of 300 people.
40 children from the area came to receive shoebox gifts. At this outreach event, 70 residents of Vanyanpa accepted Christ as their Lord and Savior! Less than a week later, Bobby returned and hosted the first church service in this Mano village. A new generation is being transformed by gift-filled shoeboxes.
Amazingly, the first churches ever were started in each of these villages last year, soon after Operation Christmas Child shoebox gifts were delivered to their children. These gifts and the message of the Gospel reach people even where there is no road! Praise God!
Please pray for church planting efforts among the unreached peoples of Liberia through Operation Christmas Child.
Wednesday, November 4, 2020
When people tell Karabo Maretlane he's lucky, he says, "I'm chosen."
Karabo grew up in a village in the southern African nation of Lesotho. When he was 5 years old, his father died and his mother left him with his grandmother. As this elderly woman raised him, she taught him how to read, write, and follow God. But Karabo's grandmother died when he was still young and, shortly afterward, his mother died as well. Loneliness set in like never before as he realized he was an orphan.
Karabo's uncle soon invited him to come live with him in the city. It was there that a friend invited him to an Operation Christmas Child outreach event where he received a box full of gifts just for him.
"That shoebox filled one of the holes in my heart," he said.
Today Karabo is part of a family again and he encourages others to pack shoebox gifts for other kids around the world: "If you hear the voice of God, do not harden your heart" (paraphrasing Hebrews 3:15).
Now more than ever, children need hope. You can bless a child like Karabo with great joy and the Good News of Jesus Christ by packing a shoebox or building one online.
Tuesday, November 3, 2020
The little boy in Central Africa with the big name was called Marvellous because his mother wanted to praise God for how He had already helped her family through many struggles.  When he was just 6 years old, he was separated from his family. Thankfully, the family's prayers for his safe return were answered the following month.  They praised God for His faithfulness when they reunited with Marvellous.
Just a couple of years later, at age 8, Marvellous received an Operation Christmas Child shoebox gift at church.  He was elated to receive school supplies in his shoebox, calling it an answer to prayer to help him start school.  He loved to write and draw, so he was especially thankful for the notebooks, pens, and pencils.
"God hears the cries of His children," said Marvellous, who is now a 22-year-old college student in Charlotte, North Carolina. "My shoebox gave me hope. Still today, I think that it was a message, a gift from God. These precious shoeboxes share the love of Christ with children around the world."
A special letter packed in his shoebox gift continues to remind Marvellous of God's faithful care, even now many years later. It read: "No matter where you are, just know that God loves you no matter what you are going through in life."
Wherever God leads him, Marvellous plans to continue to cling to the Lord's promises for His children.  You can impact a child's life, too. Find out how RIGHT HERE.
Monday, November 2, 2020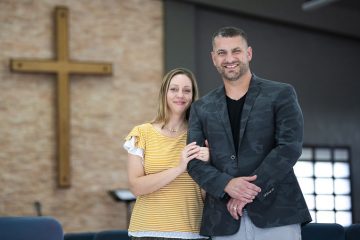 Andy Loos and his wife Jennifer moved to Guam in September 2019, after pastoring for 22 years in the U.S. and planting churches in Ohio and Florida. Wherever they ministered, they were always actively involved with Operation Christmas Child. They packed boxes with their kids, and they also collected shoeboxes at their churches. But when they moved to Guam, they had no idea they would soon be distributing boxes and not just packing them.
The first shoebox distribution on Guam occurred in January 2020 at Guam Bible Fellowship. Andy and Jennifer were overwhelmed by what they saw. "A little girl at the distribution had asked her dad for some art supplies, but they couldn't afford any," Andy said. "She opened her box, and it was filled with art supplies. She was so excited and so were her parents. They were wiping tears away as they saw the joy on their little girl's face. And only Jesus knew how to get that box to that little girl."
There also was a boy at the event who was having trouble with his socks. "The socks were all stretched out, and he would continually have to pull them up," Andy said. "When he opened his shoebox, a brand new pair of socks were inside. He immediately took off his shoes and socks and put the new socks on. His mom was watching and said, 'Look! This is exactly what you needed.' Something as simple as socks and art supplies, these things that many people take for granted, were the gifts that these children needed. It was so awesome to see how the Lord knows how to give good gifts to His children."
Andy sums up the goal of this shoebox project in clear terms: "The boxes allow us to minister to these kids and their families, and to share with them the Greatest Gift of all, who is Jesus Christ."
Please pray for the children on Guam and for Andy and Jennifer as they resume distributions and begin teaching The Greatest Journey.
You can get involved, too! CLICK HERE!
Friday, October 30, 2020
Dads everywhere are waxing on and off, thanks to Cobra Kai's popularity. But dojo skills aren't all there is to martial arts. Jeffrey Wall, 15, is as compassionate as he is fierce. The accomplished Tang Soo Do Korean martial artist is helping his community stay fit while sharing his love of the sport with everyone — especially senior citizens.
Before the pandemic, Jeffrey Wall taught karate at a local nursing home. He named his program Golden Age Karate and refers to his students as "Super Nanas" and "Super Grandpas." However, with social distancing, Sensei Jeff had to get creative. He started posting classes on Youtube and Instagram, and with the help of his fans, sends love notes to help his students feel less lonely.
His slick moves and big heart have earned him kudos from around the globe, but he says he's counting down the days until he can see his super seniors again. "To see their faces light up is the best feeling in the world."
Thursday, October 29, 2020
When's the last time you got mail that wasn't electronic OR some sort of junk or spam? And when's the last time you WROTE correspondence and sent it to someone via "snail mail?" Dust off your stationary and practice your penmanship – Victorian Senior Care, an assisted living community with 14 facilities in North Carolina, is looking for pen pals!
After months of strict no-visitors rules, the facility wants to connect its residents to people from all over the world. It only took one question for their mission to go viral on Facebook: Will you be my pen pal? Residents posed with cards telling potential pen pals a little bit about themselves and man, who could say no to these fine individuals?!
Say hi to Ms. Edna, who loves Family Feud. Spare a stamp for Macy, the checkers champion and church choir star. There are literally dozens more wonderful people at the facility looking for some snail mail kindness.
Wednesday, October 28, 2020
When your nickname is "The Dogfather of Harlem," you know you're doing something right. Brian Taylor owns the Harlem Doggie Day Spa in New York City, and he's living up to his (nick)name by offering free services to pet parents financially impacted by the coronavirus pandemic. Taylor says he's lost about 80% of his business because of coronavirus restrictions, but his regulars are extremely loyal — and extremely kind.
When Brian posted about a pup relief fund online, plenty of customers pitched in. With their help, he raised $2,000 and has helped about 12 pet owners so far.
Here's a fun fact: The Dogfather started his career in finance, but decided to get certified as a groomer in 2010 after noticing there weren't a lot of grooming facilities in Harlem. A decade later, he's groomed more than 6,000 dogs.
Maybe you're ready to become a "Dog Father" too. If you're considering adopting a furry friend, check out our adoptable pets this week!
Tuesday, October 27, 2020
Alex Johnson is 14-year-old and wants to help people understand what it's like to live life on wheels. The eighth grader has used a wheelchair for years, and when he was in 5th grade, he had an idea to start a "Spend a Day in My Wheels" challenge to help his classmates understand things from his perspective.
Recently, the idea went all the way to the top of the Tennessee government. A group of bipartisan lawmakers met with Alex and spent a workday in loaned wheelchairs to get an idea of the freedom and frustrations — like opening refrigerator doors — that wheelchair mobility brings. The group agreed the experience was eye-opening, and Alex hopes it will help leaders see the world with an eye toward accessibility.
"I could talk to you for hours and hours about the difficulties people in wheelchairs face on a daily basis," Alex said in a speech. "Until you actually sit in a chair, you'll never fully understand."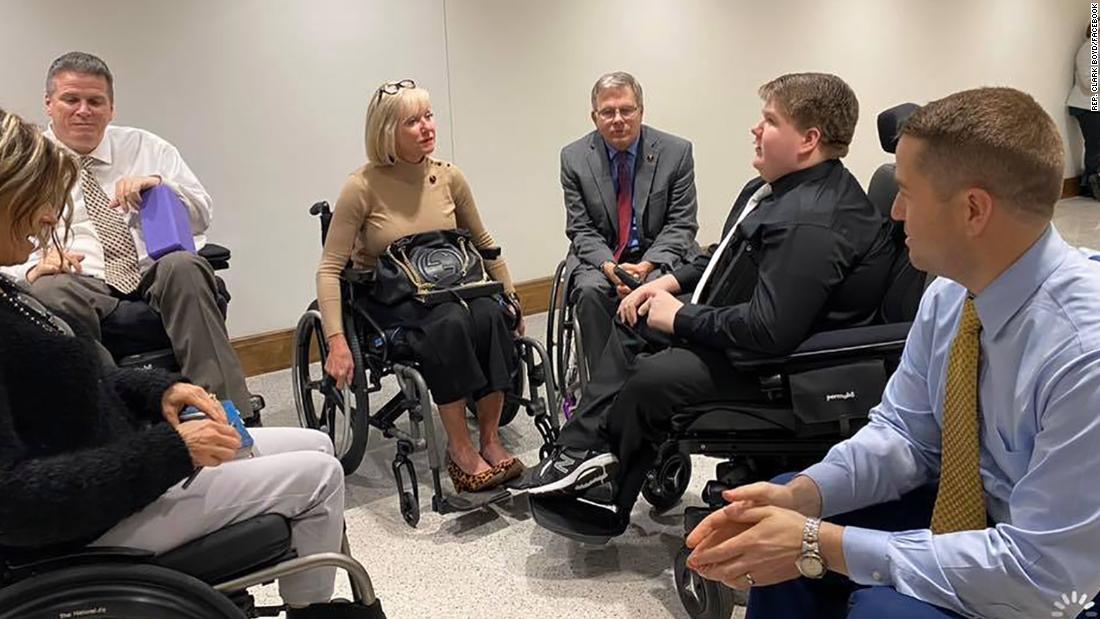 Monday, October 26, 2020
Carol Rosenstein has been helping people with dementia through the power of music since 2014. Her non-profit, Music Mends Minds, has created 20 bands that have improved the quality of life for more than 200 people.
There's plenty of evidence that shows that listening and playing music is beneficial for people with neurodegenerative diseases, and that's more important than ever during a pandemic. Isolation takes a huge toll on seniors, and raises their risk of dementia. Rosenstein moved her organization's programming online. Dozens of participants now meet virtually several times a week to play music together and enjoy a little bit of normalcy.
"What the world needs now is music. Music is medicine for the mind," she says. "We can bring such happiness and hope in this moment of relative despair."
Friday, October 23, 2020
A Virginia mom and her daughter are working to spread art and positivity throughout their community, and it rocks! Katie and Abby Mallory are a part of the Kindness Rocks Project.
It is a trend on social media where people paint rocks and leave them for others to find and collect. Photos of the painted rocks and hints of where to find them are shared on Facebook groups.
Katie said she enjoys spreading this time with her daughter and spreading a little joy with others.
Northshore peeps have been rockin' the rocks for a while – CLICK HERE to join their group!
Thursday, October 22, 2020
Brittany had just picked up her four-year-old and her seven-year-old kids from soccer practice and decided to get something quick for them to eat and McD's. She didn't have her wallet on her so Wyatt paid for the meal. When she went back later that night to pay him back Wyatt insisted the meal was on him.
Brittany took her story to Facebook, sharing about how much she appreciated Wyatt's kind gesture. She wrote, "I just want his parents to know how KIND & COMPASSIONATE your son was tonight! He made this stressed out momma pause for a moment and realize this is exactly what we parents are trying to do, raise great humans," she explained. "Wyatt, do not let this world change your kind heart young man for its people like YOU that will change this world for the better!"
Brittany heard that Wyatt was saving up for a car, she created a GoFundMe for him and was able to raise $32,000 for him to buy a new automobile. Wow – that is what I call a Happy Meal!
Wednesday, October 21, 2020
Dogs are a gift from God. They are man's best friend – largely because they are so incredibly loyal! That loyalty paid off once again in a heartwarming story out of St. Louis where a missing child was kept safe by a new four-legged friend until he could be found.
Kh'amorion Taylor, who's just a toddler, wandered away from his St. Louis home one morning wearing only his pajamas. But Kh-amorion wasn't alone for long – he quickly found a friend in the form of a stray pit bull who stayed by the boy's side for the entire ordeal.
A concerned neighbor found the lost child along with his doggo-companion. Kh'amorion was soon reunited with his father, with whom he was anxious to share about his adventure with his new puppy friend.
The stray dog's heroic actions may have even earned it the best possible reward: The police department is considering adopting the pup.
Maybe you're considering adopting a furry friend, too? Check out our adoptable pets this week!
Tuesday, October 20, 2020
Missouri art teacher Misty Byrd is made of some strong stuff. When she learned one of her student's mothers needed a kidney, she immediately offered one of hers. Ms. Byrd had taught Shannon Croney's fifth-grade son, Fischer, since he was in kindergarten, and says it just felt right to be a lifeline to the family.
Sure enough, the two women were a match. The surgeries went off without a hitch over the summer, and Shannon is adjusting to her new organ. But now, the two women are turning their attention to another member of their community: Jason Eagleston, a single father of three who also needs a transplant.
It's hard to imagine the incredible strength of someone who is moved to give up a part of their body — with tangible risks — but Ms. Byrd says it's worth it.
"You're saving somebody's life. It's an amazing gift to give to somebody … There are hundreds of thousands of people out there waiting."
Monday, October 19, 2020
What do you do when you're laid off during a pandemic? Panic, probably. Job hunt. Maybe feel sorry for yourself. And if you're Brian Schwartz of Wayne, New Jersey, you rev up the lawnmower.
The 39-year-old digital advertising executive was shocked when he was laid off in June. As he contemplated his next move, he realized that senior citizens in his neighborhood were staring down an even bigger danger in the form of Covid-19. He started mowing the lawns of elderly veterans in his community, free of charge. The service grew, and became I Want to Mow Your Lawn. He now offers his service in four New Jersey counties, and two other friends who have lost their jobs during the pandemic have joined his efforts.
Brian says, "With all going on in the world, it's the least I could do for our elderly neighbors."
Friday, October 16, 2020
For three years, Shirley Raines and her volunteer team of licensed hair stylists, barbers and makeup artists have been providing free beauty services to homeless people living in Los Angeles' Skid Row, one of the largest homeless communities in the country. She started her nonprofit Beauty 2 The Streetz because she believes everyone deserves to look and feel better. Plus, Raines points out, being homeless doesn't mean you don't have a life.
"We're talking about people who go to work five days a week," she says. "They want to get beautiful for their spouse. They want to get cleaned up and beautiful to go to work. The little kids who are still going to school need a fresh haircut."
There's also healing in giving back: Raines lost her 3-year-old son in an accident about 30 years ago. In the depths of her sorrow, her sister urged her to "find a purpose for the pain." She began working with homeless communities, and soon, Beauty 2 The Streetz was born.
Thursday, October 15, 2020
Suttie Economy is a 94-year-old World War II veteran and this hero wants to have his coffin painted like a pack of Wrigley's Juicy Fruit gum when he passes. Weird? Sure, but what's NOT weird these days…
So why does Suttie want his coffin to look like a pack of gum? His longtime friend Sammy Oakey (who also happens to run a funeral service) says Suttie is known famously throughout his community for handing out Juicy Fruit gum to everyone he meets.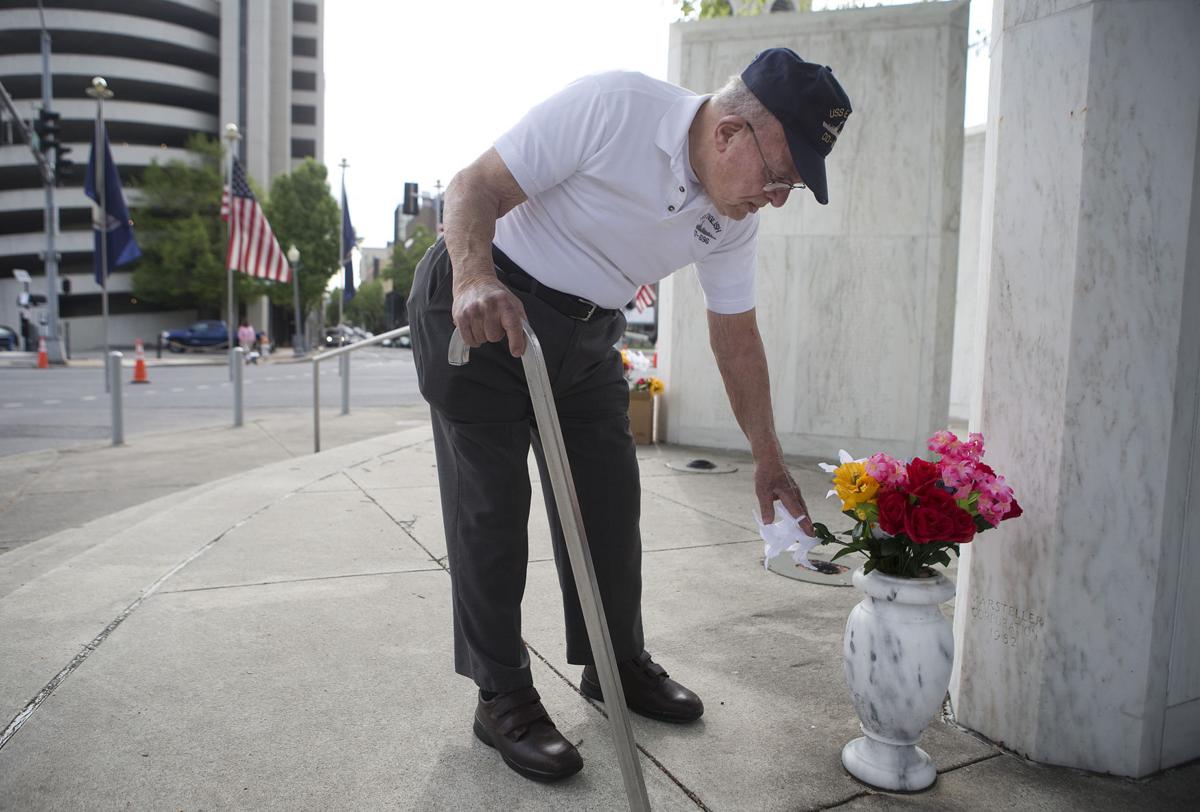 That began during World War II, when Wrigley took Spearmint, Doublemint and Juicy Fruit gums off the civilian market to make sure all of the supply went to the US military. He's been giving it away to friends and strangers alike ever since.
Suttie's brother John explains further, "[Handing out gum] served as a symbol for his mission to talk to people about the World War II memorial and to honor the deceased veterans that died for our freedom."
Suttie is currently at the Virginia Veterans Care Clinic recovering from a heart condition, but whenever the time comes, he will certainly have a send-off worthy of his sweet deeds.
Wednesday, October 14, 2020
What do you do to help your community after a devastating hurricane? For Rikesh Patel, the owner of 25 McDonald's franchises in Louisiana, the answer was one phone call away. After Hurricane Laura hit his town, he called the corporate office, and within a day, a restaurant on wheels dubbed the "McRig" arrived in Lake Charles to help feed families in need.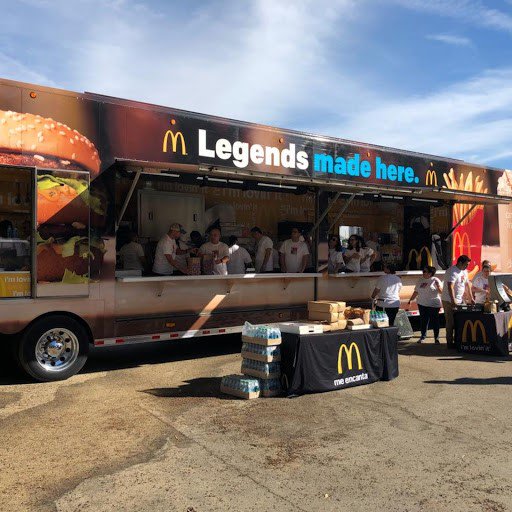 Over the next six days, Mr. Patel says they served more than 10,000 free brown bag meals of cheeseburgers, fries and bottled water. "It was just really neat to see the whole family aspect, of how we've always said we're like a family and it just really came to life during such a tragedy," he said. Some of Mr. Patel's restaurants are still closed due to damage and power outages, and for those employees who can work, he's offered them time-and-a-half and housing if they need it.
We know just how it feels to be on the receiving end of love and support, especially after a storm. Thank you for loving others and being such a beacon of light to our neighbors in need.
Tuesday, October 13, 2020
The pandemic has backed up food supply chains, which has led farmers to throw away ton after ton of excess product that can't reach restaurants or grocery store shelves in time. In Washington state, a unique non-profit is helping re-route all of that great produce to people who really need it.
A few months ago, George Ahearn, who grew up in the farming town of Othello, Washington, got the idea to connect farmers in the eastern part of the state with food banks and meal programs in the west. Except, there was a problem: You can't just drop off bunches of dirty potatoes and onions. Instead, George linked up with Nancy Balin and Zsofia Pasztor, who organized convoys to drive across the state to pick up the produce, and assembled volunteers to clean and bag the food.
To date, EastWest Food Rescue has helped deliver EIGHT MILLION POUNDS of fresh produce to help people in need. The founders of EastWest Food Rescue say everyone should, "..Just figure out what you are passionate about and what you could get involved in."
Words of wisdom. What are you passionate about? Loving God and loving people? Us too. Thank you for joining us in bringing the message of HOPE to our community every day on LifeSongs.
Monday, October 12, 2020
Cancer has affected most of us one way or the other. We've either battled it, walked through it with a friend or family member, or grieved a loss become of it. Tim Gjoraas, a 45-year-old teacher from Sioux Falls, South Dakota, knew he may not have long to live. After battling colon cancer for several years, doctors told him it was terminal. So Tim started working on his bucket list.
The brave man didn't want to go skydiving or ride a bull named Foo Manchu – rather, he decided it was finally time to repaint the outside of his house. It was something his wife had always wanted, and if ever there was a time for fulfilling wishes, it would be now. Word got out to his community, and more than a dozen people showed up to get the job done while he could still enjoy it.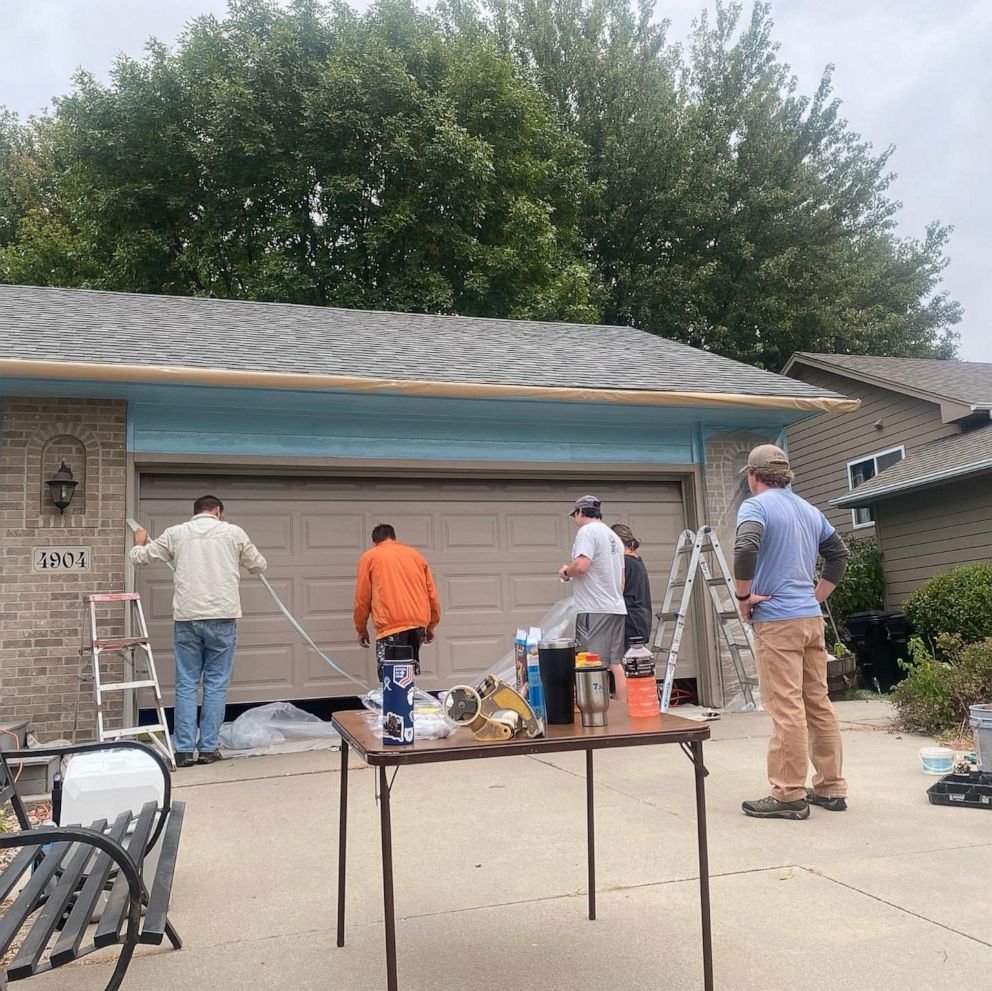 The family and friends got to work while telling stories, and within half a day the house was a beautiful new shade of blue. It's just one way, Tim says, that his friends and neighbors have stepped up during this difficult time.
Thank YOU for stepping in during these challenging times, too. You're making a difference sharing God's love and the hope we have in him with our community every day. We're grateful you're part of our LifeSongs family!
NEED MORE GOOD NEWS? Click Here for previous Today's Good News stories featured on LifeSongs!