Wednesday, August 21, 2019
The members of the Hall County Sheriff's Office in Georgia helped make the first day of school a little less painful for one of their own. Caden Dixon's father, Nicolas Blane Dixon, died last month in the line of duty. When the time came for Caden to start fourth grade at Enota Multiple Intelligences Academy in Gainesville, he was understandably having a hard time.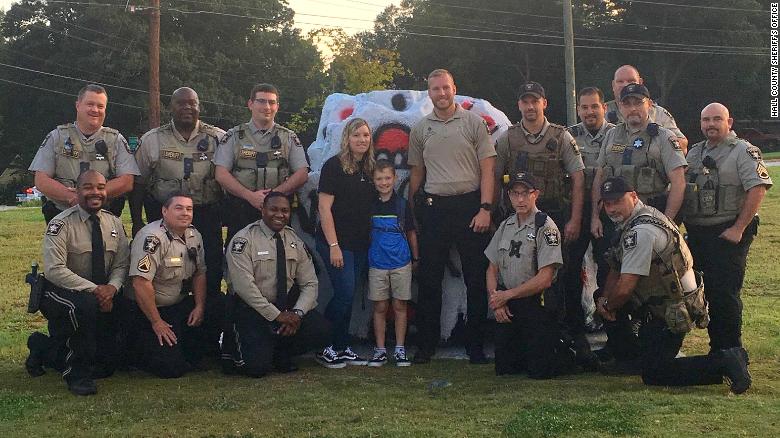 That's when more than a dozen of his dad's colleagues showed up to escort Caden and his mother to class. The sheriff's office says its members have been actively comforting and supporting the Dixons because, well, that's what law enforcement families do.
Sgt. Charles Hewell worked with Officer Dixon and didn't hesitate to walk with Caden to the first day of school, saying, "[Caden] was having a rough morning because he didn't want to go to school without his dad being there – Seeing his reaction when he saw us made everything worth it."
Tuesday, August 20, 2019
When did you learn to tie your shoes? I don't quite remember, but I'm pretty sure I was rocking slip ons or velcro shoes for most of my time as a toddler. Not Josiah Owens, though. This 2-year old already knows how to tie his own shoes.
So, while out with his mom, when he noticed another toddler sporting some untied shoes with laces, he raced over to help. He'd never met the boy before and no one asked him to help – he simply noticed a need and did something about it. Way to go, Josiah!
Such a simple and sweet gesture makes me want to take action, too. How can you help someone by meeting a need today?
Monday, August, 19, 2019
Did you help your kids pick out their first day of school outfit? It's a big day, the start of a new school year, and what you wear can really make a statement. Especially in the case of one student at a Georgia elementary school.  6-year old Blake Rajahn walked in on the first day of school sporting his brand new t-shirt with the message: "I will be your friend."
Blake's mom runs a personalization business, and she promised to make him whatever kind of shirt he wanted for his first day. She assumed he'd want a basketball or football theme. Imagine her surprise when he responded, "Will you please make me a shirt that says 'I will be your friend' for all the kids who need a friend to know that I am here for them?"
Blake has experienced bullying and hard times at school before, and simply wants other children to know he's there for them. His mom Nikki says she has already sold several other shirts like Blake's after her Facebook post went viral. Her son hopes that "more and more people find friends" on their first day with the help of the shirts.
Way to go, Blake! Never underestimate your child's heart for others or the example your actions have set for them. Who can YOU befriend today?
Friday, August 16, 2019
An 11-year-old boy in El Paso, TX, has started the "El Paso Challenge" to encourage kindness to one another in response to the Walmart shooting.
Ruben Martinez is challenging each person in El Paso to do 22 acts of kindness for others in honor of the 22 people who died that day.
"He was having some trouble dealing with what happened," his mother, Rose Gandarilla, said She explained to him that we could not live in fear and that people in our community are caring and loving. I told him to try and think of something he could do to make El Paso a little better."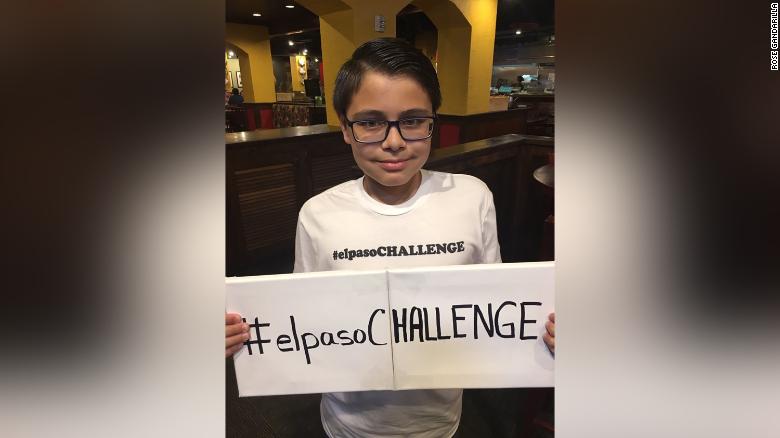 Since then, Ruben has been passing out flyers and posting on social media to try and help the #ElPasoChallenge spread.
He has already done his first act of kindness, He chose to go deliver dinner to our first responders."
Ruben Martinez may just be a 6th grader but he is leading by example.
Way to go Ruben!
Thursday, August 15, 2019
There are already universal symbols for peace and love—but one group of kindergartners has been pushing for there to be a newly-recognized sign for kindness.
The young students first launched the project as a part of their writing and geography project and has since garnered national traction with a petition to adopt a new National Symbol of Kindness. The petition has accumulated over 4,000 signatures!
The Kindness Symbol shows a circle around a heart with arrows signifying N,S,E & W. to symbolize kindness "all around, ongoing, never-ending, north/south/east/west, everywhere!"
The youngsters have presented their proposal to dozens of school boards, city councils, and municipalities—and many of the ordinances have already agreed to adopt the symbol. If you want to sign the petition or learn about the movement – CLICK HERE!
Wednesday, August 14, 2019
If you have ever lost your job, you know the sinking feelings of fear and failure that can be overwhelming. When Patrick Hoagland got laid off from his job as a forklift operator, he didn't let the fear take over – he got proactive.
Patrick printed up 200 resumes and stood on the street corner with a sign saying he was looking for work – please take a resume. One passerby, Melissa DiGianfilippo snagged a resume, put Patrick's story online and one thing led to another…
Now Patrick has a new job with a local concrete company and a new friend in Melissa.
Tuesday, August 13, 2019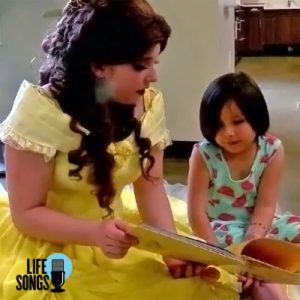 Dressed in a Snow White costume and carrying her favorite storybooks, Rachel Oehlert is bringing magic to children in the hospital. The 24-year-old from Thornton, Colorado, has dyslexia, and as a student, dreaded reading to the class. When she couldn't shake her fear of reading aloud, she decided to step outside of her comfort zone and start reading to sick kids. Three years ago, she bought a Belle from Beauty and the Beast costume, and visited her first children's hospital. She found she wasn't nervous, and with her confidence boosted, started her own nonprofit, Truly Make Believe.
The organization now has a team of 15 volunteers who visit hospitals dressed like princesses and superheroes. "Doing this has made me a more compassionate human," Oehlert told The Washington Post. "What started as a simple idea to help me overcome a fear has become a big part of who I am."
And even more important – she's helping kids get better!
Monday, August 12, 2019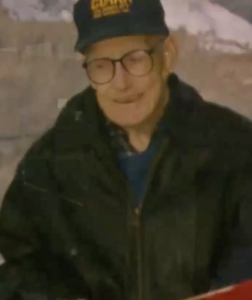 Unbeknownst to even his closest friends, Dale Schroeder scrimped and saved for so long that by the time he was 86 years old, he had accumulated a fortune worth $3 million. The Iowa carpenter was a hard-working "blue collar, lunch pail kind of guy," friend Steve Nielsen told KCCI. Before he died in 2005, Schroeder told Nielsen about his money, and how to spend it: He grew up poor and never had the chance to go to college, so he wanted to help young people further their education.
Since then, Schroeder's fortune has paid for 33 small-town Iowa kids to go to college. They call themselves "Dale's Kids," and have gone on to become teachers, doctors, and therapists. The only stipulation is that they one day help others in a similar fashion. "You can't pay it back, because Dale is gone, but you can remember him and you can emulate him," Nielsen said.
Friday, August 9, 2019
When Wayne Wilson's friends put a call out for community members to attend his funeral, they were expecting an additional 10 to 15 people to show up.
Instead, about 3,000 people turned out to pay their respects to the Vietnam War veteran, who did not have any surviving family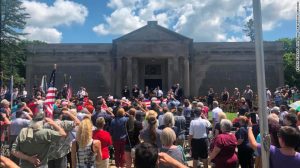 members.
Wilson, who died May 28 at age 67, served in the army from 1971 to 1977.
"I was just amazed when I pulled up in the hearse," Drew Mikel, an intern at the Brown Funeral Home & Cremation Services who helped publicize Wilson's funeral, told CNN.
"I was driving through a sea of people. I couldn't believe that many people actually turned out."
Some who showed up were locals; others had driven from Tennessee, Iowa, Florida and Indiana to Niles, Michigan, to pay their respects, Mikel added.
Full military honors and the military salute were performed for Wilson at the ceremony.
Sergeant-at-Arms of American Legion Post 51 Richard Stuart, who is in charge of the color guard that performed at the ceremony, said Wilson's was the biggest commemoration he has ever done in 10 years.
"None of us figured that it would be as big as it was," Stuart said. "Every veteran has the right to have a funeral like this. You're showing honor to a veteran who has passed away."
"Mr. Wayne Wilson was a heroic soldier for our country, becoming wounded in the Vietnam War. Wayne was proud of his country and proud of his city. Every year, Wayne was the first person at Silverbrook Cemetery for the annual Memorial Day Parade," Brown Funeral Home & Cremation Services said.
However, they didn't expect the notice to reach so many people.
"The community simply embraced it and took it upon themselves, made it their mission (to celebrate Wilson)," Mikel said.
Thursday, August 8, 2019
The students and staff at Dayton Consolidated School wanted to greet Morey Belanger on her first day of kindergarten, and to do so, they all started learning American Sign Language. Morey is the first deaf student to attend the school in Dayton, Maine. Before her arrival, the students learned how to say hello to her, and since then, they've been taught more than 20 words, including colors and school-related terms.
Dayton's principal Kimberly Sampietro says, "Morey, without even knowing it, has taught us so much! She has brought a culture to our building that we didn't have before."
Morey Belanger is taking an active role in educating her peers about ASL and deaf people, helping her fellow kindergartners learn the alphabet. Her mom Shannon says her daughter felt so welcomed and that the school going the extra mile meant so much to their family.
Wednesday, August 7, 2019
Darius has always had a love for two things bow ties and dogs! At the age of 2, Darius was diagnosed with speech, fine motor skills and comprehension delays. Doctors said he needed to work with his hands more to strengthen his fingers, so Darius (who loved watching his sister Dazhai – dah-zshay – sew hair bows) learned how to sew and started selling bow ties.
In 2017 when hurricane Harvey's destruction left people and animals without homes, he thought of a new use for his bow ties. Darius wanted to help. He noticed that dogs were being transported from Texas to New York and figured if he donated the bowties to the animal shelters, it could help the dogs to get adopted faster!
Darius says, "If you put the bowties on the dogs, it would make them look good, and help them look for homes!" So he got to work and started sewing and delivering bowties to animal shelters … and you know what? It worked!
With the help of his mom and sister, he started Beaux & Paws. Now the family travels to shelters around the country to donate bow ties. Darius carefully chooses the right bow tie to fit each dog..based on fur color, personality, eye color.
Beaux & Paws caught the eye of former President Barack Obama who sent Darius a letter telling him to keep up the good work.
Tuesday, August 6, 2019
Celebrity chef Duff Goldman wants to make one thing clear: Baking is a cool thing for everyone to do.
The "Ace of Cakes" star recently took to Instagram to share that inspiring message after receiving a heartwarming, handwritten note from a young fan named Caleb. In the note, the 5-year-old thanked the superstar baker for showing people that boys can have mad baking skills: "Duff, thank you for making baking cool for boys."
Goldman's response on Instagram: "Thanks Caleb! Baking is cool for literally EVERYBODY!"
Fans soon flooded the comments section with appreciation for Goldman's uplifting outlook. The post has since been liked over 28,000 times. It looks like Goldman can add baking role model to that list of accomplishments.
Monday, August 5, 2019
Life had never been better for Katie Hearn when she landed her dream job working for the Atlanta Braves. But her achievement was soon overshadowed by a rare medical condition that caused her to lose her sight.
She grew up playing softball and fell in love with the Braves. In 2015, she landed her dream job working for the Major League Baseball team. She was monitoring the Braves' social media but also helping create one of a kind experiences for fans. 2 years into the job, she started to have debilitating headaches and she was also struggling with her eyesight so she made an appointment to see her opthamologist. Katie was diagnosed with a rare illness that impacts her optic nerves. Even after several surgeries, Katie lost her sight.
She had to learn her new lifestyle – everything changed, except Katie's attitude of gratitude.
Katie trusts that God has a plan – and even the loss of her vision didn't stop her from returning to her dream job. Being a part of the Braves is her passion and NOT just a job!
Friday, August 2, 2019
Logan Simmons, a 19-year-old Chick-fil-A employee in Georgia, went to work on a Wednesday just like any other day—it just turned out to be anything but ordinary.
Logan, who was working the drive-thru, heard a woman in a car in the drive-thru line screaming that her son was choking. Logan jumped into action. He jumped straight out of the drive-thru window and ran to the car.
"I think it was the quickest option," he says. (Surveillance video from Chick-fil-A shows his leap onto the pavement outside.)
Once he got to the car, Logan found the 6-year-old boy tangled in his seatbelt, his face turning red as the belt wrapped around his neck. Logan whipped out a pocketknife and cut him free.
Logan's mom says she's amazed he didn't panic, adding that when her son first came home from work, he didn't even mention what had happened for a couple of hours.  The little boy's mother called Logan not long after the incident to thank him properly.
He also says, "I do feel like a hero."
Thursday, August 1, 2019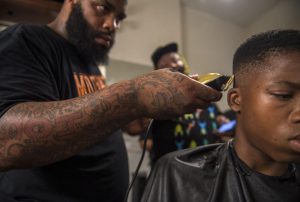 It's officially August, and for New Orleanians that means the ring of the school bell isn't far away. On that first day of class, students ideally start the day well-rested, with a good breakfast, new supplies, and a fresh haircut.
For four years, 7th ward barber Brandus Mercadel, has given away hundreds of free haircuts to help children look stylish on their first day of school. He says, "Even if your clothes or sneakers are bummy, people can be blinded by a fresh haircut. All they will see is the fresh cut."
But because 40% of New Orleans kids live in poverty, it's not uncommon for haircuts to fall by the wayside as families scrape together money to pay for uniforms and supplies. So, for the past four years, Brandus has led special free-haircut events before school begins.
He just shrugs when asked to estimate how many children he's gotten ready for school over the years. But this year, his count must be exact. This weekend (Saturday and Sunday) the barber will put himself to the test from 9 a.m. to 6 p.m., hoping to set a one-man Guinness World Record for the most free back-to-school haircuts.
He's ready for the challenge. On Friday, he'll pile a grocery cart full of hot dogs and cold drinks for the kids who show up. In the meantime, he's been studying the Guinness "Guide to Evidence," which requires statements from two different independent witnesses every four hours plus before-and-after photographs of each haircut.
No one has before attempted to set a record in this category. The Guiness organization is honored that this barbershop is attempting a record for such a great cause.
Wednesday, July 31, 2019
David Carter had big dreams when he started at the University of Texas in 1971. Unfortunately, he faced mental health challenges and subsequent addictions, which led him to drop out of college.
Now, thanks to the tenacity of a local student, he's got a second chance to finish his degree.
Journalism junior Ryan Chandler said he met David during an assignment on homelessness for The Daily Texan. "I interviewed him as a source on Austin's homeless problems, and after I heard how inspiring his story was, we kept in touch and really became friends. I learned of his desire to get back to UT, so I helped."
With Ryan's help, David was able to enroll in classes, and, thanks to a generous UT Austin alum, his tuition fees were covered. The anonymous donor said he "values the importance of second chances and education."
David's response? "It's the greatest blessing I've ever received."
The school is also on board to help David any way it can, saying, "We welcome him back and admire his courage and persistence, and are grateful for the generosity of fellow Longhorns who are stepping in to help."
Tuesday, July 30, 2019
This summer, Virginia based Girl Scout Troop 60013 hosted TechBridge, their first walk in clinic to help local senior citizens with their cellphones. The troop was able to assist with a broad spectrum of tech support and training topics. One Cadette showed an older woman how to text, and she immediately sent her daughter a text message "which just made me feel really, really happy."
The idea came as the 8th graders were brainstorming a project for the Girl Scout Silver Award. The goal was to help the community, and it seems like that's been a big success. The troop hopes to hold more helpful clinics in the future.
Monday, July 29, 2019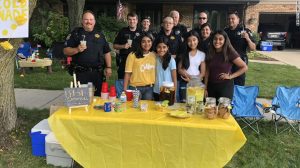 11-year old Alizay and her sister, Emaan, set their stand up in her Chicago suburban neighborhood last month. She was selling lemonade to benefit Feeding American, a national network of food banks.
Unfortunately, after they'd taken in $9, a group of older kids grabbed the money basket and drove off with it. Devastated, her father posted on the Nextdoor app and asked what he should do. (When life gives you lemons…)
That's when Ben, a neighbor who lived on a busier street corner, offered to have the girls set up their stand there. A cop showed up to keep watch over things this time, and his friends (local police officers) showed up to help out, too. Overall, the sisters received nearly $350 in donations (and learned a lesson in perseverance, passion, and good neighbors in the process).
Friday, July 26, 2019
Barry Farmer didn't have the easiest childhood, but it was an experience that made him who he is today – a dad to three boys. When Farmer was just a toddler, he and his three sisters went into "kinship care," a form of foster care where relatives or friends take care of someone's children.
When he was just 20 years old, he saw an ad about how to become a foster parent. "A year after getting licensed, I got my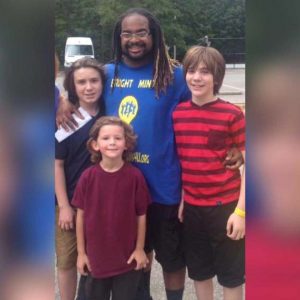 first case," he said.
Farmer said social workers were reluctant to assign him cases since he was so young,
"Culturally, different than what was used to, Farmer didn't want to turn down 8-year-old Jaxon. "He was supposed to be going home, he was supposed to be temporary," Farmer said. Farmer was just 22 years old at the time, and thought the social workers would have a problem with the adoption, but they didn't. Jaxon seemingly had everything he needed living in Farmer's loving home. But he still wanted one more thing.
"He asked me, 'Am I going to get a brother?' I was like, 'Okay, let me think about that,'" Farmer said. He had no intention of adopting a child — let alone two — but someone showed him a website of foster kids who need adoption and what type of family they're looking for and that is when he found Xavier, who was 8 years old when he moved in with Farmer and Jaxon. A few years later, when Xavier was 11, Farmer officially adopted him.
Farmer took in another foster child, Jeremiah, giving his other sons a new little brother. "They welcomed him with open arms, as did I, so we adopted him as well," Farmer said. "It's not like I planned it." Farmer officially adopted Jeremiah when he was five.
"Foster care itself is so unpredictable, you don't know what to expect once you signed up," Farmer said. "This is not what I signed up for but I embraced it." He hopes other parents considering fostering and adopting know it is difficult.
Thursday, July 25, 2019
Offenders housed at Dixon Correctional Institute in Jackson, Louisiana are getting a second chance to make a difference in the lives of those most in need. Dixon is home to Pen Pals, an animal shelter run completely by inmates. They recently added a huge number of animals from a recent discovery in Terrytown .
The program is more than just inmates taking care of dogs; it's changing the caretakers too. The Louisiana Humane Society provide training to the inmates, which can turn into certifications and even post incarceration employment opportunities.
All of the dogs that were taken to Dixon Correctional are being held for evidence in this case for the time being. The deputy warden says they should be up for adoption soon.
Wednesday, July 24, 2019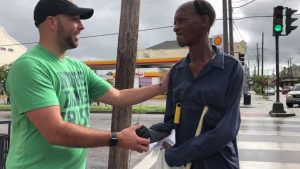 Neighbors got together to raise money as a thank you for a man who's been helping to keep their neighborhood streets clean. New Orleans resident Rob Morgan says he's noticed a man sweeping the streets in the Irish Channel and Lower Garden District for awhile now. Morgan said at first he thought the man worked for the city or for a business in the area and it was his job to clean the streets. He soon found out that the man is just doing it out of the kindness of his own heart. Recently Morgan approached the man, who he said is very quiet and shy. He asked him if he worked for anyone and why he was cleaning up the streets.
The man told him that he didn't work for anyone and said, "I love the city!" The man also told him that his name was Kenneth. Rob Morgan was so touched by what Kenneth has been doing to clean up the streets that he decided to start a "Go Fund Me" fundraising page to give money to Kenneth for all of his hard work of cleaning up the city he loves.
The goal was set at $2,250, and they raised $2,451.
A few days ago Morgan donated all the money to Kenneth and gave him the money and told him thank you from the neighborhood for all that he's done to help!
Tuesday, July 23, 2019
Parking tickets in Las Vegas were being paid with dry erase markers, pencils and other school supplies, thanks to a unanimous city council vote. The program encouraged motorists to pay off their parking tickets with "new, unwrapped school supplies of equal or greater value to their fine."
Only non-public safety citations were eligible. The items then go to the Teacher Exchange, a nonprofit associated with the Public Education Foundation. While this hasn't caught on in New Orleans yet – you CAN make a difference with the LifeSongs Back To School project – going on now! Learn more at lifesongs.com!
In fact Nancy and Jasmine will be at Chick Fil A in Houma TODAY (7/23) from 11-2 enjoying your company, collecting school supplies and giving away a pair of tickets to see FOR KING & COUNTRY this November. So while a few notebooks won't clear that warrant in Terrebonne parish – it will make a difference!
Monday, July 22, 2019
Shannon Anderson takes the characters created by her students and turns them into something huggable. Anderson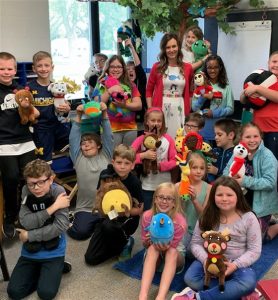 teaches third grade at Van Rensselaer Elementary School in Rensselaer, Indiana, and every year, she has the kids write and illustrate their own books.
"It gives them a lot of ownership and excitement," she told Today. Anderson encourages them to let their imaginations run wild, and after they turn in their work, she takes one of their drawings and sends it to a company that makes custom stuffed animals.
Anderson wants the kids to look at their new toys and "see that writing is a joy," she said. As soon as they open up their gifts in class, their "instinct is to be in awe, to hug it and love on it," Anderson told Today. "It is something very special that they created. It is powerful."
Friday, July 19, 2019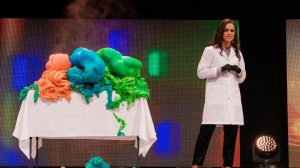 The talents at pageants usually skew towards your traditional singing and dancing, but 24 year old Camille Schrier found a new way to literally blow away the competition. For the talent portion of the competition, she showed off her science chops by triggering a chemical reaction on stage.
Schrier demonstrated the catalytic decomposition of hydrogen peroxide, which sent spouts of colored foam shooting skyward. The biochemist/newly crowned Miss Virginia says she hopes her victory challenges some beauty queen stereotypes, declaring, "I am more than Miss Virginia. I am Miss Biochemist, Miss Systems Biologist, Miss Future PharmD looking toward a pharmaceutical industry career."
Thursday, July 18, 2019
Tina Tallman, a physical therapy assistant based in Largo, Florida, noticed that people with disabilities didn't have a lot of options for exercise, but with a little help and advice, they could do it!
There were limited programs and gyms for them. So 2 years ago, she founded "Me & U Fitness Academy". This program helps people with disabilities exercise. Some hope to lose weight, while others are looking to build strength. Tina designs an adaptive routine to fit and match their goals.
Tina says: "They are capable of doing so much. We have to get rid of that stereotype that just because they have special needs, they can't be active."
Wednesday, July 17, 2019
With the kindness of its members and some help from a special charity, an Indiana church network has raised more than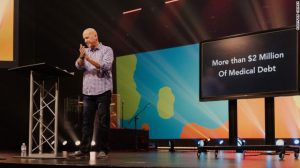 $30,000 and used it to alleviate millions of dollars of medical debt in local communities.
Northview Church has seven different campuses across the state, and every quarter they do a "Dollar Club," where they ask each of their several thousand members to donate a single dollar. Recently, the church asked for a bit more, and then revealed a surprise: They had partnered with a medical debt relief program, which buys medical debt at a discounted rate. When all was said and done, the thousands in donations translated to $4 million in medical debt relief for people around Indiana.
Obviously, any story of people struggling with medical bills is tough to stomach, but the pastors at Northview say it was an opportunity for people to be good neighbors for those in need.
Tuesday, July 16, 2019
Alexa Bjornson was worried that her 7-year-old son, who has autism, would bother his seatmate on a flight. Turns out she had nothing to worry about. She gave her son Landon a note to present to the passenger next to him. The message explained that Landon has high-functioning autism going to visit his dad and might frequently ask "Are we there yet?" She also included $10 for the person for helping her son feel safe and comfortable.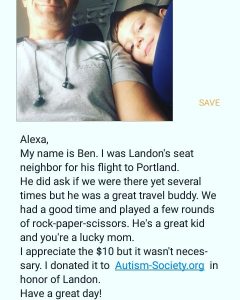 Ben Pedraza ended up sitting next to Landon, but he didn't need any cash incentive to enjoy a great flight with Landon. Ben had a blast cracking jokes with Landon most of the way from Vegas to Oregon – that is until Landon literally asked Ben to stop with the dad jokes!
At the end of the flight, Pedraza snapped a photo with Landon and sent it to Alexa with a sweet, reassuring message."(Landon) did ask if we were there yet several times but he was a great travel buddy. We had a good time and played a few rounds of rock-paper-scissors," Ben Pedraza wrote. "He's a great kid and you're a lucky mom."
Ben said the $10 wasn't necessary and donated it to The Autism Society in honor of Landon.
Monday, July 15, 2019
Drew Brees needed New Orleans and New Orleans needed him. Brees realized it when he first visited New Orleans, months after Hurricane Katrina had wrecked the city. Despite all the damage he saw, Brees, decided to sign with the Saints. He wanted to give the city two things.
A championship. And hope.
He checked the first one off the list in his fourth season with a victory in Super Bowl 44.
The second one has been ongoing; one of his most recent endeavors came to fruition in March. Brees donated $250,000 to help build KIPP Believe, a school at Columbia Parc in Gentilly for kindergarten through eighth-grade students.
"It's the beacon of hope mentality," Brees said. "You go into an area that otherwise didn't have any hope and transform it. It not only gave hope within, but it lets everyone else around it know what's possible."
And there was a time when there wasn't much hope here. Positive messages are displayed throughout the 42-classroom building that can hold 750 students. The words "believe in a better tomorrow" hang in the school cafeteria.
"It's not I don't know. It's I'll try," reads a sign in the hallway. "It's always positive when somebody is giving back to the community," Daniels said. "The kids need it. There aren't enough people willing to give back."
Some of Brees' other recent charity events include his $200,000 donation to renovate the locker rooms at Ben Franklin High School. And in a non-monetary donation, he gave also 10,000 shirts to students from the Greater New Orleans Collaborative of Charter Schools.
"I think it's an incredible model of what can be done in a lot of other areas," Brees said. "Not just in New Orleans, but around the country. We wanted to support it because we believe in it. We are constantly looking for projects in New Orleans that are truly making an impact in their communities."
Friday, July 12, 2019
Help is on the way: When a single mom needed financial help so she could move to Texas for a NASA internship, hundreds of strangers chipped in.
Imagine your wildest dream coming true, only to realize you can't afford to accept it. That was the case for single mom, India Jackson, who landed an internship at NASA while working on her Ph.D in solar physics at Georgia State University.
A self-described "space weather girl," India uses her background in math to predict solar flares and radiation belts. When she was selected for a 10-week internship at NASA in Houston, she says, "This is amazing, an amazing opportunity, a lifetime dream!" But, with the expense of moving temporarily with her pre-teen daughter, she just didn't know how she could do it.
Her cousin, Dasha, stepped in by setting up a Go Fund Me campaign to help her out. People were so generous, they surpassed the goal after just one day.
India is grateful beyond belief for the amazing show of support from all around the world, and says she hopes NASA will always be part of her future as she continues her pursuit of teaching, learning and sharing.
Thursday, July 11, 2019
Minnesota police officer Matt Siltala responded to a recent call to check on the welfare of an elderly woman.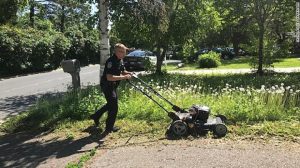 After seeing that she was okay, he asked her why her yard was so overgrown. She said she didn't have anyone to mow it for her. So, he grabbed a mower and took care of business.
Thank you, Officer Matt, for going above and beyond the call of duty with kindness and compassion (and probably a little sweat, too)!
Wednesday, July 10, 2019
Kaitlyn and Aeric both agree that it was miraculous they ever met in the first place. So much so, in fact, they can only explain it as divine intervention.
Kaitlyn was the victim of a theft. The burglar broke into her car and home, stealing her purse. Imagine Katilyn's surprise days later to see a man walking down her street, her bag in hand.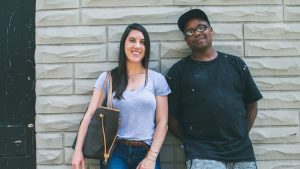 That man was Aeric, who had been homeless for more than a year. He was addicted to drugs and at the end of his rope. Two weeks before meeting Kaitlyn, he told God he couldn't live like this anymore. That's when he saw a black and tan purse abandoned and stripped of its money. "I said to myself, 'You gotta find the owner. You gotta do the right thing." So, he found an address on a bill inside the bag, and set off to find the owner: Kaitlyn Smith.
Kaitlyn saw Aeric on the other side of the street and assumed he was selling the bag. But when she asked him about it, he surprised her by saying he was looking for the owner. "I just thought doing a nice thing would bring me some hope, because I'm feeling really hopeless," Aeric told Kaitlyn.
Kaitlyn was moved. She started asking Aeric what he might need and that's when Aeric revealed he was addicted to heroin. He told her it was unlikely he would be able to keep any job for very long.
Kaitlyn made her new friend an offer: If he could find a rehab facility that would take his insurance, she would help get him into treatment. He agreed, and Kaitlyn sent him on a plane to a center in Florida the next day. She also started a GoFundMe account to help him cover his treatment and expenses as he got back on his feet.
After Aeric eventually completed treatment and returned to Baltimore, it still wasn't easy—he faced fines, lack of transportation, and minimal job prospects as a result of his addiction—but he was clean, with a newfound friend that would never stop fighting for him.
Kaitlyn's life was changed, too. She decided to leave her job to pursue a career in addiction treatment services. What started as a chance encounter led to a friendship neither of them could have ever expected.
Tuesday, July 9, 2019
Ruth Henricks has served thousands of customers at her small diner, but she will never forget one man named Scott who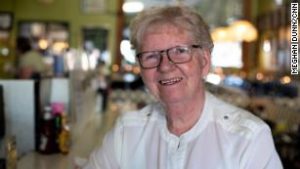 walked in 30 years ago. He was living with a chronic illness, and was too weak to feed himself some days. He told Ruth the only time he ate was at her diner.
This is how Ruth began her non-profit, bringing home cooked meals to people like Scott. She banded together volunteers, many of whom were regular patrons of her diner. They cooked meals at the diner and delivered lunch and dinner to 75 people a day.
To date, the group says it has served nearly 6,000 chronically-ill people and made more than 1 million meals. And the organization has evolved over the years, as Ruth saw other needs in her community. She opened a food pantry, which now benefits roughly 800 families a month.
Ruth says, "I have been very fortunate to attract the most loving, caring, hardworking volunteers. We share each other's joys, sorrows. We feel good about what we're doing. And it is a family. We get to bring love, respect and dignity to people who now don't have to worry about where the next meal's coming from."
Monday, July 8, 2019
Sometimes dads can be tough to shop for.
20-year old Sophia Wilcox faced this dilemma when trying to think of something to give her stepfather, Brian. Turns out, she didn't have to shop at all.
Sophia came across a box in her room filled with old sticky notes. When Brian was dating her mom, he left little sticky messages of support for Sophia while she was in middle and high school. This was a crucial time for her, as she was dealing with depression and anxiety for the first time in middle school.
Brian and her mom noticed, and the notes not only cheered her up, but were also a sign of how much he cared for her. They made it clear Brian was going to stick around and be there for her.
Finding that box of notes 6 years later inspired her. Sophia arranged them around a photo of the two of them and framed it. Her stepdad's reaction? Priceless. He burst into tears.
Sophia says it's a reminder that family might not always be related by blood, but the people close to you play an important role just the same.
Friday, July 5, 2019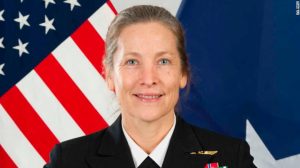 Rear Admiral Shoshana Chatfield is a Naval legend. She began her military career as a helicopter pilot, served as a Commander in Guam and Afghanistan. And now Rear Admiral Chatfield is making history as the very first female President of the US Naval War College.
The Naval War College, located in Newport, Rhode Island, was established in 1884 as an advanced course of professional study for naval officers. It is the finishing school for advanced career military. This is where the future of the Navy is built – where change can be implemented.
And change is needed and happening in major ways in the US military. This year's graduating class at Westpoint included the largest number of African American women in American history. The make-up of American military is changing and this is a trend will continue under the leadership of Rear Admiral Chatfield.
Thursday, July 4, 2019
Wednesday, July 3, 2019
Need a friend? Have a seat.
Christian Bucks was in first grade, visiting a potential school when he was first introduced to an idea called The Buddy Bench. It's just a painted, colorful bench – one of several around the playground – where any kid can sit to let their peers know they are looking to make a friend and be included in the fun.
While Christian's family didn't end up moving to that school district – they did introduce the Buddy Bench to their neighborhood school. And of course an idea so wonderfully inclusive has taken off across the country.
Making friends can be a challenge. This is a non-invasive way to break the ice and connect new friends on the playground. The Girl Scouts began sharing Instagram pictures of kids with their Buddy Benches around the country. Girl Scouts are using their cookie money to buy and install the Buddy Benches in local schools.
Tuesday, July 2, 2019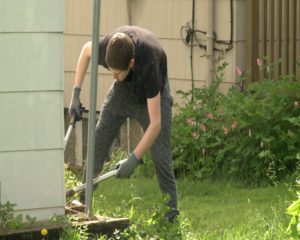 Instead of playing basketball or running laps, students at the Alternative Learning Center in Dubuque, Iowa, spent the last two weeks of school earning their P.E. credits in a different way.
At the end of the year, the school lets students pick from a variety of activities for P.E. credits, and one option is to volunteer to do yard work for an elderly or disabled person.
"The students and I come out and help them," teacher Tim Hitzler told KWWL. "Could be raking leaves, pulling weeds, cutting grass, cleaning gutters, just depends on what they need." Hitzler said this arrangement strengthens the community and teaches students the importance of volunteering. "What they really like is helping people," Hitzler said. "They really like giving back to people and meeting the person."
Monday, July 1, 2019
Alex Walker is 7 years old. She's spent much of her young life in and out of the hospital – diagnosed with Epilepsy at just 11 months old. Her severe seizures sometimes lasted over an hour – she would stop breathing – can you imagine being Alex's parents through all of this?
Each time Alex would go to the hospital, her trusty Teddy, named Sky Bear, would be by her side – with matching head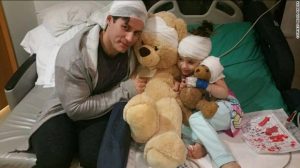 bandage. Alex began to notice the other kids in the hospital and how some of them didn't have a friend like Sky Bear. So Alex asked her parents if she could give some of her stuffed animals at home to the other kids in the hospital. Because of compromised immune systems, the hospital couldn't accept used toys.
Not deterred, the then 4 year old Alex squirreled away birthday and Christmas money for a year – went out and bought 13 bears, then delivered them to kids at the Children's hospital, introducing each child to their new friend and making friends with the patients and their families.
Over the last three years Alex has fundraised and saved and provided 400 plush toys to patients at the hospital. Once a month, Alex and her mom deliver the stuffed animals to a local Ronald McDonald House, area hospitals, police and fire stations, women's shelters and foster care programs.
Friday, June 28, 2019
Kent State grad Kaycee Marshall (18 year old) was born with serious medical conditions that have confined her to a wheelchair, but that has NEVER stopped her from dreaming big!
Ever since Kaycee was a kid, she dreamed of being a fashion designer. Her mom thought she'd outgrow it, but she kept drawing and pursuing her passion for fashion!
Kaycee understands the confidence and empowerment that the right outfit can give and she wanted to see more models, like her, in fashion magazines. Over the last year, she has been creating adaptive clothing for disabled woman. Kaycee's collection is called "The Engine That Did It All."
Inspired by her own journey and a favorite children's book, "The Little Engine That Could." Kaycee often repeats the mantra I think I can! I think I can!
Kaycee Marshall wants her story & collection "to show others that you can do anything you set your mind to!"
Thursday, June 27, 2019
The path to parenthood wasn't an easy one for Laura and Dave Worsley. Over the course of 10 years they suffered 13 miscarriages — including one at 20 weeks. "It never got easier. Each loss was absolutely devastating."
When Laura became pregnant for the 14th time at the age of 35, she was afraid to get attached. She had already experienced so much tragedy. But their 14th — and final — attempt was different.
After a decade of heartbreak, Laura and her husband, Dave, welcomed their daughter Ivy (on September 12, 2018) "She's our miracle baby. Sometimes I'll look at her and it doesn't feel real. I can't believe I'm Ivy's mom."
Worsley is making her story public to bring others hope: "Miracles can happen."
Wednesday, June 26, 2019
Lauren Mulvihill, an Uber driver from Georgia who ended up acting as a guardian angel for an older veteran. When Mulvihill dropped 89-year-old Ronald Dembner off at his home at the end of a ride, she noticed he was living in extremely messy and unsanitary conditions. The World War II vet is in good mind, but has a hard time getting around to clean up his house and pick up after his dog.
The Uber driver, Lauren Mulvihill decided to ask social media for help cleaning up Dembner's home, and within a week, dozens of volunteers helped remove trash and old furniture, deliver meals and even rip up carpet in preparation for new floors. Mulvihill has also helped set up in-home health care so Dembner never has to feel like he's alone in the world again.
Tuesday, June 25, 2019
James Holzhauer, the Jeopardy champion who won 32 straight games, earning over $2.4 million has donated a portion of his winnings to a Chicago-area pancreatic cancer walk. And he did so in Alex Trebek's name.
It all began during Holzhauer's dramatic Jeopardy run. During what would be the contestant's final episode, Trebek praised Holzhauer's daughter for a handmade card, "I want to express my thanks to your beautiful little daughter, Natasha, for having made this get-well card for me," Trebek said in the beginning of the show. "That was very sweet of her."
But beyond a get well card, the contestant sent a donation for $1,109.14 to the Lustgarten Foundation, that organizes a fundraising walk against Pancreatic cancer. Holzhauer wrote the message, "For Alex Trebek and all the other survivors."
At first, the organization was confused by the dollar amount. But then it dawned on them – the number represented his daughter Natasha's birthday.
Pancreatic cancer has one of the lowest survival rates, and is an extremely difficult disease to overcome, mostly because it is generally diagnosed late. That is something that can change if, men, you simply talk to your doctors and get screened.
Monday, June 24, 2019
When Laurence Cheatham's 9-year-old daughter told him she wanted to draw the Mona Lisa but was afraid it would be too hard, it sparked his creativity. "I wanted to show her that with time, patience, and practice, she can do anything she sets her mind to."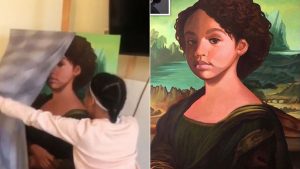 Over the next three months, when Cheatham came home at night from his full-time job as a security guard, he worked on a painting of his daughter as the Mona Lisa, keeping it hidden in a closet. After 400 hours of painting, he surprised her with the work of art. She squealed, laughed, and thanked her dad profusely for the gift, a "priceless" reaction, Cheatham said.
Cheatham, who has no formal art training, finds painting "very therapeutic," and wants his daughter to remember "if you're passionate about something, and it keeps you awake at night, you should always pursue it."
Friday, June 21, 2019
After 1,095 days and more than 75,000 miles on the road, Mikah Meyer is home, having fulfilled his dream of visiting all 419 US national parks in one single journey.
He was only 19 when his dad, a Lutheran pastor, died of cancer. Days after the funeral, Mikah went on his first independent road trip as a way to grieve. He and his father had bonded over their many road trips together.
Mikah set out three years ago on an ambitious road trip in honor of his late father, leaving behind his life in Washington, D.C., and taking up residence in a cargo van. "Life is too short to delay your dreams" is what he repeated to himself as he ventured solo across the United States.
During his trip, he listened to stories about his father from his dad's friends and colleagues. Some even reached out to Mikah to sing at their churches when he visited. He returned home to DC on the 14th anniversary of his father's death.
For the next chapter, Mikah plans on moving to Minneapolis and says he wants to go on "many more" adventures that he hopes will continue to inspire people to live their dreams.
Looking back, he says, he wishes his father could have come along, but he believes his dad "would be pretty proud."
Thursday, June 20, 2019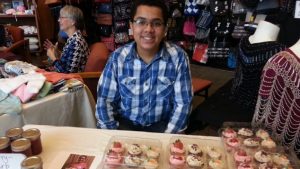 14-year old Isaiah Tuckett has dreamed of going to Disney World for about as long as he can remember. But taking a family of seven to soak up all the wonders of the Magic Kingdom, especially if you're travelling from Minnesota, is no small investment, and his parents wanted Isaiah, their youngest, to be old enough to remember the trip.
Determined to make his dream a reality, Isaiah put his skills to work. He started baking and selling cupcakes. It took about a year of this incredible bake sale to finance his dream trip to Orlando late last year for his whole family — his mom, dad, sister, brother, sister-in-law and his nephew, but Isaiah DID IT. MAGICAL, indeed! His parents invested in his entrepreneurship and supported the trip by purchasing all the ingredients for his business.
Isaiah's already got his eyes on the next prize. He'll be getting his license in two years, and he'd like to buy a blue Ford pickup. But, his mom adds, "he did just say to me the other day, 'It would be fun to go to Disney in California.'"
Keep baking, young traveler. Disneyland awaits.
Wednesday, June 19, 2019
The days of summer fun are here! And what screams summer like the crack of a baseball bat and the smell of peanuts and cracker jacks? Baseball is an American summer pastime and a chance encounter at a MLB game just brought two families together in the most amazing way.
This story starts, as many great stories do, with a tragedy. 21-year old Donovan Bulger passed away in an accident. But even in this sorrow, there was a silver lining. Before he died, Donovan became an organ donor, which ultimately helped save the lives of several others.
Here's where baseball comes in: the St. Louis Cardinals held a Transplant Awareness Day at the ballpark and Donovan's surviving siblings attended the game to celebrate his life. Little did they know that they would once again get to hear their brother's heartbeat that evening. As the family was being honored for their brother's gift of life, a man named John introduced himself. Barely containing the tears, John told the Bulger family how he was alive today because of their brother's heart.
Donovan's sister Savannah said the ballgame quickly turned into a hug and cry fest as the group shared stories of Donovan and took turns listening to John's heartbeat – the same heart that once beat for Donovan.
The siblings said they are very proud of their brother for deciding to be a donor. The group is already bonding and planning their next outing, joking that next time, they'd bring a stethoscope. The siblings are hoping to make a Build-A-Bear for each of their children that will hold a recording of their uncle's heartbeat.
Savannah says, "We went to the game as six but left as nine. We are family."
Tuesday, June 18, 2019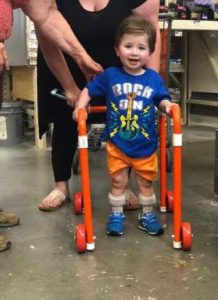 Imagine your child having a disorder that impacts his motor skills, such as walking. And imagine not knowing if your insurance would cover a basic item he needs to help him walk.
That's what Christian and Justin Moore were experiencing when they walked into a Home Depot in Georgia. Their son Logan is 2 and has hypotonia, a syndrome that impacts his muscle tone and makes stability a struggle.
Logan's physical therapist suggested a gait trainer to help him with walking, but they did not think insurance would cover it. So the Moores turned to YouTube, where they found a tutorial to make one out of PVC pipe, which led them to their trip to Home Depot.
When they arrived, Christian asked a store employee she knew if anyone could help them with the supply list. What happened next shocked her. She was met by a store manager and another employee who came to help.
"They started getting the parts together and told us they would put it together. They told us to go get ice cream and come back in an hour."
When they returned the walker was finished and even included Logan's name. The store gave it to the Moore family FREE OF CHARGE.
Everyone was crying as they watched Logan walk around with the biggest smile on his face…Thanks to all that helped for being a blessing to this family!
Monday, June 17, 2019
Leanne Carrasco, who graduated from Waltrip High School recently, chose to forgo her graduation bash in order to throw a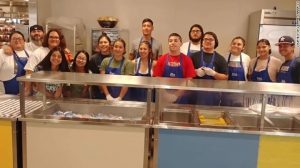 different kind of party. Leanne provided pizza and care packages for residents at the Star of Hope Family Development Center, a homeless shelter for women and children in Houston.
Leanne has volunteered at the center over the years. And with the help of some friends, the graduate ordered 95 pizzas and made about 400 hygiene packages, including toothpaste, toothbrushes, deodorant, and soap. The crew of high school graduates served about 200 people.
The event took months of planning, But the hard work certainly paid off.
Leanne says she just wants to be a blessing and show these beautiful women and children that no matter what, someone does care. The high school graduate plans to study nursing at Briar Cliff University in Iowa, where she has already been featured in the school newsletter!
Most graduation parties don't last long, but what Leanne and her friends did for the women and children of the homeless shelter will last a lifetime!
Friday, June 14, 2019
A Cincinnati couple didn't realize that when they hired a caterer for their wedding, they'd be getting an officiant for free. During the rehearsal dinner, the man who was supposed to officiate the wedding fell and broke his leg, leaving the couple without anyone to marry them. Enter Manny Morales, a caterer for City Barbeque, the company that was preparing food for the rehearsal. He told the couple he had a license and offered to perform the ceremony, a proposal they happily accepted.
Bride Kelsey Schneck said she couldn't fully describe how grateful she was to Morales for stepping in. "Not only did we have a great dinner, but our wedding ceremony was saved and went off without a hitch," she said. "Thank you for saving my big day."
Thursday, June 13, 2019
Ever heard the phrase "One man's trash is another man's treasure"?
More than a half-million pounds of crayons are discarded every year, turning into a waxy sludge that clogs our landfills and never biodegrades.  The Crayon Initiative collects donated crayons from restaurants, schools and homes across the country, then melts them down and remanufactures them, reducing waste.  Better yet, the recycled crayons are distributed to art programs at children's hospitals across the U.S., brightening the lives of young patients during their stay.
Happier kids, and a cleaner Earth… supporting The Crayon Initiative helps two great causes in one. No wonder their efforts have caught the eye of The Today Show, People, BuzzFeed, Mashable, The Huffington Post and Good Housekeeping.
Consider this: A box containing 25 pounds of used crayons can yield enough raw materials to supply 125 hospitalized children with new eight-packs of crayons. Larger collection efforts can bring in as many as 200 pounds of crayons, enough to spread joy and color to over 1,000 kids!
Wednesday, June 12, 2019
Jacob Tyler is an 18 year old who works at a shoe store called Clarks in Bicester, England. He was awarded what the store calls a Celebration Alert for going above and beyond for a customer. That customer was a little girl with autism who was feeling very overwhelmed by the busy store.
The mom of the autistic little girl, Dawn Brown, emailed the store about how much she appreciated Jacob's patience and gentleness. She said that he never rushed them and made them feel like the only customers in the whole store.
Jacob says they are trained to better serve customers with disabilities. He waited patiently whenever the little girl burst into tears. He got down on the floor with her and carefully explained when he was touching her feet to try shoes on, explaining each sensation as they went on.
Working with kids is something Jacob hopes to do in the future. For the past 2 years he has spent summers working for a children's charity, learning sign language and other non-verbal communication skills. This summer he has applied to apprentice as a firefighter and is considering taking a gap year after high school to work in a school for children with autism.
I'm ridiculously proud of both of my children, but my 18 year old son was presented with this at his Saturday job yesterday and I might be a little choked up. pic.twitter.com/BpNUY6098b

— james flibble (@JamesFlibble) May 26, 2019
Tuesday, June 11, 2019
80 years ago, Helen Danis wanted to go dance the night away at her high school prom, but simply could not afford it. It was the Depression and while some well to do families managed a party, she couldn't attend. This year, at the age of 97, Helen finally got to go to prom!
Helen's granddaughter Julie has been helping her grandmother check off things on her bucket list and with the help of the administration at Pilgrim High School in Warwick, Rhode Island, the pair got to have a prom night to remember!
Not only did Helen jump in with the kids doing the Cha-Cha Slide and the Cupid Shuffle, the DJ got the crowd doing the Hully Gully – which was a new one for the students at Pilgrim High, but Helen already knew it. At the end of the evening, Helen was crowned honorary prom queen.
Monday, June 10, 2019
Friday, June 7, 2019
You ever have that kind of day where you throw your hands up to the universe and beg for a sign? Not even a big, earth-shaking one — just any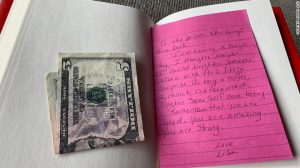 sign to remind you everything's going to be OK.
The universe handed 27-year-old Ashley Jost a good one, in the form of a pink piece of paper and a $5 bill. Jost found the note and the money in a self-help book she bought. Whoever wrote the note said they were having a tough time, and they were hoping a little encouragement — and a $5 treat — would brighten the random recipient's day. Jost was inspired.
She posted the note to social media, where it caught fire, and she committed to doing one random act of kindness every week. Thousands of people chimed in, saying they would do the same. Jost says she has loved reading everyone's good deeds.
Ready for a twist? Jost also says the original writer of the note in her book, identified only as "Lisa," actually mailed Jost a card to her job, saying how much she loved what Jost had started.
Thursday, June 6, 2019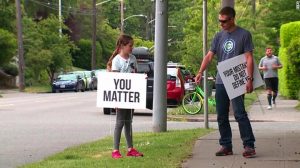 Suicide is one of the leading causes of death for young people and sadly, suicide rates are rising among pre-teen and young teen girls.
Colby Wallace, a dad from Seattle, Washington, has taken that sobering statistic to heart. He's started putting up encouraging signs near his daughter's elementary school. The messages they bear are simple: Don't give up; Your mistakes do not define you; You matter.
But Wallace hopes they may destigmatize mental health issues and give people the courage to open up about their feelings. "As a parent, you feel really helpless when you hear these stories, that this is happening," he said. "This is happening a lot, but nobody wants to talk about it."
Wednesday, June 5, 2019
Sure, being able to fly a plane is impressive, but can you do it with your feet?!? Jessica Cox was born without arms but learned to fly planes using just her feet.
Cox, now a trained pilot, wants to inspire others to chase their dreams. And she shared some amazing advice that helped her learn how to soar — literally. "I pulled up this picture of an airplane, and I put it on the backdrop of my computer, and I just remember looking at that airplane," she says. "It was the airplane that I eventually became certified in. But pulling up that picture during those moments of doubt, and just envisioning flying an airplane, even though it wasn't reality at the moment, it made the reality happen."
Cox had a normal childhood: She attended public school and was extremely active in tap dance, taekwondo, swim team and girl scouts. Of course being the girl with no arms drew lots of attention – she didn't let that define who she was.
Now all grown up, Jessica Cox is not only a pilot but a certified scuba diver and a third-degree black belt. Plus she has traveled to more than 20 countries as a motivational speaker. Sometimes, the things we struggle with are exactly what God will use us for in His World.
Tuesday, June 4, 2019
Hailey and Hannah Hager are on a mission to help a North Carolina school district pay down over $41,000 worth of lunch money debt — one cup of lemonade at a time.
In the fall of last year, Erin Hager (the girls' mother) bought an old lemonade stand for her daughters and fixed it up. The Hagers' intention was never to sell lemonade for a profit. As a person who believes in giving back, Erin said that performing random acts of kindness has always been an integral part of her family.
Hailey, 13, and Hannah, 11, were researching children's homes in communities neighboring their hometown of Lexington, North Carolina, to donate to, when that they learned from their principal that families in their own school's neighborhood were struggling to afford lunch every day.
During their first weekend, Hailey and Hannah raised $460, which they will donate to Hannah's school, Southwood Elementary. Next, they will work to pay off Central Davidson Middle's debt, then move onto their town's high school and then spread their efforts one by one to the remaining 33 schools in the district.
Monday, June 3, 2019
Tupac's family hit hard times after his dad passed away. The sharp teen couch hopped and visited shelters with his family through most of high school – and still managed to finish high school with honors and a 4.8 GPA.
Thanks to his incredible work ethic and great test scores, Tupac was named Valedictorian of his high school and accepted to over 40 colleges and racked up an astounding $3 million in scholarship offers.
The teen has selected to attend Tennessee State University so he could stay close to family. With his scholarship he'll have housing on campus and never miss a meal with the university meal plan.
---
NEED MORE GOOD NEWS? Click Here for previous Today's Good News stories featured on LifeSongs!