"..you'll do best by filling your minds and meditating on things true, noble, reputable, authentic, compelling, gracious—the best, not the worst; the beautiful, not the ugly; things to praise, not things to curse." Philippians 4:8 (The Message)
Every day we share stories of hope – joy – Love!  Enjoy some GOOD NEWS each day with LifeSongs. And if you know of some good news, share it here!  Thank you for sharing hope each day with listener-supported, uplifting LifeSongs!
Thursday, December 7, 2023
The Congressional Gold Medal is an award of the highest appreciation, given out by Congress to true American Heroes.
This year, seven Louisiana Marines received this special honor. The seven Marines all served in World War II and were also the first Black Americans to serve in the US Marine Corps since the American Revolution!
All seven legends have passed, so their Congressional awards were accepted by their families, who spoke fondly of their beloved heroes. They spoke of their generosity and kindness and spirits.
Semper Fi.
Wednesday, December 6, 2023
When our veterans serve, they put their own lives on hold to preserve and protect freedom for the world. Susan Finnegan served in the US Marines and even used her musical talents in the US Marine Drum and Bugle Corps. She especially loved to perform during Christmas – as she volunteered with Toys for Tots, a program founded by the Marines.
Eventually her term of service came to an end and Susan found herself in a difficult situation. She was between jobs with two young children and a third on the way. That year Toys for Tots, the same program she had served for years, provided a Christmas to remember for her family. Susan said their generous gifts were a turning point in her life.
Shortly after, Susan got a job with the Walt Disney company. Disney often hires veterans because both Walt and Roy were veterans – and even designed the logo for Toys for Tots back when it was founded! Even with three little kids and a busy Disney job, Susan still gives back, now as a part of Disney's SALUTE, a program for employees with ties to the military.
Susan says, "When you give to children like this, you are giving memories. These are the moments you stand back and say, this is what it's all about."
Tuesday, December 5, 2023
You know Amazon drivers see some stuff, right? Weaving through neighborhoods, bringing goodies right to your door. Elijah Bryant was delivering packages in Chicago when he couldn't help but stop and help a struggling teenage boy.
The boy wasn't dealing with bullies – his car hadn't broken down – in fact, Luke Breier was excited to be going to his school's homecoming dance, taking group pictures out in front of his home. The problem was his tie. The simple knot and too long tie was a mess.
Thankfully, Elijah Bryant had tie tying skills from years of going to church. He's helped many young men learn, including his own sons. So he pulled his Amazon van over and taught Luke a double-Windsor so he'd look sharp for his dance. Luke's dad found out about the situation later and went online to thank Elijah for coming to the rescue!
Monday, December 4, 2023
Romance looks different depending on geography. In Venice, perhaps a gondola ride. In New York, a proposal at the top of the Empire State Building. In Kansas – 80 acres of sunflowers.
Lee Wilson wanted to do something special for his wife Renee on their 50th wedding anniversary. It took some forethought and preparation but Lee pulled off the sweetest gift for his lovely bride. He planted approximately 1.2 million sunflowers across 80 acres of farmland and timed the blooms with their anniversary.
Renee said it made her feel very special – "It couldn't have been a more perfect anniversary gift."
And it might not only be a celebration of Lee and Renee's 50th anniversary, but the beginning of new romances. People traveled from miles around to see the 80 acres of sunflowers – and surely there were some proposals in there somewhere!
YOU ARE THE GOOD NEWS!
Everyday that you hear an uplifting song, a message of hope or a word from God through LifeSongs Radio is because of the generous support of you – the listening family of LifeSongs! You can still make a difference and GIVE HERE!
---
Today's Good News - Heroes & Helpers
Share your GOOD NEWS stories! Tell us about the Helpers & Heroes in your life - folks that make a difference - so we can share the good news!
---
Friday, December 1, 2023
When Hannah was in second grade, she brought her grandmother in for show and tell. Grandma Cynthia was a flight attendant for Southwest Airlines and she dazzled the class with a song and shared stories of flying around the world. That moment stayed with Hannah who eventually decided college wasn't for her – the friendly skies were calling.
At her graduation from flight attendant school her grandmother had the honor of pinning on her wings. And for her first flight – guess who was on Hannah's flight crew? Her grandmother wasn't going to miss that!
Hannah and Cynthia kept the entire plane in stitches, teasing each other as they did their flight checks, demonstrated how to buckle a seatbelt and handed out snacks. Cynthia shared with her granddaughter the secret to being the best flight attendant is compassion for every person who nervously sets foot on their plane.
Thursday, November 30, 2023
Peter Mutabazi has lived a dramatic life. He grew up on the streets of Kampala, Uganda after fleeing his abusive home. It was through the gift of a stranger that he was able to go to high school – and excelled so much he earned a scholarship to an American college. Peter will never forget feeling cold, alone, unwanted and unsure where his next meal would come from.
That's why Peter is now a model foster parent. Living in Charlotte, NC, the former homeless refugee from Uganda takes on the hardest cases. He's fostered over three dozen kids since 2016 and even adopted three children as his own. As a single, black, immigrant man – Peter is a rarity in the foster system.
Unlike most bachelor pads, Peter's is overrun with six kids – his three adopted children and three foster children. Throw in two dogs and endless toys and stuffed animals – it's a house full of love. These children know what it feels like to be chosen – to be loved no matter what. That kind of love sound familiar?
View this post on Instagram
Wednesday, November 29, 2023
Thank God for incredible doctors and hospitals. An Ohio teenager, Meghan Krafty, was diagnosed with a brain tumor. Her care team had her prepped for surgery in just a few days time – with follow up care from her Children's Hospital in Cleveland. Their immediate care probably saved her life.
But at 17 years old, the sweet teenage girl was pretty bummed she missed her homecoming dance because of something so trivial like brain surgery. Her care team worked with her mom and Megan's boyfriend Tommy put together their own homecoming dance in the hospital!
Tommy was all dressed up with a boutonnière in place and Megan even wore her new pink dress, though she had to dance from her wheelchair. The cute couple danced, ate snacks and invited other patients and hospital staff to join in the fun.
View this post on Instagram
Tuesday, November 28, 2023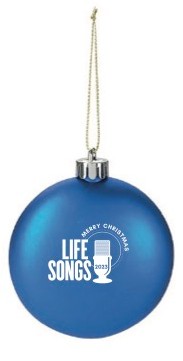 For almost 45 years, God has used the overflowing, generous hearts and gifts of listeners, families, churches and local businesses to make the radio ministry of LifeSongs possible. Almost HALF A CENTURY of hearing God is Good all the Time on the radio – because of YOU!
Today the world is celebrating generosity with Giving Tuesday – and at LifeSongs, we celebrate your generous heart every single day! Every perfect song – every game, contest, concert, prayer school, uplifting story – all of that happens because of God providing through you. Today, on Giving Tuesday, when you support LifeSongs we will help deck your halls!
For every gift of $100 or more, we'll send you the exclusive, new LifeSongs Christmas ornament! And every time you look at it on your Christmas tree you'll remember how God used you to bring light into darkness – hope into hopeless lives – and joy for every person who sings along a song of praise on LifeSongs. Give now!
Monday, November 27, 2023
Do you have a work-mom? You know – the veteran employee who always takes care of everybody – and does it with a smile? That's Karen Collinsworth through and through. The 65-year old Starbucks supervisor loves her employees like they are her kids. And she has impacted many kids' lives because her Starbucks is on the campus of Marshall University in Huntington, WV.
When your mom needs help – you jump to it, right? Karen's 2004 Kia was sputtering its last breaths and one day someone jacked her catalytic converter. Karen's "kids" at Starbucks decided to secretly rally the many students whose lives she had touched.
The Starbucks crew started a We Love You Karen GoFundMe page and spread the word around the school campus. The lofty goal was $10,000. They hit that in just hours. In a couple of days, they topped $40,000! That included hundreds of gifts from students – and a big $5000 gift from the President of the college.
View this post on Instagram
HAPPY THANKSGIVING!
Wednesday, November 22, 2023
During the COVID-19 pandemic, many people took up gardening – including a high school sophomore named Lauren Schroeder. Her family set aside a half-acre of their Iowa homestead to the future farmer Lauren and it turns out she has quite the green thumb.
During the pandemic Lauren noticed that there was a real shortage of healthy fruits and veggies available for people in need at local shelters. With that in mind, Lauren began donating crops from her garden to several nonprofit organizations in her area.
In less than two years Lauren has given away about $15000 worth of produce to help feed her community! She was given a grant from Future Farmers of America to expand her garden to a full acre that now produces over 20 types of produce including potatoes, tomatoes, squash, broccoli and much more. Lauren won't graduate high school until May of 2025 – and by then she aims to have delivered over 20,000 pounds of healthy food to her community.
Tuesday, November 21, 2023
When Beethoven went deaf, he continued to compose music based on what he knew and what he FELT. Music is vibration. And with that in mind, Chicago's Lyric Opera and some innovative scientists built SoundShirts to help the deaf and hard of hearing experience music in a very cool new way!
Microphones around the stage feed into a computer which triggers wireless over shirts. The soft moments of the song produce light tapping near the clavicle – while booming bass thumps the lower back sensor in the SoundShirt. Wearers of the SoundShirt can literally FEEL the performance in real time with the hearing audience!
Fully immersive experiences are being born out of technology designed to do something truly lovely – provide a sense of music to the deaf community.
Monday, November 20, 2023
Today is the final day of National Collection Week – although you can always build a shoebox gift online with Operation Christmas Child. Thank you to everyone who has already dropped off gifts at local Operation Christmas Child drop off site – which you can easily find on lifesongs.com/occ.
You have partnered with so many other folks – like Amie Winstead in Tennessee who volunteers year round with OCC. And with Ravina Kumar, who is a discipleship coordinator on the islands of Fiji, where many Operation Christmas Child shoeboxes have been distributed. Children can now go to school because of the flip flops they got in their Christmas present shoebox!
After you drop off your gifts, it's time to pray that the message of Jesus would fall on hearts ready for His wonderful Grace this Christmas!
Friday, November 17, 2023
Pastor John of the Saramaccan people in Suriname prays diligently as his church passes out shoebox gifts to an ethnic group who have never heard about Jesus. He says, "The shoeboxes are an open door for us to spread the Gospel to the unreachable people, both the children and their parents."
Meanwhile, in Georgia, Pastor Ken Bevel is having a great time packing gifts with his congregation, excited to ship out a box of light to future brothers and sisters in Jesus. It's a partnership, even though neither pastors have met.
Operation Christmas Child is growing God's Kingdom – and many of the stories we won't get to hear until Heaven. Do you have an eternal perspective on celebrating Christmas?
Thursday, November 16, 2023
Operation Christmas Child is a ministry that is built on service and prayer. And as volunteers pack gifts to go around the world, they are also praying through their own real-life struggles. Rhonda is a year-round Operation Christmas Child volunteer, who had been praying for her daughter Sarah to turn back to Jesus, as she was also praying for the kids who would receive each gift she packed.
One recent Sunday Sarah came to church and rededicated her life to Jesus – and over in the Philippines, another mom, named Mary Joy, celebrated as her daughter Geraldine got her first Christmas gift from Operation Christmas Child. Rhonda's prayers were both answered! Her daughter returned to her faith and Geraldine experienced a true Christmas for the first time ever!
As you pray through life's challenges, live out your faith by getting some gifts to an Operation Christmas Child drop-off site near you! National Collection Week is now through Monday.
Wednesday, November 15, 2023
10-year-old Ava has lots of Christmas Spirit – but not because she has a long list of presents she wants. Quite the opposite – she gets fired up to pack shoebox gifts with her family for Operation Christmas Child.
Ava said, "It made me feel happy because we're spreading God's Word to people who have never heard of Jesus. It's important that they know that He loves them."
And on the other side of the world, a deaf African student named Kavari beams with joy as he opens his shoebox gift, complete with The Greatest Gift storybook that introduced him to a loving Savior.
The shoebox gifts you prayerfully pack this season will be a part of changing lives—both here and around the globe. God will use your generosity and the power of the Gospel of Jesus Christ to transform children, their families, and their communities!
Tuesday, November 14, 2023
Many of us have faith in Jesus today because of the prayers of our mothers. Just as that's true in SELA, it is true in Tanzania, Africa. That's where Kwale grew up, in complete poverty. He often was sent home from school because he did not have any shoes. The shame of being so poor made Kwale angry – but not his mother, who was praying for her family. She alone stood on faith in Jesus for her family.
Kwale attended church with his faithful mother but did not share her trust in God. Until God answered his own angry prayers. One Sunday there was a green and red shoe box with his name on it – a gift from Operation Christmas Child. Inside were new socks and shoes. That's when Kwale's heart began to change.
He was so grateful, he went on to attend the 12 lesson discipleship course called The Greatest Journey and ultimately gave his heart to Jesus. When Kwale's father saw the change in his son, he too joined his wife and child in following Jesus. Samaritan's Purse offers The Greatest Journey through churches and Christian partners in more than 100 countries. Your gifts and prayers will help reach more than 4 million girls and boys just like Kwale this year.
Monday, November 13, 2023
El Cayo is a densely populated town on the Honduran Bay Island of Guanaja. With winding canals, thousands of people and the sparkling waters of the Caribbean, you would think it was paradise.
But being that remote comes with dangers – like a small fire went wild and left hundreds homeless in 2021. Years before a hurricane ravaged the island. In fact, Samaritan's Purse has been praying for and searching for ways to impact El Cayo since the 1990s! Finally though – a group was able to go and serve the people of El Cayo, because of your generosity through Operation Christmas Child!
With the Gospel alive in their hearts, the communities on Guanaja now see the fires as a blessing in disguise, because it wiped out a growing drug problem and ultimately brought safety and hope to their children. With the help of the local church, many homes and businesses have already been rebuilt – with more to come.
Friday, November 10, 2023
The Bara people of Madagascar are cattle rustlers and known to be violent thieves who do not welcome outsiders. Years ago they drove all Christians out of their villages and shut the door to the outside. Pastor Soja, a church planter from southern Madagascar felt the Lord leading him to bring the message of Jesus to these dangerous folks, but wasn't sure how to even start.
Over the years, Pastor Soja built relationships with some village chiefs by sending them needed supplies. The Bara began to ask for help to establish private schools and this led to sharing Christmas presents from Operation Christmas Child to some students at one of the new schools.
Turns out these hard people had soft hearts, because when they heard about the Love of Jesus, along with the special gifts and new education programs – 75% of those present wanted to know Jesus personally. Now three villages are teaming up to plant their first church!
Operation Christmas Child isn't just about fun presents, but sharing the Gospel and providing education opportunities and needed healthcare as well.
Thursday, November 9, 2023
Amidst the green forests and dense South American jungles of Suriname are vibrant communities loving and serving Jesus. These on-fire churches are being served by Samaritan's Purse and Operation Christmas Child, not only with great Christmas presents for children – but discipleship programs that are creating the future leaders of the faith in South America.
Charahja is a 15 year old young woman who remembers her first shoebox gift of socks with a warm smile. Now she serves as the National Discipleship Coordinator for Operation Christmas Child in Suriname. And yes – she's only 15! She's actually been leading The Greatest Journey discipleship course out of her grandfather's home since she was 14.
Not too far away is Isha, who at 19 is a worship and dance leader who has been serving her community with OCC since she was 16. If you want to see a community changed by the power of Christ – watch a young generation who love Jesus!
Maybe your shoebox gift will impact the next leader in Suriname!
Wednesday, November 8, 2023
When you hear the words "Operation Christmas Child" you probably imagine some scrappy kids in an orphanage with gap tooth grins ripping into smartly wrapped presents – and that's a big part of what OCC does around the world. But Samaritan's Purse also partners with local churches to make a difference even after the presents are all unwrapped.
Following the big shoebox gift distribution parties, local churches are equipped to teach a 12-lesson discipleship program for anyone interested in learning more about Jesus. It's called The Greatest Journey – and through this Bible study program many folks in Central and South America have given their lives to Jesus.
Of course to them the program is called La Gran Aventura – because OCC is devoted to sharing the Hope of Jesus to people worldwide in their heart's first language. A little girl named Dayla in Peru, a 12 year old boy named Juan in Colombia and Erneston in Mexico are just a few of hundreds of thousands who not only gave their lives to Christ, but completed the discipleship classes and started bringing friends and family to church!
Tuesday, November 7, 2023
Today, Andy Castillo and his wife Carmen, serve God in a local church in Honduras. They also volunteer as a distribution point for Operation Christmas Child because they've seen how that ministry has transformed many lives. In fact, Honduras receives over 300,000 shoebox gifts each year. However, Andy didn't always want to be in ministry. He intended to run his family business, until he was kidnapped.
One evening at a gas station, Andy and his family were held at gunpoint. His wife and her sister were released, but he was held prisoner for 10 days. For 10 days, Andy called out to God for help. It was blindfolded in a small room, not knowing if he would live for die that Andy fully submitted to God – ready to live or die for the cause of Christ. Less than 24 hours later, his captors vanished and he went home.
Inspired, Andy went to seminary and served at a church in Michigan before God called his family back to Honduras to serve in children's ministry. And with a partnership with Operation Christmas Child, Andy helps share the Gospel with on average, 350,000 families each Christmas!
Monday, November 6, 2023
The Kazakh people are a minority in remote parts of Mongolia. And yet, even inner Asian shepherds are hearing the Gospel thanks to Operation Christmas Child! There are few churches in the mostly Islamic country – but the Gospel is spreading quickly through families.
Family is incredibly important to the Kazakhs – and hearing how God wants them to be in His family is reshaping their entire world. And for many of those families, it all began with a Christmas present you sent through Operation Christmas Child!
Friday, November 3, 2023
There are still many communities around the world who have not yet heard about Jesus – and wherever Jesus is preached, hearts are transformed!
That's always been the purpose of Operation Christmas Child – to share Jesus through a Christmas present. In the Philippines, a 13 year old girl named Princess loved her gifts from Operation Christmas Child – but it was the story of Jesus that changed everything! The host church invited her to join the Greatest Journey bible study and Princess began her walk with Jesus right then and there!
Princess declared her faith saying, "I wanted Jesus to save me. Now, I am more confident because He is with me." It's a challenge to get the Gospel to the many remote villages in the Philippines, but more and more hear about Jesus each year through Operation Christmas Child.
Thursday, November 2, 2023
Jessica was just 9 years old when she got her first Operation Christmas Child shoebox gift. Along with toys, there was a book called The Greatest Gift – which shared the Gospel with this little Egyptian girl, in her native language. Meeting Jesus changed Jessica's life forever.
Now, four years later, Jessica has become a little evangelist in Minya, Egypt – where she shares Jesus with other kids and has led more than a dozen to faith in Christ, using that little book she received from Operation Christmas Child!
During the pandemic, Jessica's church had to shut down – so what did the on-fire-for-the-Lord tween do? She bought a little amplified microphone and shared Jesus outside in her neighborhood!
Wednesday, November 1, 2023
Elena is a fine arts teacher from Ukraine. It's been a hard couple of years with the ongoing war against the Russian incursion. She and her daughter had to flee to Poland and essentially begin a new life.
That life began in a converted hotel (shout out to the people and government of Poland for being incredible neighbors to the people of Ukraine). Polish churches have been instrumental in providing housing, food, social services and jobs for the Ukrainian refugees. One church next to Elena's hotel-home was having an Operation Christian Child party.
At this church, Elena's daughter got a loving Christmas present and then was able to go to a Bible camp called The Greatest Journey where she was able to worship freely and grow in her walk with Jesus! Elena and her daughter are just one family that got Christmas because of your generosity! About 400,000 shoebox gifts were distributed to children from Ukraine last year.
Tuesday, October 31, 2023
Maggie is just seven years old and in first grade. While many of her peers would rather sit in a corner with a Nintendo Switch, Maggie loves two things more – giving warm hugs and reading. Maggie's mom works at an assisted living community, so after school Maggie began toting in books from her school library and going room to room to read to the residents.
Patti Griggs, a resident at Heritage Grove used to teach first graders and she swears Maggie is the best reader she's ever seen at that age. Her mom isn't surprised. She says Maggie usually falls asleep each night with a pile of books on her bed with her stuffed animals.
Monday, October 30, 2023
In 2016, Jeison Aristizábal became the first CNN Hero of the Year from Latin America. Born with cerebral palsy, Jeison never let his circumstances dictate his limitations or his dreams. Now hundreds of young people in Cali, Colombia are enrolled at a University designed for special needs students – named for Jeison – who continues to inspire.
Jeison took his prize money and immediately sewed it back into his community. Thousands of students with special needs have received a free education, specialized job training and more. And their fearless leader has continued to conquer his own personal dreams, graduating from law school – ready to represent the under-served.
This bright and brave young man wants every person to know "Yes, you can. You can dream and you can achieve your dreams."
Friday, October 27, 2023
When Clinton Blades was dispatched to a wreck on I-55 Monday morning, he didn't know what to expect. He was one of the first paramedics there, going car to car through heavy fog, looking for people who needed help.  In his 19 years as a paramedic, Clinton says he's never seen anything like it – a crash of that scale. But, he says, something else stood out, too.
"People were offering any assistance they had, even just a set of hands to help people move." People involved in the crash who were not injured jumped into action, helping each other while first responders were still trying to get there.
Darla Bankston, a nurse at North Oaks Medical Center in Hammond, was one of those people wasn't injured in the crashes. So she immediately stopped her car and ran back toward the jumble of twisted wreckage to help whoever she could.
Thank you to everyone who did what they could to help in Monday's incident, from first responders to everyday heroes. Even the staff at Middendorf's jumped into action by opening up to serve water and food to those in need.  Please keep those affected by this in your prayers with us, and please be careful on the roads!
Thursday, October 26, 2023
Miss Sparkles teaches kids that "kindness is the cure for everything." Lori Brooks is a joyful school bus driver, but all of her kids know her as Miss Sparkles.
The 60 year old grandmother hugs each student as they climb on her bus. She knows each one by name – and all of their parents. Miss Sparkles is the kind of dream bus driver parents wish for. Day in and day out, she is a safe place for all of the students she transports to and from school.
And Lori experienced that love right back a couple of years ago when her husband unexpectedly passed away. Lines of students and their families sent cards, provided food and continue to take excellent care of her. Because kindness is the cure for everything.
Wednesday, October 25, 2023
As long as you have breath in your lungs, you can still chase your dreams. That's what 85-year-old Joann Dehardt of South Carolina is living out. She and her husband ran Frandeena's restaurant for decades in their home town of Prosperity. When he passed in 2010, Joann turned the restaurant into a thrift store to help her community.
But Joann knew something was missing. Specifically … hot dogs. Frandeena's was one of only a few restaurants in town. Now that it was a thrift store, it was time to get back to feeding her friends and family. So Joann put a hot dog stand out in front of her old restaurant, launching J's Hot Diggity Dogs.
Joann says it is a "joy to come to work" because she loves people and slinging hot dogs – specifically she says get one with chili, mustard and onion.
Tuesday, October 24, 2023
Kelli Boehle misses her son Nik – but she is also inspired by his short life. When Nik was 17 he was diagnosed with a rare type of cancer. He battled his disease for four hard years, but in the battle he also demonstrated uncommon kindness and generosity.
Nik was blessed with a Make-A-Wish family vacation where his entire family could enjoy Hawaii together and for just a little while, pretend like everything was alright. Many of his peers he met during treatment weren't as fortunate – having aged out of the Make-A-Wish program. So Nik asked his mom to find a way to make dreams come true for young adults like him, after he was gone.
Flash forward a few years and that's exactly what Kelli is doing to honor her son's memory. She built Nik's Wish – a non-profit that provides blessings for terminally ill young adults between the ages of 18-24. They've sent families on vacations, gifted gaming computers, provided celebrity meet and greets, concert tickets and much more.
It's been 11 years since Nik passed away – but his family is keeping their promise to him, having granted over 300 wishes across more than 30 states.
Monday, October 23, 2023
Did you know that Crayola Crayons is a subsidiary of Hallmark? So it makes sense that the card kings would expand to flowers. Crayola Flowers is selling colorful flower bouquets that you order online to ship around the country.
But Crayola Flowers is much more than a way to capitalize on guys who waited too late to get an anniversary gift. Crayola Flowers is being marketed to non-profits as a fundraising tool – where they can get up to 50% of the sales funneled right into their charity!
Bouquets are priced from $49 to $150 and are shipped directly from farms to customers – with proceeds going to the selected charity. What a beautiful way to spread color, love and hope!
Friday, October 20, 2023
Three generations of one family are currently enrolled at Carthage College in Kenosha, WI. Sisters Samantha and Mia have a dorm room together as they work on their undergrad degrees. Their mom Amy is a graphic designer who enrolled to get her Masters and convinced her mom Christy (Grandmother to Samantha and Mia) to get her Masters as well.
Of course, the youngest of the family have literally grown up on Carthage College's campus. Their mom has worked there for 20 years. Amy says her daughters drop by her office on campus pretty frequently … for money to go to Starbucks.
And their grandmother Christy is having so much fun being back in school, she's talking about going for her Ph. D when she's in her 80s.
Thursday, October 19, 2023
A marathon is a really long distance to run. Honestly, it's a long drive in traffic. Courtney Rich was on her last mile of a marathon in Salt Lake City, Utah and her body was shutting down on her. But that's when her 10 year old daughter hopped over a barrier to help.
With her words of support, Avery held her mom's hand and ran the last mile side by side – in her crocks and jeans – to get Courtney across the finish line.
Think of the people God puts in your life – maybe a daughter, spouse or best friend – that were there to run beside you in life's big challenges – and give God thanks for them today!
View this post on Instagram
Wednesday, October 18, 2023
Warrick Dunn is a legend – and not just on the football field. The former NFL running back has devoted his life to making a difference for single moms in the South. Warrick Dunn Charities, Habitat for Humanity and Catholic High School in Baton Rouge – where Dunn graduated himself – just handed the keys to a brand new home to a single mom and her daughter. That's impressive on its own – but to make it even more spectacular – that house was the 218th home Dunn has helped give away!
Oh – and those homes? Fully furnished. When Dominique and Miracle entered their new Baton Rouge house, they found sheets on the beds, a TV in the living room and food in the fridge. Dunn wants to make sure the future of Louisiana is founded on stable homes for families.
In fact, this Louisiana super star did some major work for SELA after Hurricane Katrina – challenging his NFL peers to give and raised over $5 million to rebuild in 2005. That kind of love makes it easy to forgive him for playing for both the Bucs and the falcons during his pro career!
View this post on Instagram
Tuesday, October 17, 2023
Summer is a busy time for Best Cleaners – a dry cleaning shop in Middletown, CT. Not just because their clients have suits and dresses that need to be cleaned and pressed, but it is turtle migration season – and their shop is smack in the middle of the path from the turtles' spawning pond and the banks of the Connecticut River.
Every employee and customer knows that from May to September, you are going to be recruited to help turtles safely cross the street to the river bank. In fact, helping the tiny turtles has probably increased business, because who wouldn't want to help baby turtles cross the street!?
The Eastern painted turtle is not endangered – but they are precious to this community. And helping these baby turtles on their commute is something residents believe makes Middletown and Best Cleaners truly special.
Monday, October 16, 2023
The Hapeville Police received a call from a resident complaining about a young black boy in their neighborhood. When Officer Colleran arrived on the scene, he took time to get the full story. This entrepreneurial boy was going door to door advertising his lawn mowing business.
Officer Colleran said, "The young man was polite, respectful, and truthful." Turns out the kid was saving up to buy a PlayStation – something the police officer was all about, as a gamer himself.
After sharing the story with his fellow officers, they all pitched in $500 to get the child a new PS5 and an annual subscription to the PlayStation gaming service. Officer Colleran also connected with the boy with his gamer tag so they could play together.
Friday, October 13, 2023
22-year-old Patrick Palepoi works as the fishing section manager in Sandy, Utah's Scheels store. He loves talking about fishing – answering questions about fishing – if it's about fishing, Patrick is your guy. So when a little boy named Xander showed interest at the store, the pair chatted for nearly half an hour.
Xander's grandfather was an avid fisherman, but Xander hadn't gone fishing since his grandfather passed away last year. Touched by his story, Patrick bought Xander a new fishing pole – and then worked with his mom to take the family on a fishing trip to a nearby reservoir. He even wrangled a couple of fishing pros to join the day on the water so they could pass on the legacy and knowledge to young Xander!
Xander got a once in a lifetime personal fishing experience – even snagging a big rainbow trout on the outing. It was an experience and a kindness that his family will never forget.
View this post on Instagram
Thursday, October 12, 2023
Summer Erdel is a military spouse who was traveling with two small children and even well practiced, great kids have their limits. For Summer's girls, it was the third connecting flight. Thankfully, an angel was on this flight with them.
Jenny Martin was traveling solo, but saw Summer wrestling with her kids and luggage at check-in. As a mom of four, she was well aware of the special kind of stress Summer was dealing with. Jenny introduced herself and offered to help. She held Summer's baby and helped check the stroller while boarding.
It was a Southwest flight, so Jenny chose to sit in front of the Erdel clan, letting Summer know that the noise and seat kicking wouldn't bother her. Mid-flight, the baby projectile vomited all over Summer. Four times. Jenny calmly told the struggling mom that it was going to be ok. Then she took the baby (still covered in vomit) and rocked her to sleep so Summer could go to the lavatory and get cleaned off – Jenny even lent Summer a jacket.
After the flight, Jenny walked the family to baggage claim where Summer's husband was waiting and then went on her way. The moms were able to reconnect over social media when Summer went looking for her guardian angel – sharing the story with the world.
Wednesday, October 11,  2023
The Pick of the Litter Thrift Shop in San Francisco exists to help fund the Peninsula Humane Society. And truly honest, good folks are working there behind the scenes. Oliver Jolis was busy sorting donated clothes for pricing and display – when he picked up a shirt and cash started pouring out on the table. Wrapped up in the clothes was $5000! Also in the bundle was a scrap of paper with car insurance information on it.
Oliver and his coworkers contacted the woman who had dropped off the clothes and were able to return the large sum of money. She was astounded by the honesty and incredibly grateful, as you can imagine.
Tuesday, October 10, 2023
Issy Spurway is a talented 20 year old. She uses her skills with a sewing machine and her savvy with TikTok to not only upcycle old clothes – but help keep memories alive. When Issy's beloved grandfather passed away, she couldn't bare the idea of throwing out his old clothes. They were memories. They were a comfort. But they were also taking up a lot of space.
So Issy got designing and began to alter her grandfather's shirts into fashionable tops for herself. The Fashion School student uploaded her project on TikTok and of course, with her skillful designs and heartfelt purpose, the internet took her viral. This kept her busy during the pandemic and helped her through the grieving process.
Now Issy is helping others in a similar situation with tutorials on how to upcycle their own hand-me-downs.
Monday, October 9, 2023
Coffee is helping develop the economy of Mozambique all while reforesting the continent AND providing a haven for elephants, lions and hundreds of thousands of citizens!
The Gorongosa Coffee Project began in 2013 to reforest a 1500 square mile national park. It's in central Mozambique, home to 200,000 people and many endangered animals. Combining coffee plant growth and other indigenous plants, the reforesting process is happening quickly – and the job creation of the coffee industry has poured money into central Mozambique!
In 2013 the Gorongosa Coffee Project was started by 10 families – now 1000 families work for the project, sending many children to schools and transforming the economy of Mozambique – and the model is now being used by neighboring countries as well!
Friday, October 6, 2023
We don't deserve dogs. They provide love, without expecting a thing in return. Maybe they are a kind of angel. Certainly Scout is. Scout is a big black mutt who decided to escape the kennel at the Antrim County Animal Control, climb over multiple fences and cross a highway to take up residence at Meadow Brook Medical Care Facility.
The Sheriff was called multiple times by the old folks home to come pick Scout up. He just kept making his way back. And so the staff and residents decided to make it official and adopt the pup!
Scout fits right into his new home, brightening up the facility with a friendly disposition and a habit of falling asleep on a couch in the main lobby. Scout was even voted "Resident of the Month."
Thursday, October 5, 2023
The post-pandemic office landscape is a little bit different. While many have returned to regular office hours, many businesses have seen their cultures completely transformed with less office space needed. That means in the BIG cities, there is a lot of unused real estate in great centralized locations.
Arlington, VA sits just outside of Washington D.C. and they have gotten innovative with some of their newly emptied office spaces. Area 2 Farms is transforming old office buildings into vertical indoor farms – which both fills the space and provides fresh local produce to the inner city space of Washington D.C.! They even office a monthly subscription to local residents who get boxes of fresh, organic produce delivered right to their homes.
View this post on Instagram
Wednesday, October 4, 2023
While Southeast Louisiana has been in a drought for months – other parts of the country have experienced other kinds of extreme weather. SoCal got a hurricane and mudslides, and New England saw crazy flooding. This is going to sound wild to us, in our current state of insurance drama – but a 175 year insurance company did some major good in the state of Vermont!
The National Life Insurance Company lives by the moto "Believe in tomorrow. Do good today." The Montpelier, VT company held their annual benefit concert called Do Good Fest. While it is usually a small affair in a sleepy New England town, this year national attention on New England floods led to record generosity!
With NLIC matching half a million dollars in donations, they raised over $1.5 million to help restore and rebuild flooded communities in Vermont. And that was just one event – The Vermont Flood Response & Recovery Fund has had close to $2.5 million donated this year.
Tuesday, October 3, 2023
No matter how prepared you think you are for an emergency, when one happens and the adrenaline hits, real heroes keep their cool and follow their training. Thankfully Shana Turnage, a school nurse at Franklinton Elementary knew exactly what to do when a scary situation hit the school.
The school custodian, Mr. Richard, was on the floor having a seizure. He was unresponsive, not breathing and had no heartbeat. Nurse Turnage immediately began CPR and instructed other staff members to call 911 and grab the school's AED (Automated External Defibrillator).
First responders arrived shortly, but by then Nurse Turnage had already saved Mr. Richard's life. He woke up in a hospital room surrounded by cards from kids at the school and hopes to get back to work soon. His coworkers also can't wait to see their "ray of sunshine" back in the school halls.
Monday, October 2, 2023
Demario Davis is a beast on the football field. But more importantly, the linebacker is also a Man of God. (He literally got fined for wearing his Man of God headband as a part of his Saints uniform.) After a Saints win a couple weeks back, Demario was in the press booth and took his time sharing about how much God loves each and every one of us.
He also shared how Jesus healed his little 4 year old girl who had suffered an epileptic seizure just days before the game. Davis and his wife prayed in the ambulance and the hospital and their daughter had an immediate and complete recovery – something doctors didn't understand because the recovery from such a seizure usually takes days.
Demario Davis wrapped up his time with the press promising to talk football in the future, but for that moment, he wanted everyone to "listen for the knock and let the Lord in."
View this post on Instagram
Friday, September 29, 2023
Mary Ruth is feeling the love at her job in a Kentucky Walmart! 86 year old Mary Ruth always has a smile and a hug if you're willing for folks browsing at the Carrollton, Kentucky Walmart. But her journey to this calling came from a sad time in her life.
Mary Ruth is grateful for the lifetime of love she had with her husband Jacky. But after a five year battle with Parkinson's, Jacky went to be with Jesus. Mary Ruth knew that the loneliness would destroy her if she wallowed, so she went to Walmart and got a job.
Turns out, a whole new life was waiting for the outgoing sweet lady. She is a magnet for kindness – pulling smiles out of everyone she greets. She has connected with special needs shoppers and often gets stopped for selfies because she's become a bit of a celebrity. She shines bright and shares love, even through a time of grief.
Thursday, September 28, 2023
Eric Kilburn Jr. is a gentle giant in the classroom, and a monster on his high school football team. The 15 year old defensive end is already 6 foot 10, with feet even bigger than Shaquille O'Neal. In fact, that was a big problem – his mom was spending thousands of dollars on special-made shoes so her son could play football and even just walk to class without blisters.
A friend set up a fundraiser to help with the cost of shoes and the story went viral. That's when shoe company Puma and athletic wear company Under Armour stepped in. They measured the giant high schooler and produced 4 pairs of cleats and 2 pairs of tennis shoes as a special gift to the student athlete!
And of course, word got to Shaq that there were some bigger feet than his, so he sent his personal tailor to the Kilburn's house to fit the teen for custom suits for prom and homecoming! The family felt so blessed they started a Facebook Group called The Big Shoe Network to connect other families with help to get properly fitted shoes to their exceptional teenagers.
Wednesday, September 27, 2023
The mythical phoenix is famous for being reborn through the fire. Phoenix Bigler is no myth, but in many ways his story is far more incredible. The Covington teenager was just casually riding his bike when he had a heart attack that left him dead on the street. He lay there for 20 minutes with no oxygen to his brain. Fire fighters refused to stop resuscitation efforts and miraculously Phoenix responded.
The teenager was in a coma, unresponsive for days. His parents and community believed God would do a miracle and He surely did. Phoenix woke up! He is in rehab and will be for a very long time. Doctors believe Phoenix is 100% still in there, but his body has to relearn how to move and communicate.
Before the heart attack, Phoenix played saxophone at St. Paul High School. The other day his marching bandmates showed up to serenade him, his family and the staff at the hospital. They even paused to spend time thanking God for rescuing their friend and praying for Phoenix and his family. Miracles still happen. They happen all around the world and even around the corner on the northshore.
Tuesday, September 26, 2023
Competitive swimmer Merle Liivand is passionate about two big things: teaching the next generation the joys of swimming, and also, cleaning up the planet's waterways. The Estonian native holds multiple world records because she swims with a monofin. It's not uncommon for passersby to think they just saw a mermaid!
Recently Merle set a Guinness Record by swimming the circumference of Biscayne Bay in Miami – over thirty-one miles! It took her 14 hours, but that was because she wasn't just swimming, she was collecting garbage and filling bags for her team to collect. She pulled 35 pounds of trash out of the bay that day.
Monday, September 25, 2023
Earlier this year Lahaina, Hawaii suffered devastating fires. Homes, cars, entire towns were swallowed whole by the fires. A family in Seattle watched the news, devastated. They had recently been on a family vacation to Hawaii and the destruction was heartbreaking.
Five-year-old Edison took his sadness and turned it into hope with a lemonade stand to send proceeds to the community of Lahaina. He set up on a hot Summer day and was overwhelmed with the community response. Neighbors often paid way more than $1 for their cup of lemonade. On top of generous tips, Edison's parents' jobs said they would match Edison's sales with contributions to the cause.
After one week of selling lemonade, collecting donations, and corporate matches, Edison was able to send $17,000 to Hawaii to help rebuild. That's some God math there. And some generous hearts, which we know a thing or two about here at LifeSongs.
NEED MORE GOOD NEWS? Click Here for previous Today's Good News stories featured on LifeSongs!