Tuesday, October 22, 2019
Have you ever dropped your phone in a crazy place? Perhaps the toilet? What about a storm drain? Shauna Hall thought for sure that was the last she would see of her precious iPhone.  Shauna rushed into a nearby ChickFilA in a panic after dropping her phone down a storm drain while taking her son out of the van.  CFA employee Seth Ratliff said, "Compassion just took over and I just wanted to help."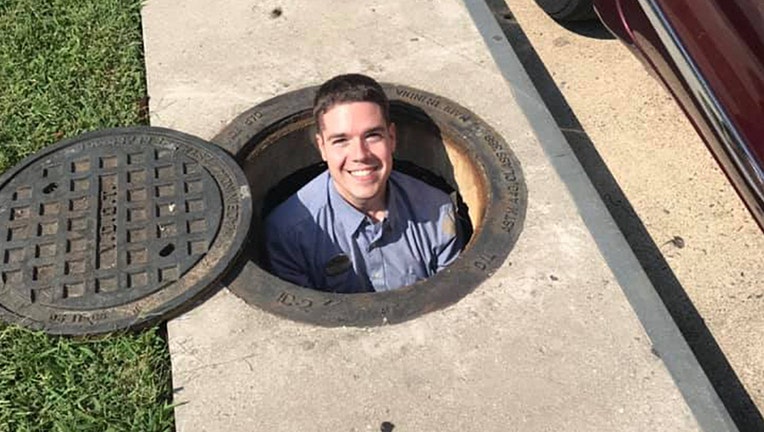 Seth got on the ground by the grate and used a grab-stick mirror to look for the phone. He quickly realized the phone had gone through the drainage gate and down into the "dark abyss" under the street. As Seth got down and dirty, Shauna and her son went to eat in the restaurant (they were hungry!). 
Seth saw the manhole wasn't bolted down so he grabbed a flashlight and entered the sewers.  After braving the underworld beneath the streets, Seth Ratliff emerged victorious, returning Ms. Hall's phone to her unharmed.
"I wasn't going to stop until I got her phone back. She was so upset seeing as her whole life was on that phone," adding, "I'm a follower of Christ and I just wanted to do the right thing."
Now that's some next-level customer service.
Monday, October 21, 2019
Dr. Olawale Sulaiman is a 49-year-old neurosurgeon who was born in Lagos, Nigeria, but lives in New Orleans, where he practices at the Ochsner Neuroscience Institute. However, for about 12 days a month, Sulaiman returns to his birth country to perform operations and share his expertise with local medical professionals.
To maintain such a schedule, he took a 25% pay cut at his job in the US, so he could have more time off for medical missions to Nigeria. Sulaiman also started RNZ Global, a healthcare development company with his wife, Patricia, in 2010 (power couple, much?). The company provides medical services including neuro and spinal surgery and offers health courses like first aid CPR in Nigeria and the US.
Friday, October 18, 2019
Cheerleader Tyra Winters is Rockwall High School's homecoming hero and it wasn't for anything that happened on the field. The 17-year-old senior was riding on a float in the homecoming parade when she saw a desperate mother and a little boy who needed help.
The teen hero said, "I see the kid. I see a little bright red face and his mom's holding him up, begging for help, screaming, asking 'someone help me someone help me.'" Winters immediately jumped off the float and I ran down and took over . She held the little boy and gave him three strong back thrusts that made him spit up the candy he was choking on.
Fortunately, Winters had gotten CPR training in eighth grade because her mom is in the medical field. Winters plans to be a pediatric surgeon.
"I commend her for being a teenager and being trained," says Nicole Hornback the little boys mom. The Hornback family is going to get CPR and first aid training right away.
Thursday, October 17, 2019
An optimistic outlook is also good for your health! According to a new study involving 300,000 people, those who look at life from a positive perspective have a much stronger shot at avoiding death from heart attacks, stroke and other major medical events.
Dr. Alan Rozanski, the author of the study, says optimists tend to have better health habits, like exercising and eating well. They also tend to have better coping and problem-solving skills when things get hairy. However, remember not to confuse optimism with happiness, Rozanski says. "Happiness is an emotion. It's transient," he says. "[Optimism is] how you look at the world."
Wednesday, October 16, 2019
For almost 30 years, Forgotten Harvest has fought two problems: hunger and waste.
This year Forgotten Harvest will deliver 138,000 pounds of surplus food per day to local charities six days a week, providing families in need with fresh and nutritious food free of charge..
According to FDA estimates, the United States wastes 30 to 40% of its food. That's hard to swallow when you consider that one in 10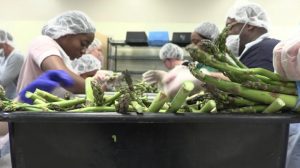 US households faced food insecurity in 2018.
That means roughly 14 million families are struggling to put meals on the table while approximately 30 million tons of food are trashed.
Sending food to the dump carries a steep environmental cost as well. Landfills, filled more with discarded food than any other single item, account for one-third of all US methane gas emissions.
The Forgotten Harvest operation is set up so that a fleet of about 27 trucks and drivers leave the warehouse in the morning and go to about 12 to 14 different stops for the donations of food. From local bakers and butchers to national chains, then these drivers redistribute the food to three to four community partners on a daily basis."
A rotating army of 16,000 volunteers makes this daily event happen.  Volunteers donated 54,000 hours of service to Forgotten Harvest in 2018.
Last year Forgotten Harvest redistributed 41 million pounds of food, That's 41 million pounds that filled stomachs instead of landfills.
Tuesday, October 15, 2019
7-year old Jermaine Bell did it. He finally made it to Disney World.
You may remember our Good News Story on September 6, 2019 about Jermaine. The Jacksonville, FL native had been saving for a trip to the happiest place on earth to celebrate his 7th birthday, but instead, he used his savings to help those affected by Hurricane Dorian. (He bought hot dogs, chips and water for about 100 evacuees while he was visiting his grandmother in South Carolina.)
His good deed didn't go unnoticed. Mickey Mouse himself surprised Jermaine on his seventh birthday at his home, where they announced he'd be visiting all four Disney World theme parks at the end of the month. Disney Parks sent Jermaine and his family on a VIP vacation.
Monday, October 14, 2019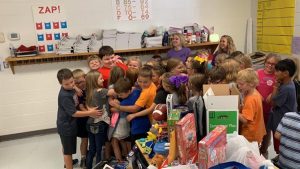 When an East Tennessee third-grader lost his items in a house fire, his classmates stepped up to make a difference in a tough time. According to Philadelphia Elementary School. one of their "Warriors," Daniel Hunt, lost all of his things in a house fire last week.
His fellow third graders and teachers decided to secretly organize a toy drive for him to replace some of what was lost.
Recently , the school gave Daniel his toys and "he was so surprised and thankful!""My mind is blown," said Daniel. Daniel's Mom Kristen said."I sat and cried at work for a good 45 minutes. I'm just so overwhelmed at all the love and the community coming together for us. It's just very overwhelming and a blessing,
Kristen and Daniel are staying with family until they get back on their feet
Friday, October 11, 2019
A teacher at an elementary school in Kentucky went above and beyond to ensure that a student didn't miss out on a fun class field trip.Ryan, 10, has Spina Bifida, a birth defect that occurs when the spine and spinal cord don't form properly.
The condition has made Ryan rely on a wheelchair to get around — so a hiking field trip was less than ideal for the Tully Elementary School student.
Ryan's mother, Shelly, was preparing for an alternate field trip day when a teacher reached out to her and offered to carry her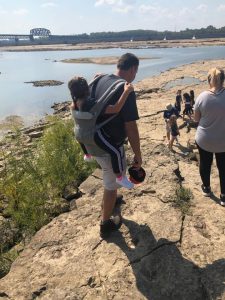 daughter on his back all day.
"If I haven't bragged on my kids school enough – well, listen to this," Shelly wrote in a Facebook post.
"They are going on a field trip to Falls Of The Ohio today. Obviously, NOT accessible. I was preparing for an 'alternate field trip day' when a male teacher reached out and said 'I'm happy to tote her around on the falls all day!' She is so excited to do this independent from me. Omg MELT MY HEART."
Several photos, teacher Jim Freeman – who is not even Ryan's teacher – was captured carrying the fourth grader on his back in a carrier as they explored the state park.
"We are so blessed to have an ENTIRE school that is so compassionate and empathetic and NEVER make her feel left out," Shelly said.
Speaking to a local news station, Freeman said the gesture was nothing more than a way to help a student in need.
"This is just one physical act that you can see, but we do this countless times throughout the school day and throughout the year," he said. "All the teachers here at Tully and JCPS, they work harder than most people realize."
Thursday, October 10, 2019
An elementary school was having spirit week and a young 4th grade boy, who loves the Tennessee Volunteers, proudly wore an orange shirt with a homemade UT design taped to the front. The boy was mocked by his peers (4th grade is hard), but when his teacher shared a picture of the shirt and told his story – well of course it went viral.
The University of Tennessee was so impressed with the young man's fandom, that they co-opted his design and printed merchandise in his honor – which promptly crashed their webstore as thousands ordered the shirt. The school says they are giving a portion of the proceeds to the non-profit Stomp Out Bullying. They sent the young student a care package that included his custom logo.
But this story continued to grow when the University of Tennessee then awarded this bullied young fan a 4 year scholarship once he graduates high school! He'll be in the class of 2028!
Wednesday, October 9, 2019
Imagine you are a mom with a teenaged son on the autism spectrum and he comes home from school, confesses to being bullied and talks about suicide. That was reality for Hunter Boudreaux's mom, but instead of panicking she steered her son to creative self expression to combat the onset of depression, saying "I won't let him be the victim of a condition."
With his mom's help, Hunter started a YouTube channel called Autisti-Chef where he shows off his favorite recipes and engages with his fans. Hunter might be diagnosed with Asperger's and ADHD, but by putting his energies into his passion for cooking, Hunter is thriving.
Hunter Boudreax says, "Life is full of too many negatives to intentionally have negative stuff in it. Whenever you can, make the positives."
Tuesday, October 8, 2019
Two sisters from Delaware — Zaria, 13, and Hailey, 8 — read bedtime stories five nights a week on Facebook Live because they believe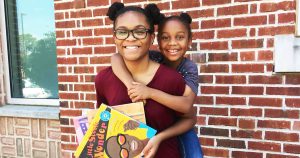 that all kids should have the opportunity to fall asleep to a bedtime story. The girls shared in a Facebook post that since their mom read to them since birth they both consider themselves avid readers, so why not share that literary love with the world?
Zaria says, "We are already reading each night but we thought it may be beneficial for children who don't get this luxury. Parents sometimes work late or are too tired for stories. We are not only helping children, we are giving parents a nice break after a long day of work."
The girls make a point to read bedtime books with diverse characters and stories. Zaria and Hailey started the endeavor back in March 2019 and got about 50 views per night. They now get anywhere from 3 to 12 thousand views on their Facebook Live streams each night.
Monday, October 7, 2019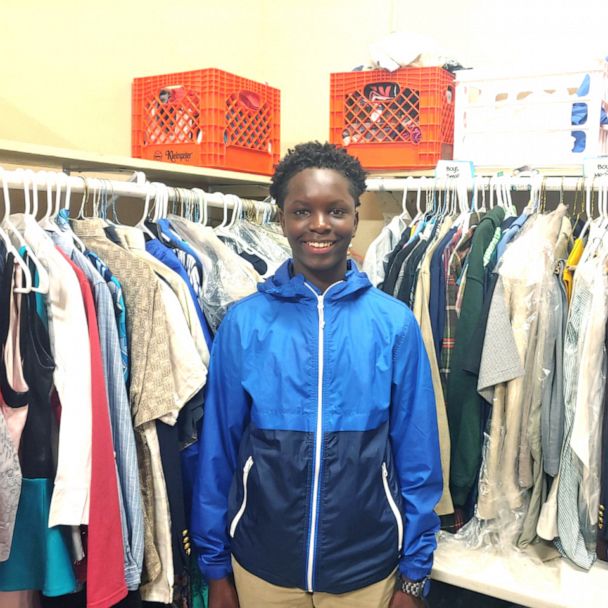 In a tiny room tucked behind the far side of the Port Allen Middle School gym, Chase Nyland-Square spends hours each week sorting crowded racks of clothes, putting the best ones forward for his classmates in need of something to wear. Last year, the eighth-grader started donation drives for gently used clothes when he originated PAMS Pantry, a project that's set up dozens of students with clean and modern clothes when they can't always get them.
Chase spends a few hours of the day at the pantry and even worked at the pantry during his summer break for students needing to stop by. The 13 year old says, "A lot of kids don't have a lot of things. We don't want kids to be categorized by things they don't have."
Other times the pantry has served students during emergencies. In one case, the pantry supplied a student with a new wardrobe after she lost everything in a house fire. Chase was celebrated recently on "Good Morning America" for his work and the show rewarded him with a $10,000 donation to continue his efforts.
Friday, October 4, 2019
Lauren Bergner spent months preparing her 6-year-old son Brody for Disney World.
Brody has autism and communicating with him about change before it happens helps him to adjust more easily – but this mom is well aware that meltdowns are inevitable for her child, who is sensitive to noise and crowds.
She could sense a storm was brewing on Sunday, while Brody was waiting to meet Snow White at Epcot Theme Park. Brody was hot and overwhelmed and couldn't hold back the tears anymore. But Snow White knew exactly what to do to soothe the boy, who is nonverbal.
"She kissed, hugged and cuddled him," Lauren wrote in a Facebook post that has gone viral with 69,000 shares. "She then took him for a walk away from the crowd! She was amazing." Lauren and her husband, Bill, watched in awe. They had never seen Brody connect with a stranger so quickly.
Lauren admits she lost her composure and started openly weeping for joy while watching Snow White hug and love on her son. The family was worried about others waiting in the line, but when they turned around hundreds of Snow White fans gave the Disney Princess and Brody a big round of applause.
Lauren said "It was this magical moment that we will never, ever forget."
Thursday, October 3, 2019
Eli Apple, Cornerback for the New Orleans Saints, happens to be a son of a Saint! Annie Apple is Eli's mom.  She is a writer with a background in journalism. One day Annie felt that she heard God say clear as day "You don't get to dictate how I write your story." Annie says, "In that moment and time, I felt such a release. All of a sudden, I felt moved to use football as a platform in a way that we all get to win."
That moment was the birth of the HealHer Network, Annie Apple's mobile support outreach for women who are victims of domestic violence. Annie is a survivor of domestic violence and now she's doing her part to make sure more women are survivors.  Every week during the NFL season, HealHer Network will visit designated NFL cities and connect with women who have suffered trauma from physical abuse.
Proud son Eli says, "She has always been caring and always wanting to give back and always wanted to impact lives," My Mom has a big heart and you can see that now. She just wants to do what she can to spread wisdom and knowledge in helping people."
According to the Center for Disease Control and Prevention, one out of four women have experienced physical violence by an intimate partner.
Wednesday, October 2, 2019
When Satchel Smith's father dropped him off for his shift at Homewood Suites in Beaumont, Texas, he expected the day to be like any other: He'd start at 3 p.m. and leave around 11 p.m. that night. That was until Tropical Storm Imelda unleashed torrential flooding that trapped him and 90 other guests inside the hotel.
For 32 hours, the 21-year-old was the hotel's only employee. But to the guests who relied on him for nearly two days, he's a hero. While flooded roads kept his co-workers from getting to work, Smith served guests alone. Angela Chandler, a hotel guest, praised Smith's composure in a post on Facebook, where it's been shared more than 13,000 times.
The viral post said:
"He has manned the phones, answered each of our questions, ensured that we have had a hot cup of coffee or tea, and helped serve us a hot breakfast. He has handled this situation with grace, kindness, and a beautiful smile on his face."
The Lamar University track and field star confessed that he felt overwhelmed the whole time. Typically positioned behind the front desk, he was now the hotel's chef, maintenance man, room service attendant and any other vacant position that needed filling, even when his experience was lacking. A guest stepped in to help serve breakfast, and a few others joined them to prepare dinner — a simple chicken pasta with garlic bread. Satchel was pleasantly surprised that it tasted good.
Outside, the highways were closed and drivers were stuck in their cars, so Satchel Smith and the guests braved the flood to distribute food and water to stalled truckers. After spending so much time together, the group was forever bound together.
Tuesday, October 1, 2019
As a two-time breast cancer survivor, Nancy Riviere knows all the ways a cancer battle can wear someone down. She also knows that, in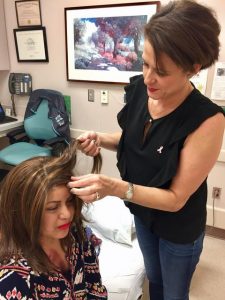 between tests and treatments and side effects, it's easy for people to lose their sense of self. Her nonprofit organization Wig Out provides high-quality wigs to women (and men) going through cancer treatments so they can reclaim a little bit of what makes them, well, them. But it's more than just a great hairstyle.
"We're taking care of the emotional impact of the cancer diagnosis and putting together the tools to restore people's confidence and give them the dignity they need to make it through," she says.
Riviere and her team have provided wigs and head coverings to more than 300 patients around the country, as well as moral support and even advice for dealing with the side effects of cancer treatments.
"I love what I do," she says. "Cancer treatments can leave people feeling so vulnerable, and it's just an honor to help put these women back together."
Monday, September 30, 2019
Among the advertisements lining the billboards along a stretch of road in Kansas City, Missouri, is one with a simple yet powerful message:
"You are human. You are loveable. You are strong. You are enough."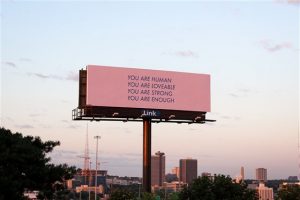 Nicole Leth rented the billboard in honor of her father, Richard, who died by suicide when she was 17 years old.
"I realized over the years I could never save someone's life for them, but I could create an encouraging and affirmative space to empower them to save their own life."
In the nine years since she lost her dad, Leth has found comfort in spreading positive messages, but had never done anything this public until now.
"The reaction has been unbelievable and heartfelt and overwhelmingly positive," Leth said. "I have been receiving lots of emails from people who said it mattered, or they saw it and had a terrible day and didn't think they could survive, and without knowing the story of the billboard, they said it let them live one more day."
Other people who have lost someone to suicide told Leth the billboard shares the words they wish they could have said to their loved ones.
While she initially paid for the billboard to run through mid-August, Leth said the owner of the space has been touched by the response and emailed her to say it will run free of charge for the foreseeable future. It's the perfect way to honor her father and spread a message of hope she said she knows he'd love.
"He truly had the same heart as me and he always felt things so intensely. We'd always go on these cross country road trips and have the deepest conversations about life and people and love," she said. "He was the first person who taught me how to make beauty out of hard things."
Friday, September 13, 2019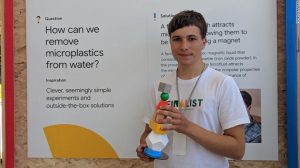 One 18-year-old's science fair project has put us all to shame, and may have found a solution to one of the world's biggest problems: The tiny bits of plastic waste that are choking our oceans.
For his project, Fionn developed a method to extract microplastics from water using magnetic liquids called ferrofluids. Yeah, let that sink in. The experiment was 88% effective at removing the particles, and he won the grand prize of $50,000 at this year's Google Science Fair.
This fall, Fionn will continue his studies at the University of Groningen's Stratingh Institute for Chemistry in the Netherlands. Incredible. Way to go, Fionn!
Thursday, September 12, 2019
Jade Stephenson has always loved her grandmother's wedding dress. It's not traditional – in fact, it's bright red with black trim. Colorful and stunning, just like her grandma. Once, Jade asked her grandmother to hang on to it for her so she could wear it for a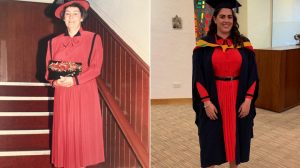 special occasion.
When Jade learned her 80-year-old grandma couldn't travel to attend her college in Liverpool, England, she knew that special occasion had arrived.
Under her cap and gown, Jade wore the dress, much to her grandmother's delight. For Jade, it was more than just a vintage fashion choice: It was to honor two beloved people in her life.
She says, "I originally tried the dress on a few years ago, so I knew what it looked like on and her face then lit up. So I knew that asking her if I could wear it for graduation would make her smile. Also, my grandad died in 2009 and to me, it felt like part of him was there with me on such a special day."
Several people complimented her on her fashion choice for the ceremony, and Jade's grandmother says she was overwhelmed and honored she chose that dress for such a big moment.
Wednesday, September 11, 2019
A 400-mile Uber drive sounds like a nightmare, for both a passenger and a driver. But there was no other choice for two sisters stuck at the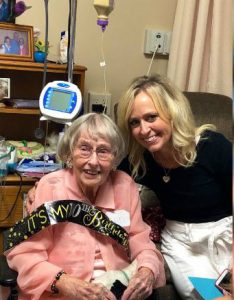 Minneapolis airport who were trying to get to their aunt's 100th birthday party in Edgerton, Minnesota … 200 miles each away. Their flight had been canceled, so in a desperate last move, they called an Uber and hoped someone would be up to the task. Sure enough, a man arrived a few minutes later and agreed to the unexpected trek (and his name was Jesus, you can't make this stuff up).
Jesus, the driver said, "I feel that they need to be attending the birthday and I enjoy driving, so yeah, it worked out well – It's an important occasion, and if I was in their place, I would appreciate very much someone bringing me there when there was no other way."
Sisters Kerry and Deb said the driver was "so sweet" and the ride was really pleasant. The party was over by the time they arrived, but their family knew what was up, so everyone waited for them to make their grand entrance and enjoy some time together with their aunt.
Tuesday, September 10, 2019
A coach's role is to support the team's players and encourage them to push themselves to greater heights than they imagined. The bonds between a good coach and the players runs deep and way beyond the field.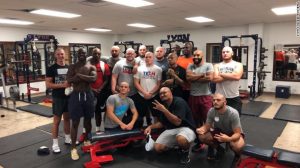 Kris Sweet, the offensive coordinator and offensive line coach for Lyon College in Batesville, Arkansas, began forming those bonds with his football players this Summer during the offseason. But during training camp, in July, Coach Kris received shocking news: a diagnosis of non-Hodgkin lymphoma, a cancer of the immune system.
As word spread about how the upcoming treatment could cause the 46-year-old to lose his hair, the team decided to not only offer words of encouragement but to take action to show their support.
The young men got together and shaved their heads as a visible display of their unity behind their coach. Then the team made a surprise visit to Coach Kris, he was visibly moved at his team's gesture – hugging each player and patting them on their newly-shaved heads.
Monday, September 9, 2019
As the Saints prepare for their season opener just hours from now in the Dome, they've actually been hard at work for months now – both on and off the field. A few New Orleans Saints players took a break from practice last month to spend a few hours getting kids ready for school. Hundreds of kids and fans were eager not just to start a new school year, but also to see the boys in black and gold. 
New Orleans Saints Cameron Jordan and Terron Armstead headed up the school supplies giveaway.
"It's all about that whole positive push, just to get them ready," Cam Jordan said. "At the end of the day it's always a positive influence, letting them know we care about them,"
A total of 200 kids from different parishes across the state received backpacks filled with the supplies needed to start school. They were also able to shop for up to $40 worth of additional school essential items. 
"There's nothing work about this. We're getting out, cracking jokes, smiles with the people in the community with the fans, the ones that make everything happen," said Armstead. 
As fans are ready for what they expect to be a successful season on the field, the Saints players are pushing the kids for a successful year in the classroom. 
"We're just trying to do the most we can to actually make an impact," Armstead said. 
Living up to their name as Saints. Thank YOU for making a difference through your giving, too, with LifeSongs Shareathon! Click here to give now!
Friday, September 6, 2019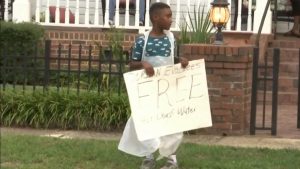 It's known as the most magical place on earth – Walt Disney World. Kids around the world dream of visiting and meeting Mickey Mouse, riding the rides and now – flying in the Millenium Falcon. Jermaine Bell is a six year old who has long dreamed of visiting Disney. The South Carolina kindergartner has been saving his money, along with his family, for a family vacation.
But then Jermaine saw the news. He read about people evacuating from Hurricane Dorian and the disaster relief happening in the Bahamas. That's when he told his parents that there was something more important that he could do with his money than go to Disney World – he wanted to help people in need.
The six year old took the money he'd been saving and spent it on hot dogs, chips, and water and stood alongside Highway 125 with a pair of handwritten signs offering food to those on the evacuation route. He served his food to about 100 evacuees.
Thursday, September 5, 2019
An anonymous farmer out of Jacksonville, FL bought 100 generators and tons of food to have shipped by boat to the Bahamas to help the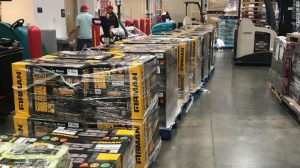 recovery effort after Hurricane Dorian ravaged the island communities from Costco. His receipt totaled $49,285.70.
The hero in a Costco refuses to be identified for the generous deed, even so his story is going viral and others are joining in the effort.
Today is International Day of Charity – and this is a perfect example of standing in the gap for someone in need. LifeSongs encourages you to check with your church to see how we can all mobilize and help people affected by Hurricane Dorian. And we also humbly ask that you support LifeSongs radio. Click here to see ways you can give. We are listener supported – your giving is what makes every day of God is Good All the Time radio possible!
Wednesday, September 4, 2019
Animal trainers scouting for dogs to appear in Disney's live-action Lady and the Tramp came to the HALO Animal Rescue in Phoenix, hoping to find a few animals that would be a good fit. Monte, a 2-year-old terrier mix, immediately stood out, as he's not only handsome, but he also knows how to sit, is good on a leash, and loves attention.
The stars of Lady and the Tramp are all former rescue dogs, and Monte will be voiced by actor Justin Theroux. Since filming wrapped, all of the dogs have found loving families, Disney said. The movie will premiere on Nov. 12 on Disney's new streaming service.
We are proud to partner with the LASPCA to find homes for some awesome adoptable animals we spotlight every week on Pets of the Week! 
Celebrity dog in our midst! Monte was adopted last year from HALO & originally came from Las Cruces, NM. Monte will be starring as "Tramp" in the new live action Disney movie according to this @People Exclusive https://t.co/d1LgLx9R0H #HALO25yrs #HelpingAnimalsLiveOn pic.twitter.com/u6kaBhgkJM

— HALO Animal Rescue (@HALORSQ) August 12, 2019
Tuesday, September 3, 2019
When planning his trip home from Kabul, Afghanistan, to Charleston, West Virginia, earlier this month, Sgt. Seth Craven had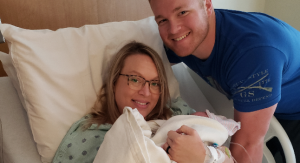 no idea storms in Philadelphia would almost keep him from his son's birth.
Craven's wife, Julie, was scheduled to have a caesarian section on a Friday. Craven, who serves in the West Virginia National Guard, gave himself three days to get to Charleston. After flying from Kabul to Kuwait to Philadelphia, Craven was in the home stretch until storms in Pennsylvania canceled his flight.
The next day, maintenance issues kept his plane on the ground. After hearing his story, fellow passenger Charlene Vickers offered Craven a ride. They jumped into her SUV and drove eight hours to West Virginia, with Vickers dropping Craven off at home around midnight — several hours before his son, Cooper, was delivered. "If it wasn't for Charlene, I never would have made it."
Friday, August 30, 2019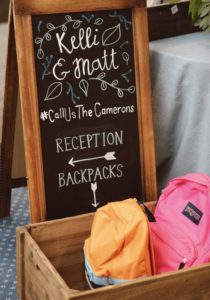 Kelli and Matt Cameron didn't have a typical wedding registry. The Tampa, Florida, residents decided they had enough household items, so in lieu of gifts, they asked guests to donate school supplies.
Instead of Crock-Pots, it was Sharpies and T-shirts and khaki shorts. Kelli Cameron is a first grade teacher, so this seemed like a no-brainer idea for her! The couple decided the supplies should go to kids at Booker T. Washington Elementary School.
But the couple didn't wait until after the honeymoon to bless their community! At the end of the wedding, dozens of backpacks filled with paper, pencils, crayons, and more were loaded up in Matt's truck and delivered to the school!
Thursday, August 29, 2019
17 year old David Ledbetter spent his Saturday walking up to people outside a local Popeyes and handing out sample ballots and voter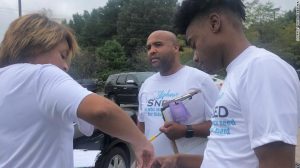 registration forms. With the hype around Popeyes chicken sandwiches, the savvy teenager saw his chance to make a difference in the community.
David and his friends provided people with voter information and gave them the forms to fill out on their own – so many people responded with enthusiasm that they actually ran out of the voter forms! David co-founded "Imagine This" – an organization that aims to give more high school students access to college.
So many people were impressed with how easily David engaged with people.
David says this was the first time he has encouraged people to vote, he said. He's only 17, but he's already pre-registered to vote for when he turns 18.
Wednesday, August 28, 2019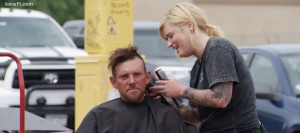 Katie Stellar believes that getting a haircut can be a transformative experience. Katie says, "When you feel good about yourself, it can inspire you to do so many things."
Katie Stellar owns the Stellar Hair Company in Minneapolis, and often puts one of her salon chairs in the trunk of her car and drives around the city, offering free haircuts to people she meets who are homeless. Katie was diagnosed with ulcerative colitis as a child, and at 18, underwent surgery to remove her large intestine. Her hair started to fall out, and she soon realized what a big part of her identity was wrapped up in her hair and physical appearance.
Katie says "I don't do hair because I'm naturally good at it. I became good at it because I saw it was a way to connect and care for people."
Tuesday, August 27, 2019
Deborah Price turned to strangers on the internet for help, and they delivered. Price's friend was trying to find a specific dress for her daughter, Elise. Elise has autism, and will only wear a gray dress with a rainbow heart on the front. She bought the dress three years ago, and was worried about finding a replacement once Elise outgrows it.
Thinking someone might have one in their closet they'd be willing to sell, Price tweeted a photo and hoped for the best. It didn't take long before people started responding. Some told her they found the dress on eBay but in the wrong size, and others offered to sew a replica. Finally, one girl said she owned the size needed, and wanted to send it to Elise.
Price was "absolutely bowled over by the kindness of strangers," she tweeted, adding that the support "restores your faith in human nature."
Friend's autistic daughter only wears this dress. Don't judge. Sometimes people can't cope with certain stuff &it doesn't matter in the grand scheme of things does it. Question is has anyone got this @nextofficial dress from 3yrs ago in age 11plus & if so can we buy them off you? pic.twitter.com/unQQeWWZma

— Deborah Price (@deborahprice1) July 6, 2019
Monday, August 26, 2019
If taking time to enjoy nature in Michigan's state parks wasn't relaxing enough, you can now add a little Bob Ross to your experience. For its 100th birthday, the parks system is partnering with Bob Ross Inc. to help the "happy little trees."
Michigan's "prison grow" program will be renamed in honor of the famous American painter and his tagline,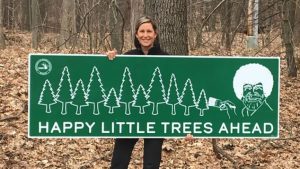 according to a statement. Through the program, prisoners learn horticulture skills by growing trees from seeds collected by volunteers. The trees are transplanted into state parks and other areas in need of reforestation.
Beloved artist Ross made his television debut in 1982 on his show "The Joy of Painting," which reached over 400 episodes before he retired. Even though Ross died in 1995, his show and its impact on communities have lived on through memes, parodies and art classes.
Michelle Coss, volunteer and donor coordinator for the Michigan Department of Natural Resources' Parks and Recreation Division, said the idea came from the recent revival of Ross' popularity; her own daughter had been watching the show online. Coss said the agency called Bob Ross Inc. to get permission to use his tagline, and the company gave a resounding yes.
According to Coss, over 500 people signed up to plant trees when the program was announced. Volunteers get a t-shirt with Ross' image and will help regrow state parks.
Signs with the slogan and a picture of Ross painting can be seen at three state parks: Port Crescent, Yankee Springs and Orchard Beach. Three other state parks — Lovington, Sleeper and Warren Dunes — will also have signs installed.
Friday, August 23, 2019
It's the Baby Cake's final season in New Orleans and there are only a few home games left (8/26-8/29)! Nothing says "summer" quite like spending the evening eating Crackerjacks and sweating under the bright ballpark lights.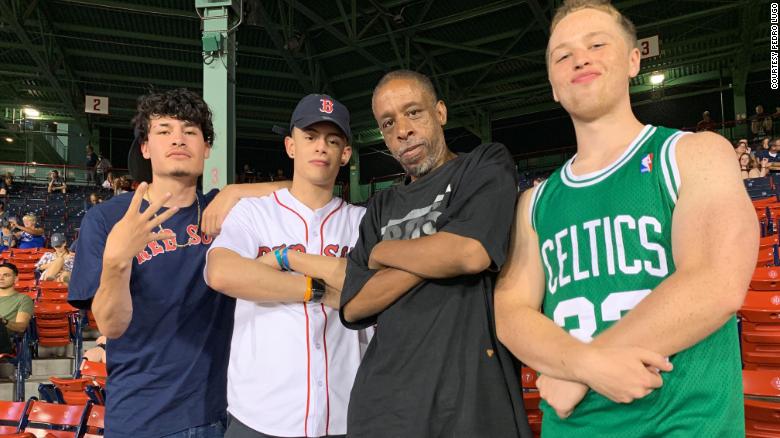 One group of Red Sox fans from Massachusetts were preparing to do just that when the fourth member of their baseball posse cancelled on them. Rather than waste the ticket, the young men wanted to give it to someone who would appreciate it. They decided to offer it to a homeless man named John they met on their way to Fenway Park. His reply? "Let's go."
The trio bought John some refreshments and they all enjoyed a few innings of Red Sox ball before parting with handshakes and smiles. The Red Sox may have lost that game, but these guys WON. This highlights the best of what sports can do: bring people together, making new friends and, if the timing is right, making someone's day a little better.
Thursday, August 22, 2019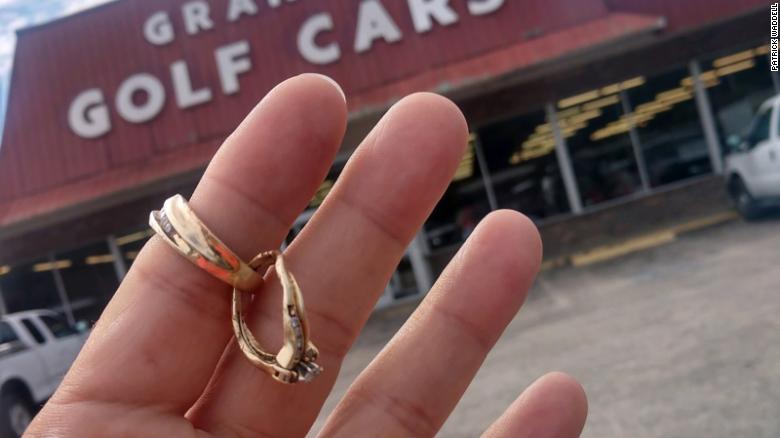 Patrick Waddell lost his wife to colon cancer in 2016. Since then, he's always kept her close by carrying their wedding rings with him. He even had a jeweler weld them together and wears them on a chain. But while picking up a golf cart on vacation last week near Myrtle Beach, South Carolina, he made a devastating discovery: The rings were gone.
Waddell wasn't sure where he left them or how to get them back, so he turned to Facebook for help. He tagged the campground near where he picked up the golf cart and a few days later, he got a call from the golf cart store that the rings were found. The rings were pretty beat up, but Patrick couldn't care less about the dents and scratches. He's just glad to have them back.
Wednesday, August 21, 2019
The members of the Hall County Sheriff's Office in Georgia helped make the first day of school a little less painful for one of their own. Caden Dixon's father, Nicolas Blane Dixon, died last month in the line of duty. When the time came for Caden to start fourth grade at Enota Multiple Intelligences Academy in Gainesville, he was understandably having a hard time.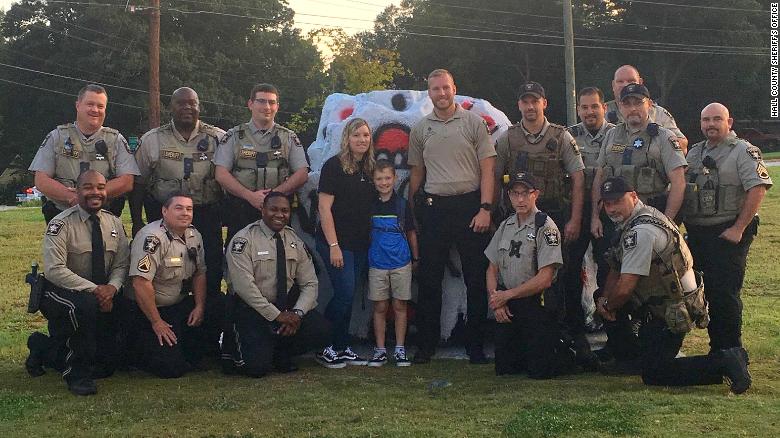 That's when more than a dozen of his dad's colleagues showed up to escort Caden and his mother to class. The sheriff's office says its members have been actively comforting and supporting the Dixons because, well, that's what law enforcement families do.
Sgt. Charles Hewell worked with Officer Dixon and didn't hesitate to walk with Caden to the first day of school, saying, "[Caden] was having a rough morning because he didn't want to go to school without his dad being there – Seeing his reaction when he saw us made everything worth it."
Tuesday, August 20, 2019
When did you learn to tie your shoes? I don't quite remember, but I'm pretty sure I was rocking slip ons or velcro shoes for most of my time as a toddler. Not Josiah Owens, though. This 2-year old already knows how to tie his own shoes.
So, while out with his mom, when he noticed another toddler sporting some untied shoes with laces, he raced over to help. He'd never met the boy before and no one asked him to help – he simply noticed a need and did something about it. Way to go, Josiah!
Such a simple and sweet gesture makes me want to take action, too. How can you help someone by meeting a need today?
Monday, August, 19, 2019
Did you help your kids pick out their first day of school outfit? It's a big day, the start of a new school year, and what you wear can really make a statement. Especially in the case of one student at a Georgia elementary school.  6-year old Blake Rajahn walked in on the first day of school sporting his brand new t-shirt with the message: "I will be your friend."
Blake's mom runs a personalization business, and she promised to make him whatever kind of shirt he wanted for his first day. She assumed he'd want a basketball or football theme. Imagine her surprise when he responded, "Will you please make me a shirt that says 'I will be your friend' for all the kids who need a friend to know that I am here for them?"
Blake has experienced bullying and hard times at school before, and simply wants other children to know he's there for them. His mom Nikki says she has already sold several other shirts like Blake's after her Facebook post went viral. Her son hopes that "more and more people find friends" on their first day with the help of the shirts.
Way to go, Blake! Never underestimate your child's heart for others or the example your actions have set for them. Who can YOU befriend today?
Friday, August 16, 2019
An 11-year-old boy in El Paso, TX, has started the "El Paso Challenge" to encourage kindness to one another in response to the Walmart shooting.
Ruben Martinez is challenging each person in El Paso to do 22 acts of kindness for others in honor of the 22 people who died that day.
"He was having some trouble dealing with what happened," his mother, Rose Gandarilla, said She explained to him that we could not live in fear and that people in our community are caring and loving. I told him to try and think of something he could do to make El Paso a little better."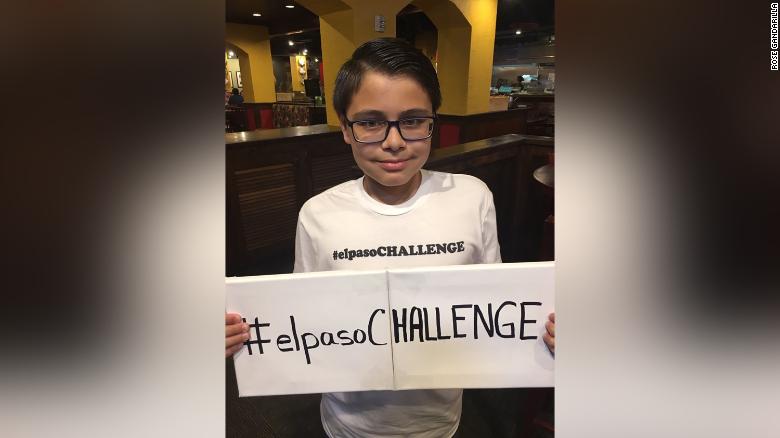 Since then, Ruben has been passing out flyers and posting on social media to try and help the #ElPasoChallenge spread.
He has already done his first act of kindness, He chose to go deliver dinner to our first responders."
Ruben Martinez may just be a 6th grader but he is leading by example.
Way to go Ruben!
Thursday, August 15, 2019
There are already universal symbols for peace and love—but one group of kindergartners has been pushing for there to be a newly-recognized sign for kindness.
The young students first launched the project as a part of their writing and geography project and has since garnered national traction with a petition to adopt a new National Symbol of Kindness. The petition has accumulated over 4,000 signatures!
The Kindness Symbol shows a circle around a heart with arrows signifying N,S,E & W. to symbolize kindness "all around, ongoing, never-ending, north/south/east/west, everywhere!"
The youngsters have presented their proposal to dozens of school boards, city councils, and municipalities—and many of the ordinances have already agreed to adopt the symbol. If you want to sign the petition or learn about the movement – CLICK HERE!
Wednesday, August 14, 2019
If you have ever lost your job, you know the sinking feelings of fear and failure that can be overwhelming. When Patrick Hoagland got laid off from his job as a forklift operator, he didn't let the fear take over – he got proactive.
Patrick printed up 200 resumes and stood on the street corner with a sign saying he was looking for work – please take a resume. One passerby, Melissa DiGianfilippo snagged a resume, put Patrick's story online and one thing led to another…
Now Patrick has a new job with a local concrete company and a new friend in Melissa.
Tuesday, August 13, 2019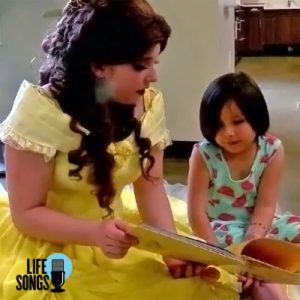 Dressed in a Snow White costume and carrying her favorite storybooks, Rachel Oehlert is bringing magic to children in the hospital. The 24-year-old from Thornton, Colorado, has dyslexia, and as a student, dreaded reading to the class. When she couldn't shake her fear of reading aloud, she decided to step outside of her comfort zone and start reading to sick kids. Three years ago, she bought a Belle from Beauty and the Beast costume, and visited her first children's hospital. She found she wasn't nervous, and with her confidence boosted, started her own nonprofit, Truly Make Believe.
The organization now has a team of 15 volunteers who visit hospitals dressed like princesses and superheroes. "Doing this has made me a more compassionate human," Oehlert told The Washington Post. "What started as a simple idea to help me overcome a fear has become a big part of who I am."
And even more important – she's helping kids get better!
Monday, August 12, 2019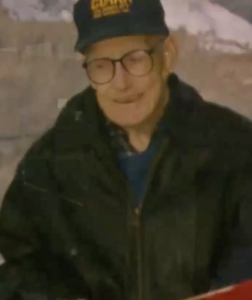 Unbeknownst to even his closest friends, Dale Schroeder scrimped and saved for so long that by the time he was 86 years old, he had accumulated a fortune worth $3 million. The Iowa carpenter was a hard-working "blue collar, lunch pail kind of guy," friend Steve Nielsen told KCCI. Before he died in 2005, Schroeder told Nielsen about his money, and how to spend it: He grew up poor and never had the chance to go to college, so he wanted to help young people further their education.
Since then, Schroeder's fortune has paid for 33 small-town Iowa kids to go to college. They call themselves "Dale's Kids," and have gone on to become teachers, doctors, and therapists. The only stipulation is that they one day help others in a similar fashion. "You can't pay it back, because Dale is gone, but you can remember him and you can emulate him," Nielsen said.
Friday, August 9, 2019
When Wayne Wilson's friends put a call out for community members to attend his funeral, they were expecting an additional 10 to 15 people to show up.
Instead, about 3,000 people turned out to pay their respects to the Vietnam War veteran, who did not have any surviving family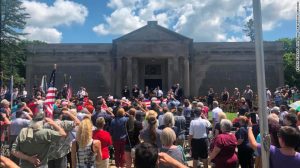 members.
Wilson, who died May 28 at age 67, served in the army from 1971 to 1977.
"I was just amazed when I pulled up in the hearse," Drew Mikel, an intern at the Brown Funeral Home & Cremation Services who helped publicize Wilson's funeral, told CNN.
"I was driving through a sea of people. I couldn't believe that many people actually turned out."
Some who showed up were locals; others had driven from Tennessee, Iowa, Florida and Indiana to Niles, Michigan, to pay their respects, Mikel added.
Full military honors and the military salute were performed for Wilson at the ceremony.
Sergeant-at-Arms of American Legion Post 51 Richard Stuart, who is in charge of the color guard that performed at the ceremony, said Wilson's was the biggest commemoration he has ever done in 10 years.
"None of us figured that it would be as big as it was," Stuart said. "Every veteran has the right to have a funeral like this. You're showing honor to a veteran who has passed away."
"Mr. Wayne Wilson was a heroic soldier for our country, becoming wounded in the Vietnam War. Wayne was proud of his country and proud of his city. Every year, Wayne was the first person at Silverbrook Cemetery for the annual Memorial Day Parade," Brown Funeral Home & Cremation Services said.
However, they didn't expect the notice to reach so many people.
"The community simply embraced it and took it upon themselves, made it their mission (to celebrate Wilson)," Mikel said.
Thursday, August 8, 2019
The students and staff at Dayton Consolidated School wanted to greet Morey Belanger on her first day of kindergarten, and to do so, they all started learning American Sign Language. Morey is the first deaf student to attend the school in Dayton, Maine. Before her arrival, the students learned how to say hello to her, and since then, they've been taught more than 20 words, including colors and school-related terms.
Dayton's principal Kimberly Sampietro says, "Morey, without even knowing it, has taught us so much! She has brought a culture to our building that we didn't have before."
Morey Belanger is taking an active role in educating her peers about ASL and deaf people, helping her fellow kindergartners learn the alphabet. Her mom Shannon says her daughter felt so welcomed and that the school going the extra mile meant so much to their family.
Wednesday, August 7, 2019
Darius has always had a love for two things bow ties and dogs! At the age of 2, Darius was diagnosed with speech, fine motor skills and comprehension delays. Doctors said he needed to work with his hands more to strengthen his fingers, so Darius (who loved watching his sister Dazhai – dah-zshay – sew hair bows) learned how to sew and started selling bow ties.
In 2017 when hurricane Harvey's destruction left people and animals without homes, he thought of a new use for his bow ties. Darius wanted to help. He noticed that dogs were being transported from Texas to New York and figured if he donated the bowties to the animal shelters, it could help the dogs to get adopted faster!
Darius says, "If you put the bowties on the dogs, it would make them look good, and help them look for homes!" So he got to work and started sewing and delivering bowties to animal shelters … and you know what? It worked!
With the help of his mom and sister, he started Beaux & Paws. Now the family travels to shelters around the country to donate bow ties. Darius carefully chooses the right bow tie to fit each dog..based on fur color, personality, eye color.
Beaux & Paws caught the eye of former President Barack Obama who sent Darius a letter telling him to keep up the good work.
Tuesday, August 6, 2019
Celebrity chef Duff Goldman wants to make one thing clear: Baking is a cool thing for everyone to do.
The "Ace of Cakes" star recently took to Instagram to share that inspiring message after receiving a heartwarming, handwritten note from a young fan named Caleb. In the note, the 5-year-old thanked the superstar baker for showing people that boys can have mad baking skills: "Duff, thank you for making baking cool for boys."
Goldman's response on Instagram: "Thanks Caleb! Baking is cool for literally EVERYBODY!"
Fans soon flooded the comments section with appreciation for Goldman's uplifting outlook. The post has since been liked over 28,000 times. It looks like Goldman can add baking role model to that list of accomplishments.
Monday, August 5, 2019
Life had never been better for Katie Hearn when she landed her dream job working for the Atlanta Braves. But her achievement was soon overshadowed by a rare medical condition that caused her to lose her sight.
She grew up playing softball and fell in love with the Braves. In 2015, she landed her dream job working for the Major League Baseball team. She was monitoring the Braves' social media but also helping create one of a kind experiences for fans. 2 years into the job, she started to have debilitating headaches and she was also struggling with her eyesight so she made an appointment to see her opthamologist. Katie was diagnosed with a rare illness that impacts her optic nerves. Even after several surgeries, Katie lost her sight.
She had to learn her new lifestyle – everything changed, except Katie's attitude of gratitude.
Katie trusts that God has a plan – and even the loss of her vision didn't stop her from returning to her dream job. Being a part of the Braves is her passion and NOT just a job!
Friday, August 2, 2019
Logan Simmons, a 19-year-old Chick-fil-A employee in Georgia, went to work on a Wednesday just like any other day—it just turned out to be anything but ordinary.
Logan, who was working the drive-thru, heard a woman in a car in the drive-thru line screaming that her son was choking. Logan jumped into action. He jumped straight out of the drive-thru window and ran to the car.
"I think it was the quickest option," he says. (Surveillance video from Chick-fil-A shows his leap onto the pavement outside.)
Once he got to the car, Logan found the 6-year-old boy tangled in his seatbelt, his face turning red as the belt wrapped around his neck. Logan whipped out a pocketknife and cut him free.
Logan's mom says she's amazed he didn't panic, adding that when her son first came home from work, he didn't even mention what had happened for a couple of hours.  The little boy's mother called Logan not long after the incident to thank him properly.
He also says, "I do feel like a hero."
Thursday, August 1, 2019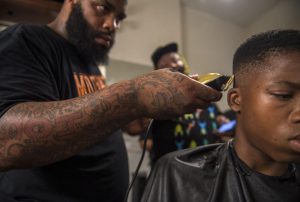 It's officially August, and for New Orleanians that means the ring of the school bell isn't far away. On that first day of class, students ideally start the day well-rested, with a good breakfast, new supplies, and a fresh haircut.
For four years, 7th ward barber Brandus Mercadel, has given away hundreds of free haircuts to help children look stylish on their first day of school. He says, "Even if your clothes or sneakers are bummy, people can be blinded by a fresh haircut. All they will see is the fresh cut."
But because 40% of New Orleans kids live in poverty, it's not uncommon for haircuts to fall by the wayside as families scrape together money to pay for uniforms and supplies. So, for the past four years, Brandus has led special free-haircut events before school begins.
He just shrugs when asked to estimate how many children he's gotten ready for school over the years. But this year, his count must be exact. This weekend (Saturday and Sunday) the barber will put himself to the test from 9 a.m. to 6 p.m., hoping to set a one-man Guinness World Record for the most free back-to-school haircuts.
He's ready for the challenge. On Friday, he'll pile a grocery cart full of hot dogs and cold drinks for the kids who show up. In the meantime, he's been studying the Guinness "Guide to Evidence," which requires statements from two different independent witnesses every four hours plus before-and-after photographs of each haircut.
No one has before attempted to set a record in this category. The Guiness organization is honored that this barbershop is attempting a record for such a great cause.
Wednesday, July 31, 2019
David Carter had big dreams when he started at the University of Texas in 1971. Unfortunately, he faced mental health challenges and subsequent addictions, which led him to drop out of college.
Now, thanks to the tenacity of a local student, he's got a second chance to finish his degree.
Journalism junior Ryan Chandler said he met David during an assignment on homelessness for The Daily Texan. "I interviewed him as a source on Austin's homeless problems, and after I heard how inspiring his story was, we kept in touch and really became friends. I learned of his desire to get back to UT, so I helped."
With Ryan's help, David was able to enroll in classes, and, thanks to a generous UT Austin alum, his tuition fees were covered. The anonymous donor said he "values the importance of second chances and education."
David's response? "It's the greatest blessing I've ever received."
The school is also on board to help David any way it can, saying, "We welcome him back and admire his courage and persistence, and are grateful for the generosity of fellow Longhorns who are stepping in to help."
Tuesday, July 30, 2019
This summer, Virginia based Girl Scout Troop 60013 hosted TechBridge, their first walk in clinic to help local senior citizens with their cellphones. The troop was able to assist with a broad spectrum of tech support and training topics. One Cadette showed an older woman how to text, and she immediately sent her daughter a text message "which just made me feel really, really happy."
The idea came as the 8th graders were brainstorming a project for the Girl Scout Silver Award. The goal was to help the community, and it seems like that's been a big success. The troop hopes to hold more helpful clinics in the future.
---
NEED MORE GOOD NEWS? Click Here for previous Today's Good News stories featured on LifeSongs!