It's time to get the Christmas Spirit and #MakeADifference – and boy did you ever! Over 9,000 shoebox gifts were collected in just the Greater New Orleans area last year – I bet we can top that in 2020 – a year that needs Christmas more than ever!
Around the world, there are children who are victims of war, disease, poverty, and disaster. This Christmas, the only gift they receive may be from you. Since 1993, more than 100 million boys and girls in over 130 countries have experienced God's love through the power of simple shoebox gifts from Operation Christmas Child. Samaritan's Purse works with local churches and ministry partners to deliver the gifts and share the life-changing Good News of Jesus Christ. After these children receive their gift-filled shoeboxes, churches in their communities invite them to participate in Bible lessons written in their language. Many of these children are now sharing their faith with family and friends!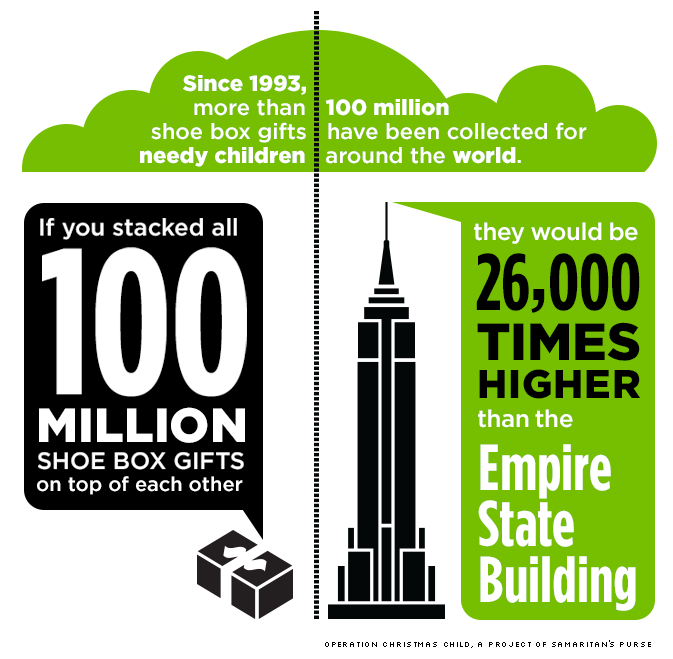 Through Operation Christmas Child, Franklin Graham and Samaritan's Purse will make a difference this Christmas for needy children around the world. This year, Samaritan's Purse will distribute millions of shoebox gifts, put together by church and community groups, and families just like yours.
LifeSongs encourages you, your family, your church, your workplace, and your school to be part of the world's largest Christmas project for children. Help them receive the love of Christ in a tangible way, through the power of a simple gift.
Operation Christmas Child's National Collection week is Monday, November 16th – Monday, November 23rd. Start packing your gift filled shoeboxes now! Click here to find a drop-off site near you. Or Build-A-Box by giving a shoebox gift online.
Even if you missed National Collection week – you can still build a Shoebox gift online!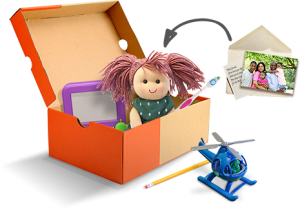 How To Pack a Shoebox:


Start with an average-size cardboard or plastic shoebox. If you want to wrap it, cover the box and lid separately.


Determine whether your gift will be for a boy or a girl, and the child's age category: 2-4, 5-9, or 10-14. Print out the appropriate boy/girl label by downloading the artwork. Mark the correct age category on the label, and tape the label to the top of your box.


Select a medium to large "wow" item such as a soccer ball with pump or stuffed animal, then fill with other fun toys, hygiene items, and school supplies.
See gifts suggestions at Here!!


Most importantly, pray for the child who will receive your gift. You can also include a personal note and photo.


Please donate $9 or more for each shoe box you prepare to help cover shipping and other project costs. You can give online by using our "Follow Your Box Donation" option, or you can write a check to Samaritan's Purse (note "OCC" on memo line) and place it in an envelope on top of the gift items inside your box. If you or your family are preparing more than one shoe box, please make one combined donation. (You can also print out box labels here!)


Place a rubber band around each closed shoe box and drop it off at the collection center nearest you during our collection week, November 16th-123rd. Find the location closest to you here!
Hobby Lobby is offering 40% off to make filling a shoebox even more affordable!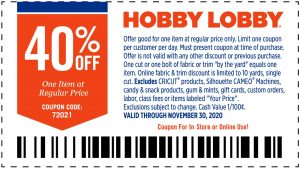 Gift Ideas: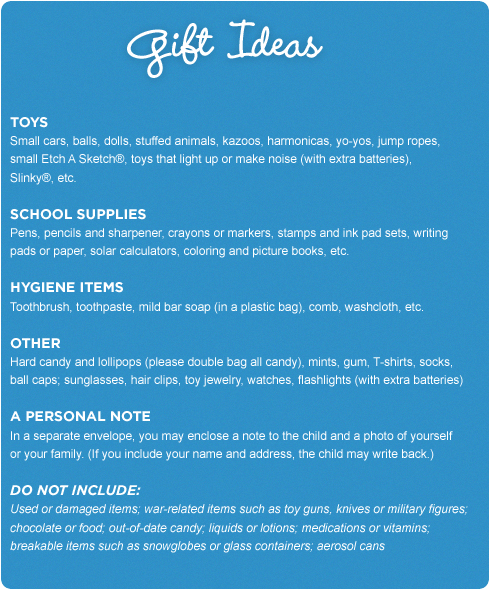 Click here to find a drop-off site near you.
Other ways to help:
Build-A-Box Online
You can still help share God's love with children around the world even if you don't have time to shop for and pack an Operation Christmas Child shoebox gift. With a few clicks of your mouse or swipes on your touchscreen, you can build a shoebox online. Make it your own by choosing from a list of gifts, then add a personal letter and photo. We'll pack your shoebox and send it for you, for a suggested donation of $25. Each shoebox gift built online will become a tangible expression of God's love that will be given to children in real need.
Cover Operation Christmas Child in Prayer
Your prayers are essential to the work of Operation Christmas Child, so join us in prayer during the National Collection Week. Pray for people packing the boxes, the volunteers who will be collecting, processing and delivering the gifts, and for the children receiving them.
Collection week is Nov 16-23rd! Want to help?
1. Check HERE before dropping off gifts.
2. VOLUNTEERS NEEDED: to help receive shoebox gifts at the Seminary drop-off location this week.
Volunteers would:
Greet Donors
Pray over shoeboxes
Pack shoeboxes into boxes
And we could use some strong people to lift cartons (50-70 lbs) into the semi truck each afternoon.
If anyone were to be interested, they should contact Roberta by email and she will get right back to you if you'll leave your phone number.