Podcast: Play in new window | Download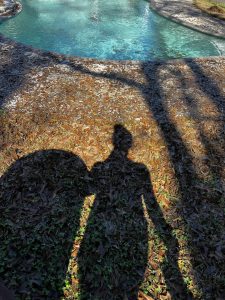 The weather across the US has been quite kooky lately.
From floods in Cali, to snow storms in NY.
Here in Southeast Louisiana, we are used to it being spring (or summer) temperatures one day and winter the next.
Sometimes, all 4 seasons happen in one day! (Believe it or not, that's not unusual!)
The last storm that blew through our area swirled so many leaves in my yard.
We do have a bunch of trees along our back fence line, but piles and piles were dumped in the yard and surrounded my pool.
Thankfully, the day I decided to rake them up was a beautiful day full of sunshine so I didn't mind getting outside to soak up all the Vitamin D!
Raking them was a lot of hard work! (Plus, I didn't even get to finish because the rake broke!)
One thing that hit my heart when my hands were sore and blistered up, and my back was in pain is that seasons and cycles don't just happen externally in the world around us, but internally.
Whether intentionally or by accident, there are "trees" in our lives that get planted, watered, grow, and produce fruit. It can be a harvest you expected or unexpected fruit you weren't planning for. But there comes a time when the leaves that once were vibrantly colored emerald, fall off and hit the ground waiting to be raked up to make room for the new cycle of life to take place.  
Friend, allow this new year to change your life.
It's time to rake up the dead things that maybe worked in the past but aren't working now. 
It's time to make room for the fresh, unique things God is doing in your business, faith, and marriage. 
So grab that rake and begin the process! (And yes! It's hard work, but worth it!)
Out with the old mindset, temperament, and things that so easily trip you up, and in with the mind, attitude, and perspective of Christ.
It's totally ok to mourn the process of removing the decaying, dead leaves, but then rejoice and dance because you know that God not only gives life and life more abundantly, but He makes all things new! 
"'And all the trees will know that it is I, the Lord, who cuts the tall tree down and makes the short tree grow tall. It is I who makes the green tree wither and gives the dead tree new life. I, the Lord, have spoken, and I will do what I said!'"