Podcast (blogcast): Play in new window | Download
So this past Summer, I got to experience an epic adventure of a lifetime with my 18 year old daughter.
[Cue Steven Curtis Chapman's Great Adventure! ..just kidding!]
We started in Italy and were able to take in some amazing places that l have read about in history books – but to see these places in person is awe inspiring! The Coliseum and the Roman Forum, where the beginning of civilization literally began! I'm amazed at how much our culture followed the Romans in so many areas, including architecture and government. Our nation's Capitol Rotunda looks exactly like numerous basilicas around Europe. You can't help but notice that there is a church on every other corner and each one more elaborate than the other. Thinking about that, my daughter (Sophie) and I both kind of were like what's up with that?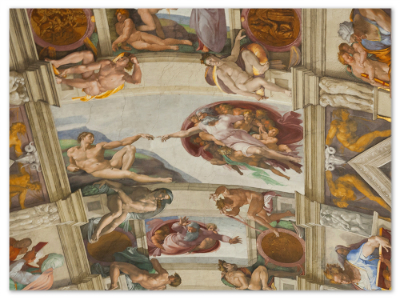 Seemed like in those times there was extreme poverty and yet the Holy buildings were so ornate. Fortunately for us, we were "enlightened" by a guide while touring the Vatican who shared that the people of that era donated their time and talents because of their lack of funds. This became the artisans way of giving back to the Church – AND it was free advertisement for their skills!
The other fascinating thing we learned is the purpose of the intricate artwork was to tell the story of Jesus. During the time, only the wealthy could afford an education, so what better way to spread the Gospel than with pictures! You can see in the Sistine Chapel Michelangelo's depiction of Creation, to the Genealogy of Jesus. Each picture was intricately hand painted by an artist who thought himself more of a sculptor than a painter.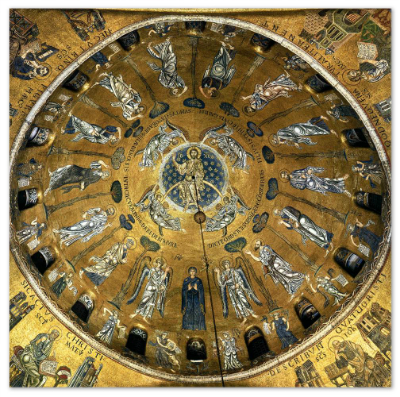 St Mark's Basilica in Venice holds another artful piece of beautiful storytelling. Near the entrance is a mosaic dome that depicts the dove of the Holy Ghost in the center of a halo. That halo extends to the surrounding Disciples representing the Book of Acts. It even recognizes the different countries where the disciples were called to share the good news of Jesus!
Seeing these beautiful pieces, I imagine all the artist, sculptures, architects and carpenters must have had divine inspiration. Imagine each intricate carving, every brush stroke, every tile placed, eventually having the impact to tell a story that world have an eternal influence on someone's life. Little did these men know as they were just "doing their thing" that generations would be telling stories about their exceptional works.
This got me to thinking, What story am I leaving for people to talk about?
Not that I really care what people think, but introspectively, am I taking risks? Do I make that extra effort to minister? Do I only step out to serve when it's convenient or if my finances are OK? Am I honestly using the gifts that God has given me to glorify Him?
I'm not a sculptor or painter and definitely not a carpenter, but I know that I can be divinely inspired just by truly looking and listening to people. I think of these gifted men and women that went before us and their amazing works. They each had a small part in a fantastic grand plan. All they had to do was say yes to someone else's plan and the final product was magnificent. Our Great Creator has written each and every one of our stories and if we just say yes to our Master's plan we know that it has a very happy ending!