Podcast (blogcast): Play in new window | Download
Have you ever seen one of the big TV stands that have a fake LED fireplace built into them? I think they are actually electric heaters too.  I used to laugh at them, but then something changed one fateful day in Sam's Club – where I saw a giant fake-fireplace tv stand that just instantly made me envision a crackling fire underneath my television at home, while my family watched Christmas movies (or more likely, when we watch 3 episodes in a row of Holiday Baking Championship).
We haven't bought one (yet). They are kind of expensive. And truth be told, there are only about 5 days a year in Southeast Louisiana for which you would actually need a fireplace. Still, the idea of a warm hearth – crackling embers – all controlled via remote – it's a romantic notion. But it isn't REAL.
For one, I haven't actually had many holidays around a fireplace. I grew up in New Orleans. It's often in the mid 70s for Christmas. And secondly, the tv stand fireplace doesn't have a flame. It's an LED screen with images and sound effects. The electric heat it pulses out doesn't feel like a real fire. You can't toast marshmallows or chestnuts (gross) over it. It is simply a cheap facsimile of the genuine article.
Sometimes my heart is more like a fake fireplace. I wish I was always focused on Jesus – celebrating the greatest gift of all time – living out my faith with kindness and love. But honestly, I get distracted by the things of this world. Instead of being a true light in the dark, I settle for less than the best. God wants to be a raging fire in my soul (all year long) and usually I just get by with a daily verse, short prayers and a weekly trip to church.
Those things aren't bad. They are, in fact, GOOD. But when they become the equivalent of spiritual cruise control, it's pretty easy to experience a lack of passion in your walk with Jesus. My prayer this Christmas season is that we all experience a refreshing perspective on how HUGE the gift of Jesus is. I love the words of Zechariah in Luke chapter 1:
"Because of God's tender mercy,
the morning light from heaven is about to break upon us,
to give light to those who sit in darkness and in the shadow of death,
and to guide us to the path of peace."
– Zechariah's Prophecy (Luke 1:78-79 NLT)
Imagine how bright our corner of the globe would be if our walk with Jesus was more like an Algiers bonfire and less like a fake fireplace TV stand…
Merry Christmas,
Josh
PS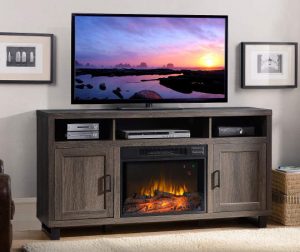 This is a picture of the fireplace I'm talking about.
Cute, right?
I ended up getting it for my wife as a graduation/birthday gift.
I can just imagine Joanna Gaines shaking her head at me in shame…