Podcast: Play in new window | Download
Don't you just love it when God uses your kids to communicate His heart? This blog was inspired by something my daughter said!
My family and I went on a day beach trip before Memorial Day. (To try and beat the crowds!) The weather was gorgeous at 81*. The water was cool. The waves weren't too rough. The sun was super warm, and the breeze was NOT in short supply. It was the perfect day to be relaxing on the sand.
It's no secret that I like to chill in a beach chair, watch the waves roll onto the shore, listen to the sounds of the crashing water, (and The Heat radio app!) as well as have lots and lots of watermelon at my disposal! My daughter on the other hand, wanted me to get up and go look with her for sea shells.
Even though I was hesitant to move from my comfy chair, we walked to the water and started our search for sea shells. If you've never had the pleasure of sea shell hunting, there are a bunch that are typically near the shore. If you see something that you want to grab, you have to reach down quickly to pick it up otherwise you'll get pummeled by a wave! (My daughter didn't mind that as much… I, on the other hand, didn't want to get my hair wet!)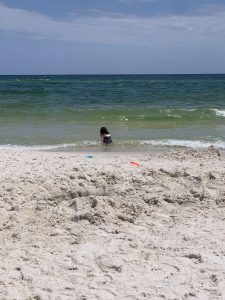 From where I was standing, I was looking for the shells that looked whole or perfect in every way—no nicks, missing pieces, or damaged spots. I found a few, but the majority of what we dug up was fragments of shells. My daughter just reached her hand down (without really trying to get anything specific) and grabbed whatever she could! After she realized I was being a bit picky in my selections to add to her collection, she said: "Mom, I don't care what they look like. I want them all… even the ones that are just tiny broken pieces."
What a picture of the Fathers heart!
Everytime we drew a shell out of the water, we realized the broken shells were still beautiful. They still have gorgeous hues and reflect light. They are still unique and valuable in their own way. They don't look like the others, and that's what makes them special.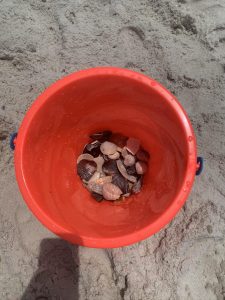 It reminded me of how God sees you. You're beautiful even with your scars, holes, and damaged areas. He sees your broken pieces, and He wants to mend you back together, friend. He wants to help you heal.
Psalm 34:18
"The Lord is close to the brokenhearted; he rescues those whose spirits are crushed."

Psalm 147:3
"He heals the brokenhearted and bandages their wounds."