Podcast: Play in new window | Download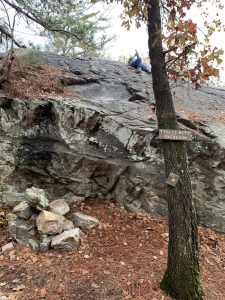 Honestly, I don't know if I would've kept going.
Right after Thanksgiving, my family and I went camping at a State Park in Alabama. 
The park we stayed in had so many fun activities, but one thing in particular we were interested in doing was exploring the hiking trails.
We had never gone hiking before so it was going to be a new experience for all of us.
The first morning we woke up at the campground, we put on our 4 layers of warm clothes, strapped on our hiking boots, packed a backpack with essentials, and headed to the nearest trails. 
There were 5 different colored paths to choose from: yellow, red, blue, white, & green. All of them were heading in completely different directions and I'm not gonna lie, each one looked intimidating in their own way. We literally had NO idea where to begin so we just picked one! (Like eeny meeny miny moe style!)
Well, that was the worst best decision we ever made!
My son and husband hiked the blue trail we chose like champs, however my daughter and I struggled. She's 6 so I was prepared for her to start whining at some point! I didn't think I would struggle as much as I did, but I had to sit down multiple times (on any rock I could find) along the way because my legs got so tired and shaky. My son came up with a great idea. He found a couple of thick, lengthy branches that he started using as hiking sticks. 
We'd been doing it wrong the whole time apparently! I immediately started thinking about all the times that the Bible references men (like Moses) who walked long journeys and they usually had a rod or staff with them. (Why shouldn't we?)  Knowing what I know now, I can't imagine walking another trail without support and help from one.  
The reason is because you can lean on the walking stick to take the next step, keep your feet steady from slipping on any loose rocks, and you can distribute your weight in just the right way so you don't have to rely on your own strength.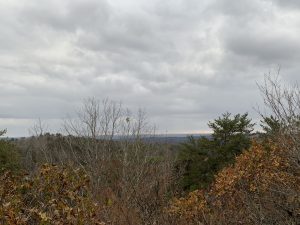 I thought of the scripture that says "…thy rod and thy staff they comfort me." (Psalm 23)
God is here to help you climb those tough mountains that you don't have the strength to endure on your own. 
Even with the assistance of the stick turned cane, we walked up as high as we could. Exhaustion set in. We were trying to reach "The Eagles Nest". 
My daughter and I sat the backpack down, and pretty much threw in the towel! We told the boys to go ahead and we'd be sitting where we were when they came back! Next thing you know, my husband saw a sign that said "Eagles Nest". We were drained and just when we thought we couldn't go anymore, we were there and didn't know  it!
The reason we didn't see it was because it was this HUGE rock that you had to climb in order to see the Eagles Nest view! (We thought it was something that we would just walk up to, but we had to give it one more burst of energy to climb even higher to get a glimpse!) 
It was an exciting feeling for us all! We were all sweaty, hungry, out of breath, smelly, & nervous, but we scaled to the top and saw a breathtaking view that we'll never forget! 
Turns out we found out later that night as we were scoping out the map for our next adventure that we chose the hardest most inclined trail there was at the park! (Go figure!)
Thinking of all the things we experienced as we took on this new adventure brought to my memory Isaiah 40: 31: 
"But those who wait on the Lord
Shall renew their strength;
They shall mount up with wings like eagles,
They shall run and not be weary,
They shall walk and not faint."
My word for this year is RUN. What's yours?