Podcast (blogcast): Play in new window | Download
If you've been listening to me on LifeSongs in the afternoons for more than a week, then you probably know some things about me! You most likely already know that my favorite day of the week is Taco Tuesday because I love tacos. You probably also know that I love fashion and hair since my hair is a different color every time you see me in videos or in person! (It's my signature!) Another thing that I also really love is makeup. Fashion, hair and makeup are like the trinity of beauty!
What's funny is that, when I was younger, I never really wore or used much makeup. To be honest, I wasn't sure what to do with it or where to put it, but I loved when others did my makeup! But now, I'm ashamed to say, I'm SUPER picky with who does it!
It wasn't until I started working at a salon,that makeup started to intrigue me. I become a makeup artist, after a little while at the salon, and that is when I really dove head first into makeup! Let's just say, makeup doesn't intimidate me anymore! It actually makes me really excited! I am usually the person taking friends or family shopping for makeup to help them pick out stuff, and I definitely don't mind spending others money!! I could literally spend hours and hours in Ulta or Sephora just browsing and trying on everything. (Usually when I do go to those places, I'm in there for a minimum of an hour!)
One of my favorite types of makeup is anything really sparkly…. like glitter or shimmer. (As a matter of fact, as I'm writing this blog, I have swatches of glitter on my hand from walking through Ulta… go figure!) I know that glitter is typically SUPER messy and geared more towards teenagers, but when I see glitter or sparkly eyeshadow, I am immediately drawn to it. It catches my eye and attention, and I can't take my eyes off. When I'm in the store and light catches my eye from a distance, I want to know more about WHAT is giving off that sparkle!!
The definition of glitter as a noun is bright, shimmering, reflected light. The Bible actually talks a lot about you being a light! Here are three scriptures for you! 
Ephesians 5:8 TLB
"For though once your heart was full of darkness, now it is full of light from the Lord, and your behavior should show it! Because of this light within you, you should do only what is good and right and true."

Matthew 5:13-15 (NCV)
"'You are the salt of the earth. But if the salt loses its salty taste, it cannot be made salty again. It is good for nothing, except to be thrown out and walked on. 'You are the light that gives light to the world. A city that is built on a hill cannot be hidden. And people don't hide a light under a bowl. They put it on a lampstand so the light shines for all the people in the house."

Matthew 5:16 NKJV
"Let your light so shine before men, that they may see your good works and glorify your Father in heaven."
Live in such a way that others will be drawn to you…That when they see you across the room, they will know something is different about you and want to know WHAT it is that makes you shine. This opens up the perfect opportunity to share the gospel and what Jesus has done for you!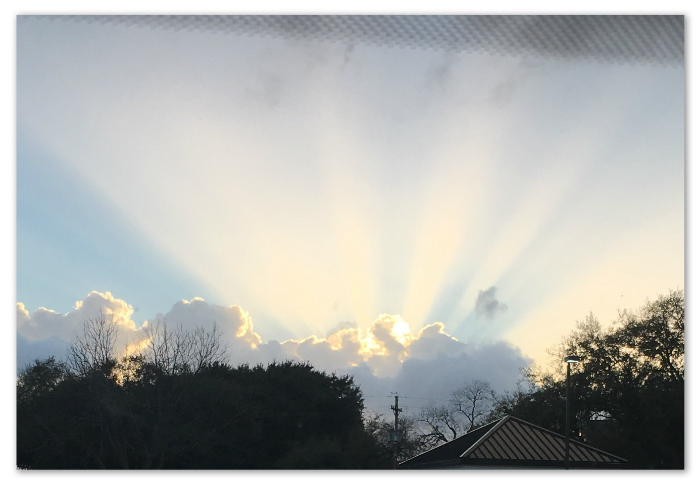 (This is a picture I took a couple of weeks ago leaving the LifeSongs studio!)
Checkout the song that inspired this blog!