Podcast: Play in new window | Download
It's almost Fall Ya'll!
I know, we are still technically in summer, but it's been so hot that I feel if I look forward to the next season, it might seem cooler in my mind, LOL.
It's funny how we are all wired differently. I tend to struggle with getting ahead of myself and not being in the moment. It's not that I worry, but I have a type "A" personality and I do tend to try to order my world.
Have you ever noticed that those very places where you are challenged the most are the very ones that God will send you to? I am so blessed to be in a new role at Lifesongs. My official title is Donor Relations. My position gives me the opportunity to connect on a personal level with our Lifesongs family! I get to do this by calling and connecting regularly with friends that give to the ministry, whether it is a 1 time gift of $50 or a major gift of $1000. As I make the calls we chat and catch up and then I often get the opportunity to pray with someone!
I had absolutely NO idea how much praying with someone I've never met would feed my soul! The privilege of praying one-on-one for our Lifesongs family keeps me in that moment! When we pray we are truly united and Lifesongs is what brings us together! I have learned that our Lifesongs family is made up of all ages and stages of life, therefore the challenges are from getting a good grade in elementary school to praying for someone who has lost a job or someone battling cancer. I get to be in the moment as I listen to someone share what's on their heart.
God has given me the greatest chance to challenge myself by being a better listener, as well as getting out of my comfort zone of a schedule or a " to-do " list with boxes to check off. Now a lot of my days I have a "get-to" list of friends that I "get-to " connect with. If I get through the whole list one day, great, if not great! I'll get to connect the next day!
Here I am stepping into this position to help grow the Ministry of Lifesongs and I am the one growing! I'm not about titles or accolades, but I appreciate that my position is Donor Relations. It truly sums up how we want to operate as a ministry at Lifesongs.
If you look up the word Relationship in the dictionary…
re· la· tion· ship
ri-ˈlā-shən-ˌship
relationship
1: the state of being related or interrelated
2: the relation connecting or binding participants in a relationship: such as a KINSHIP
3: a state of affairs existing between those having relations or dealings
Looking at the meaning of relationship, you can see, that is what we have. Our relationship with our listening family is what literally keeps us going . We truly are there for each other, doing life together, encouraging one another as well as reminding each other that God is Good all the time!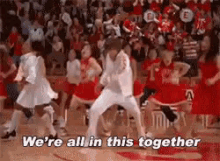 We are all in this together…
Ephesians 4:4-6, "There is one body and one Spirit—just as you were called to the one hope that belongs to your call—one Lord, one faith, one baptism, one God and Father of all, who is over all and through all and in all" (ESV).
I want to encourage you to have some "in the moment " experiences.. you can do this by going to our Lifesongs PrayerWorks page and praying for whatever needs there are . You can also turn those school zones into prayer zones by joining us in prayer for our Lifesongs prayer school of the day.
You can give, online at Lifesongs.com, whether it is $1 or $1000. Your gifts make a difference!
Most importantly, you can pray for the Lifesongs Ministry.  Pray for God's provision, pray for our team and pray overall for your Lifesongs listening family.
I'm so blessed to have a relationship with you! Please feel free to reach out if you ever have any specific prayer needs or prayer requests. 504-816-8000.