Podcast (interviews): Play in new window | Download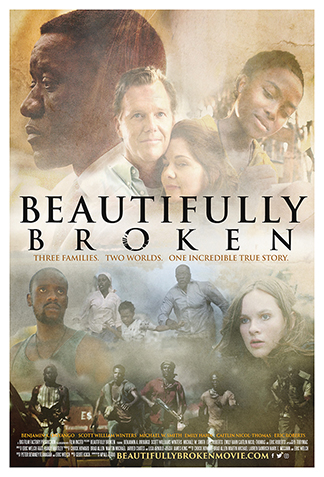 Three Families. Two Worlds. One Incredible True Story.
Actor Benjamin Onyango joins Josh & Nancy on the LifeSongs Podcast to talk about his new film, Beautifully Broken. Ready to have your world view expanded? See conflict and love from a global perspective.
ABOUT THE FILM
A refugee's escape, a prisoner's promise, and a daughter's painful secret converge in this inspiring true story of hope. As three fathers fight to save their families, their lives become intertwined in an unlikely journey across the globe, where they learn the healing power of forgiveness and reconciliation.
The BEAUTIFULLY BROKEN cast includes Scott William Winters (Lethal Weapon television series, Good Will Hunting), Benjamin Onyango (God's Not Dead, Inception), Emily Hahn (Toy Story 3, Fresh Off The Boat television series), Eric Roberts (The Dark Knight, The Expendables), Jessica Obilom (Trafficked), Caitlin Nicol-Thomas (Nashville television series), Alan Powell (Quantico television series), Eugene Khumbanyiwa (District 9), Tammi Arender (Pitch Perfect 2), and television personality Thomasina "Goo Goo" Atkins (Mary Mary series). Christian music legends Toby McKeehan and Michael W. Smith also make appearances in the film.
Filmed on location in Port Alfred, South Africa and Baton Rouge, Louisiana, BEAUTIFULLY BROKEN is directed by Eric Welch (DC Talk: Welcome to the Freak Show) and written by Brad Allen, Chuck Howard and Martin Michael (I Am Not Ashamed), along with Mark McCann (Harmony). It is produced by Allen, Michael and Howard, along with Lisa Arnold (Caged No More), Jarred Coates (God's Not Dead), Michelle S. Duffie (War Room, The Shack), and executive produced by Randy Hartley (Through the Valley).
The movie also features title song "Beautifully Broken," performed by three artists each lending their voice to a unique version of the song, which incorporates all three musical stylings. Grammy Award- winning country artist, John Berry, Dove Award-winning pop singer Plumb and Grammy Award-winning gospel artist CeCe Winans. The song is produced by award-winning producer, Chuck Howard, who also co-wrote the film.