Thank you so much for being part of the LifeSongs family. We may not be able to gather together right now, but we can still unite in prayer. Let's focus on a different need each day and come together in making our requests known to God.
Today we are praying for:
Wednesday, May 27
God's Provision
Pray that God will continue to meet all needs, including the financial needs, of those impacted by the coronavirus, including listener-supported LifeSongs. Pray for Him to richly bless those He uses as providers through giving.
Tuesday, May 26
Ministry
Pray that God would continue to use local churches and ministries (including LifeSongs!) to point people to Him, especially now, for their source of hope, peace, encouragement and salvation.
Monday, May 25
Attitudes & Hearts
Pray that God would protect our minds and turn hearts to him during this time, helping those of us who know Him draw closer to Him in this, strengthening our faith and letting the hope we have in Him be on display for others.
---
Here's what we've prayed for in weeks past:

Friday, May 22
Healing and Protection
God, there is so much suffering in our world. Please heal the sick and restore peace and life to our weary souls. Protect our bodies and our minds, and give us Your strength to endure temptation and trials. Amen.

Thursday, May 21
Forgiveness – God, You alone know our intentions. Please forgive the people who have wronged me because I have forgiven them. And Lord, forgive me because I've also messed up. Please don't hold our mistakes against us. Amen.

Wednesday, May 20
What you need – God, You know what I need before I do. So please give me what I need today so that I can focus on You, and not on my problems. And, when it comes to tomorrow's needs, I trust that You will provide. Amen.
Tuesday, May 19
The world – God, please set the world right. Do what's best for Your kingdom, and fill Your people with mercy, strength, and bright ideas so that we can spiritually contribute to our world. Amen.
Monday, May 18
God to be known – God, we know that You are above all things and that by You all things are held together. Today, please be glorified in our world. Would people who have never met You, find You. Amen.
Friday, May 15
Those who feel overwhelmed – God, help us remember you are our leader and you are in control. Please help me trust you and follow you each moment, even when I feel clouded by my circumstances. Thank you for leading me through my current situation.
Thursday, May 14
Relief from weariness – Pray for those who are unable to find rest, those who are fatigued from our current circumstances. God, help us to restore ourselves in your presence. Give us endurance, stamina, strength to keep going. Refuel us through our faith in you. 
Wednesday, May 13
Graduates/Class of 2020 – This year didn't look the way they planned, many missing those milestone moments like prom, graduation, etc. Future plans affected, too, as far as unknowns with college in the fall. Pray for God to comfort them in this time of change and give them direction for the future.
Tuesday, May 12
All struggling with loneliness – Many more feel isolated right now. Lord, please meet them where they are. Send people to reach out to them. Bring people to mind for them to reach out to, too. Please rescue them from this and give them courage and strength and the reminder that you are with them always.
Monday, May 11
Leaders – Pray for all those making difficult decisions. For our national and local government leaders, that they would have wisdom to do what's best for all. God, please help those in charge to seek you, and give them wisdom and clarity on how to best move forward and meet the many needs we are faced with today.
Friday, May 8
Moms – Mother's Day is Sunday! Moms already wear so many hats, and these days it feels like even more. Pray for our moms to be able to be good examples in providing hope and peace for their families, to be able to keep up with all the roles they're filling right now, and for God to fill them with his peace and joy, that they would know how grateful their families are for them.
Thursday, May 7
Those battling addiction – This season is hard for all of us, but especially those in the struggle of addiction. Thank you, God, that nothing is impossible for you to overcome. Help those in this fight realize these struggles do not define their identity or worth. Set them free and help them resist temptation. Give them your strength. Protect their minds, hearts, and bodies and deliver them.
Wednesday, May 6
Parents of children with disabilities – Change can be such a difficult thing for parents and children alike, but for those with neurological challenges, it can exacerbate the situation. God, we pray that you would give parents of children with disabilities the strength and patience to face whatever comes their way because each day looks different and unpredictable. Lord, that you would give these children a calmness in their spirit. That they wouldn't feel the stress of the outside world and act out because of it, but that your presence Jesus, would surround their mind causing it to BE STILL and at peace. Thank you Lord for your calming and comforting presence.
Tuesday, May 5
Those suffering from Domestic Abuse – Domestic abuse hotlines around the world have received a surge in calls since stay-at-home orders have been put in place. May God provide the resources needed for those experiencing this to get the assistance they need and that God's protection would be upon each woman and child involved.
Monday, May 4
All Who Are Now Retired – May God help you to find satisfaction in the work you have done, and fulfillment in what you are doing now.
Friday, May 1
Those who are unhappy in their work – those who are very poorly paid or work in dangerous conditions – May God comfort and protect you, give you courage to protest or find those who will champion your cause, so that your suffering is relieved.
Thursday, April 30
Lawyers, Magistrates and Legal Advice workers – May God give you a passion for justice, and a concern to see that every individual receives fair treatment under the law.
Wednesday, April 29
Journalists, Radio, TV workers and all who communicate through the media. May God give you accuracy in your reporting and an imaginative, responsible approach to the provision of entertainment.
Tuesday, April 28
Designers, manufacturers and all involved in the marketing of material products. May God help you to be faithful stewards of his creation, through providing things that add to the quality of life.
Monday, April 27
Entrepreneurs– those who run with a new idea, start businesses and create new opportunities for employment. May God inspire you with vision, creativity, passion, perseverance and a desire to change God's world for the better.
Friday, 4/24
RTA staff, Drivers, Transport managers – and all whose work involves them in frequent travel May God grant you safety and protection, and make you vigilant for the welfare of others.
Thursday, 4/23
Bankers, Accountants and all involved in financial services – May God give you objectivity, integrity and good judgment in the lending of money, the monitoring of transactions and the management of risk.
Wednesday, 4/22
Secretaries and Administrators – We pray for secretaries, administrators and all who work behind the scenes to make things run smoothly. May God give you foresight and skill in dealing with people and a judicious attention to detail.
Tuesday, 4/21
Volunteers and Nonprofits – We pray for those who work for a charity, volunteer organizations or non-profits. May God enable you to meet the goals you set, and to bring help to those in need.
Monday, 4/20
Small / Local Business Owners – Pray for small and local business owners as they may be doing with a shutdown, or reduced hours. Pray that God would help them through this tough time and see them through it all.
Friday, 4/17
Fear and Anxiety – Pray for those suffering from fear and anxiety that God would comfort them and help calm them during these chaotic times.
Thursday, 4/16
First responders Police, EMTs, Military – Pray for protection as they do their regular duties but also help with abundance of extra things due to the virus. Pray for protection and wisdom.
Wednesday, 4/15
Homeless – Pray that they stay safe during this all and get any help, housing, food, and healthcare they may need.
Tuesday, 4/14
Researchers – Pray for discovery and quick trials on medication and treatment for COVID-19. Scientists around the world are looking to save lives.
Monday, 4/13
Grocery store, gas station, pharmacy employees, etc. – Pray for workers in these fields as they are considered "essential" staff. Pray over them for peace and protection and that people would find ways to express kindness and gratitude to them.
Friday, 4/10
Restaurant employees – Pray for restaurant employees. Many of them are still working and adapting to new ways to serve their customers for take-out orders, delivery, and more.
Thursday, 4/9
Postal Service, Mail Carriers, Truck & Delivery Drivers – still faithfully delivering mail and packages (probably much more these days!) and working during this time. Pray for God to protect them.
Wednesday, 4/8
Provision – Pray for God's provision during this time where many may be jobless and not receiving the income they previously were.
Tuesday, 4/7
Peace – Pray for God's peace to sweep over the nation, the world. Pray for peace to enter into our lives, eliminate all anxieties, and comfort those who need it right now.
Monday, 4/6
Lab Technicians & Medical Technologist – Pray for lab technicians and medical technologist as they are often unsung heroes; running thousands of tests, working countless hours, and searching for a cure.
Friday, 4/3
Teachers – Pray for teachers as they try to adapt to the situation all while teaching their curriculum and trying to make an impact by teaching their students remotely.
Thursday, 4/2
Comfort – Pray for God's comfort to wash over our fears and worries during this difficult time.
Wednesday, 4/1
Parents – Pray for parents as they try to balance working from home, work, potentially job searching, and helping their children in schooling at home, while also trying to provide peace and hope for their families.
Tuesday, 3/31
Students – Pray for those trying to keep up with schoolwork from home, many seniors missing out on their proms, graduations, and other "final year" moments.
Monday, 3/30
Elderly – Pray for those like the elderly that are higher risk for the virus and that God would continue to protect them and their families and comfort them during this time.
Friday, 3/27
Unemployed – Pray for those that may be out of work and that God would provide through their families and communities.
Thursday, 3/26
Health Care Workers – Pray for those on the front lines treating those who are sick, and that God would protect and strengthen them.
Wednesday, 3/25
Sick – Pray for those who are sick and their families that God would heal and comfort them.
Tuesday, 3/24
Churches – Pray for our Churches and Ministry Leaders that they would know how to best keep their church communities connected.
Monday, 3/23
Leaders – Pray for National and Local government leaders, that they would have wisdom to do what's best for all.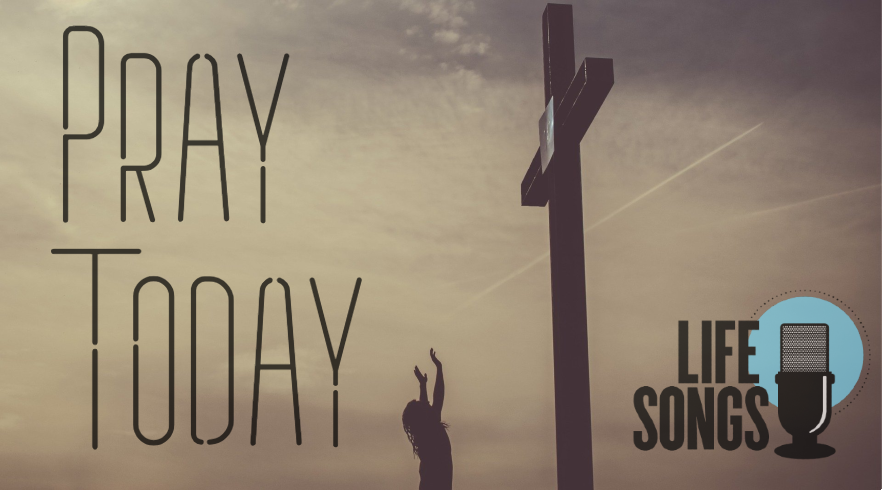 Check Pray Today daily to gather in prayer with your LifeSongs family.