Even if you can't get excited about the Chiefs vs the Eagles, we can all get pumped for some Big Game Day Eats!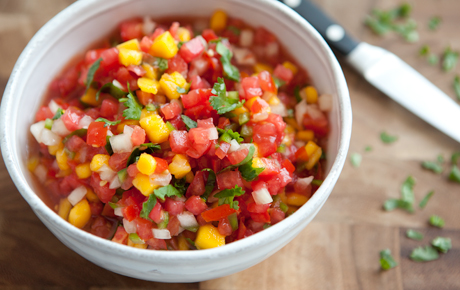 JoJo's Homemade Salsa
For me, my love for Mexican food NEVER waxes cold! So, it is only fitting to have Salsa for game day right?! Of course! This recipe is all thanks to my brother who is the salsa king.
INGREDIENTS
1- 14oz can diced tomatoes(If you use fresh, 10 small tomatoes will do.)
1-10oz can original Rotel
1/2 small onion
1 clove garlic
1/2 of a jalapeno (with or without seeds. Seeds make it even more spicy!)
1 teaspoon honey
1/2 teaspoon salt
1/4 teaspoon ground cumin
lime juice(one whole lime)
fresh cilantro(I love cilantro so I do a couple handfuls!)
DIRECTIONS
Chop the onions, jalapeños, and cilantro really fine depending on the texture you like. Then blend together. That's it! (Try to refrain from drinking it though, because you WILL want to! It's that good.)
---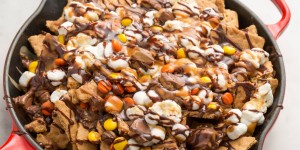 Julie's Reese's Nachos
Yep, that's right – Dessert Nachos!!! And they take minimal effort. Reese's PB Cups AND Reese's Pieces!
INGREDIENTS
20 graham crackers, broken into pieces
6 Reese's Peanut Butter Cups, chopped
1 packet Reese's Pieces
1 c. mini marshmallows
1/4 c. peanut butter, warmed in microwave
1/4 c. melted chocolate
DIRECTIONS
Heat broiler. In an ovenproof skillet, layer graham crackers, Reese's, Reese's Pieces, and mini marshmallows. Drizzle with peanut butter and chocolate and transfer to oven.
Heat until marshmallows are toasted and nachos are warm. Serve immediately.
---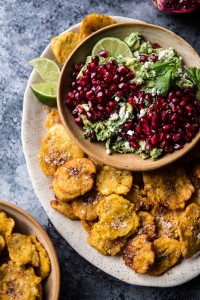 Libby's Pomegranate Guacamole with Plantain Chips
INGREDIENTS
3 large ripe hass avocados, halved, seeded and peeled (they have to be ripe!)
1 large or 2 small limes, juiced
1/2 teaspoon ground cumin
1 large jalapeño, seeded + chopped (leave some of the seeds in for a little heat)
1/3 cup fresh cilantro, chopped (or more to your liking)
arils from 1 pomegranate
salt, to taste
4 ounces crumbled feta cheese (optional)
4 yellow plantains, sliced into 1/2 inch rounds
oil, for frying
1 tablespoon chili powder
2 tablespoons sea salt
DIRECTIONS
Pomegranate Guacamole
Add the avocado halves to a medium size mixing bowl. Squeeze the lime juice over the avocados and toss well to coat. Add the cumin. Now grab a fork and lightly mash the avocados. I like to keep my guacamole on the chunky side. Next fold in the chopped jalapeño, cilantro, pomegranate arils and a pinch of salt. Stir in the feta cheese (if using). Taste and season with more salt if desired. Grab some plantain chips (recipe below) and dig in!
Plantain Chips
In a small bowl, combine the chili powder and salt.
Heat an inch or so of oil in a medium skillet over medium heat. Once the oil is hot add the plantains and fry for 2-3 minutes per side or until just lightly golden. Remove and drain on paper towels. Now transfer the plantains to a cutting board and, using the back of a wooden spoon, smash them down into round flat disks.
Return the plantains to the hot oil and fry another 2-3 minutes on each side or until they are golden and crispy. Remove to a paper towel lined plate and sprinkle with chili salt. Chips are best eaten right after frying, but any leftovers can be stored in an airtight container at room temperature.
---
Josh's Rice Krispies Treats
INGREDIENTS
Rice Krispies (or off-brand puffed rice cereal)
Marshmallows
Butter
DIRECTIONS
Uhm … you melt butter and marshmallows and mix the cereal in. The directions are literally on every box of Rice Krispies. This should be a game-day-go-to for everyone. Literally EVERYONE loves Rice Krispies Treats. Name one person who doesn't? Go ahead, I'll wait. That's what I thought…
View this post on Instagram
Visit LifeSongs on Pinterest for more amazing recipes!