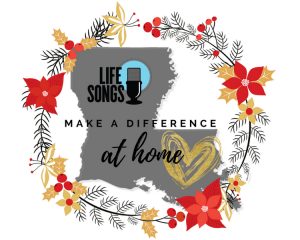 It's Christmas time!
Every year, I look forward to singing Christmas carols at church! I grew up in church and many of the song lyrics are ingrained in my memory. At times, I've caught myself singing odd lyrics that I've never noticed before. I definitely googled "What is a partridge in a pear tree?"
There have been other times when I am mindlessly singing along, and the depth of a song hits me.
"Joy to the world, the Lord is come. Let earth receive her King. Let every heart prepare Him room. And Heaven and nature sing."
Wow! I pray that this Christmas my heart and your heart would find the time, energy, and focus to "prepare Him room."
As you are making your Christmas shopping list, please prayerfully consider adding LifeSongs to your gift list. Your gift of $100, $500, $1000 or any amount makes a difference right here at home in Southeast Louisiana!
Thank you for considering an end of year gift to LifeSongs. And LifeSongs is a 501(c)(3) not-for-profit ministry, so your gift is tax-deductible.
We are wishing you and your family peace and joy this Christmas!
Julie Headrick – General Manager of LifeSongs Radio