Star of Growing Pains, Left Behind & Fireproof – how can one guy be a Hollywood Icon one second and pariah the next?
Simple: Jesus.
Kirk and Chelsea Cameron are bringing their very own living room furniture to FBC Covington next week to hang with all of us and share what they've learned on their marriage and parenting journey!
Want to hang with the LifeSongs gang at Living Room Reset?
You can WIN TICKETS by signing up for the E-LifeLine and then checking your email on Saturday!
---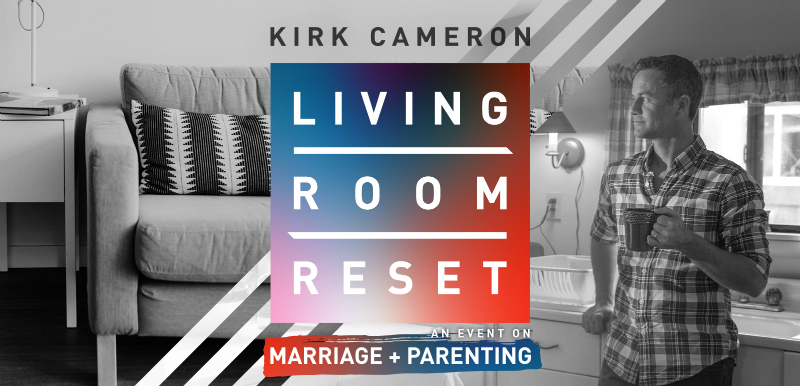 Television and film star Kirk Cameron has been married for 26 years. He and his wife Chelsea are raising six children (15-21 years old). And on this wild ride of life they have experienced so much joy along with the very real HARD WORK of family life.
Kirk Cameron is bringing his living room to churches across the country, and he wants you to join him as he comes live in person for a heartfelt conversation about what matters most. Think of it as a "home-run date night" with Kirk and his wife, Chelsea, and also musical guest, Matt Hammitt.
Get away with your spouse for 3 hours of laughter, prayer, learning and worship as everyone dives deep into the subjects that matter most, and give your family a "Living Room Reset."
*Kirk will be at the event live in person – this is not a video conference.
What: Living Room Reset: An Event On Marriage & Parenting
Who: Kirk and Chelsea Cameron with special guest Matt Hammitt (formerly of Sanctus Real)
When: Thursday, January 24, 2019 | 7:00 pm
Where: First Baptist Church Covington | 16333 LA-1085, Covington, LA 70433
Tickets: Click Here to get your seats for this exciting event! Tickets start at $20*
*Early bird tickets purchased before December 1, 2018