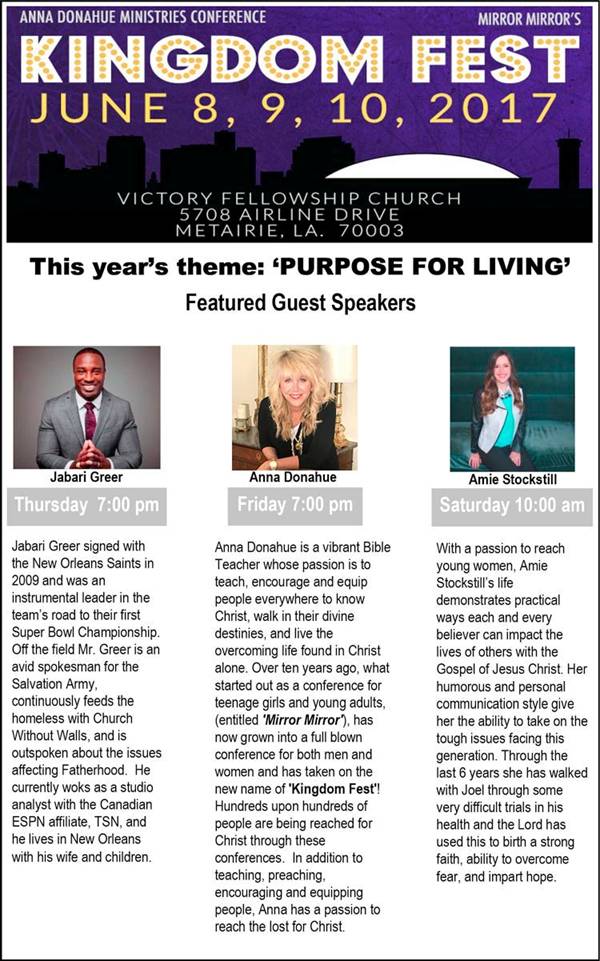 Kingdom Fest 2017! 3-Day FREE Event! Speakers, Workshops, Worship, Vendor Booths from around our city!
What: Kingdom Fest 2017
When: June 8, 9, 10, 2017
Time: June 8th & 9th 7 PM | June 10th 10 AM
Where: Victory Fellowship Church | 5708 Airline Dr., Metairie, LA 70003
Info: Call Anna Donahue Ministries at (504) 812-4441 | Email: administries@cox.net | www.annadonahueministries.com
Purpose for Living!
Thursday, June 8, 2017 -7 PM – Guest Speaker, former New Orleans Saints Football Player, Jabari Greer! Jabari signed with the New Orleans Saints in 2009 and was an instrumental leader in the team's road to their first Super Bowl Championship. Off the field Mr. Greer is an avid spokesman for the Salvation Army, continuously feeds the homeless with Church Without Walls, and is outspoken about the issues affecting Fatherhood. He currently works as a studio analyst with the Canadian ESPN affiliate, TSN, and lives in New Orleans with his wife and children.
Friday, June 9, 2017 – 7 PM – Anna Donahue -Message: 'Purpose For Living!'
Saturday, June 10, 2017 – 10 AM – "It's A Girl Thing'! (Bringing back 'Mirror Mirror' by popular demand! A morning for women of all ages! 10 AM- Guest Speaker, Amie Stockstill from Dallas, Texas! We will have workshops on that day and the ever popular Q and A sessions as well!
Full blown worship led by Worship Pastor of Bethany Church, Ross Hebert!