Every weekend, LifeSongs gives you a variety of outing ideas for the whole family! Labor Day weekend isn't just for skipping town or throwing backyard barbecues anymore – check out what's going on this weekend in our area:
Louisiana Shrimp and Petroleum Festival | Thursday, 9/3 – Monday, 9/7
What: Louisiana's oldest state-chartered festival celebrates its 80th year with an extravaganza of live music, arts and crafts, food, children's activities, the traditional blessing of the fleet, and a carnival. Bonus: admission is FREE!
Where: Downtown Morgan City
When: Hours vary by day
Call 985-385-0703 or click here for more info.
---
Louisiana Seafood Festival | Friday, 9/4 – Sunday, 9/6
What: Rain or shine, celebrate the state's abundance of seafood during the holiday weekend, with dozens of seafood dishes, cooking demos, live music, and more family-friendly activities. Plus, admission is FREE!
Where: City Park Festival Grounds in New Orleans
When: 11:00 AM – 7:00 PM daily
Click here for more details.
---
Original Southwest Louisiana Zydeco Music Festival | Saturday, 9/5
What: The 33rd annual festival kicks off with a dance on Friday night. Saturday morning, bring your own lawn chair for a zydeco breakfast at the Opelousas Courthouse Square (8:30-10:30 AM), followed by a full afternoon and evening of zydeco, swamp pop, Cajun, and Southern soul music on the festival grounds.
Where: Zydeco Festival Grounds, 457 Zydeco Road in Plaisance
When: Music starts at 12:00 Noon
Call 337-290-6048 or click here for details.
---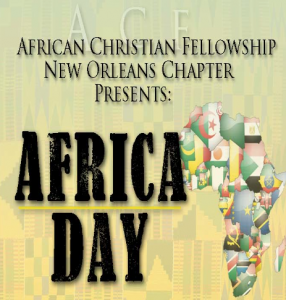 Africa Day | Saturday, 9/5
What: An annual event showcasing Africa and its History, Resources, People, Faith, Culture, Food, and more. At this event you get to interact with African Christians living in New Orleans, and learn about what they are doing in their African missions.
Where: African Christian Fellowship, 7531 Chef Menteur Hwy. in New Orleans
When: 10:00 AM – 4:00 PM
Call 504-564-7729 or click here for more info.
---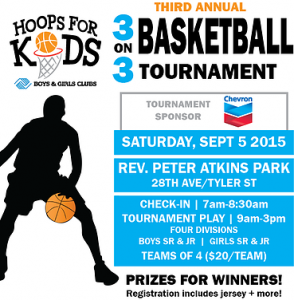 3rd Annual Hoops for Kids Tournament | Saturday, 9/5
What: The tournament is a 3-on-3 boys and girls tournament reaching Junior High and High School-age area youth. In 2014, the event brought in 30 teams, 200 kids, and the funds that were raised ensured that the basketball courts at Rev. Peter Atkins Park in Covington were refurbished and covered. Leveraging our relationship with the New Orleans Pelicans, Chevron was able to ensure the court and facilities were upgraded and provided a safer place for residents of the West 30's area in Covington.
Where: Rev. Peter S. Atkins Park, 701 N. Tyler St. in Covington
When: 8:00 AM – 4:00 PM
For more details, or to register, click here.
---
Share This!
Comments